Please Support Our Class Website in 2020. Can you chip in today?
All contributions will be DOUBLED through February 29!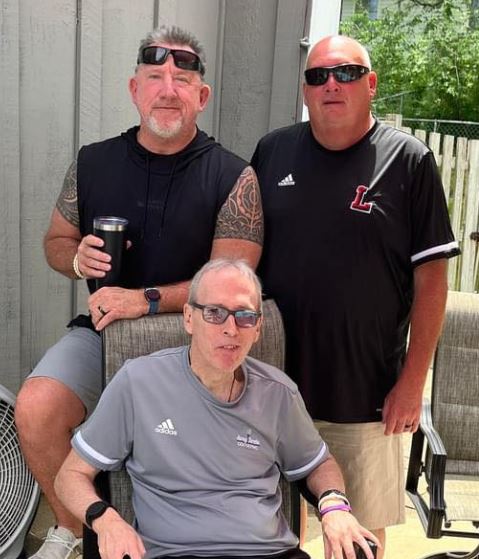 Scott Peattie and Thomas Ewing


This site is operated and funded by members of our class.
Class Administrator: Luann Reason Hamilton
Page Hits: 26,262


40 Year Reunion Announcement!
---
Saturday, September 12, 2020
Angie's Catering and Cakes
SAVE THE DATE!! September 12, 2020 has been selected as the reunion date.


Don't forget to update your address! If you are unable to update your address on this website, please email it to me at [email protected]
---
Class News

10/2/2019
Brian Evans Obituary
Brian M. Evans, 57, of Logansport, passed away Monday, September 30, 2019 at Memorial Hospital in Logansport. Born on March 30, 1962 in Logansport, he is the son to the late Roger E. and . . . Continued

9/16/2019
Ken Alcorn Obituary
Kenneth M. Alcorn, age 58, Logansport, passed away Saturday, September 14, 2019, in Memorial Hospital of South Bend. His life journey ended from complications of small cell lung cancer. B . . . Continued

8/9/2019
Charles Hickey Obituary
Charles "Chuck" L. Hickey, 57 of Logansport, passed away Monday, August 5, 2019 at St. Vincent Hospital in Indianapolis. Born on December 29, 1961 in Logansport, Indiana, he is the son of . . . Continued


Today's Featured Biography
Life has taken turns I never expected when leaving LHS in May, 1980. I thought my life was settled. But fate had other plans. Mark and I divorced in 1994. However, we did produce three great kids: Nelson, Sarah, and Kayla.

I've hit a few bumps in the road and am now struggling with chronic fatigue, anemia, migraines, and other health issues
brought about by mercury poisoning after the placement of dental amalgams ("silver" fillings) in 1994. This isn't the only
exposure I've had, as I lived one block up from the coal burning power plant for four years and regularly cleaned the coal dust off of the outdoor furniture. Coal dust contains mercury, lead, arsenic, and other nasty stuff.

For fourteen years, my health declined. I
could no longer jog or do aerobics. I was constantly tired. I wanted to become a hermit. If I could have stayed in my house all day, and worked from home, I would have been happy. This is an autistic symptom associated with mercury exposure.

I had heard that dental amalgams caused
health issues, but was told that was bunk, but in 2007, after reading yet another warning about mercury in amalgams, I went on the internet and looked up mercury poisoning symptoms. Tears streamed down my face as I realized I had 90% of the symptoms. It's so hard to make the connection because it happens so slowly over time, and the symptoms vary from person to person.

I am s-l-o-w-l-y regaining my health back by getting this horrible poison out of my system. I cannot understand why this horrible poison is allowed to be put in people's mouths. It's a known neurotoxin.

I discovered that I am also a Celiac, which is the inability to digest gluten. Gluten intolerance is predominant among those of Irish and German decent, of which I am both. My progress over the last year and a half has been nothing short of remarkable.

I am still making discoveries and another piece to the puzzle is Lyme disease. But it's not really a disease of nature, but a disease created in a lab. Yes, a disease created in a lab to be used as a bioweapon.

If you read nothing else in your life, please search emerging viruses: aids and ebola by leonard horowitz. It's a PDF that will blow your mind.

I've been through major changes in my life--rethinking what I value. I don't measure life's successes by money
or material things--but by what I've done for humanity and the environment in this great experiment called life.

By that yardstick, I'm growing more successful every year. I respect the Earth and am learning new ways to live in harmony with her, as I think the Creator intended for us to live.

I don't believe war has
ever solved problems, but only helped war profiteers. I have learned that certain rich families have profited off of selling war materials to both sides. Making money pitting people against one another. Just plain evil.

I've taken to heart the "Do Unto Others As You Would Have Done Unto You" mindset and try to live my life accordingly. I'm a work in progress.



Classreport.org provides free Class Websites for every graduating class of every high school with free access for all.
We are one of the premier social networking sites dating back to 2003. We are a small, family-owned business and yet freely host over a million class websites. Our Story
Classreport holds a special place in the hearts of our users: Bravos.
Class Support Status

OUR CLASS SITE IS FUNDED THROUGH
June 2021
---
This site is funded by our
Voluntary Contributions


Class Directory

Where in the world are you? Stats
Recent Profile Updates
| | |
| --- | --- |
| | Nov 1 |
| | Nov 1 |
| | Oct 11 |
| | Oct 2 |
| | Sep 17 |
| | Sep 16 |
| | Aug 15 |
| | Aug 15 |
Class Poll
There is no Active Poll
at this time.
Visit Other Classes
The Office
(Admin use only)
If you have any questions or comments regarding this website, please contact:

Class Administrator
Luann Reason Hamilton

Would you like a sneak peek at a
non-functioning view of The Office?

This class reunion website is a complementary addition to your existing alumni resources.
It is a product of Classreport, Inc. and may not be affiliated with Logansport High School or its alumni association.

Does your High School Class have a full-featured Alumni Website? Start One Now!
(Or start one for your Mother, Father, Sister, Brother, Spouse, Son, Daughter, Friend . . .)



"Just discovered your product today while trying to locate classmates ahead of our 50th reunion in 2020. The fact that you did this in a noncommercial manner in a world where everything has a price tag deserves recognition and respect, in my view. Thank you and good luck in all your endeavors." 5/5/2018


"THANKYOU so much for handling this for us! We are so appreciative! It looks GREAT!" 5/2/2018


"Thank YOU for helping us get the word out! I've posted a link to the website on our FB group page and vigorously encouraged other classmates to contribute" 4/27/2018


"Your site is amazing. Kudos to you and your staff. You have benefitted so many high school alumni in organizing their class reunions." 10/4/2017


"Thanks to classreport.org our class website played a huge part in the success of our Reunion. We greatly appreciate your wonderful support." 10/3/2017


"Thanks for all your hard work and ingenious spirit." 9/25/2017


"Thanks guys, you are Good!!" 9/23/2017


"I love your service and will continue to support you." 9/14/2017


"We have been using the website for more than 10 years now. It's still the best website out there for classmates to meet, collect their info and advertise their reunions. Thanks for inventing it all!" 9/11/2017


"Thank you for your assistance. It was very helpful. Looks good!" 9/5/2017



More bravos at: www.classreport.org/bravos




17th Anniversary!
There are no fees required for participation on this site.
Please support this site with your voluntary contributions.
We cannot provide this service without your support. Thank You!
Please read Our Story
ClassTraQ 11.003 Software Copyright � 2003 - 2017 Classreport, Inc. All Rights Reserved e1 amsc: 1