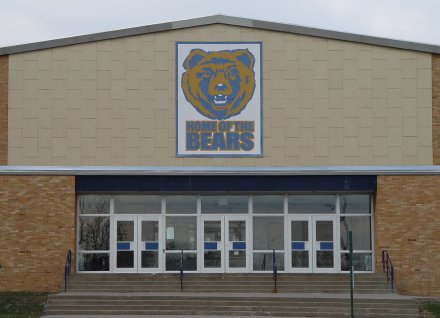 This photo can be changed by your Class Administrator.


This site is operated and funded by members of our class.
Class Administrator: Nancy Kramer
Page Hits: 46,895


Class News

1/11/2018
Patricia Greer Harvey passing
Patricia Ann Harvey, 65, of Independence, Mo., was called home after a year and a half long battle with cancer, on December 30, 2016. Patty was born in Tulsa, Okla., to Wm. Leslie and Clar . . . Continued

1/11/2018
David King passing
As I was researching for classmates, I came upon David's obituary. David E. King, 67, Independence, MO passed away unexpectedly Feb. 20, 2017. Memorial services will be 10 am, Monday, Fe . . . Continued

12/22/2017
Sandy McConnell Dean visitation
From Sandy's brother to Linda Nihill Webb: A family and friends visitation is scheduled for Wednesday, Dec 27th, from 6:00 PM to 8:00 PM, at Speaks Suburban Chapel on East 39th Street in . . . Continued


"Remembering When"
Remembering When…we sat and talked,
Dreaming of days to come.
Walking the halls, cafeteria food,
And laughing until we were numb.

The football games, the roar of Pep Club,
The heavy beat of Chrisman's Marching Band,
The autumn air still takes me back to that time,
To where we'd meet up with friends as planned.

Remembering when we cruised Noland Road,
Little LeRoy's, sneaking into the Twin Drive-in.
Scratchy formal dresses, big hair, corsages,
Crew cuts, going to homecoming with friends.

Those tender times were of gentler days,
That now seem to be of a different world.
The march of time has brought with it changes,
As new generations of lives have unfurled.

All of those memories are but a whisper now,
That will forever echo in my mind.
Now and then I find myself searching
For the faces of those friends who left us behind.

Most friends remain - but some have gone
And left for a final place of rest.
Gone from our sight yet with the memories of those,
We surely have been blessed.

Remembering When…we had not a care in the world,
And how time just seemed to stand still.
I think of you now with fond thoughts and precious memories,
And I know that I always will.

Author - Michelle Young, WCHS c/o 1976
---
Our Class Message Board
Your participation is requested!
We would like to hear from you. Post your messages here.

ADD NEW VIEW ALL

Indicates an included photo
Today's Featured Biography
In Spring 2023 I was invited to be an Author/Contributor for illuminen.com, Venice Italy, the leading source of sustainability information and the first and largest ESG business alliance. Over 700 global experts (from climate ministers to international CEOs) make illuminen the world's largest expert network in sustainability.

In 2022 I was recruited to lead, manage, and coordinate design and construction for the international consortium of Acciona (Spain), Shikun & Binui (Israel), and the North American Construction Group (Canada) (a separate operating company named the Red River Valley Alliance or RRVA) delivering the nearly $3 billion landmark Fargo-Moorhead Metro Area Flood Mitigation project to carry Red River flood waters away from population centers. This world-class climate-mitigation infrastructure project consists of planning, design, construction, maintenance, and operations of a 30-mile river diversion channel, a diversion outlet, 2 aqueducts, 14 drainage outlets, 2 interstates, 12 county roads, 19 bridges, 3 railroad grade crossings, a diversion authority administration building, and associated appurtenances. The RRVA serves the client, the Metro Flood Diversion Authority ( MFDA). (https://fmdiversion.gov/about-the-project/) While I have watched this project evolve for over 30 years and was excited to be pursued, the job was a poor fit, so I resigned. It has been a struggle to find a job that is a good fit.

I was recruited by Lindsay Corporation in 2019 as the Director of Global Sales Operations-Infrastructure but did not find it satisfying and resigned after a few months. The Corporation, headquartered in Omaha, does business in over 90 countries to reduce vehicle crashes and congestion through selling and delivering advanced traffic management solutions. In 2015 I was recruited by Kirkham-Michael Consulting Engineers but that was not a good fit for me either so I resigned.

Earlier, I previously established a consulting company as the Principal of John L. Craig Consulting, LLC from 2015 to 2022 (www.leadershipintransportation.com). Essentially semi-retired, I still maintain the website and post blogs periodically on the built-natural environments, challenges and opportunities.

A Vice President, HDR Engineering, Inc, from 2009 to 2015 I led completion of a $2.2 billion program (a Joint Venture of HDR Engineering and Fluor Enterprises organized as a separate operating company) to repair or replace hundreds of Oregon bridges (see www.otiabridge.org). In this capacity I provided transportation consulting services across the Nation and internationally. I also served on two Governor's Cabinets and was the Director of the Nebraska Department of Transportation from 1999 to 2009.

I am currently on the Board of Directors of the Mid-America and Nebraska Transportation centers and was an invited member of the INDO-US Forum, a U. S. State Department sponsored exchange to facilitate transportation expertise between the United States and India.

I am a past member of the Board of Directors of the American Association of State Highway and Transportation Officials (AASHTO) and the Western Association of State Highway and Transportation Officials (WASHTO), Board of Directors of the Intelligent Transportation Society of America and Executive Committee of the Transportation Research Board, U. S. National Academies.

I am a published author including a chapter in the book "Inside the Minds: The Changing Landscape of Transportation Infrastructure".

As a retired commissioned officer in the U.S. Army Corps of Engineers, I had troop and civil works assignments in the continental United States, Alaska, Korea, and Europe, leading troops and directing multimillion dollar programs and projects in Korea, Europe, Africa, Southeast Asia, Middle East, Alaska and the contiguous United States for the Department of Defense, Department of State, and the White House.

I earned Bachelor of Science and Master of Science degrees from Central Missouri State University and the Army selected me for fully funded graduate school where I obtained Master of Science degree in Engineering and Science Management from the University of Alaska-Fairbanks.

As of 2023, I have been married to the former Kathleen Sue Shea of Warrensburg, Missouri, for 50 years and we have three children: a daughter, Heather who recently returned from California and is a counselor at Grinnell College in Iowa, and two sons, Brian who is a Public Defense Counsel for the State of Nebraska, and Michael who is seeking a career. Kathleen is the Director of Research and Development at Creighton University in Omaha.

After graduation from Willian Chrisman, I attended Central Missouri State College (CMSC) and received BS and MS degrees, working various jobs to get through school including as a city sanitarian for the cities of Independence and Warrensburg. Other interesting jobs included driving a mosquito fog truck and working at a waste water treatment plants. I quickly learned I didn't want to do those jobs forever. During college I also lived in Bosworth and Brunswick, Missouri. I was commissioned in the U. S. Army Corps of Engineers at graduation and never intended to stay but did until retirement. I also attended the Command and General Staff College at Fort Leavenworth Kansas. My two sons were born in the same military hospital in Fairbanks Alaska during two separate military assignments. My daughter was "born behind bars" at Ft. Leavenworth Kansas since the military hospital was being renovated and the military prison ward converted to a maternity ward. We enjoyed some great vacations around Europe (England, Scotland, Sweden, Norway, France, Germany, Belgium, Switzerland, Czechoslovakia, Italy, Spain, etc.), Egypt, Mallorca and other places. I had the idea long ago that I wanted to expose my children (in addition to myself) to the bigger world and I am pleased I was able to accomplish that. My final military assignment was as the Deputy Commander and Division Engineer, Missouri River Division, Omaha, Nebraska where I retired from active military service in 1998. The military was an experience that I will always cherish, even the "bad times" had something to teach me (I may have learned the most from them). All of my children have continued the tradition of travel and made trips around the U. S., Europe and Tanzania. Among our many international friends we have been fortunate to host foreign exchange students, including from Germany and Brazil.

In recent years I have begun long distance running. My "big moment in the sun" was qualifying and then running the 2008 Boston Marathon. In addition to a host of other races (Hood to Coast---a 200 mile relay from Mount Hood to Seaside Oregon among them), I have run 10 marathons (and 23 half marathons with four first place, four second place and six third place finishes) in Vienna Austria, Lincoln Nebraska, Marathon Iowa, Kansas City Missouri, Minneapolis-St. Paul Minnesota, Portland Oregon, Seattle Washington, Green Bay Wisconsin and Chicago Illinois (only time I qualified for elite runner status), in addition to Boston Massachusetts. I qualified for the 2012 New York City Marathon but that was cancelled due to Hurricane Sandy. I may think about the two remaining World Marathon series in London and Berlin (Boston, Chicago and NYC are the other three) after recovery from some hip surgery. I will always run as it brings joy to my life. I ran the 2010 Twin Cities Marathon in Minneapolis-Saint Paul Minnesota with my daughter, it was sheer joy to run with her!! I should have focused more on sports in high school (and college) but I think I was just too lazy (I could say the same for my academic career). My "shining moment" in college baseball was when I was scouted by the St. Louis Cardinals but I never amounted to much there either. I am a certified scuba diver and licensed pilot.

I have two younger sisters that have remained in Independence-Lees Summit areas and are WCHS graduates, Ruth (Deckard) and Marilyn (Gifford). Another sister (Louise, deceased) and three brothers (Bill, James and Eddie) are also graduates of WCHS. I am proud to say my three brothers also served in the military and two retired from active military service (James a graduate of West Point and a fellow U. S. Army Corps of Engineers officer and Eddie from the USAF). James died in 2017 from exposure to Agent Orange in Vietnam. Both my parents (now deceased) are graduates of WCHS. My mother was born and died in Independence and worked at Chrisman-Sawyer Bank for many years. My father was born in Norborne Missouri, preceded my mother in death in Independence, worked for D-X Oil Company for many years first as a salesman and later as the owner of the D-X Station across from Chrysler Stadium before entering the real estate business.

Well, it has been a long time since high school and although I did not recognize most faces and many names, the 40th Reunion brought back many fond memories. I think our WCHS faculty would be proud of the students they helped to influence. I remember our Valedictorian having a theme "I am only one but I am one. I cannot do everything but I can do something". I may not remember it correctly but it is one of those things that has stuck in my high school memories.

All the best to all of my classmates!



---
If for any reason you feel uncomfortable posting your mailing address; email address and/or phone number on your profile, please send the information to me personally. I want to have record of your contact info to let you know about upcoming class events and news! Your information will be kept strictly confidential. No one else will have access to your info. Never will you receive any spam or junk mail from me. My email address is shown on my profile. You can either email your contact info, or email me and ask for my mailing address and you can mail your contact info. Please don't just lurk on our class site, then leave without providing this important link to you – our WCHS 1968 Classmate! ~Nancy~
Family News Summary
Enter your Family News Item choosing from our pre-defined categories:
Anniversary, Award, Birth, Death, Diagnosis, Engagement, Graduation, Lottery, Retirement, Vacation, Wedding, Other.
There is no Family News on file
at this time.
Calendar
There are no Calendar items on file
at this time.

Today's Featured Class Member Website
---
If this is your first time at Classreport, locate the "First visit here?" link and then locate your name (if it's not listed, then click the first letter of your last name and then at the top of the next page you'll see "Click here to add your name"), click on your name, submit your working email address and a password. You'll then see Your Profile, click on it and you can submit as much information as you want. There is a time limit, so you may want to compose your profile on something like Word, then copy and paste it to your profile in Classreport. If you run into any problems just email me, Nancy Kramer Mangas at the [email protected] and I'll be glad to help you!
Classreport.org provides free Class Websites for every graduating class of every high school with free access for all.
We are one of the premier social networking sites dating back to 2003. We are a small, family-owned business and yet freely host over a million class websites. Our Story
Classreport holds a special place in the hearts of our users: Bravos.
Class Support Status

Our Class Site is Fully Funded!
Additional contributions are welcome and will be used to provide support for the larger Classreport community.
CLICK HERE TO LEARN MORE
Class Directory

Where in the world are you? Stats
Recent Profile Updates
| | |
| --- | --- |
| | Sep 27 |
| | Sep 18 |
| | Sep 13 |
| | Sep 12 |
| | May 25 |
| | May 24 |
| | Oct 5 |
| | Sep 18 |
Class Poll
There is no Active Poll
at this time.
Recent Reviews
There are no reviews on file
at this time.
This area is for comments on
books, movies, music,
restaurants, etc.
Visit Other Classes
The Office
(Admin use only)
If you have any questions or comments regarding this website, please contact:

Class Administrator
Nancy Kramer

Would you like a sneak peek at a
non-functioning view of The Office?

This class reunion website is a complementary addition to your existing alumni resources.
It is a product of Classreport, Inc. and may not be affiliated with William Chrisman High School or its alumni association.

Does your High School Class have a full-featured Alumni Website? Start One Now!
(Or start one for your Mother, Father, Sister, Brother, Spouse, Son, Daughter, Friend . . .)



"Just discovered your product today while trying to locate classmates ahead of our 50th reunion in 2020. The fact that you did this in a noncommercial manner in a world where everything has a price tag deserves recognition and respect, in my view. Thank you and good luck in all your endeavors." 5/5/2018


"THANKYOU so much for handling this for us! We are so appreciative! It looks GREAT!" 5/2/2018


"Thank YOU for helping us get the word out! I've posted a link to the website on our FB group page and vigorously encouraged other classmates to contribute" 4/27/2018


"Your site is amazing. Kudos to you and your staff. You have benefitted so many high school alumni in organizing their class reunions." 10/4/2017


"Thanks to classreport.org our class website played a huge part in the success of our Reunion. We greatly appreciate your wonderful support." 10/3/2017


"Thanks for all your hard work and ingenious spirit." 9/25/2017


"Thanks guys, you are Good!!" 9/23/2017


"I love your service and will continue to support you." 9/14/2017


"We have been using the website for more than 10 years now. It's still the best website out there for classmates to meet, collect their info and advertise their reunions. Thanks for inventing it all!" 9/11/2017


"Thank you for your assistance. It was very helpful. Looks good!" 9/5/2017



More bravos at: www.classreport.org/bravos




20th Anniversary!
There are no fees required for participation on this site.
Please support this site with your voluntary contributions.
We cannot provide this service without your support. Thank You!
Please read Our Story
ClassTraQ 11.003 Software Copyright � 2003 - 2017 Classreport, Inc. All Rights Reserved e1 amsc: 1