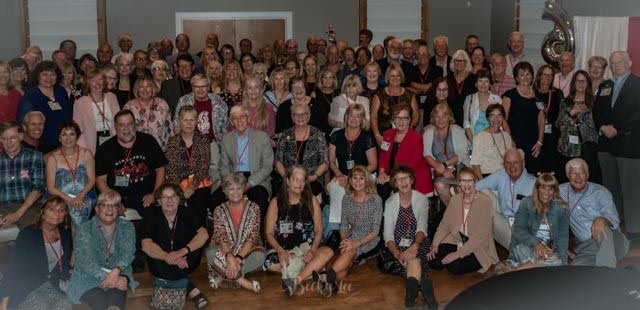 45th Reunion. You should have been there!


This site is operated and funded by members of our class.
Class Administrator: Mike Freundschuh
Page Hits: 53,307


50 Year Reunion Announcement!
---
50th Class Reunion for Richfield High School Class of 69
Saturday, September 21, 2019
Minnesota Valley Country Club, Bloomington, Mn
Details will follow! Please look up those who are missing and let us know if you can help us find them.

IF YOU HAVEN'T RECEIVED AN EMAIL OR SNAIL MAIL "SAVE THE DATE" ANNOUNCEMENT, WE NEED YOU TO UPDATE YOUR INFORMATION!
---
Class News

8/19/2009
THIS IS YOUR OFFICIAL WEBSITE FOR RHS 1969
Because of the confusion of all the reunion websites sending emails to 69ers, this website is the only site where you can get up to date information and it is the only website we use to cont . . . Continued


Today's Featured Biography
...been traveling the world and diving/sailing whenever possible. I support my career as a marine wildlife artist by working for FEMA. You'll generally find me hanging around some Caribbean island yacking with the marine conservationists. My work has been exhibited globally, including New York, Spain, Anguilla, San Francisco, etc. Check it out at barbjanisch.com

I have been blessed with a wonderfully supportive family and friends. My folks are both still living in Richfield in the same house I grew up in. I'm looking forward to the next forty.....


Seniors should keep asking "What's next?" Published December 14, 2016 at 1:54 pm in the Richfield Sun-Current By Bob Ramsey Contributing writer I've written about Elliott Royce before. He was the older gentleman who peddled around St. Louis Park wearing a Dr. Seuss hat. Well into his nineties, Royce worked out each week on the trampoline, taught classes on how to fall safely, traveled to Israel to visit family members, remained active in community affairs and continued to look for new things to do. Fellow Rotarian Jim Rhodes once observed, "While most people his age are settling down, Elliott keeps asking, 'What's next?'" It's a question we should all ask ourselves at every age. After all, it's what's next that pulls us into the future. Without something else to do or look forward to, we're merely living dead. One of the secrets of successful aging is to remain curious about what's next. It helps if what's next is something new and different: a new goal; a new project; a new idea; a new friend; a new relationship; a new destination; a new author; a new recipe; a new job; or a new volunteer opportunity. If what's next is always the "same-ol', same-ol'," your life is on hold. You're aging in place and missing out on a lot of cool possibilities. On the other hand, trying new things, now and then, can help keep you more youthful. John Barrymore may have said it best: "A man is not old until regrets take the place of dreams." We're never too old to explore something unfamiliar. Someone once told me there's a little bit of Columbus in all of us. With a little help, we can all set out in search of something unknown or untried. We may not know exactly where we're going, but it will be an adventure; it may even be historic. In his popular book, Life Reimagined, Richard Leider says each of us is an "experiment of one." Of course, we're not much of an experiment if there is no element of surprise, revelation, discovery or the unexpected. Leider goes on to say, "Life Reimagined is a call to live our lives with purpose and connection as we answer the 'What's next?' question." The power of what's next lies in the fact that it is a choice. This is where seniors have an advantage. Older adults have more voice in this choice than other age groups. For much of our lives, the choice of what's next is dictated and determined by others, including parents, teachers, drill sergeants, spouses, supervisors and even, our own children. But people 50, 60, 70 and beyond have increasing opportunities to name what comes next. Of course, many of us just keep choosing the same thing over and over. WE can do better. Aging shouldn't be just more of the same. There are a lot of important questions in life. But "what's next?" may be the most compelling. That's why famed motivator, Zig Ziegler admonished "Will you look back on life and say, 'I wish I had or I'm glad I did?'" So— what's next?! Bob Ramsey is a local Twin Cities lifelong educator, freelance writer and advocate for vital aging.
Classreport.org provides free Class Websites for every graduating class of every high school with free access for all.
We are one of the premier social networking sites dating back to 2003. We are a small, family-owned business and yet freely host over a million class websites. Our Story
Classreport holds a special place in the hearts of our users: Bravos.
Class Support Status

Our Class Site is Fully Funded!
Additional contributions are welcome and will be used to provide support for the larger Classreport community.
CLICK HERE TO LEARN MORE
Class Directory

Where in the world are you? Stats
Recent Profile Updates
| | |
| --- | --- |
| | Nov 15 |
| | Nov 14 |
| | Nov 12 |
| | Nov 9 |
| | Nov 4 |
| | Oct 17 |
| | Oct 16 |
| | Oct 12 |
Class Poll
There is no Active Poll
at this time.
Recent Reviews
There are no reviews on file
at this time.
This area is for comments on
books, movies, music,
restaurants, etc.
Visit Other Classes
The Office
(Admin use only)
If you have any questions or comments regarding this website, please contact:

Class Administrator
Mike Freundschuh

RHS Site Coordinator
Martha Decker
Class of 1974

Would you like a sneak peek at a
non-functioning view of The Office?

This class reunion website is a complementary addition to your existing alumni resources.
It is a product of Classreport, Inc. and may not be affiliated with Richfield Senior High School or its alumni association.

Does your High School Class have a full-featured Alumni Website? Start One Now!
(Or start one for your Mother, Father, Sister, Brother, Spouse, Son, Daughter, Friend . . .)



"Just discovered your product today while trying to locate classmates ahead of our 50th reunion in 2020. The fact that you did this in a noncommercial manner in a world where everything has a price tag deserves recognition and respect, in my view. Thank you and good luck in all your endeavors." 5/5/2018


"THANKYOU so much for handling this for us! We are so appreciative! It looks GREAT!" 5/2/2018


"Thank YOU for helping us get the word out! I've posted a link to the website on our FB group page and vigorously encouraged other classmates to contribute" 4/27/2018


"Your site is amazing. Kudos to you and your staff. You have benefitted so many high school alumni in organizing their class reunions." 10/4/2017


"Thanks to classreport.org our class website played a huge part in the success of our Reunion. We greatly appreciate your wonderful support." 10/3/2017


"Thanks for all your hard work and ingenious spirit." 9/25/2017


"Thanks guys, you are Good!!" 9/23/2017


"I love your service and will continue to support you." 9/14/2017


"We have been using the website for more than 10 years now. It's still the best website out there for classmates to meet, collect their info and advertise their reunions. Thanks for inventing it all!" 9/11/2017


"Thank you for your assistance. It was very helpful. Looks good!" 9/5/2017



More bravos at: www.classreport.org/bravos




15th Anniversary!
There are no fees required for participation on this site.
Please support this site with your voluntary contributions.
We cannot provide this service without your support. Thank You!
Please read Our Story
ClassTraQ 11.003 Software Copyright © 2003 - 2017 Classreport, Inc. All Rights Reserved e1 amsc: 1