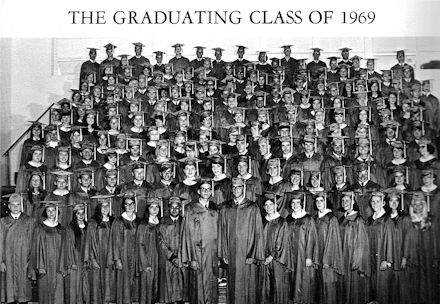 This site is operated and funded by members of our class.
Class Administrator: David Roberson
Page Hits: 26,112


---
Event Announcement!
---
50th Reunion Wrap-up
Our 50th PHS Class of '69 reunion is now history and I think it is safe to say that a good time was had by all. Thanks go out to everyone who had a hand in making this reunion a success, those who attended and shared the memories and good times, and everyone who has taken the time to update your online profiles so we can keep up-to-date.

We are working on posting photos and a slide show or two on this web page in the near future. Stay tuned.

If you have not yet updated your profile, it's not too late. If you have a new email address or can't login, send a note to [email protected] and we will add your new email address to your profile and hopefully get you logged in.

Rumors are rampant about a possible 70th birthday bash and an 55th reunion. Keep your eye on this site for more information.

PHS 50th Reunion Committee
---
Class News

9/3/2018
New email address and you can't login?
If you have a new email address and can't remember your password, send an email to [email protected] with your new email address. We will add it to your profile and then you can recover . . . Continued

7/24/2016
PHS
Jeanne Boekelheide created the PHS '69 Reunion group in Facebook. It's a great way to keep in touch. Jeanne said, "... we can share news and info, talk and get really motivated and plan a . . . Continued

1/26/2010
Please share your thoughts and information - this is your page too!
Welcome! There are no strangers here, only us, who were once young at the same time and place. Come on in - you're home. We plan to keep this site well into the coming years so check in ofte . . . Continued


Our Class Message Board
Your participation is requested!
We would like to hear from you. Post your messages here.

ADD NEW VIEW ALL

Indicates an included photo
| | |
| --- | --- |
| Darrell Hatley Has Passed | Kathleen (Kay) Pierce |
| Darrell Hatley passed on June 6, 2019. | Sat 6/22/2019 10:10 AM |
| Mike Schultz's Mother Passed | Kathleen (Kay) Pierce |
| Tearful news. Mike Schultz's sweet moth | Mon 5/20/2019 11:04 AM |
| Phil Gross' Mom Has Passed | Kathleen (Kay) Pierce |
| More sad news. Phil Gross' mother, Moll | Sat 3/16/2019 11:31 AM |
| Vickie Cain's Husband Has Passed | Kathleen (Kay) Pierce |
| Sad news. Vickie Cain's husband, James R | Sat 3/9/2019 12:59 PM |
| Guidance Counselor, Wylie Johnston, Passed | Kathleen (Kay) Pierce |
| PHS Guidance Counselor, Wylie Johnston, | Wed 12/12/2018 2:11 PM |
| Teacher & Coach, Guy Parkman, has passed | Kathleen (Kay) Pierce |
| Guy Clayton Parkman, longtime Pullman s | Sat 12/8/2018 2:07 PM |
| Mr. Dibble has passed. | Kathleen (Kay) Pierce |
| Mr. Dibble was an 8th grade Home Room te | Sat 8/11/2018 11:42 AM |
| Message | Kathleen (Kay) Pierce |
| Sad news. Muriel Lamb has passed at age | Wed 7/25/2018 9:42 AM |
| Mike Strausz has passed. | Kathleen (Kay) Pierce |
| Mike died in his sleep on April 15, 2018 | Sat 6/9/2018 5:25 PM |
| Coach Ray Hobbs has Passed | Kathleen (Kay) Pierce |
| With a very heavy heart I have this to s | Fri 2/9/2018 4:58 PM |
| Linda Boone Has Passed | Kathleen (Kay) Pierce |
| Sad, sad news. Our classmate, Linda Boon | Tue 12/19/2017 11:47 PM |
| Christy Floyd's Husband Passes | Kathleen (Kay) Pierce |
| Christy Floyd's kind and gentle husband, | Sat 10/14/2017 12:08 PM |
| Tragic News | Kathleen (Kay) Pierce |
| Krista Senter's husband, Bob, and his co | Sat 10/14/2017 11:58 AM |
| Gary Kopf's Sweet Wife Has Passed | Kathleen (Kay) Pierce |
| Sad news, Gary Kopf's wife, Tana Eggers | Mon 10/9/2017 11:01 AM |
| Sad news, our PHS Libranian has passed | Kathleen (Kay) Pierce |
| Virginia Thompson Hegland, 97, formerly | Thu 3/2/2017 11:34 AM |
Today's Featured Biography
Graduated from Pacific Lutheran University in 1973 with a BA in ED (English) after playing hoop for 4 years and earning Little All Northwest 2nd Team and PLU MVP Honors. Subsequently taught 3 years in Toledo, Oregon at Toledo High School and coached JV Hoop. Then taught 6 years at Lind Jr/Sr. High School, coaching varsity hoop. Then moved to Helsinki, Finland with brother Steve where we taught English in companies and coached men´s and women´s hoop in a sports club. Steve left for the states in 1983 and I got married to a Finn that year and continued to coach and teach until 1985 when we began work for Youth With A Mission in Finland. In 1986-87 we lived and worked in Kailua-Kona, Hawaii for the University of the Nations. Moved back to Finland and continued to work for YWAM until 1992 when I began work as a teacher in The International School of Helsinki. Taught 9 years there until 1999 and divorced in 1997. Taught 2 years in Espoo International School at the high school and middle school levels. Am currently in my third year at a Finnish middle school teaching 7-9th grades. In 2004 our over 50 hoop team composed of ex-pros won the European Championship, defeating a Russian team of ex-national players who went on to win the world title in New Zealand in 2004. The world is a small place!


Family News Summary
Enter your Family News Item choosing from our pre-defined categories:
Anniversary, Award, Birth, Death, Diagnosis, Engagement, Graduation, Lottery, Retirement, Vacation, Wedding, Other.
Death
Marianne Smiley's mother, Edith Fischer, was born
Posted by: Kathleen (Kay) Pierce

6/17/2019

Death
Sherry Sayles' sweet mother, Velma, passed on Apri
Posted by: Kathleen (Kay) Pierce

4/23/2019

Death
Cynthia Swan's mother passed. Rowena M. Swan, 88,
Posted by: Kathleen (Kay) Pierce

9/28/2018

Death
Mike's mom, Caroline Gannon Strausz Cerrillo passe
Posted by: Kathleen (Kay) Pierce

6/9/2018

Death
Brian's mom, June Frances Hausenbuiller, passed aw
Posted by: Kathleen (Kay) Pierce

3/24/2018

Death
Gil's mother, Harriet K. Dodgen, 96, of Pullman, d
Posted by: Kathleen (Kay) Pierce

1/11/2018

Death
Gil Dodgen's father, Harold W. Dodgen, of Pullman,
Posted by: Kathleen (Kay) Pierce

12/4/2017
Calendar
There are no Calendar items on file
at this time.

Today's Featured Class Member Website
Classreport.org provides free Class Websites for every graduating class of every high school with free access for all.
We are one of the premier social networking sites dating back to 2003. We are a small, family-owned business and yet freely host over a million class websites. Our Story
Classreport holds a special place in the hearts of our users: Bravos.
Class Support Status

Our Class Site is Fully Funded!
Additional contributions are welcome and will be used to provide support for the larger Classreport community.
CLICK HERE TO LEARN MORE
Class Directory

Where in the world are you? Stats
Recent Profile Updates
| | |
| --- | --- |
| | Jul 11 |
| | Jun 25 |
| | Jun 23 |
| | Jun 22 |
| | Jun 20 |
| | Jun 20 |
| | Jun 15 |
| | Jun 13 |
Class Poll
There is no Active Poll
at this time.
Recent Reviews
There are no reviews on file
at this time.
This area is for comments on
books, movies, music,
restaurants, etc.
Visit Other Classes
The Office
(Admin use only)
If you have any questions or comments regarding this website, please contact:

Class Administrator
David Roberson

Would you like a sneak peek at a
non-functioning view of The Office?

This class reunion website is a complementary addition to your existing alumni resources.
It is a product of Classreport, Inc. and may not be affiliated with Pullman High School or its alumni association.

Does your High School Class have a full-featured Alumni Website? Start One Now!
(Or start one for your Mother, Father, Sister, Brother, Spouse, Son, Daughter, Friend . . .)



"Just discovered your product today while trying to locate classmates ahead of our 50th reunion in 2020. The fact that you did this in a noncommercial manner in a world where everything has a price tag deserves recognition and respect, in my view. Thank you and good luck in all your endeavors." 5/5/2018


"THANKYOU so much for handling this for us! We are so appreciative! It looks GREAT!" 5/2/2018


"Thank YOU for helping us get the word out! I've posted a link to the website on our FB group page and vigorously encouraged other classmates to contribute" 4/27/2018


"Your site is amazing. Kudos to you and your staff. You have benefitted so many high school alumni in organizing their class reunions." 10/4/2017


"Thanks to classreport.org our class website played a huge part in the success of our Reunion. We greatly appreciate your wonderful support." 10/3/2017


"Thanks for all your hard work and ingenious spirit." 9/25/2017


"Thanks guys, you are Good!!" 9/23/2017


"I love your service and will continue to support you." 9/14/2017


"We have been using the website for more than 10 years now. It's still the best website out there for classmates to meet, collect their info and advertise their reunions. Thanks for inventing it all!" 9/11/2017


"Thank you for your assistance. It was very helpful. Looks good!" 9/5/2017



More bravos at: www.classreport.org/bravos




16th Anniversary!
There are no fees required for participation on this site.
Please support this site with your voluntary contributions.
We cannot provide this service without your support. Thank You!
Please read Our Story
ClassTraQ 11.003 Software Copyright � 2003 - 2017 Classreport, Inc. All Rights Reserved e1 amsc: 1