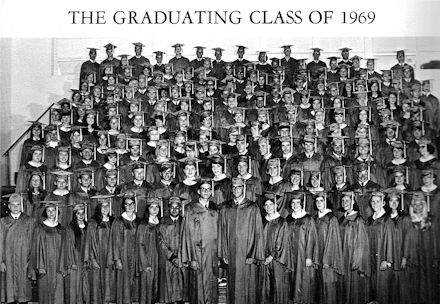 45th REUNION


This site is operated and funded by members of our class.
Class Administrator: David Roberson
Page Hits: 22,889


50 Year Reunion Announcement!
---
The Big Event - PHS Class of '69 - SAVE THE DATE
Saturday, June 22, 2019
Marriott Courtyard, 1295 NE North Fairway Road, Pullman, WA 99163
The Planing Committee is still working on the details but we do have the Marriott Courtyard in Pullman booked for the "Big Event" on Saturday, June 22nd.

Stay tuned...
---
Class News

10/29/2018
Please Reply by November 8th
We have started planning for our 50th reunion and would like your feedback on possible dates and activities. Dave emailed a quick poll. Check you email and junk email box. Some emails bounce . . . Continued

9/3/2018
New email address and you can't login?
If you have a new email address and can't remember your password, send an email to [email protected] with your new email address. We will add it to your profile and then you can recover . . . Continued

8/20/2018
Preliminary Planning for 50th Reunion
We have started preliminary planning for our 50th reunion next year (Yes 50!). If you would like to help, we have lots of things both big and small that need to be done. Please let us know i . . . Continued


Our Class Message Board
Your participation is requested!
We would like to hear from you. Post your messages here.

ADD NEW VIEW ALL

Indicates an included photo
| | |
| --- | --- |
| Guidance Counselor, Wylie Johnston, Passed | Kathleen (Kay) Pierce |
| PHS Guidance Counselor, Wylie Johnston, | Wed 12/12/2018 2:11 PM |
| Teacher & Coach, Guy Parkman, has passed | Kathleen (Kay) Pierce |
| Guy Clayton Parkman, longtime Pullman s | Sat 12/8/2018 2:07 PM |
| Mr. Dibble has passed. | Kathleen (Kay) Pierce |
| Mr. Dibble was an 8th grade Home Room te | Sat 8/11/2018 11:42 AM |
| Message | Kathleen (Kay) Pierce |
| Sad news. Muriel Lamb has passed at age | Wed 7/25/2018 9:42 AM |
| Mike Strausz has passed. | Kathleen (Kay) Pierce |
| Mike died in his sleep on April 15, 2018 | Sat 6/9/2018 5:25 PM |
| Coach Ray Hobbs has Passed | Kathleen (Kay) Pierce |
| With a very heavy heart I have this to s | Fri 2/9/2018 4:58 PM |
| Linda Boone Has Passed | Kathleen (Kay) Pierce |
| Sad, sad news. Our classmate, Linda Boon | Tue 12/19/2017 11:47 PM |
| Christy Floyd's Husband Passes | Kathleen (Kay) Pierce |
| Christy Floyd's kind and gentle husband, | Sat 10/14/2017 12:08 PM |
| Tragic News | Kathleen (Kay) Pierce |
| Krista Senter's husband, Bob, and his co | Sat 10/14/2017 11:58 AM |
| Gary Kopf's Sweet Wife Has Passed | Kathleen (Kay) Pierce |
| Sad news, Gary Kopf's wife, Tana Eggers | Mon 10/9/2017 11:01 AM |
| Sad news, our PHS Libranian has passed | Kathleen (Kay) Pierce |
| Virginia Thompson Hegland, 97, formerly | Thu 3/2/2017 11:34 AM |
| Blanche Adams King, 98, Has Passed | Kathleen (Kay) Pierce |
| Sad news. Our high school Home Ec sewin | Wed 9/21/2016 4:19 PM |
| Sad news | Kathleen (Kay) Pierce |
| Our valedictorian, Gil Dodgen, has passe | Fri 4/29/2016 3:53 PM |
| Cindy McMannis has passed. | Kathleen (Kay) Pierce |
| Our wonderful classmate passed away peac | Tue 3/10/2015 4:56 PM |
| Cecilia Satterthwait Zander's Husband has P | Kathleen (Kay) Pierce |
| Cec's husband, Glenn Zander passed away | Thu 12/11/2014 2:08 PM |
Today's Featured Biography
I've lived in Juneau,Alaska for over 30 years with my husband,Norm. After graduating from WSU with a degree in Education/Fine Arts, Norm and I moved to Oregon. We attended/graduated from Univ. of Oregon with me /a Masters in Curriculum and Instruction/Special Educ. and Reading. Norm finished at U.of O. Law School. We moved to Juneau and the life of work began.
I taught for 25 years in the Juneau schools as a reading specialist mainly. Norm worked for the state/asst. attorney general and later as a lobbyist. Our three children were born in 1984-Katie, 1988-Tess and 1989-Ryan. We,ve enjoyed good times and bad. Norm's health was compromised with both addictions and also cancer, but we have worked through those days. Our children have all gone to Oregon colleges. Katie graduated from law school with a masters in mediation from the Univ. of Oregon in 2010. Tess graduated from Lewis and Clark College in Portland with a Psychology degree this spring. Ryan is at Western Oregon in Monmouth. Not sure what's next.
I have retired but continue to work in the eduation field.
My mother is still living in Spokane. Dad passed away at age 67, right after retiring from the university.
Looking forward to seeing everyone again.


Family News Summary
Enter your Family News Item choosing from our pre-defined categories:
Anniversary, Award, Birth, Death, Diagnosis, Engagement, Graduation, Lottery, Retirement, Vacation, Wedding, Other.
Death
Cynthia Swan's mother passed. Rowena M. Swan, 88,
Posted by: Kathleen (Kay) Pierce

9/28/2018

Death
Mike's mom, Caroline Gannon Strausz Cerrillo passe
Posted by: Kathleen (Kay) Pierce

6/9/2018

Death
Brian's mom, June Frances Hausenbuiller, passed aw
Posted by: Kathleen (Kay) Pierce

3/24/2018

Death
Gil's mother, Harriet K. Dodgen, 96, of Pullman, d
Posted by: Kathleen (Kay) Pierce

1/11/2018

Death
Gil Dodgen's father, Harold W. Dodgen, of Pullman,
Posted by: Kathleen (Kay) Pierce

12/4/2017

Death
Girard Clark's wonderful mother has passed. Eliz
Posted by: Kathleen (Kay) Pierce

7/11/2017

Death
Update: A memorial service will be held at Trinity
Posted by: Kathleen (Kay) Pierce

6/15/2017
Calendar
There are no Calendar items on file
at this time.

Today's Featured Class Member Website
Classreport.org provides free Class Websites for every graduating class of every high school with free access for all.
We are one of the premier social networking sites dating back to 2003. We are a small, family-owned business and yet freely host over a million class websites. Our Story
Classreport holds a special place in the hearts of our users: Bravos.
Class Support Status

Our Class Site is Fully Funded!
Additional contributions are welcome and will be used to provide support for the larger Classreport community.
CLICK HERE TO LEARN MORE
Class Directory

Where in the world are you? Stats
Recent Profile Updates
| | |
| --- | --- |
| | Jan 9 |
| | Dec 27 |
| | Dec 26 |
| | Dec 19 |
| | Dec 17 |
| | Dec 12 |
| | Dec 12 |
| | Nov 5 |
Class Poll
There is no Active Poll
at this time.
Recent Reviews
There are no reviews on file
at this time.
This area is for comments on
books, movies, music,
restaurants, etc.
Visit Other Classes
The Office
(Admin use only)
If you have any questions or comments regarding this website, please contact:

Class Administrator
David Roberson

Would you like a sneak peek at a
non-functioning view of The Office?

This class reunion website is a complementary addition to your existing alumni resources.
It is a product of Classreport, Inc. and may not be affiliated with Pullman High School or its alumni association.

Does your High School Class have a full-featured Alumni Website? Start One Now!
(Or start one for your Mother, Father, Sister, Brother, Spouse, Son, Daughter, Friend . . .)



"Just discovered your product today while trying to locate classmates ahead of our 50th reunion in 2020. The fact that you did this in a noncommercial manner in a world where everything has a price tag deserves recognition and respect, in my view. Thank you and good luck in all your endeavors." 5/5/2018


"THANKYOU so much for handling this for us! We are so appreciative! It looks GREAT!" 5/2/2018


"Thank YOU for helping us get the word out! I've posted a link to the website on our FB group page and vigorously encouraged other classmates to contribute" 4/27/2018


"Your site is amazing. Kudos to you and your staff. You have benefitted so many high school alumni in organizing their class reunions." 10/4/2017


"Thanks to classreport.org our class website played a huge part in the success of our Reunion. We greatly appreciate your wonderful support." 10/3/2017


"Thanks for all your hard work and ingenious spirit." 9/25/2017


"Thanks guys, you are Good!!" 9/23/2017


"I love your service and will continue to support you." 9/14/2017


"We have been using the website for more than 10 years now. It's still the best website out there for classmates to meet, collect their info and advertise their reunions. Thanks for inventing it all!" 9/11/2017


"Thank you for your assistance. It was very helpful. Looks good!" 9/5/2017



More bravos at: www.classreport.org/bravos




16th Anniversary!
There are no fees required for participation on this site.
Please support this site with your voluntary contributions.
We cannot provide this service without your support. Thank You!
Please read Our Story
ClassTraQ 11.003 Software Copyright © 2003 - 2017 Classreport, Inc. All Rights Reserved e1 amsc: 1