Here we are . . . 40 years later!!!!!


This site is operated and funded by members of our class.
Class Administrator: Beth Askelin Brummond
Page Hits: 32,695


50 Year Reunion Announcement!
---
Denali Train Ride
Friday, July 24, 2020 - 8:00 am
Fairbanks to Denali and back to Fairbanks
During our summer season we offer daily rail service on our Denali Star Train, departing Fairbanks at
8:15 am, arriving in Denali at 12:10pm.
Return train departs Denali at 4pm and you will be back in Fairbanks at 8pm.
You will receive a boarding pass for each rail leg upon check-in on the day of travel. Seats will be
assigned and everyone same reservation will be seated together. (Awesome!!)
Our Denali Star train offers 2 classes of service. You may choose to travel in Adventure Class or Gold
Star:
Adventure Class
Experience rail travel across Alaska at our best rate. Adventure Class cars offer comfortable seating and large
picture windows. Adventure Class guests are encouraged to travel between railcars, whether to take advantage of
the open seating in our Vista Dome cars or visit the Wilderness Café.
Adventure Class features:
• Confirmed seat with large picture windows
• Onboard dining and bar service available for purchase in the Wilderness Café*
• Freedom to explore between Adventure Class cars
• Access to open seating in Vista Dome car
GoldStar Service
The Alaska Railroad's premium class of service offers passengers an exceptional way to travel across Alaska.
Glass-dome ceilings allow for panoramic views as Alaska unfolds along the tracks, and an outdoor, upper-level
viewing platform -- the only of its kind in the world -- offers fresh air and an excellent vantage point for photos.
On the lower level of GoldStar railcars, passengers enjoy a full-service dining room; GoldStar tickets include
meals, all soft beverages and two complimentary adult beverages per trip for passengers over 21.
GoldStar Service features:
• Glass-dome ceilings
• Upper-level outdoor viewing platforms
• Inclusive dining at the lower-level full-service dining car
• Private bar and two complimentary adult beverages
• Comfortable forward-facing seats
• Alaskan tour guide providing narration
• Fully accessible
Rail fares per person (one way) are as follows :
FAI-DLI 79.00$ in Adventure Class / 170.00$ in Gold Star
DLI-FAI 79.00$ in Adventure Class / 182.00$ in Gold Star
Rail fares per person for active/retired military personnel (with DOD ID) are as follows :
FAI-DLI 64.00$ in Adventure Class / 140.00$ in Gold Star
DLI-FAI 64.00$ in Adventure Class / 153.00$ in Gold Star
You may choose to travel both ways in same class or one way in Adventure Class and one way in Gold
Star, always depending on availability.
We also offer a group rate, provided 15 or more adults are traveling.
Kindly note that July is our peak season and that seats do sell quickly.
Event Contact: Beth Brummond
Look Who's Coming!
---
---
Class News

7/12/2005
Alumni Fund information
Alumni Fund information: In planning our 30th Reunion "the Committee" decided to do something for our school. We tossed around several ideas and we came up with a Scholarship Fund (instead . . . Continued

7/12/2005
Website contributions? (This is NOT for Reunions!!!)
YES!!!! This is for the Website!! We are fully funded . . . . . We need no more Contributions!!!!! . . . Continued

7/12/2005
HOW TO USE THIS SITE
If you are a newcomer WELCOME!!! Here are a few hints to help you fully utilize this website. . . . . . 1) If you are a classmate from the Class of 70 and this is your first visit, then t . . . Continued



For those who were able to attend and for those who could not make it, the LHS Class of '70 45th Re-union, was another GREAT success. We had 36 classmates plus 16 Guests attend.
The Riverboat Discovery II provided an enjoyable experience.  Our Captain for the evening was Ken Persinger (Classmate Mike Persingers brother!!).  
Paul Vandermeer, our esteemed Class President, flew up from Tennessee to join us. He helped check-in Classmates at the "door"!!
We had folks from Fairbanks, North Pole, Delta, Talkeetna, Anchorage, Tennessee, Washington, California and one Classmate came all the way from Argentina which was obviously the most traveled attendee.
Jerry Cleworth brought a Collection of Tim Ames (deceased) Art/reprints & cards for us to choose what we wanted to take home.   So awesome to feel "in touch" with Tim.
Richard Tilly made an announcement about 3/4 of the way thru the Cruise, that it had cost everyone $60.00 each to go down river, but now to go back up river it was going to run $100.00 per couple (to go into the Scholarship Fund) & that the Riverboat wasn't moving until the Fund Container started getting filled.  Captain Ken turned the Riverboat around and some of us realized that we weren't moving!!!  Captain Ken made an announcement that he hadn't gotten word from Richard that we could move!!!  We were "held hostage"!!
We raised over $1,000.00 to help bolster the LHS Alumni Fund our class put together 15 years ago for Scholarships for young kids who worked hard, got through a tough home life, didn't have the top grades but stayed in school. If anyone wants to contribute more for the Alumni Fund, (it needs further donations), contact Beth.
When the Riverboat had docked, most of us didn't want to leave . . . . they had to flash the lights at us!!!!   Everyone had a good time.  So we are challenging everyone to stay healthy, stay in touch, work on that retirement plan, and plan on attending our 50th in 2020!! Stay tuned as I've heard it could be AWESOME!!
Our Class Message Board
Your participation is requested!
We would like to hear from you. Post your messages here.

ADD NEW VIEW ALL

Indicates an included photo
Today's Featured Biography
After high school I went to college at UAF and earned a B.S. in Biology in 1974. While attending college I worked summers for the Alaska Department of Fish and Game in Dillingham, Alaska. I met Kay Ward there and, after a year at college together, we married in 1974. After college, Kay and I worked on the Trans Alaska Pipeline during 1976-77. Then we moved to Corvallis, Oregon where I earned an M.S. and Ph.D. in Statistics at Oregon State University in 1978 and 1982 respectively. We returned to Fairbanks in 1981 when I became a faculty member in the Department of Mathematics and Statistics at UAF; I served as Department Chair for six years. I then served as Vice Provost for UAF for six years. In August 2012 I became Vice President of Academic Affairs for the University of Alaska statewide system. I retired from that position December 31, 2014. When UAF wanted to conduct a search for a new chancellor, I served as interim chancellor from August 2016 to June 2017.

While employed by UAF, my family and I lived two years, 1988-90, in Sana'a, Yemen and two years, 1992-1993, in Muscat, Oman working as a technical advisor for the U.S. Agency for International Development. In Yemen, I helped coordinate the first national survey of agriculture and provided education on the use of statistical software. In Oman, I worked to improve fisheries statistics reporting.

I co-authored the book "Resource Selection by Animals: Statistical design and analysis for field studies," by Bryan Manly, Lyman McDonald, and Dana Thomas published by Chapman and Hall of London in 1993. A second edition of this text was published by Kluwer Academic Publishers in 2002.

Current hobbies include genealogy, harmonica and canoeing; I was an American Canoe Association certified canoe instructor for about a decade. Kay and I now live in the Phoenix area where we are active in a local hiking club.


Family News Summary
Enter your Family News Item choosing from our pre-defined categories:
Anniversary, Award, Birth, Death, Diagnosis, Engagement, Graduation, Lottery, Retirement, Vacation, Wedding, Other.
Death
Keep Classmate, Margie (Miller) Hylton's family in
Posted by: Beth Askelin Brummond

4/30/2019

Death
Keep Deborah (Terry) DeVore's family in your thoug
Posted by: Beth Askelin Brummond

11/25/2018

Death
Keep Marcia Giinther's family in your thoughts and
Posted by: Beth Askelin Brummond

2/14/2018

Death
Keep Debbie (Everts) Baggen & her family in your T
Posted by: Beth Askelin Brummond

12/10/2017

Death
Ron Selby July 24, 2017
Posted by: Beth Askelin Brummond

7/27/2017

Diagnosis
Please pray for Deborah Terry DeVore her cancer ha
Posted by: Joyce Thomas DeCarufel

4/2/2016

Death
Please keep Kathy Ream in your prayers she lost he
Posted by: Joyce Thomas DeCarufel

4/2/2016
Calendar
There are no Calendar items on file
at this time.

Today's Featured Class Member Website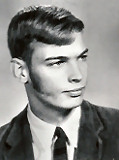 . . . click on the Class Directory tab, then click on the Missing tab. Encourage any of these Classmates to "sign up" so they can get updates!!
Classreport.org provides free Class Websites for every graduating class of every high school with free access for all.
We are one of the premier social networking sites dating back to 2003. We are a small, family-owned business and yet freely host over a million class websites. Our Story
Classreport holds a special place in the hearts of our users: Bravos.
Class Support Status

Our Class Site is Fully Funded!
Additional contributions are welcome and will be used to provide support for the larger Classreport community.
CLICK HERE TO LEARN MORE
Class Directory

Where in the world are you? Stats
Recent Profile Updates
| | |
| --- | --- |
| | Feb 13 |
| | Feb 11 |
| | Feb 10 |
| | Jan 30 |
| | Jan 1 |
| | Dec 27 |
| | Dec 21 |
| | Dec 17 |
U.S. Armed Forces
Active and Veterans

Please update your profile to be
included in this section.

0 from Our Class

4 from Our School

Class Poll
There is no Active Poll
at this time.
Recent Reviews
Book
Heaven is for Real

Rev by: Joyce Thomas DeCarufel
Book
The Shack

Rev by: Joyce Thomas DeCarufel
Book
grace
Richard Paul Evans
Rev by: Joyce Thomas DeCarufel
Book
Finding Noel
Richard Paul Evans
Rev by: Joyce Thomas DeCarufel
Visit Other Classes
The Office
(Admin use only)
If you have any questions or comments regarding this website, please contact:

Class Administrator
Beth Askelin Brummond

Would you like a sneak peek at a
non-functioning view of The Office?

This class reunion website is a complementary addition to your existing alumni resources.
It is a product of Classreport, Inc. and may not be affiliated with Lathrop High School or its alumni association.

Does your High School Class have a full-featured Alumni Website? Start One Now!
(Or start one for your Mother, Father, Sister, Brother, Spouse, Son, Daughter, Friend . . .)



"Just discovered your product today while trying to locate classmates ahead of our 50th reunion in 2020. The fact that you did this in a noncommercial manner in a world where everything has a price tag deserves recognition and respect, in my view. Thank you and good luck in all your endeavors." 5/5/2018


"THANKYOU so much for handling this for us! We are so appreciative! It looks GREAT!" 5/2/2018


"Thank YOU for helping us get the word out! I've posted a link to the website on our FB group page and vigorously encouraged other classmates to contribute" 4/27/2018


"Your site is amazing. Kudos to you and your staff. You have benefitted so many high school alumni in organizing their class reunions." 10/4/2017


"Thanks to classreport.org our class website played a huge part in the success of our Reunion. We greatly appreciate your wonderful support." 10/3/2017


"Thanks for all your hard work and ingenious spirit." 9/25/2017


"Thanks guys, you are Good!!" 9/23/2017


"I love your service and will continue to support you." 9/14/2017


"We have been using the website for more than 10 years now. It's still the best website out there for classmates to meet, collect their info and advertise their reunions. Thanks for inventing it all!" 9/11/2017


"Thank you for your assistance. It was very helpful. Looks good!" 9/5/2017



More bravos at: www.classreport.org/bravos




17th Anniversary!
There are no fees required for participation on this site.
Please support this site with your voluntary contributions.
We cannot provide this service without your support. Thank You!
Please read Our Story
ClassTraQ 11.003 Software Copyright � 2003 - 2017 Classreport, Inc. All Rights Reserved e1 amsc: 1