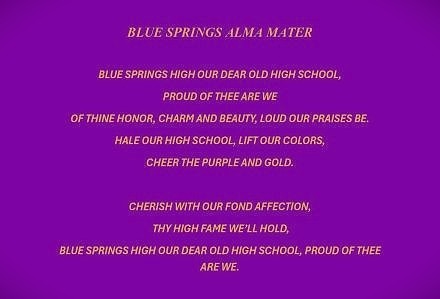 How many people can you name in this picture? Did you not get a photo from reunion? Contact Beth Wagner Dupy for details on how to get a photo.


This site is operated and funded by members of our class.
Class Administrator: Myrna Koch Myers
Page Hits: 47,964


Event Announcement!
---
COVID-DELAYED 45TH REUNION...AKA BIGGEST 65TH BIRTHDAY BASH EVER!!!
Friday, September 16, 2022 - 7:00 pm
Friday - The Blue Moon Bar inside the Lunar Bowl, 2001 NW 7 Hwy. 7:00 pm; Saturday - Shelter House #11 Lake Jacomo 10 am to 8:00 pm Lunch served at 1:00 pm.
No Charge - (Donations Welcome But Not Necessary)
COVID-DELAYED 45TH REUNION...AKA BIGGEST 65TH BIRTHDAY BASH EVER!!!

Friday, September 16, 2022

We are happy to announce we will be landing back at The Blue Moon Bar located inside the Lunar Bowl, 2001 NW 7 Hwy. starting at 7:00 pm for our Friday night gathering!!! Come have a drink or two and a great time catching up with your fellow BSHS Class of 75 classmates and new, or soon-to-be new, Medicare recipients!!! Since they arenít charging us to use their space, please tip the staff generously to show our appreciation!!!

Saturday, September 17, 2022

We have Shelter House #11 reserved at Lake Jacomo from 10 am to 8:00 pm

Lunch will be served starting at 1:00 pm

We are currently planning on serving smoked brisket, hamburgers, hot dogs, potato salad, baked beans and all the fixings, but youíll need to bring your own drinks and any other side dishes/desserts youíd like to share. Because everything has been donated, there will be NO COST associated with this fun, well-overdue event!!! Because we donít want to take advantage of our Donors generosity, we have to limit our lunch guests to classmates only plus one (+1). Additional guests are welcome to come for the fun and games (and/or they can bring their own sack lunch.)

Jan Evans has several lawn games but would like to find people who have Corn-Hole/Baggo boards who are willing to bring them. Also, while there are picnic tables, we would suggest you bring lawn chairs to ensure adequate seating.

Please RSVP by September 7th so we can have enough food for all. This info will be cross-posted on the FaceBook group Blue Springs High School Class Reunions (request to be added if youíre not already in the group) ClassReport.org and ClassMates.com. Please RSVP through only one of these sites to make it easier for us to maintain an accurate count. If the site you use doesnít allow you to add your plus 1 (+1), please email Jan Ried Evans at [email protected] with the info.

PS.

Please provide an update of your information which may have changed over the years. A current photo of the class member's photo to be beside your yearbook photo would be welcomed. Any questions please contact Myrna Koch Myers at [email protected] Please send photos to that email as well in JPG Format. We will get them posted as soon as we can.

If you have forgotten your log in information, please send Myrna your old email and your current email. DO NOT send Myrna your password! Myrna will add your new email which will allow you to push the lost password button. Classreport will update your password with your new one. Just follow the prompts. Myrna does not want or need andyone's password information. Following this process will help eliminate duplicate pages for class members. If you delete a site, please only eliminate the one without your yearbook photo.

The small reunion booklets available at previous reunions will also be available. The fee will only be the cost to prepare one. Those will only be produced if you provide and email to Myrna. Those will only be produced if you provide and email to Myrna. Those responding to the poll do not provide who has voted they wanted 1 or 2. If one is wanted, please contact me so they are prepared for that person.

Thank you for your help with this! We love you all and look forward to seeing you at the Reunion in September!!!
Event Contact: Jan Ried Evans
Look Who's Coming!
Make Checks Payable To: FOR DONATIONS CONTACT JAN RIED EVANS - SEE EMAIL BELOW

---
Event Announcement!
---
Our Class Website
I would like us to say a special thank you to Garry Willis, Steven Hamline, Mark Simpson, Gary Dickerson, David Gumucio, and Myrna Myers for their recent generous contributions to our class website. These contributions take us to our 50th year reunion after which our website will be totally free of charge. Please update your information on a regular basis on our class website and use it to renew friendships and communicate with each other. Love you all and Happy New Year!

Each contributor since this site began is greatly appreciated. Those members that made voluntary contributions are shown on the right side of this page.
---
Class News

7/17/2022
COVID-DELAYED 45TH REUNION - AKA THE BIGGEST 65TH BIRTHDAY BASH EVER!!!
Covid-delayed 45th Reunion... aka Biggest 65th Birthday Bash Info!!! Friday, September 16, 2022 Happy to announce we will be landing back at The Blue Moon bar located inside Lunar Bowl . . . Continued

4/14/2022
Lost your Log In?
If you have difficulty logging into the site after you have previously registered, please sent your current email to Myrna (Koch) Myers. I can assist in updating your login. For informatio . . . Continued

4/14/2022
Thank you to our class of contributing to this site!
We Did It! Thanks to your generous contributions our class is fully funded for life! We have successfully funded our class through our 50th year following graduation. From now on, Classre . . . Continued


Today's Featured Biography
A lot can happen after high school.

Although it was fun to go to school from kindergarten through 12th grade in Blue Springs, shortly after that MODOT condemned my family farm--forcing my family to move from Blue Springs to Odessa Missouri. This is where I live today. The Blue Springs farmstead is now part of Lake Remembrance right off I-70 and Adams Dairy Parkway.

While in high school, I remember one of the Blue Springs coaches telling us that only 4% of Blue Springs graduates went on to college. I wanted desperately to go to college. Unfortunately, as a farm kid, money was always an issue. If I wanted to go to college, I had to earn my way there.

To earn tuition money, I joined the Army and was sent to Germany for 6 years where I learned about duty, honor, and country. I got a chance to start my education and saved like crazy for the day when I could go back to college full time. After being honorably discharged, I returned to Missouri to start my education with family in tow. One child just turned one year old and I was pregnant with another. After waiting so long to go to college I was determined to go--and I did.

I went to the University of Central Missouri (BS), Colorado State University (MBA) and Mizzou (PhD). It took 15 long years to complete my education. My children thought every mom went to PhD school. My dissertation was dedicated to my youngest daughter who helped me with my data collection. I guess those lessons live on today in my children. (Thank you coach).

My son Adam is an attorney in New York and Dallas (married to the lovely Mindy) and my daughter works for a very large national bank in San Francisco with 700 people reporting to her. I have a grandson Logan who is the apple of my eye.

For 32 years I taught at the college level and worked in industry. I taught engineering, finance, and statistics. I ended my academic career at East Carolina University in North Carolina and my professional career at Burns & McDonnell Engineers in Kansas City, MO where I was responsible for maintaining professional certifications for over 7000 engineers working across the world.

I am recently widowed. My husband was a physicist and chemist and was absolutely the love of my life. I miss him every day. He died of cancer at the start of Covid on March 25, 2020. I absolutely hate cancer.

Death has been hard on me for the past few years. In 2015 my dad died, in 2018 my mom died, in 2020 my husband died and in 2021 my dog died.

Before my husband died, he asked me to open a small storefront in Odessa called Borgmanís Farmstead Store. My daughter is planning on coming home to help me run it. Business is good and I have just purchased a historical building that I plan to renovate.

So, in the end, Iím back to my original roots as a 3rd generation farmer for Borgmanís Dairy. If you are ever in Odessa, please stop in to say hello.



Classreport.org provides free Class Websites for every graduating class of every high school with free access for all.
We are one of the premier social networking sites dating back to 2003. We are a small, family-owned business and yet freely host over a million class websites. Our Story
Classreport holds a special place in the hearts of our users: Bravos.
Class Support Status

Our Class Site is Fully Funded!
Additional contributions are welcome and will be used to provide support for the larger Classreport community.
CLICK HERE TO LEARN MORE
Class Directory

Where in the world are you? Stats
Recent Profile Updates
| | |
| --- | --- |
| | Aug 12 |
| | Aug 12 |
| | Aug 11 |
| | Aug 11 |
| | Aug 11 |
| | Aug 11 |
| | Aug 11 |
| | Aug 11 |
Class Poll
There is no Active Poll
at this time.
Recent Reviews
Website
This website
Artist/Author
Rev by: Myrna Koch Myers
Visit Other Classes
The Office
(Admin use only)
If you have any questions or comments regarding this website, please contact:

Class Administrator
Myrna Koch Myers

BSHS Site Coordinator
Myrna Koch Myers
Class of 1975

Would you like a sneak peek at a
non-functioning view of The Office?

This class reunion website is a complementary addition to your existing alumni resources.
It is a product of Classreport, Inc. and may not be affiliated with Blue Springs High School or its alumni association.

Does your High School Class have a full-featured Alumni Website? Start One Now!
(Or start one for your Mother, Father, Sister, Brother, Spouse, Son, Daughter, Friend . . .)



"Just discovered your product today while trying to locate classmates ahead of our 50th reunion in 2020. The fact that you did this in a noncommercial manner in a world where everything has a price tag deserves recognition and respect, in my view. Thank you and good luck in all your endeavors." 5/5/2018


"THANKYOU so much for handling this for us! We are so appreciative! It looks GREAT!" 5/2/2018


"Thank YOU for helping us get the word out! I've posted a link to the website on our FB group page and vigorously encouraged other classmates to contribute" 4/27/2018


"Your site is amazing. Kudos to you and your staff. You have benefitted so many high school alumni in organizing their class reunions." 10/4/2017


"Thanks to classreport.org our class website played a huge part in the success of our Reunion. We greatly appreciate your wonderful support." 10/3/2017


"Thanks for all your hard work and ingenious spirit." 9/25/2017


"Thanks guys, you are Good!!" 9/23/2017


"I love your service and will continue to support you." 9/14/2017


"We have been using the website for more than 10 years now. It's still the best website out there for classmates to meet, collect their info and advertise their reunions. Thanks for inventing it all!" 9/11/2017


"Thank you for your assistance. It was very helpful. Looks good!" 9/5/2017



More bravos at: www.classreport.org/bravos




19th Anniversary!
There are no fees required for participation on this site.
Please support this site with your voluntary contributions.
We cannot provide this service without your support. Thank You!
Please read Our Story
ClassTraQ 11.003 Software Copyright ÔŅĹ 2003 - 2017 Classreport, Inc. All Rights Reserved e1 amsc: 1