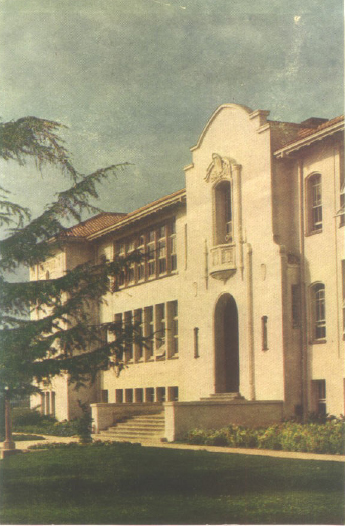 This site is operated and funded by members of our class.
Class Administrator: Bruce Christensen
Page Hits: 64,770


Event Announcement!
---
HAPPY NEW YEAR 2019 & HAPPY JANUARY BIRTHDAYS
Thursday, January 31, 2019
---
VHS ALUMNI DAY - CLASS OF '57 WINS ATTENANCE COMPETITION, 4/27/18
Saturday, February 2, 2019
VALLEJO HIGH SCHOOL
DURING THE ALUMNI DAY CELEBRATION, FRIDAY, APRIL 27, 2018 THE CLASS OF '57 HAD MORE ATTENDEES THAN ANY OTHER VHS ALUMNI CLASS. THE SECOND PLACE FOR ATTENDANCE WENT TO THE VHS CLASS OF '52.

CONGRATULATIONS TO ALL OUR CLASSMATES WHO ATTENDED TO HELP BRING HOME THIS VICTORY.

As many of you are aware, the Annual VHS Alumni Day celebration was held off-campus for the past two years. This year, the new VHS administration, led by the VHS Principal, Dr. Quintana, invited the VHS Alumni back to the VHS campus with open arms.

On Alumni Day 2018, while the VHS Alumni were entering the campus, they were entertained by the VHS Band and the VHS Cheer Leaders who performed in the outdoor quad area of the school between 9 and 10 am. During registration in the school cafeteria, the attendees were treated to coffee and pastries hosted by the VHS Hospitality Academy, under the leadership of Ms. Camille Jefferson.

After the Alumni registered, they were warmly welcomed in the auditorium by the VHS Principal, Dr. Sheila Quintana and the new Superintendent of Schools, Dr. Adam Clark. The Master of Ceremonies for the VHS Alumni Day was the newest member of the Alumni Committee, Patrick Brooks, VHS Class of 2003.

During the Alumni Day event, in addition to being entertained by the VHS Alumni Band, the audience was treated to musical selections from the VHS Choir under the direction of Ms. Denise Hunter.
The Keynote speaker for the event was newspaper columnist and author, Brendan Riley, VHS '63.

After the program, Alumni were invited to the school library, where VHS memorabilia was on display through the efforts of the VHS Athletic Director, Josh Ramos and several of his student athletes dressed in their sports attire.

Several Alumni Day photos are available for viewing by clicking on the following link.
More Information: Click To Open
---
PHOTOGRAPHS OF VHS 60-YEAR REUNION HAVE BEEN POSTED!
Sunday, February 3, 2019
ZIO FRAEDO'S RESTAURANT; 23 HARBOR WAY, VALLEJO
Our 60-Year VHS Class of 1957 reunion was held on Saturday, September 16, 2017 in Vallejo at Zio Fraedo's Restaurant at 23 Harbor Way.

The reunion was attended by about 90 VHS Class of '57 classmates and guests who enjoyed recalling their high school days in the 1950s.

A delicious buffet dinner was served. The reunion committee, consisting of Gail Speckel (Barker), Anna Emge (Scopesi), Ron Smith, Sharon Rimestad (Ketelsen), Jeanne Vanecek (Miller), Bill Hopkins, Deanne Moler (Kulmus), and Bruce Christensen were introduced and there were several door prizes awarded.

A short program was held after the dinner, with 1950s music provided by classmate Ron Smith.

Thanks to all who attended the 60-year reunion. We're looking forward to the year 2022 when we will gather to celebrate the VHS Class of 1957's 65-Year reunion.

Many photos of the 60-year event were taken during the celebration and can be viewed on the website at the link provided below. If you have additional photos of the reunion attendees that you would like to have posted, please email them to [email protected]

Thanks, Bruce Christensen


More Information: Click To Open
---
WITH LOVING MEMORIES
Monday, February 4, 2019
---
Event Announcement!
---
---
Class News

7/26/2018
CLASSMATE JOHN CHULICK PASSES
Carol Chulick, wife of Classmate John Chulick, reports "John passed away peacefully and surrounded by his family on June 25, 2018." John and Carol were married for 56 years. Carol report . . . Continued

5/22/2018
CLASSMATE MARILYN HOEHN FROST-BENTLEY PASSES
On May 16, 2018, VHS Class of 1957 classmate, Marilyn Hoehn passed away. Further details will be provided when they become available. . . . Continued

5/22/2018
CLASSMATE BILLY SIEBERT PASSES
On November 20, 2017 Phillip (Billy) Siebert of the VHS Class of 1957 passed away peacefully at his home in American Canyon. Billy was preceded in death by his wife, Janice, in 2016. He wa . . . Continued


Today's Featured Biography
Graduated with all of you in 1957. Married in 1959 and moved to Kansas where my 3 boys were born. Moved back to Fairfield where my daughter was born. Divorced my first husband, Fred, in 1967 and married my current and "greatest" husband, Dutch (nickname) in 1970. He had 1 boy and together we now have 5 children, 18 grandchildren & 5 great grandchildren. We moved to Grants Pass, Oregon, in 1977 where we both became employed by the Josephine County Sheriff's Office. We both retired from there in 1996 and have enjoyed traveling ever since in our 5th wheel (this is our permanent home also). We spend the winters in Yuma, Arizona, where we both can enjoy playing golf everyday (if we could afford to), love to play bingo (bingoholics you might say), and just travel when we aren't sitting still. Dutch passed away in February, 2008. My permanent residence WAS in Yuma, but will be in Grants Pass, Oregon, for the time being.


Classreport.org provides free Class Websites for every graduating class of every high school with free access for all.
We are one of the premier social networking sites dating back to 2003. We are a small, family-owned business and yet freely host over a million class websites. Our Story
Classreport holds a special place in the hearts of our users: Bravos.
Class Support Status

Our Class Site is Fully Funded!
Additional contributions are welcome and will be used to provide support for the larger Classreport community.
CLICK HERE TO LEARN MORE
Class Directory

Where in the world are you? Stats
Recent Profile Updates
| | |
| --- | --- |
| | Sep 22 |
| | Jul 26 |
| | May 22 |
| | May 22 |
| | Apr 17 |
| | Mar 9 |
| | Jan 15 |
| | Jan 13 |
Class Poll
There is no Active Poll
at this time.
Visit Other Classes
The Office
(Admin use only)
If you have any questions or comments regarding this website, please contact:

Class Administrator
Bruce Christensen

VHS Site Coordinator
William Strong
Class of 1962

Would you like a sneak peek at a
non-functioning view of The Office?

This class reunion website is a complementary addition to your existing alumni resources.
It is a product of Classreport, Inc. and may not be affiliated with Vallejo High School or its alumni association.

Does your High School Class have a full-featured Alumni Website? Start One Now!
(Or start one for your Mother, Father, Sister, Brother, Spouse, Son, Daughter, Friend . . .)



"Just discovered your product today while trying to locate classmates ahead of our 50th reunion in 2020. The fact that you did this in a noncommercial manner in a world where everything has a price tag deserves recognition and respect, in my view. Thank you and good luck in all your endeavors." 5/5/2018


"THANKYOU so much for handling this for us! We are so appreciative! It looks GREAT!" 5/2/2018


"Thank YOU for helping us get the word out! I've posted a link to the website on our FB group page and vigorously encouraged other classmates to contribute" 4/27/2018


"Your site is amazing. Kudos to you and your staff. You have benefitted so many high school alumni in organizing their class reunions." 10/4/2017


"Thanks to classreport.org our class website played a huge part in the success of our Reunion. We greatly appreciate your wonderful support." 10/3/2017


"Thanks for all your hard work and ingenious spirit." 9/25/2017


"Thanks guys, you are Good!!" 9/23/2017


"I love your service and will continue to support you." 9/14/2017


"We have been using the website for more than 10 years now. It's still the best website out there for classmates to meet, collect their info and advertise their reunions. Thanks for inventing it all!" 9/11/2017


"Thank you for your assistance. It was very helpful. Looks good!" 9/5/2017



More bravos at: www.classreport.org/bravos




16th Anniversary!
There are no fees required for participation on this site.
Please support this site with your voluntary contributions.
We cannot provide this service without your support. Thank You!
Please read Our Story
ClassTraQ 11.003 Software Copyright © 2003 - 2017 Classreport, Inc. All Rights Reserved e1 amsc: 1