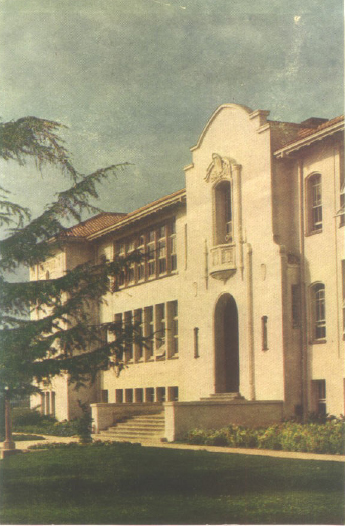 This site is operated and funded by members of our class.
Class Administrator: Bruce Christensen
Page Hits: 70,313


Event Announcement!
---
HAPPY VALENTINE'S DAY AND FEBRUARY BIRTHDAYS
Saturday, February 29, 2020
---
2020 VALLEJO HIGH SCHOOL ALUMNI DAY CELEBRATION
Friday, April 24, 2020 - 9:00 am
VALLEJO HIGH SCHOOL CAMPUS
FREE, PRE-REGISTRATION REQUESTED
The 39th annual Vallejo High School Alumni Day Celebration on April 24, 2020 will be held along with the 150-Year Anniversary of the First VHS Graduation Class (1870). This year there will be many celebrations of this historic 150-year anniversary.

As in the past, Alumni Day will begin with a reception in the VHS cafeteria at 9 am, which again will be hosted by the VHS Student Hospitality Academy.

At 10 am, the VHS Alumni program will commence in the school auditorium with past VHS Principal, Phil Saroyan (VHS '65), as the Master of Ceremonies. The guest speaker will be Jim Orr (VHS '58) who will discuss his new book "Rock 'n Roll'n the 50s and 60s".

The program will conclude with the Roll-Call of VHS Alumni Classes. In 2019, the attendance contest was tied by the VHS Alumni Classes of 1957 and 1964.

Please fill-out your Alumni Registration form by going to:
"Click Here For Reunion Documents" (below)

Return your completed registration form as soon as possible; I'm looking forward to seeing you at this historic Alumni Day celebration.
Event Contact: [email protected]
---
IN LOVING MEMORY
Friday, May 1, 2020
Make Checks Payable To: No cost

---
2019 VALLEJO HIGH SCHOOL ALUMNI DAY CELEBRATION
Saturday, May 2, 2020 - 9:00 am
VALLEJO HIGH SCHOOL CAMPUS
NO COST
Just a quick report to provide the results of the roll-call count at the April 26, 2019 Vallejo High School Alumni Day Celebration. The "upstart" VHS Class of 1964 actually tied the Class of 1957 Alumni attendees with eleven alumni in attendance from each class.

Registration started at 9 am in the school cafeteria where refreshments were served, hosted by the VHS Hospitality Academy under the direction of Camille Jefferson.

The program in the school auditorium commenced at 10 am with the Master of Ceremonies, Phil Saroyan, VHS Class of 1965 (VHS principal 1993-2009) leading the flag salute and the singing of 'God Bless America'. He next introduced the keynote speaker; President of the Vallejo City Unified School District; Bob Lawson, VHS Class of 1964.

During the program, entertainment was be provided by the VHS Band under the direction of Carmel Pajita, the VHS cheerleaders directed by Reyanna Stowes, and the VHS Choir led by Denise Hunter.

Bruce Christensen introduced the 2018 Apache Scholarship awardee, Emma Alexander, who reported on her first year attending Napa Valley College. She will continue her college education with the goal of working in law enforcement.

After the roll call of VHS classes competition, which the Class of '57 and Class of '64 tied, the program wrapped up with the Alumni singing the VHS alma mater accompanied by the VHS Band.

Afterward, in the school library, many alumni viewed the dozens of VHS historical memorabilia that were on display courtesy of the VHS Athletic Director, Josh Ramos.

Many photos were taken during the event and some are posted on the link below.....My apologies for those pictures that are 'blurry'; perhaps my camera is trying to call it quits. If any of you happen to have additional "non-blurry" photos, email them to [email protected] and they will be posted.


More Information: Click To Open
---
PHOTOGRAPHS OF VHS 60-YEAR REUNION HAVE BEEN POSTED!
Sunday, May 3, 2020
ZIO FRAEDO'S RESTAURANT; 23 HARBOR WAY, VALLEJO
Our 60-Year VHS Class of 1957 reunion was held on Saturday, September 16, 2017 in Vallejo at Zio Fraedo's Restaurant at 23 Harbor Way.

The reunion was attended by about 90 VHS Class of '57 classmates and guests who enjoyed recalling their high school days in the 1950s.

A delicious buffet dinner was served. The reunion committee, consisting of Gail Speckel (Barker), Anna Emge (Scopesi), Ron Smith, Sharon Rimestad (Ketelsen), Jeanne Vanecek (Miller), Bill Hopkins, Deanne Moler (Kulmus), and Bruce Christensen were introduced and there were several door prizes awarded.

A short program was held after the dinner, with 1950s music provided by classmate Ron Smith.

Thanks to all who attended the 60-year reunion. We're looking forward to the year 2022 when we will gather to celebrate the VHS Class of 1957's 65-Year reunion.

Many photos of the 60-year event were taken during the celebration and can be viewed on the website at the link provided below. If you have additional photos of the reunion attendees that you would like to have posted, please email them to [email protected]

Thanks, Bruce Christensen


More Information: Click To Open
---
Event Announcement!
---
---
Class News

12/19/2019
CLASSMATE JUDY BAKER-MOORE PASSES
On Tuesday, December 17, 2019, Judy Baker-Moore, Vallejo High School Class of 1957 passed away at her home in Berkeley, CA. The cause of death was lung cancer. Additional information will . . . Continued

11/28/2019
CLASSMATE ALFRED "EDDIE" CRUZ JR. PASSES
On November 23, 2019 VHS Class of 1957 member, Eddie Cruz, passed away after a lengthy struggle with Alzheimer's disease. Eddie's obituary in the Times Herald was printed on 12/3/19. He i . . . Continued

11/4/2019
MEMORIAL SERVICE TO BE HELD FOR LEE COOKE
Lani Cooke is inviting classmates from Vallejo High School, Vallejo Junior College, and others who knew Lee Cooke, to a Memorial Service for VHS 1957 Classmate Lee, who passed away on Octobe . . . Continued


Today's Featured Biography
Married 54 years in June. 3 children, 5 grandchildren and 3 great grandchildren.

Attended College of the Redwood for AA and Certificate in Medical Assisting.
Retired 6 years ago, we traveled, I love to cruise,read,involved in church activities and husband is a bass fisherman, hunter,and gardens about a third of our acre He is finally going to cruise for our 50th anniversary.

Completely blessed life.


Classreport.org provides free Class Websites for every graduating class of every high school with free access for all.
We are one of the premier social networking sites dating back to 2003. We are a small, family-owned business and yet freely host over a million class websites. Our Story
Classreport holds a special place in the hearts of our users: Bravos.
Class Support Status

Our Class Site is Fully Funded!
Additional contributions are welcome and will be used to provide support for the larger Classreport community.
CLICK HERE TO LEARN MORE
Class Directory

Where in the world are you? Stats
Recent Profile Updates
| | |
| --- | --- |
| | Feb 3 |
| | Jan 20 |
| | Dec 26 |
| | Dec 19 |
| | Nov 28 |
| | Nov 21 |
| | Nov 1 |
| | Nov 1 |
Class Poll
There is no Active Poll
at this time.
Visit Other Classes
The Office
(Admin use only)
If you have any questions or comments regarding this website, please contact:

Class Administrator
Bruce Christensen

VHS Site Coordinator
William Strong
Class of 1962

Would you like a sneak peek at a
non-functioning view of The Office?

This class reunion website is a complementary addition to your existing alumni resources.
It is a product of Classreport, Inc. and may not be affiliated with Vallejo High School or its alumni association.

Does your High School Class have a full-featured Alumni Website? Start One Now!
(Or start one for your Mother, Father, Sister, Brother, Spouse, Son, Daughter, Friend . . .)



"Just discovered your product today while trying to locate classmates ahead of our 50th reunion in 2020. The fact that you did this in a noncommercial manner in a world where everything has a price tag deserves recognition and respect, in my view. Thank you and good luck in all your endeavors." 5/5/2018


"THANKYOU so much for handling this for us! We are so appreciative! It looks GREAT!" 5/2/2018


"Thank YOU for helping us get the word out! I've posted a link to the website on our FB group page and vigorously encouraged other classmates to contribute" 4/27/2018


"Your site is amazing. Kudos to you and your staff. You have benefitted so many high school alumni in organizing their class reunions." 10/4/2017


"Thanks to classreport.org our class website played a huge part in the success of our Reunion. We greatly appreciate your wonderful support." 10/3/2017


"Thanks for all your hard work and ingenious spirit." 9/25/2017


"Thanks guys, you are Good!!" 9/23/2017


"I love your service and will continue to support you." 9/14/2017


"We have been using the website for more than 10 years now. It's still the best website out there for classmates to meet, collect their info and advertise their reunions. Thanks for inventing it all!" 9/11/2017


"Thank you for your assistance. It was very helpful. Looks good!" 9/5/2017



More bravos at: www.classreport.org/bravos




17th Anniversary!
There are no fees required for participation on this site.
Please support this site with your voluntary contributions.
We cannot provide this service without your support. Thank You!
Please read Our Story
ClassTraQ 11.003 Software Copyright � 2003 - 2017 Classreport, Inc. All Rights Reserved e1 amsc: 1