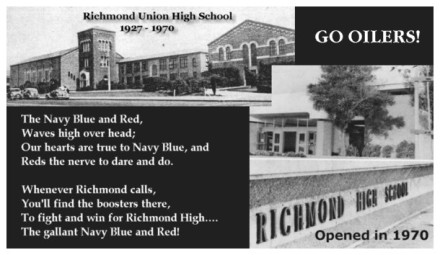 This photo can be changed by your Class Administrator.


This site is operated and funded by members of our class.
Class Administrator: Janie Smith Hug
Page Hits: 62,655
Event Announcement!
---
RUHS/RHS OILERS MEMORIAL PAGE
Monday, October 30, 2023
OILERS MEMORIAL PAGE

Richmond Union High School 1927 ~ 1970
Richmond High School 1971 to Present


The people listed below have touched many of our lives in some way and they will live on forever, if we keep their memories alive.
The names listed below have been received from many different sources....family, friends, class reunion committees, etc. Please let me know if there are any ERRORS or if you have a name you would like added to the page. Please send email to Janie Smith


[email protected]

or register here as a Guest and post a message.

1922 ~ Clark HADSELL

1923 ~ Evelyn CARSON

1924 ~ Helen SCHORTGEN

1925 ~ Charlie HADSELL, Charlotte LAMBERT, Majorie MILLINER

1926 ~ May Elizabeth BRADESON

1928 ~ Barbara EMERY, Leslie T. FERGUSON, Minnie PENNINGTON

1929 ~ Lois M. FERGUSON, Eleanor JOHNSON, ~ Minta BOCK

1930 ~ Geraldine CLEEK, Clair EDLEFSEN, Mildred FERGUSON

1931 ~ Samuel H. ANTHES, Otto BARNI, Daisy M. FERGUSON, Bertha HADSELL, Marion Ruth "Jackson", James KENNEY, Forrest SIMONI

1932 ~ Charles ANTONINO, Arleen CARLSEN, Mary CONNORS, Evelyn EDDY, Ann GHIGONETTO, Clarence Elmer HALL, Bob HUMPHREY, Eugene "Gene" NORVILLE, Al SMITH, Chester SNYDER, Alice TRAVERSO

1933 ~ Elodie COUDYSER, Margaret MORRIS

1934 ~ Mary BERRUEZO, Anna May CONNORS, Jeannette HADSELL, Frances JOHNSTON, Cappy KRAMER, Arthur OVERMAN, Vivian YOUNG

1935 ~ Catherine BISHOP, Thomas DOWNEY, Emily FILICE, Theresa GHISIO, Sydney HADSELL, Ken HENSON, Evelyn Peggy HEYNE, Margaret KENNAN, Wm. J. MC LAUGHLIN, Lucille McDONOUGH, Hilda May PIMM, Winifred "Winnie" SCHMIDT

1936 ~ Jack ALVES, Doris "Barnes", David Dunlap NEWSON, Eunice Hague ANDERSON, Bacci CHIOZZA, Mary FREITAS, Frank LEWIS, Ben T. MAYEDA, Frances Bertha "Mello", Margaret MORRIS, Kathryn OSTRANDER, Elmo RANDALL, Alberta "Bert" RUISCH, Stanley WOOGERD

1937 ~ Donald CHRISTIANSEN, Tony CORTESE, Phillip CURRAN, Al DIAZ, Emily FILICE, June GILLIAN, Elizabeth PFEIL, Elmo NICOLI, Marian REEB, Marcella SUY, Lois TANNER, Marshall "Bud" THOLE, Glen WHALEN, Ellen Mary WHITE

1938 ~ Donald BARLEY, Harold BOARD, Teresa COVELL, Helen DAWSON, Mae ERSKINE, Amelia GIACOMELLI, Lady-Beth HADSELL, Alice MAPELLI, Lois MEDINA, Anthony "Tony" MELLO, Raymond MILLER, Angela MOTO, Elvo TRAVALINI, Joe VARGAS, James WILSON

1939 ~ Jerrold ALEXANDER, Andrew BRASESCO, Earl CAVIN, Louis DIAZ, Thomas FASANARO, Frank FORDI, Fay HICKS, Marylnn MARTIN, Clyde NARVAEZ, John ODISIO, Robert "Bob" PERRY, Betty RUBIN

1940 - Cecil BURKE, Caroline CHURCH, Frank CONNORS, Annie ENOS, Edward FREITAS, Samuel P. KLOBAS, Virginia MOLINO, Alice MORKEN, Sparta Mary PALAZZARI

1941 ~ Lorimer "Chappy" CHAPMAN, Robert "Bob" ELLIS, George PETERSEN, Emil "Mel" RADAKOVICH, Eugene "Tex" TEIXEIRA, Wm."Jack" THOMSON

1942 ~ Nellie BISIO, Gino CANEPA, Jeanne COLE, Valentino "Val" Carreno, Florence LAMANNA, Eva MELLO, Lyndon "Lindy" MEWHA, Iris MYERS, Albert "Al" OLECH, Dick SINDICICH Sr., Charlie SMITH

1943 ~ Norma BERUTTI, Rita CONNORS, William DOYLE, Henrietta GRCINA, Jean NELSON, Frances VERLOD

1944 ~ Phyllis BUSBY, Aurora CORRAL, Walter HAMILTON, Shirley Deloris HIDLEY, Bob LEGGETT, Patricia "Pat" MALONE, Jim O'DRAIN, Theresa PERSICO, Delores PRESS, Leonard SULLIVAN, Joseph WOODFELT

1945 ~ Ronald BELL, Wm. " Bill" BURDICK, Betty COX, Ray HAMITER, Florence HILL, Earlene LEVICK, Karl LOFSTRAND, Richard NELSON, Roy NICKOLA, Jr., Francesco PIROVANO, Linda SCARSELLA, Jeanette WAMBOLDT

1946 ~ Alice ANDERSON, Evelyn BIRD, Wilberta Lynn Boring, Joanne FEWINS, Roy HANSEN, Billie JARVIS, Marion MC CREADY, Betty RICHARDSON, Gentry ROUSSEAU, Ken SHUBAT

1947 ~ Fern BUTLER, Bonnie Jean CANTRELL, Larry CARMAGNOLA, Roy CHIESA, Gerald E. COOK, Guy DOTSON, John MARTINEZ, Bill P. PAYNE

1948 ~ Dan ALAMEDA, Gloria BEACH, Larry BEERS, Claire BONSLETT, Richard CALETTI, Jeannine CHUMBLEY, Don CHURCH, Kathryn "Patty" COLEMAN, Marteal "Marty" COOK, Beverly DABOV, Jo "Jodi" DOBBS, Pat FANNING, Clare GORHAM, Mary GRISSOM, James HOWARD, John "Jack" MAYERS, Duane Mc GRAW, Jeri MODIE, Margery NELSON, Derrill NUNN, Merrill NUNN, Bobbie Jean O'NEAL, Travis PARKER, Ernest SPENCER, Marjorie STEVENS, Don WEATHERINGTON, Dorothy WELDING

1949 ~ Sheldon BENNETT, James BRYANT, Barbara Jo CAVES, Arthur M. ESTABROOK, Dolores FERRINHO, Raymond GODDARD, Edward GROW, Marvin HAMBRICK, Roy McDOWELL, Max TALIAFERRO, Don TERRILL, Jim URIBE

1950 ~ Vera Lee COX, Robert C. DORRIS Sr., Lawrence "Pat" DURAN, Henry FLORES, James Earl FORD, Bill GLENN, Mona HACKNEY, Harlan HAMNER, Pauline HARRIS, Meredith GRUBBE, Donald LONGACRE, Jim MOORE, Frank PEIXOTO, Kenneth PESTER, Ronald STEVENS, Phyllis YOUNG

1951 ~ Vernon ABELLE, Lloyd ALBRIGHT, Carolyn ALSOBROOK, Lowell AMDAHL, Norma BANDUCCI, Patricia BENTON, Donald Jimmy BERRY, Dona BIES, Dallas BRICKOVICH, Marlys BRAKSTAD, Bobbi BROWERS, Tom BUNTING, Juliann BURGHART, Peggy CARLEY, Carol COLE, Naddie COLEMAN, Charles "Lyn" COVEY, Robert "Bob" CRAIG, Frank CROOKS, Marianne CROW, Jim DERRICK, John DOUR, Phillip FELIX, Peter FINK, Georgia FISHER, Clemency FLETCHER, Ted FOSTER, Mary FRESQUEZ, Virginia FRY, Frank "Winkie" GALLEGOS, Betty GODDARD, Jack HERRMANN, Osmund "Jes" JESFJELD, Robert C. JOHNSON, Mary Ann KALDUNSK, Russell KIERCE Jr., Kenneth KING, Joann LADAME, Lawrence LEGALLEE, Nada LORA, Bill MAERTINS, Mildred MARKHAM, Gerald MASON, Roberta MATTESON, Charles McCARTHY, Dick McCOY, Dixie MENZIE, Alan C. NELSON, Richard OSTERUDE, Fred PARROTT, Pat M. PERKINS, Lillian PERRELLI, Mario POGGIO, Dan PURNELL, John REHBOK, Majorie RICEY, Thomas C. SMITH, Joan STEVENS, Andrew STREET, Marlene SUNDTE, Colleen SWITZER, Eleanor TEXIERA, Ruth Ann VALLEY, Brock WALKER, Iris WATSON, Anna WENTZEL, Carol WESTENBERG, Darlene WHITBY, John WHITE, Ron WILKERSON, George WILSON, Mary Jo WIMBERLEY, Paul YOUNGBLOOD, Bill ZANZI, Paul ZIMMER

1952 ~ Edgar ANDERSON, George "Pete" AVALOS, George BARICH, Bill BARTLETT, Polly BARTON, Robert BATTAYA, Johnnie Lee BECK, Betty BLACKARD, Ralph BLEDSOE, Arlene BOCCA, James BROCK, Franklin BROWN, June BRUSIE, Joe CATES, Jim CHRISTENSEN, Jack CLAWSON, Harvey COBB, Richard CONLEY, Barbara CONRAD, Robert COTTON, Patricia CRIGGER, Ken CUTSHALL, Beverly DAVIS, Delbert DAVIS, Buelo "Bill" DIXON, Margaret DRIGGERS, Jeri DRITTENBAS, Marlys DUENOW, Milliage ELLIS, Doris EVENSON, Sally FARRIS, Norma FELIZIAN, Stanley FLOHR, Sue FORESTER, John GABEL, Wilbur GARY, Mike GIBSON, Herbert GILBERTSON, Bill GOLDEN, Dolores GORMAN, Dorothy GORMAN, Doris GRAHAM, Richard GRAY, Eddie GRIFFIN, Donald GROSS, Joel GUERRERO, Martha HACKNEY, Bob HARLESS, Bob HARVEY, Gwenyth HATTBERG, Lavon HELBERG, Delores HESTERLEY, Betty HOFFMAN, Levell HOMES, Jo Anne HOOD, Robert HOWELL, Gary HOWELLS, Charles JEREMIASON, Clifton JONES, Ronald KAPIGIAN, Bob KEISER, Gwen KERSEY, Lois KINDT, Annie KING, Clariece KLEIER, John KOEHNE, June LAVON, Lamae LAWLER, Billy LEWIS, Janece LEWIS, Michael LOBNITZ, Darlene "Jo" LOCATI, Bonita LOWRANCE, Don MacINTOSH, Keith MADSEN, Gloria MANNION, George MARSHALL, Jack MARTIN, Gary MARZETTA, James McCOMBE, Del Mc GRAW, Betty Mc INTIRE, Eural Mc KELVY, Bob MIDDLETON, Reba MITCHELL, Richard MOORE, Wallace MOORE, Henry MOOREHEAD, Leonard MOSS, Arnola NELSON, Jack NEWMAN, Jerry NUCKOLS, Nancy OWENS, Audie PENCE, Waldon PETERSON, Betty PIERCE, Duane PRESS, Glen PRETTYMAN, Michael QUIGLEY, Rueben RAMIREZ, John RINDE, Carlene ROBERTS, Joseph RODOLA, Emery RUPP, Robert SCHAEFER, Gail SCHAEFFER, William SEXTON, Ernest SHUTIVA, Lindy Gene SIMMERS, Alfred SLETTEN, Donna SMILEY, Joan SMITH, Robert SPRADIN, Bill STAMP, Anita STEVENS, Lewis TANNER, Rita THAUBERGER, Donald THOMPSON, Don THOROUGHMAN, George TRASS, Katherine VARNI, Virginia VIX, Vernon WATKINS, Douglas WEEKS, Ollie WILLIAMS, Steiner WORRE, Jimmy YEATTS

1953 ~ Virginia AMBERS, Don AMBROSIO, Nadine ATWOOD, Peggy BANDUCCI, Sheila BARNES, M. James BASKETT, Mary Lee BELL, Gail BENTON, Richard BONNER, Bennie BROWN, Stanford CHARLES, Jimmie COOPER, Richard Junior DAVIS, Patricia DOYLE, Vida Mae DUGGAN, Phyllis EDWARDS, Wanda ELMORE, Sandra GLEMAKER, June HODGE, Dave HUFFORD, Elmer KLOBAS, Mary KOLLEWE, Bille Jean LADAME, Carol LAMKIN, Fred MALROY, Skeeter MATTERI, Wesley McCALL, Don McCORMICK, Richard McCOY, Jean MILLER, Peggy MILLWOOD, Richard MOSBY, Murray "Red" MARTIN, Marshall MUSTAIN, Mary PARKS, Paul RUTLEDGE, Joseph "Joe" SANDOVAL, Shirley SCHEIBLE, Richard SKOW, Earl SOUZA, Carol STANLEY, Gerald STEWART, Barbara SULLIVAN, Virginia TONELLI, Vernon TROST, Tom WELSH, Jack ZEHRUNG

1954 ~ Jim ALLEN, Donna ARNOLD, Leland AUDIBERT, Billie Jean BADDIE, Kathy BARNES, Jim BIRD, Claire BLISS, Charles BOWLES, Jr., Bill BROWERS, Babe CARTER, Carole CAYWOOD, Mary Ellen CHILDS, Donna CHOATE, Shirley CHRISTAL, Jerry COLE, Charlene COLLA, Genelda COOK, Patricia COOPER, Jack CUNNINGHAM, Eugene CYR, Ronald DePAIVA, Lebennit DEVERS, Vera DIXON, Jean DRIGGERS, Ruth ELLIOTT, Jacqualine ECKHARDT, Dolores ENGLE, Lisbeth EWING, Leonard FEARS, Jerome FERBER, Donald FERGUSON, William FRAKES, Frederick FRANCIS, Shirley FRAZIER, Bonna FROST, Margaret GARCIA, Minnie GARY, Barbara GERMAN, Jerry GREEN, Bobbie HAMMER, Laetitia HAMPTON, Robert HANKS, Barbara HARRIS, Jackie HEATH, Charles HICKS, Allison HIGGINS, Norman HOWSMAN, Dale INMAN, Carolyn ISBELL, Bonnie JAMES, Loretta JOHNSTON, Joy Dee KERR, Ross C. KERR, Sherry KLOBAS, Norma KNAPP, Barbara KOCH, Shirley LEE, Richard LEWIS, Larry LUNDEEN, Katherine Mc CURRY, Patricia Mc INTOSH, Jacqueline Mc LAREN, Dolores MITCHELL, Peggy MOOREHEAD, Don NELSON, Myrthedell PARKER, Shirley PARKS, Mary PRICE, Pat RABUN, Phil RAINE, Ronald REAMY, Eva RICHMOND, Orrin SAPP, Marie SEBRELL, Duane SILLANPAA, Kenneth SILVA, Shirley SILVA, Sharon SIMMS, Elnoise SIMS, Isaac SOLIS, Willie SPEARS, Don SPINOLA, Kathy STERLING, Joan M. STEVENS, Homer SWAFFORD, Shirley TACKLEY, Marilyn TERLINDEN, Ernest TERRY, Richard TEXEIRA, Sidney VALENTINE, Kenneth VAN DEN BAARD, Everett VAN ZUIDEN, Betty VARGAS, Opal WALLACE, Darryl WEAVER, Vernon WELLS, Richard, WELZ, Jeanette WHITEHURST, Robert WHITTAKER, Arthur WILKERSON, Doyle WILLIAMS, Marilyn WILSON

1955 ~ Richard ABNEY, Robert E. ADAMS, Theodore ADAMS Jr., Bill "Bobo" AGUILAR, Carol AHART, Gary AKIN, Tony ALEMAN, Ruby ALEXANDER, David ALLEN, Robert ALLEN, Richard AMANTITE, Karen ANDERSON, Lawrence ARMSTRONG, Jeanne ATTEBERRY, Anne BABBITT, Clarence BAKER, Leon BAKER, Karen BALLWANZ, Maudethel BANKS, Jean BARKLEY, Jack BARNHART, Bonnie BARONI, Eleanor BARRON, Ronald BASFORD, Ralph BATES, Carol BEASLEY, Jerold BECK, William BECK, Delvin 'Dale" BERTHOFF, Georgia BIER, Darleen BISHOP, Lorena BLACK, Donald BLAKESLEY, Clyde BONNER, Glenda BOONE, Sam BONACORSO, Jim BRADESON, Althea BROOKS, Dee Brown, Tom BROWN, James BURGER, Barbara BURNS, Durwood BURNS, Carolyn BURRIS, Gregory CARDOZA, Marie CARDOZA, Clinton CARLOCK, Betty Jo CARROLL, Shelba CARROLL, Donald B. CARTER, Frank CHANCE, Janis CHAPMAN, Maria CHAVEZ, Pauline CHAVEZ, Coleen CHILTON, Dan CHRISTNER, Benjamin CLARK, Bob COLLINS, Ralph COLLINS, Wayne COLLINS, Richard CONOVER, Charlesetta COX, David CRAIG, Ron CRAWFORD, Robert CROPEK, Harold CROSBY, Lola CROSSLAND, Edward DILLARD, Diana DOWNEY, Judy DOYLE, Bobbie Jean DUNN, Roger ESTES, Mary FELIX, Ronald FERGUSON, Sandra FILIPPI, Joseph FITZGERALD, Jerrell W. FOREST, Londa Lu FRANCISCO, Kaye FRAZER, Mary FRUZZA, Joe GARCIA, Rosina GESELL, Thomas GONZALEZ, Edward GOYNE, Douglas GRANT, Donna GREEN, Richard GROVES, Charles HADSELL, Carol HAGAN, Marguerite HANOVER, Virginia HARPER, Charlie HARRIS, Bobby HARSHA, Howard HARRISON, Jerry HATFIELD, Sandra Haws, Bert HAZEL, Alice HEINEMANN, James HENDERSON, Jr., Richard HIEB, Hubert HILL, Dixie HILTON, Sharon HOLLENBERGER, Stanley HOLMES, John HOOD, Carol HOV, Thomas HUGHES, JoAnn HUNTSMAN, Paul HUNTSMAN, Shirley INGRAM, Thomas JENSEN, Jr., Betty JENSON, Evelyn JOHNSON, Marilyn JOHNSON, John JOLLEY, Shirley JONES, Elizabeth JONSON, Donald JOURDAIN, Gail KEARNEY, Gloria KEELS, Kay KERR, Joann KERSERY, Stanley KUHN, Maxine LARSEN, Patricia LAUGHLIN, Melvin LAWRENCE, Charles LeFEBVRE, Donna LEE, Rose Mary LEWIS, Mary Ann LINDBECK, Peter LOPEZ, Marlene MARKS, Rose MARTINEZ, Natsha MAZOUR, Hazel McAFEE, Terry McCASKEY, Marie McCORMICK, Herbert McEVERS, Donald McMULLEN, Gary McMURTRY, Gerald MELHOFF, Norma MORFORD, Ruby MOSBY, Jonas NELSON, Patricia NIEMEIER, Rolph NILSSON, Larry NUNEZ, Irene OHLER, Arlene OHS, Edward OLSTAD, Betty Lou ORTIZ, Nadine OZBIRN, Keith PEDERSEN, Sherrill PETERSON, Dixie POTTER, Noreen POWER, Richard PURNELL, Glenda PURSELL, Ernest RADVIKUS, Richard RANGE, Myrtle RAY, Jesse REED, Patricia REEDY, Dorothy REGAN, Robert REINHART, Bonnie RELITZ, Kenneth RICE, Charles RICHEY, Richard ROBINSON, Ernest E. ROSALES, Joan SANDLIN, Darlene SANDRETTO, Ken SARGENT, Vernon SCHARDT, Arnold SCHMIDT, Barbara SCHMIDT, Margaret SCOTT, Shirley SCOTT, Marian SERRANO, Linda SHACKLES, Gary SHEA, James SHUTTLESWORTH, Lawrence SIMI, Carl SIMMERS, Carol SIMON, Donna SMITH, Jerome SMITH, Susan SOLANDER, Robert STRACENER, Virginia STRICKLAND, Sally SUTTON, Carl "Sonny" TALIAFERRO, Wendella TANDBERG, Joseph TAYLOR, Irene THOMAS, Paul THOMPSON, Robert TOMASICH, Frank TORRES, Joyce TRAVERS, Elvira TYRER, Ron VANDENBEARD, Wayne VANWINKLE, Art VOUDY, Geraldine WALLACKER, Lonnie WARD, Patsy WARREN, William WARWICK, Jr. Gary A. WEBER, Harold WHITE, Babe WILLIAMS, Douglas WILLIAMS, Jr., Patricia WILSON, Sherrel WORKMAN, Betty J. WYDERMYER, Maureen WYNNE, Donald ZIMMER, GERALD ZIMMER

1956 ~ Ray ABRAHAM, Darlene ALFONSO, Nadine ALLUMS, Ted ANDERSON, Ronald BALDIZAN, Shirley BALDWIN, Patricia BALLARD, Joan BANDUCCI, J.D. "Jay" BANTA, Buzz BARRETT, Edmond BARTYZEL, John BASS, Gary BEDELL, Columbus BISHOP, Kenneth BLACKBURN, Stanley BLETHEN, Peggy BOHANNON, Art BOMBARDIER, Vickey BOUCHER, Carol BRAKSTAD, Barbara BRIGHT, Lottie Mae BROWN, Mike BUCHEN, Clyde BUSBY, Rose Marie CASAZZA, Deloris CASTLE, Olivia CHACON, David CHRISTENSEN, Larry CHRISTOPHER, Sonia COMER, John COOLIDGE, Jerry CORNELL, Roberta COUZENS, William CRAVEN, Thomas CUNNING, Evelyn DAILY, Donald "Don" DAVIS, JAMES DAVIS, Jim DEMARIA, Paul DENNIS, DOLLAR, Alta DOOLITTLE,Lyn DOWNING, Bob DUNN, Mac EATON, Juanita ELLIOTT, Dave ENSIGN, Eugene ESPINOSA, Dale FAULKNER, Thomas FRANCIS, Kenneth FRENCH, Nathan FUGUA, Arthur GARCIA, Paul GARRISON, James GARY, Jerry GRECO, Jewel GREATHOUSE, Lowell GUTLEBEN, Frankie HALCUMB, Bettye HALLE, Richard L. HALL, Carol HAMM, Willie HAMPTON, Raymond HARMOND, Marlene HARP, Ed HARRIS, Wilbur HEATH, David HERSHMAN, Robert HILL, Mary HILLARD, Barbara HOES, Beverly HOGUE, Allen HOLBROOK, Sylvia HOLLAND, Ken HONSINGER, Merl HOOVER, Billy HOWSMAN, Elwood "Eddie" HUGHES, Les John HUGHES, Robert JAMES, Glenn JARVIS, Richard JEFFERSON, Clark JENSEN, Carol JERNIGAN, Lucille JOHNS, Annasteen JOHNSON, Yvonne JOHNSON, Danny JORDAN, Frank KINNEY, Errol KISTER, Harry KNOX, Stanford KRINGLE, Phyllis KINUNEN, Marva "Joyce" LA MAR, Robert LAGE, Herb LANG, Gary LELLI, Peter LOUSTALOT, John LUCAS, Walter MABERRY, Donald MACKINDER, Betty Jo MALLORY, William MANIS, Marvin MARKS, Lydia MARTINEZ, Dixie MASINGALE, Tom MASON, Samuel Mc CALLISTER, Betty Mc COY, Harold Mc CRAW, Calvin Mc ELROY, Ruth Mc MILLIAN, Marva "Joyce" LAMAR, Betty Jean MELLO, Earl MOCK, Jim MODLIN, Walter MONTGOMERY, Milton MORSE, Wayne NAVOLT, Elestine NEAL, Larry Newcomb, Marianne NEWELL, Barbara NEWMAN, Sharon NICHOLS, Juanita NICKS, Eleanor NORRIS, Lyn NORRIS, Mary NYSTROM, Marcel OLSON, Dennis OPPENHEIM, Paul PADILLA, Michael PALENCHAR, Dolly PANNKUK, Richard PECK, Ray PEPPERDINE, Ruth PEREZ, Wayne PERRYMAN, Ed Dale PHILLIPS, Roy PIERCE, Dennis PIPES, Paul PONCE, Oleta PORTERFIELD, Ophelia PRESTON, Anita PULLIAM, Dora "Marilyn" QUEEN, Willie RANDLE, Rollie REED, Ransome RICHARDS, Roger RICHARDSON, Carol RICHTER, David RIDGE, Jimmy RIGGS, Shirley ROBINSON, Keith ROGER, Russell ROSE, Robert SAGE, Dianna SANDWICK, James SCHRECKENGOST, Larry SCHRUDDER, Nancy SCHUPP, Lawrence SCHWAB, Mike SCOTT, Jane SEXTON, Ronald SHOWALTER, Bill SOUZA, Wilma STANDRIDGE, Bobbie Joe STANTON, Kevin STAUSS, Van STEVENS, Calvin SUMMERS, Wanda SUMNER, Elmer SURKALA, Ronald THACKER, Janet THEOBALD, Gene "Skip" THOMAS, Jethro THOMAS, William K. THOMAS, Burrell "Bud" THOMPSON, Jeanette TINGEN, Jack TROST, Marshel "Bubba" TROTTER, Janice TUNKS, Paul TURLEY, Mike UTT, Beverly VAN VLIET, Wanda WALTERS, "Eppie" WARD, Sarah WASHINGTON, Earl WELLS, Judith WHITE, Girvin WHITNEY, Ellen WHITT, Odis WILLIAMS, Peggy WILLIAMS, Sam WILLIAMS, John O. WILSON, Leroy WINN, Evelyn WOLFE, Charlotte WOOD, Mary WRIGHT, James ZIMMERMAN

1957 ~ David ALLEN, Richard ALLMAN, Richard ANDERSON, Victor ARECHGA, Cullon ARNOLD, Phyllis ARP, Carolyn ATCHESON, Robert BARKUME, Kenneth BARNES, Ruth BARSTEN, Joan BARTHEL, Dorothy BAUMERT, James BAXTER, Robert BEALE, Donald BECKER, Stephen BENNETT III, Robert BIDOU, John BLAIR, Eugene BLOM, Jacqueline BOLLINGER, Ted BOMBARDIER, Byron BROUETTE, Constance BROUGHAM, Clarine BRUNO, Dorothy BUGGS, Pierre BURLEAUD, Betty CAMP, Ora Lee CAMPBELL, Barbara CASTAGNASSO, Terrance CEREMONY, Gene CHILTON, Bob CLARK, Joan COAKLY, Audrey COCHRAN, Gordon "Roger" COLE, Earlene COOPER, Jimmy COUZENS, Max CROSS, William CROSS, Bobbie CRUTCHFIELD, Teddy CURRY, David DAHLGREN, Karen DAHLMAN, Richard DANIELS, Bertrand DARENSBURG, Lawrence DAVIDSON, Mike DAVIS, Rosalie DAVIS, Wanda De VORE, Dennis DIXON, Gene Scott DONALDSON, Tom DOWNEY, Lewis DUDMAN, Carvel DUVALL, Wm. "Bill" EATON, David ELLIS, Patricia ELLIS, James ERVIN, Gene EUFUSIA, Wilma EVANS, Gary FAULKNER, Ronald FAULKNER, Richard FAUST, Roger FIORI, Helen FITCH, Sandi FLEMING, Larnice FLETCHER, JoAnn FLUD, June FOSTER, Linda FULLERTON, Bob GATLIN, Carol GIANOTTI, Edward GILL, Roberta GILLESPIE, Frank GIRIMONTE, Richard "Dick" GLIEDEN, Susie GOLDSWORTHY, Joan GOONE, Lesley GRAHAM, Wayne GRAMS, Loretta GREEN, Richard "Dick" GREEN, Sharee GRIER, Stanley GRIFFIN, Gary GUEULETTE, Jeannie HAGAN, Garland HAGEN, Lloyd HALL, Ray HARMON, Gary HARNAIS, Barbara HARNOIS, Bernice HARRIS, Roberta HARRISON, Richard HARTFIEL, Arthur HAYES, Elmore HAYES, Jr., Don HAZARABEDIAN, Bob HEGEMAN, Michael HEWETT, Melba HILL, Linda HOSTETLER, Arlington HOUSTON, Julia HOUTS, Sandra J. HUNZIKER, Fred JACKSON, Jerry JAMES, Gary JARMAN, Sharon JOHNSON, Charles "Lindell" JONES, Roger KEEGAN, Alfred KENNEDY, Marjorie KENT, Eilene KING, Gary KIRK, Herbert KIRKLAND, Philip KLONINGER, Janet KRAMER, Raymond KREGER, Roger KREGER, Don KUEHL, Edythe LANGFORD, Robert LAWREY, Thomas LAZARO, Bill LEDBETTER, Eugene LEE, Bill LENZI, Sally LEVEDAHL, Gerald "Jerry" LINDSAY, Beverly LITTLEJOHN, Carolyn LOILER, Christine MADISON, Jim MARCHETTI, Sandra MATTEUCCI, Bernie McPHERSON, Charles MEEGAN, Judith MEEK, David MEFFORD, Miles MESSINGER, Kenneth MEYER, Donald MILLS, John MOSLEY, Bruce NEYSES, Alwida NICKLAS, David NINOMIYA, Carol OLLENBERGER, Robert ORTIZ, Sharon OVERCAMP, Richard OXLEY, Irv PALMER, Mary Ann PAVON, Ruby PEASLEE, Marianne PEMBERTON, Phillip PETERSON, Jeanie PHELPS, James PIKE, Paul PONCE, Herman "Buddy" PORTER, Gerald PRUETT, David QUIQLEY, Robert RADVIKUS, Rebecca RAINBOLT, William RAWSON, Louellyn RIVERA, William ROEMER, Carolyn ROBERSON, Leonardo "Skip" ROSALES, Donald ROSE, Mary ROSTI, Thad RUNDELL, David RUSSELL, Edward RYAN, Dorothy SANDOVAL, Richard SANTAELLA, Dwayne SATTERWHITE, Gary SCHRADER, Chuck SCHROEDER, Ruth SCRIBNER, Marlene SELF, Morley SEWELL, Gary SHELTON, Billie SHEPARD, Judith SIPP, Charles "Larry" SHIRE, Judith SHOWALTER, Daryl SMITH, Wayne SOOTER, Gary SPURLOCK, Paul STUTRUD, Ernest "Topper" SULLIVAN, Linda THACKER, Martha THOMPSON, Merle THOMPSON JR., Ruby THREADGILL, Paul TICE, David TIDWELL, Adrian TORRES, Robert ULKE, Grady VAN HOOK, Henry VELASCO Jr., Jan VORHEIS, Garet WACKER, Charles WALL, William WALLACKER, Charles WARD, Jerry WAREN, Precious WARNER, Robert WARWICK, Joyce WATKINS, Claudia WEITKEMPER, Willard WELLS, Lynda WHITE, Edward WILBURN, Henry "Bill" WILL, Kenneth WILLIAMS, Roberta WILLIAMS, Peggy WILLIAMSON, Anna Lou WOLF, Agusta WOLFFS, Shermon WORKMON, Janyce WORLUND, Nancy ZACHARY, James ZEMAN

1958 ~ Luther AMOS, Rosemary BABBEL, Joan BARULICH, Leonard BASSIGNANI, Michael BATH, Bruce BATT, Ruth BEJARANO, Vera BLACKBURN, Lillie BRATTON, Henry BROWN, Patsy BUCK, Hubert BURNETT, Paula BYRD, Judy CISCO, Margaret CLARK, Sandra CONGDON, Thomas CUMMINS, Myrna DAILY, Janice De SOTO, Don DOREY, Ronald DRISKILL, Lupe DUARTE, Edward ELLIS, Charles EUBANK, Patricia FLANAGAN, Patricia FREEMAN, Joe GOODWIN, Irene GRANGER, Joseph GREEN, Savan GREENHALGH, Richard GROSS, Ervin HADENFELDT, Jeann HAGANS, Don HANSON, Laurence HUNTING, Jimmie INGRAM, Judith ISAAC, Marcelyne JACKSON, Jim JOHNSTON, Shirley KENNEY, Paul KIDD, Leilani KINNEY, Patricia LANGENWALTER, Bob LAWSON, Sharon LEVY, Robert "Bob" LEWIS, Don LODETTI, Leroy LYNCH, Wm. "Bill" MATTHEWS, Jr., Sally MAY, Laurence MAYBERRY, Duane McDONALD, Shirley McKINNEY, Edward McMASTER, TJ MAROON, Marvin MELTON, Ken MILLER, Sydney MILLER, Roger MORALES, Marguerite NICOLAYSEN, Marion OSTERUDE, Arnold PATCHIN, Per PERSON, Mary PIPPINS, Thomas PRATHER, William PRINCE, Sandrea PURCELL, William RAINES, Nazzree RANDEL, Reuben RANDLE, Marilyn RANSFORD, Dorothy RICHMOND, Phil RINCON, Jeanette SALMON, Mary SCALISE, Johnny SCRUGGS, Jr., Donald SMELSER, Clyde SMITH Jr., Norma WARREN, Joseph WHITE, Larry WHITE, Linda WHITEHURST, Jerri WILCOX, Billy WILLIAMS, Max WILSON, Wm. "Bill" WILSON

1959 ~ Fred AIKENS, James ALEMAN, Sergio ALEXANDRE, Bob ARBUCKLE, Ruth BARTHEL, Michael BATH, Sandy BEAUCHAMP, Ray BELLINGER, Robert "Bob" BENIGHT, Diane BIANCO, Joyce BLAKEMORE, Donald BLETHEN, Virgie BOSSETT, Nicanora BOYD, George BRADY, Roseline CABRAL, Jerry CARLILE, David CARROLL, Carlton CATO, Arnold CELAYA, Patricia CEREMONY, Howard CHACE, Gloria CHEATOM, Keitha CLARK, Lorraine "Cookie" COLLINS, Loren COVEL, Joseph CROCKETT, Dave CUNNING, Evelyn DE FRIAS, Adele DEAN, John Robert "Bob" DOUGLASS, Marjie EGGER, Carla EMERY, Ken EVANS, Daniel FERRIERA, Caroline FLORES, Ed FLORES, Walter FREEMAN, Anthony GARIANO, Patricia GERMAN, Maurie GODDARD, Gaylord GRIGGS, Virginia GURULE, Barbara HANFORD, Stan HANOVER, Jolita HARRIS, Gary HENDER, Don HENDRIX, Lee HICKS, Lindsey HILL, Donald HOBBS, Effie HOLMES, John HOMLOTIS, Gertie HUNT, Paul HUTCHINGS, Nancy JOLLEY, Carole JONES, Wanda JONES, Sharon KAY, Pat KEITHLEY, Jerry KIRKLAND, Mike KOEPKE, Carol LEE, Beninga LOCKE, Dennis LUDCKE, Barbara LUTTRELL, Dave MAERTINS, Sandra MAINARD, Frank MAYS, Marvin MELTON, William MONOHAN, Peggy MOORE, Marsha MORICONI, Eugene MULDROW, Kathleen NISKERN, Dennis NORMAN, John NYSTROM, Leopoldo OCEGUERA Jr., Leo Gary PATKE, Patsy PEARSON, Toby PIERCE, Pat POWELL, Ed POWER, William PRATT, James PRESTON, Herbert B. PURVIS, Jr., Joyce ROWLAND, Jerry ROWLETT, Gonzalo RUCOBO, Zona SIEVERS, Kenneth SILVA, Judy SLOUP, Arietta START, Thomas STRATTON Jr., Gary "Wayne" STREET, Lloyd STREET, Donna "Dee" SYDLINKER, James TROUTMAN, Dennis TUNKS, Marie TURNER, Leland TYNDALL, Stan UDING, Tom Van ZUIDEN, Tom WADE, John WALKER, Shirley WILSON, Larry WOLFE, Ed WRALSTAD

1960 ~ Jean ALLEN, Thelma ALLGOOD, Joe ANGELL, Connie ASCARI, Diane ATWOOD, Conrad AUER, Bruce BATCHAN, David BOWMAN, Kathleen BRANDT, Jimmie BROOKS, Alex BROWN, Harold BURTON, Bob BUTLER, Joyce Campbell, Dick CARLSEN, John CARSON, Jerry CATES, Docia CLUTTS, James COLEMAN, Deanna COOK, Sallie COSBY, Lloyd COSLETT, David CREWS, Robert CROCKETT, Lucine CROSSETTI, Joan CRUPPER, Don DINGMAN, Barbara EADS, Johnny ENGLISH, James FEATHER, Richard FLAHERTY, Silvio FLORO, Robert FRANCIS, Jeanette FULCO, Douglas GARDNER, Richard GARGANO, Jessie GIVENS, Geraldine GRIFFIN, Judith HALE, Evelyn HAMMACK, Sandra HAMRICK, Dennis HARKNESS, Winston HARRIS, Ray HARRISON, Bill HEMBREE, Frank HERNANDEZ, Janis HIGHTMAN, S.D. HUGHES, Andrew JACKSON, Ruby JACKSON, Bonita JAMES, Larry JAMES, Mary JOHNSON, Merle JONES, Elmer KING, Joan LANE, Rita LARSEN-YACORZINSKI, James LEWIS, Barbara LINTON, Flenow LITTLE, Sharon LORDON, Ulis MALONE, Barbara MARTINEZ, Irene MARTINEZ, Jean MAYBERRY, Dennis McCAIN, George McCARTHY, Jeanette MELTON, Gary MEYER, Freddie Jean MOMON, David MOORE, Robert MORENO, Edward OLIVER, Beverly ORNER, Barbara ORR, Ron PARKER, Arnold PITZER, Marilyn POPKE, Tim POWER, Carolyn RAWLS, Don READ, Sharon REED, Jim READING, Diane REAGAN, Billie RILEY, Jr., Jimmie RILEY, Jim RODRIGUEZ, Judy RUCKNER, Rosemary SANCHEZ, Arthur SCHWENKE, Sharon SHAW, Mary Frances SIVRIAN, Lei-Anne "Lolli" SMITH, Odesser SMITH, Stanley SMITH, Jim SPENCER, Richard STEELEY, Leroy STEVENSON, Billy STINSON, Eugene STRATFORD, Earl SWEENEY, Janice SWINFORD, Charles TAYLOR, Bobbie THOMAS, Gerald THOMPSON, Leonard TIPTON, Mary TORRES, Mary TRAXLER, Ruby TRAYLOR, Vivian VAN HOOK, Robert WAGER, Troy WAID, William WARREN, Tyrone WEBSTER, George WHEATLEY, Dwayne WIGHTMAN, Sandra WILKES, Judith WINTERS, Brendia WRIGHT, Sandra YAVOR, Marla YESKE, Louis YOUREE

1961 ~ David ARMSTRONG, John AVALOS, Joe BACA, Judy BAKER, Albert BOLDEN, Charles BONEY, Beverly BRAKSTAD, Robert BROOKS, Ottis Naamon BROWN, Pansy BURNETT, Roseann CALHOUN, Lonnie CAMP, Frank CAPECE, George CARIGLIO, Robert CARLILE, John CAUDLE, Bobby COLE, Charles "Steve" COLE, Wayne COCKE, James CORN, Jessie COSBY, Maxine CRABB, Pat CROSSMAN, Clarence CROWDER, Clinton CROWDER, Paul CROWDER, Sonja De MARSE, Robert "Bob" DEAN, Frieda DEMER, Ross DICKINSON, Barry ELISON, O.C. EMERSON, Sandra ERICKSON, Phoebe EVANS, John FARANDINOS, Nancy FARIA, Chuck FOREHAND, Betty FORTSON, Charles FUNDERBURK, Jane FUNSTON, Norma GAKEY, Truman GANDOLPH, Ray GARLOCK, Phyllis GANN, Janice HAASE, Jack HILL, Martha HILL, David HIRANO, Harley HOLDERBY, James HOLLAND, Joan HUFF, Barbara JACKSON, Lois JACKSON, Grace JACOBS, Carolyn JOHNSON, Tom KELLY, Larry KUDSK, Vern LA MAR, Carl LANCE, Joe LEE, Walter LEE, Sandy LISBY, Tony LUGO, Barbara MARTINEZ, Mike McLAUGHLIN, Dorothy "Dottie" MELDRUM, Wanda MILAN, Ron MILDE, JoAnne MITCHELL, Charles "Chuck" MOFFETT, Bob MONTOYA, Danny NOBLE, James OLDEN, Leo ORTEGA, Dean OWENS, Vivian PLANCHON, Dennis PARKER, Mary PARKER, Vernon PYEATT, George RANDOLPH, Joe RODRIGUES, Jr., Peter RUSHER, Karen SATCHWELL, Ray SEHN, Wm "Bill" SELZER, James SLOUP, Alzena SMITH, Bob STANBRIDGE, Donna STRAUBE, Donna SWEENEY, Diana SWERDFEGER, Dewanna "Dee" TAYLOR, Annie TERRELL, Donley THOMPSON, Kenny TRAVELS, Sam VAN HOOK, Phillip VAUGHN, Henry C. WASHINGTON, Ernestine WILLIAMS, Alfred WOODARD, Jean WORTHAM

1962 ~ Audrey ABERNATHY, Dennis ADAIR, Bill ASTON, Rosemary ASCARI, Bonnie ATCHISON, Dorothy AYRES, John BALAS, Mary Jane BARTEL, Trixie BASS, John BEAM, Bonnie BEAVER, Dan BELL, George BELL, Fred BEROTTE Jr., Rick BETHEL, Patsy BETTENCOURT, Merlin BLEDSOE, Adrian BOLTON, Marlyn BONDS, Jerry BROWN, Gloria BURNS, Russell CARSON, Mike CHISHOLM, Martha CLARK, Nedra COLVIN, Carol CORNELL, Ron CRABE, Sawanna CROWDER, Shirley DAVILLA, Dorothy DAVIS, Ralph De LEON, Harriet DENT, Carol DICK, Janet DEITRICK, Susan DILLER, Richard DOTSON, Steve DUNCAN, Leroy DURGAN, Cherie ELLIS, Bob ELLIS, Robert EMERSON, Betty ENGLISH, Janelle GANN, Michael GARCIA, Rosemarie GIL, Larry GODDARD, Charles GOLSTON, Mike GRAELISH, Larry GREEN, Lennie GREEN, Raymond GRIFFIN, Gary HADENFELDT, Judy HAMMETT, Herthal HARRIS, Gladys HEIN, Lloyd HELDRIS, Paul HERNANDEZ, Robert "Bobby" HERRERA, Alan HIGGINS, Jerome HOLMES, Patricia HORN, Robert HRBEK, Albert HUERTA, Hazle HUNTER, Joe IRVIN, Ann JOHNSON, James JOHNSON, Sven JORGENSON, Frank KELLY, Jackie LAWRENCE, Larry LAYFIELD, Kathy LOCKE, Fred MANHA, Barbara MARIUZZA, Antonieta MARISCAL, Diane MARTIN, Ray MARTIN, Steve MARTIN, Rita MARTINEZ, Jerry MATHIA, Doris Mc GRIFF, Marjorie MEDINA, Lucy MILLENDER, Kathleen MIRICH, James MITCHELL, Larry MOORE, Denver MUSE, Mary NINOMIYA, Al OLIVA, John PARACHE, Cliff PATCHEN, Marilyn "Sue" PATTERSON, Claudia PITT, Hugh PONTIOUS, Bennie POOLE, Robert "Mike" PRICE, Kaye PRIEST, Jesse RAMIREZ, Jim RATCLIFF, Alan RAY, Walter RICHARDSON, Frank RICKER, Claudia RICKORDS, Charlie ROBERTSON, Bill ROMERO, Dwight SALLE, Dwain SARGENT, Wm. Bill SELZER, Daryl SHUYLER, Milton SLOCUM, Dwayne SPARKMAN, Gary STAGGS, Donna STODDARD, Sue SULLINS, Mike SULLIVAN, Loree SWENSON, Patricia TIMM, Carol TISUE, Barbara VALLO, William VAN BRUNT, Bill VAVRICK, Joe VICTORY, Earl WARREN, Alan WEBBER, John WESTRY Jr., John R. WILSON, Geralene WILLIAMS, Rod WILSON, Dennis WOODMANSEE, Tony YAMZON, Ronald YATES, Ron ZAMPA, Michael ZIEM, Norman ZEPPA Jr.

1963 ~ Dick AHLQUIST, John AUSTIN, Dolores BACA, Antoinette "Toni" BAKER, Steve "Barney" BALES, Gayle BARNETT, Jack BATH, Charles BLACKMAN, Daniel BOARD, Carleen BOYKIN, George BRANNICK EARLYWINE, Victoria CHILTON, Ed CHRISTIANSON, Bob COLE, Wayne COLLINS, Susan CORNELL, Robert COWGER, Steven De CACCIA, Joe De SOUSA, Leroy DICKENS, Curt DOWNING, Roger FOO, Jim FRANKLIN, Vaness FRENCH, Jorja FUHRMAN, Billie GARRISON, Diana GILBERT, Sharon GLIEDEN, Dick GRAYBEAL, Judith HAWK, James HILL, Wellington HOOPER, Ron HUNTER, John JAGGARD, Werner JANSCH, Jan JARRETT, Douglas JOHNSON,Ken JOHNSON, Bill JUNIER, Lona KETCHUM, Bill LUCAS, Linda LUSCHEN, Vera LUSTER, David MARLOWE, Anita MARTINEZ, Jim McCAIN, Paul McCARTHY, Mary McCRACKEN, Larry McLAIN, Joe McKELVEY, Paul MOORE, Doretha NELSON, Edward NOBLE, Charles O'SHEA, Leland OUTMAN, Ray PEDERSEN, Jim POINDEXTER, Dennis PRENTICE, Ray RODRIQUES, Dan RUDD, Helen RUSSELL, Don SAGERS, Mike SAHLBERG, Tom ST. JOHN, Wayne SAMPLES, Ernie SAUNDERS, Richard SEWELL, Gary SHORTER, Mike SMIRCICH, Dwayne SPARKMAN, Charles STEVENSON, JoAnn TONTI, Eddie TYRRELL, "Corky" George VAARA, Bonnie WALLACE, Barbara WIEDERHOLT, Sharon Kaye WILSON, Shirley May WISLON, Van WALTERS, Marilyn YEE

1964 ~ Dennis AGUIAR, Gilbert ALCARAZ, Barbara ALLEN, James ALLEN, Laura ANDERSON, Francis AYRES, Ted BACHER, Wayne BAIO, Allen BEDWELL, Judy BEESLEY, Roger BIGENHO, Beverly BLANKENSHIP, Vicki BOARD, Richard BOMBERG, Darlene BONHAM, Kathy BRADLEY, Ted BRASIER, Lorraine BRIARD, Barbara BROWN, Stephen BUCKNER, Linda CALLAWAY, Sherrie CANNADY, Russell CARPENTER, Wm Dawayne CARTER, Elishes CAVNESS, Eileen CHRISTENSON, Cheryl CHRISTOPHER, Marilyn COSBY, Claire CURTIS, Lawrence DAKIN, Eileen DeLONG, Dennis DeSilva, Marcella DICKESON, Wm. "Bill" DICKINSON, Sue DECIOUS, Jerry EGGER, Rosalie "June" ELLEDGE, Sandy Ellis, Lee Roy EVERMAN, Dennis FERRINHO, Linda FISHER, Joyce FLOWERS, Sharon FLYNN, JoAnn FORD, Judy FORD, Leonard FORFANG, Ron FULLER, Warren GARDNER, Ron GARRISON, Mari GEORGE, Raymond GLOVER, Toni GOMEZ, John GOSNELL, Veronica GRATTON, Robert HAMMET, Judy HAND, Connie HARRIS, Richard HARRIS, Roger HARVATH, Glenda HATZELL, Dennis HEIHN, Kathy HIGGINS, Jeanette HOUSER, Diane HOWARD, Marvin HOYT, Jerrold "Choctaw" INGRAM, Chuck IVERSON, Gary JOBES, Zonna KEETON, Doug KNAPP, Alicia KNIGHT, Kathryn KORDOSKY, Richard KOSKI, Wayne KOSTER, Nick LINEBARGER, Russell LEONARD, Lillian LETHRIDGE, Barbara LOUDEN, Shirley MALONE, Arthur MAPPS, Joseph MARCHY, Randy MARKHAM, Michael MATTHEWS, Nancy MILLER, Louie MILLHOLLIN, Kathleen MITCHELL, Luvinia MOORE, Rodney MORRIS, Frank MUNAFO, Lindell NEWMAN, Pete Norgarrd, Ron OMO, Linda PENNINGTON, Richard PEREIRA, Joe Peterson, Sandy PIKE, Russell PLANCHON, Bill READING, Sheilah REED, Willie REW, Pat RILEY, Don ROSBURG, Donna SAINT, Diana SANDERS, Georgeann SCHNEIDER, Randy SCOTT, Gerald SHEPPARD, Lonnie SMITH, Carl SOLOMSON, Stella STANLEY, Larry STARK, Phil SULLIVAN, Gerald SUMMERS, Floyd "Bernie" SWARTZ, Lolita Lee TAYLOR, Richard THACKER, Helen THOMAS, Betty TINSLEY, Bruce TOFFT, TORRES, Johnselene TURNBOW, Gerald VALENCIA, Mike WAGLEY, Ray WATLEY Jr., Ray WHITEHEAD, Wilma WIEDNER, Maxine WILLIAMS, Suzanne WILLIAMS, Levon WILLIAMSON, Jerry WILSON,Frank ZAEHRINGER

1965 ~ Diane ALEXANDRE, Sonora ARMISTEAD, Karen ARNETT, Verna ASHFORD, Dennis ATKINSON, Lee BALLARD, Richard BANTTARI, Lloyd BARTLETT, Linda BAYARD, Bonnie BLANKENSHIP, Dolores BOYCE, Sally BROOKS, Mary "Frankie" BRUNING, Mary BURNS, Vonzetta BURRUS, Candace BUSBY, Sheryle BUTLER, Ernest BUTTS, Gary CAPSTICK, Beverly CAREY, Gene CARLOCK, Boneeta "Bunny" CARROLL, Linda CAYGILL, Glen CHELINI, JoAnn CLARINE, Sheryl CLARINE, James CLARK, Naomi CLARK, JoEtta CONWRIGHT, Lupe CORDERO, Reta CORDON, John CRAFT, John DAVIDSON, Linda DAVIS, Ray DELGADO, Donald DEMER, Jeanne DICKINSON, Delores DORTON, Jim DREGER, Marian DUNCAN, Joe DUARTE, Shirley DUSENBERRY, Carmen ELLIOTT, Connie ESQUIVEL, Jim FINK, Gregory FLORENCE, Donna FOLMER, Bill FORREST, George FRASER, Larry FREEMAN, Donald FRENCH, Danny GALLEGOS, Berry GALLON, Craig GAMBS, Gayle GAGNON, Anita GIBSON, James GILLETTE, Linda GLAZIER, Sue GODWIN, Beverly GOLDMAN, John GRAHAM, Jane GRANTHEM, Arthur GRAY, Wanda GRAY, Donna GREEN, Earl GUNN, Roger HALL, Dennis HAMILTON, Doreena HARLAN, Lillian HARRIS, Annie HARTWELL, Stephen HAYES, John "Marshall" HEAD, Ruth HEMAN, Robert "Bobby" HERNANDEZ, Carrol "Cal" HOOTEN, Alvin HUNT, Jerry JEFFERS, Karen JIMENEZ, Linda JOHNSON, Robert JOHNSON, Gary JOHNSTON, Lorraine KASSEL, James LANGSTON, Michael LATHROP, Terry LAYTON, Randy LEE, Sherrie LEEVER, Carl LEWIS, Diann LEWIS, Jacque LONG, Charles "Wayne" LOYD, Mike LUND, Conrad MAISCH, Alycia MANUEL, Glenn MAPPS Jr., James E. MATTHEWS, Patricia McFARLAND, Larry McGARR, Richard "Dickie" McLEAN, David MIGNONE, Freddie MILLER, Mike MILLER, Mike MITCHELL, Larry MOORE, Irving MORALES, Leonar MORROW, Paul NORTHCUTT, Lardell OLIVER, Ron ORTT, Lonnie PAGE, Kathi PEZZOLO, Peter PIAZZA, Larry PLEAU, Barbara QUESENBERRY, Otto RASMUSSEN, Bill RILEY, Billy ROBERTS, Gary ROGERS, Larry ROYBAL, Robert RETZLAFF, Mike ROSE, Tee Zee SANDERS, Glenda SCOTT, Cathy SIDWELL, Charlotte SMITH, Gregory SMITH, Nancy SODEN, Jimmy SPRINGER, Timmy STOLLARD, Marilyn STREET, Edith TALLEY, Cheryl TAYLOR, Ed TAYLOR, Standard THOMAS, Ernie THOMPSON, Patria "Pat" TODD, Sidney TOWERS, Betty TRAINER, Sharon TRELOAR, Marty TROUTMAN, Richard TUNKS, Lenova TURNBOW, Steve VAN WINKLE, Barbara VINSON, James WARD, Herbert WARREN, John WASHINGTON, Kathie WEBER, Wayne WILLETT, Mae WILSON, Troy WILSON, Malene WINROW, Sue WOOD, Gary WRIGHT, Larry WRIGHT, Wilma YOUNG, Evelyn ZINK

1966 ~ Robert ARNOLD, Linda AZEVEDO, Earl BACH, Yvette BARNETT, Linda BARONE, Marilyn BERDOLLT, Susan BERGDAHL, Francis BORELIZ, Craig BRINDLEY, Stan BROWN, Michael BUTLER, Anthony CABRAL,Willie CARTER, Judy CAUDLE, Cindy CHAPMAN, Robert CHIOZZA, Judy CID, Linda CROWDER, John DAVIS, Linda DAVIS, Patti DREGER, Richard ERWIN, Pamela "Petie" FARRIS, Steve FERNANDEZ, Diana FOSTER, Harold FRANKS, Wayne FUGITT, Anthony L. FULLER, Ann GERKE, Steven GERY, Rory GODFREY, Audrey GUIDRY, Ron GULLEDGE, Charlotte HAMILL, William HARDIN, Ronnie HARRIS, Robert HINTON, James HOLLISTER, Carole HOLTMAN, William HORTON Jr, Judy INDJICH, Beverly JERGENSON, Yvette JUDKINS, Harold KECK, Ida Jean KIDD, Ken KING, Kenneth KOESTER, Ron KRAMLICH, James KYLE, Marguerite "Peggy" LANE, Dale LAYFIELD, Zeta LEWIS, Carol LILENTHAL, Walter LILLY, Brenda LOGUE, Eddie LOPEZ, Richard MARTIN, Carolyn McGEE, William McIntosh, Myrna MELDRUM, Cece MENO, Johnny A. MINTON, Ken MOELLMAN, Christine MOITOZA, Marilyn MONTANO, John MOORE, Betty MORRIS, Joan MORSONY, Sharon MOSES, Betty MYERS, Sherryl O'NEAL, Dee OURSO, Thomas PALMIERI, Marsha PARKER, Janice PEACOCK, Sandy PIMENTAL, Gary PRICHARD, Larry PRIGGE, Ron RE, Laurene RINNA, Virginia RIOS, Frederick ROBERTS, Linda ROOF, Bruce ROSA, Bill SAUNDERS, Bob SCHWIND, Joe SOLORIO, Thomas SPRING, Alan "Red" STEELE, Tyrone STINSON, Dave STRAND, Marie SUY, Connie SWANSON, Steve TAYLOR, Willie THOMPSON, Joe WATTERSON, Michael WAY, Alberta WEEKS, Douglas WELLS, Paul WETSELAAR, Gay WHEATLEY, Tim WILBURN, Patricia WILLIAMS, Pauline WILLIAMS, Ralph YACORZYNSI, Paulette YOUNG

1967 ~ Shirley ADKINS, Karen BAMFORD, Linda BARTON, April BROOKS, Harry BROWN, Ronald BUCKNER, Armand CARDENAS, Linda CASTAGNASSO, Robert "Bob" CASTLE, Thomas CHILDS, Pamela COLE, Ronald COATS, Pamela COLE, Bruce CONWAY, Jacob COOLEY, Phil CORDERO, Cheryle CROWLEY, Linda DALEN, Robert DAVENPORTLOR, Ed DeSOUSA, Darlene DONNELLY, Ray DUNCAN, Norman EVANS, Douglas Farrell, Robert FELTS, Billy FLORES, Gary GALAN, Robert GENT, Alan GREINER, Lisso HARPER, Pat HEGENAUER, Roger "Hank" HENRY, Nancy HERGUTH, Jack HERTING, Dana HYATT, Theodore JACKSON, James JOHNSON, Dennis KROLL, Chris KRYSTOFIAK, Robert LEIGHTY, Larry LENZ, Neil LUSCHEN, Paul LUTZ, Kathy MATTHEWS, Marcelle MADDOX, Cathy MATHEWS, Richard McDANIEL, Raymond MENO, Lucille MITCHELL, Helen MOORE, Lorenzo MOORE, Mike MRAZ, Terrie NELSON, Kathy REED, Patricia ROBINSON, Lorenzo MOORE, Connie OLIVERIA, Carol PARRISH, Cleo PATRICK, Laurie PEDRETTI, Linda PEREIRA, Irma PEREZ, Milton "Buster" POPKE, Gregory POTTER, Ralph RAMIREZ, Kathy REED, Shirley REIDR, Sherry RICHMOND, Harlan RITZ, Patricia ROBINSON, Danny RUMRILL, Patricia SCOTT, Tom SHADLEY, Lynda SHARPE, Mike SOULE, Kirk TAYLOR, Lynn TAYLOR, Terry TORNQUIST, Carolyn TRESHAM, Chauncey TURNBOW, David WAFER, Craig WILKINS, Mallory WINROW, Barbara WOODARD, Michael YANUSHEFSKY

1968 ~ Mona Planchon AINSWORTH, John "Mark" BALES, Jack Campbell, Leo CASTRO, Jill COGGER, Tim CUCCHI, Bruce GILLIAM, Warren GODDARD, James "Jim" GULLEDGE, Don HEARN, David HONDA, Jack HUDDLESTON, Vic JOYCE, Stanley KING, Dwight LEE, Carl MALEY, Karen MARSHALL, Chuck MEHAN, Kenneth MEYERS, Mary PRICE, Marvin REXFORD, Kathleen "Kathy" SALTER, Garry SATTLER, Judi SIMPIER, Candy SOLOMON, Michelle STOUT, Bruce WATTS

1969 ~ Billy ALLEN, Jose ARRIAGA, Julie BANUELOS, Cathi BARNI, Gary BITLE, William "Billy" BLETHEN, Milton BRANCH, Llewellyen CHRISTIAN, Larry COOPER, Anthony DANIELS, Donna DANIELSON, Mina DUFAULT, Leroy EDMONDS, Dave FITZGERALD, Joe GARCIA, Reginald GARRETT, Jim HORNE, Carl JACKSON, Steve LITTLE, Nancy McGRATH, Quincy NEWSOME, Calvin NEWTON, Timothy O'MALLEY, Karen PATTERSON, Milton PEOPLES, Michael REED, Stephen RUPORT, Wm. Foy "Bill" SETTLE, Linda SHELTON, Donnie Ray STUART, Michael TAYLOR, Sherry VAUGHN, Jackie WILLIAMS

1970 ~ Mel ADGER, Marvin ASHFORD, Irma BELL, Calvin BRADFORD, Linda Sue BRADLEY, Vickie BROOKS, Steven E. BROWN, Rebecca BUTTERFIELD, Mike CANEPA, Cindy CLARK, Jim CLEVELAND, Janell CLUTTS, Elois COOK, Charles COPE, James GENT, Odell GRANDBERRY, Roy Lynn GRULKEY, Denise HEBERT, Keith HILL, Cobby JOHNSON, Dowayne JORDAN, Oliver KENNEY, Tom KOSKI, James LAMBERT, Michelle LOWRY, Terry MALONE, Larry MELDRUM, Dave MEYERS, Minnie MILLER, Dana A.MINTON, Lee NELSON, Don NORDGREN, Margo PLACENCIO, George RIOS, Kathy SEWELL, Larry SHARPE, Jack SILVA, Geary STENMARK, Calvin SWAZYA, Steve ZEPPA

1971 ~ Stephen ANDERSON, Darryl BAGBY, Rick BANDUCCI, Herbert BROWN, Linda CASADY, Carlos CHAMBERS, Richard CHIOZZA, Sandi CHRISTIAN, Johnny COLEMAN, Candice EDDINGS, Ralph EVANS, Dee FAETH, Mitchell Greenberg, Regina ISABELL, Mike Jerge, Guy JOHNSON, Diane LEVIAS, Ray MATTEUCCI, Gary MAYEDA, Randy MEAHAN, David MONIZ, Willie MONTGOMERY, Dennis NAKAZONO, Jan NOLAN, John A. RAMOS Jr, Sharon ROSE, Sheila SCARBOROUGH, Ira Louis SIMPSON, Suedel SELBY, Deanna STRONG, Virgina TRADER-McGee, Roy WATSON, Pamela WELLS, Janice WILLIAMS

1972 ~ David ANDERSON, Lisa ARANDA, Benester BRYANT, Doris CHAN, Henry COOPER, Jr., Arturo DELGADILLO, Leaman EALY, Freddie EVANS, Joan FITZGERALD, Jeanette GARLIN, Leslie GOOD, Denice GREEN, Edward HENDERSON, George KERR, Barbara KESSLER, Dennis KORTE, Jeffrey LYSAGHT, Julie Marie MASON, Stacey NEWMAN, Scott PERASSO, Zachary SHARPE, Michael SIMMONS, Ronald TAYLOR, Rick TILLMAN, Donnell YOUNG

1973 ~ Jeff BAKER, Roy BRADLEY, Linda S. BRANUDAU, James BRIDGES, Kathleen BRYANT, Anita L. CADO, David DECHIARO, Nick EASTMAN, Gregory GAINES, Linda GARRISON, L.V. GRIFFIN, Edward HENDERSON, Susan HERNANDEZ, Martin HULSE, Elden IWAI, Roger JONES, Brenda KENNEDY, Janice KRUEGER, James MAGDALENO, Sharon MARCHAND, David MATTINGLY, Andrew MONSON, Michael NELSON, Adolphia NELUM, Kenneth OLDEN, Gerard POLA, Glen RATLIFF, J. D. WILLIAMS, Marlowe WILLIAMS

1974 ~ Jimmy ALLEN, David BACOM, Glenn BRASLEY, Joy BRISTO, Joyce BRIDGES, Barbara BROWN, Toni CAVORETTO, Larry "Scooter" FEASTER, Marianne FOX, Ronald GREENE, Douglas HUEY, Michael JACKSON, Phyllis JACKSON, Jimmie JOHNSON, Calvin JONES, Robert JONES, Marianita LANGSTON, Dwight LEWIS, Michael MEYER, John MOUNTJOY, Steven MULLEN, Cindy NAKAGAMA, Kimberly NICOL, Dan "Bones" NORRIS, Rick OLSEN, Anita REED, Robert RITCHIE, Brian ROAY, Leroy ROBERTSON, June RUBIO, Alice ROYBAL, Gloria SWANSON, Bernadette SPARKS, Marlowe WILLIAMS

1975 ~ Rosemarie COLLINS, James "Bob" Sturgeon

1976 ~ Everitt ANDERSON, Larry GRIFFIN, Fred THIERRY

1977 ~ Theresa DEEN, Martha ESCAMILLA, Harry Ray FARVAL, Lino MARTINEZ, William "Bill" RUSSO

1978 ~ John BYRNE, Howard DUNPHY

1979 ~ Danny INGRAM, Vincent "Angelo" JIMENEZ, Nathan TURNER, Joe YEE

1980 ~ Jessie Jones

1981 ~ Mable CLAY, Theresa DIXON, Barbara EARL, Gloria NASH, Herbert SCRUGGS, Erma SERVER, William TATMAN, Katherine WILLIAM

1982 ~ Nancy FIGEL, Nick "Teeny" JONES, Eddie SALAS

1983 ~ Jimmy BACA, Harry VASQUEZ

1985 ~ Dianne GALEY, Jimmy ROUNDS

1986 ~ Janet BYRNE, Brian RIESKE

1987 ~ Jamie FRANKLIN, Anthony GORDON, Davnine SALAZAR

1989 ~ Sammy LERMA

1990 ~ Maelonda HARDIN

1995 ~ Lisa ORNELAS

2004 ~ Raymond VALLEJO

2006 ~ Abraham CALDERA



Updated OCTOBER 31, 2021


Names in RED recently added to the page doesn't mean the person passed away recently. Visit the persons class page for more information.

Page moved to this site.....OCTOBER 26, 2009
Page created and maintained by Janie Smith Hug since 2001
---
Class News

6/2/2013
Register to post message....
Please take a moment and register as a GUEST here on the Oilers Memorial Page. You can post messages once you have registered. PLEASE REGISTER WITH YOUR CLASS AS A STUDENT, if you are an . . . Continued


Our Class Message Board
Your participation is requested!
We would like to hear from you. Post your messages here.

ADD NEW VIEW ALL

Indicates an included photo
| | |
| --- | --- |
| Sandra J. Filippi | Janie Smith Hug |
| Class of Feb 1955 passed away October 17 | Sun 12/2/2018 10:36 AM |
| John C. Bruzzone | Janie Smith Hug |
| Unable to find which class John was a me | Sun 12/2/2018 10:12 AM |
| 3-12-18 Names | Janie Smith Hug |
| to be added to Oilers Memorial Page. I | Mon 3/12/2018 9:13 PM |
| Alice Morken --- Class of RUHS 1940 | Linda Heman Brockmeier |
| My mom, a Richmond native and graduate i | Sat 5/23/2015 7:12 PM |
| Message | Hub Heatherly |
| Jack Herrman class 51 passed july 2013 | Sun 7/6/2014 1:49 AM |
| Bonna Frost | Janie Smith Hug |
| Class of 1954 passed away January 18, 20 | Fri 6/7/2013 11:04 PM |
| Mr. Robert Olson...... | Janie Smith Hug |
| Dean of Boys died January 6, 2013 "Rober | Thu 1/17/2013 9:51 AM |
| Message | Charles Whaley |
| Jack Schmitt I think the class of 53 or | Mon 11/26/2012 12:18 AM |
| Robert "Bob" Johnson | Janie Smith Hug |
| a member of RHS Class of 198? died Febru | Sun 2/26/2012 1:11 PM |
| Diane Reagan | Janie Smith Hug |
| a member of RUHS Class of 1960 died Febr | Sun 2/26/2012 1:01 PM |
| Don Demer | Janie Smith Hug |
| A member of the RUHS Class of 1965 died | Tue 1/10/2012 8:46 PM |
| Jo Etta Conwright | Janie Smith Hug |
| a member of the RUHS Class of 1965 passe | Thu 1/5/2012 1:09 PM |
| Donna Smiley, | Janie Smith Hug |
| a member of RUHS Class of 1952 died Nove | Sat 12/17/2011 11:30 AM |
| Robert "Bob" Perry, | Janie Smith Hug |
| member of RUHS Class of 1939 died Decemb | Sat 12/17/2011 11:25 AM |
| Nellie Bisio, | Janie Smith Hug |
| a member of the RUHS Class of 1942 died | Sat 12/17/2011 11:22 AM |
Today's Featured Biography
Eli & Edith (Tami) Dufault69 / Covello68


RUHS - 1966 to 1969
Printing 66/67 - This was Last Yr for old RUHS
Wrestled 98# Class Weight/Oilers in Junior Yr
JV Wrestling Captain 67/68
Married Oct.68 moved to Seattle, Wa June 1969
Returned to Bay Area same year.
Attended Contra Costa Jr College 71 thru 73
Work at Chevron (Standard Oil Ref.) 10 years.
Moved to Port Orchard, Wa in Sept. 79.
Worked Various Shipyards for 3.5 years
Hired into Puget Sound Naval Shipyard in 83
Retired from PSNSY in April 2010.
Currently enjoying the good life.


REMEMBERING WHEN...... Remembering When…we sat and talked,
Dreaming of days to come.
Walking the halls, cafeteria food,
And laughing until we were numb.

The football games, the roar of our Friday rallies,
The heavy beat of RUHS Marching Band,
The autumn air still takes me back to that time,
To where we'd meet up with friends as planned.

Remembering when we cruised Macdonald Avenue,
JB's, sneaking into the drive-in movies.
Scratchy formal dresses, big hair, corsages,
Crew cuts, going to homecoming with friends.

Those tender times were of gentler days,
That now seem to be of a different world.
The march of time has brought with it changes,
As new generations of lives have unfurled.

All of those memories are but a whisper now,
That will forever echo in my mind.
Now and then I find myself searching
For the faces of those friends who left us behind.

Most friends remain - but some have gone
And left for a final place of rest.
Gone from our sight yet with the memories of those,
We surely have been blessed.

Remembering When…we had not a care in the world,
And how time just seemed to stand still.
I think of you now with fond thoughts and precious memories,
And I know that I always will.

Anonymous Author
Family News Summary
Enter your Family News Item choosing from our pre-defined categories:
Anniversary, Award, Birth, Death, Diagnosis, Engagement, Graduation, Lottery, Retirement, Vacation, Wedding, Other.
There is no Family News on file
at this time.
Calendar
There are no Calendar items on file
at this time.

Today's Featured Class Member Website
Connie Royce Tweedie

Classreport.org provides free Class Websites for every graduating class of every high school with free access for all.
We are one of the premier social networking sites dating back to 2003. We are a small, family-owned business and yet freely host over a million class websites. Our Story
Classreport holds a special place in the hearts of our users: Bravos.
Class Support Status

Our Class Site is Fully Funded!
Additional contributions are welcome and will be used to provide support for the larger Classreport community.
CLICK HERE TO LEARN MORE
Class Directory
| | | |
| --- | --- | --- |
| | | |
| | 4 | |
| Missing: | 0 | |
| Deceased: | 0 | |
| | 4 | |
| | | |
| | 88 | |

Where in the world are you? Stats
Recent Profile Updates
| | |
| --- | --- |
| | Jun 17 |
| | Jan 14 |
| | Oct 31 |
| | Nov 14 |
| | Mar 21 |
| | Mar 14 |
| | Sep 10 |
| | Mar 19 |
U.S. Armed Forces
Active and Veterans

Please update your profile to be
included in this section.

0 from Our Class

133 from Our School

Class Poll
There is no Active Poll
at this time.
Recent Reviews
There are no reviews on file
at this time.
This area is for comments on
books, movies, music,
restaurants, etc.
Visit Other Classes
The Office
(Admin use only)
If you have any questions or comments regarding this website, please contact:

Class Administrator
Janie Smith Hug

RUHS Site Coordinator
Janie Smith Hug
Class of 1965

Would you like a sneak peek at a
non-functioning view of The Office?

This class reunion website is a complementary addition to your existing alumni resources.
It is a product of Classreport, Inc. and may not be affiliated with RUHS / Richmond High School or its alumni association.

Does your High School Class have a full-featured Alumni Website? Start One Now!
(Or start one for your Mother, Father, Sister, Brother, Spouse, Son, Daughter, Friend . . .)



"Just discovered your product today while trying to locate classmates ahead of our 50th reunion in 2020. The fact that you did this in a noncommercial manner in a world where everything has a price tag deserves recognition and respect, in my view. Thank you and good luck in all your endeavors." 5/5/2018


"THANKYOU so much for handling this for us! We are so appreciative! It looks GREAT!" 5/2/2018


"Thank YOU for helping us get the word out! I've posted a link to the website on our FB group page and vigorously encouraged other classmates to contribute" 4/27/2018


"Your site is amazing. Kudos to you and your staff. You have benefitted so many high school alumni in organizing their class reunions." 10/4/2017


"Thanks to classreport.org our class website played a huge part in the success of our Reunion. We greatly appreciate your wonderful support." 10/3/2017


"Thanks for all your hard work and ingenious spirit." 9/25/2017


"Thanks guys, you are Good!!" 9/23/2017


"I love your service and will continue to support you." 9/14/2017


"We have been using the website for more than 10 years now. It's still the best website out there for classmates to meet, collect their info and advertise their reunions. Thanks for inventing it all!" 9/11/2017


"Thank you for your assistance. It was very helpful. Looks good!" 9/5/2017



More bravos at: www.classreport.org/bravos




20th Anniversary!
There are no fees required for participation on this site.
Please support this site with your voluntary contributions.
We cannot provide this service without your support. Thank You!
Please read Our Story
ClassTraQ 11.003 Software Copyright ďż˝ 2003 - 2017 Classreport, Inc. All Rights Reserved e1 amsc: 1