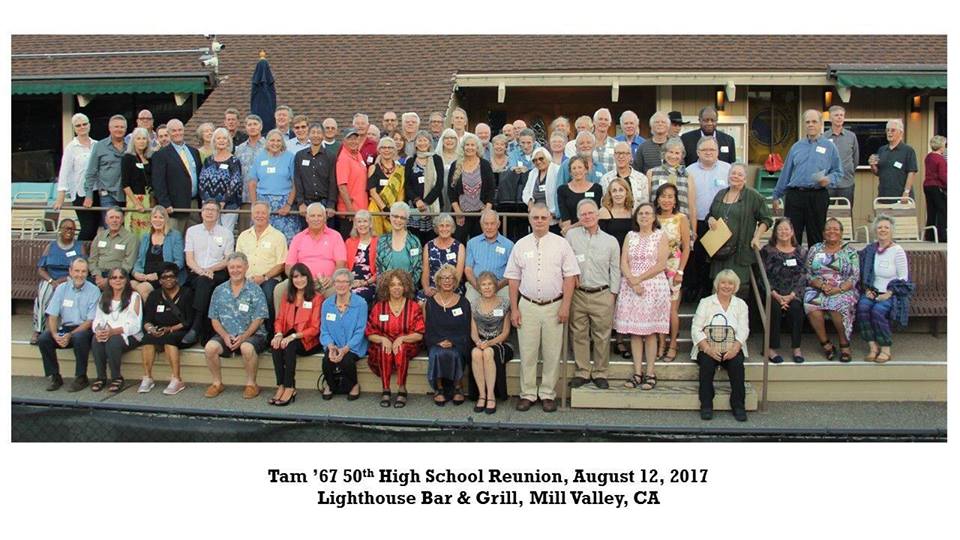 This site is operated and funded by members of our class.
Class Administrator: Skip Lacaze
Page Hits: 21,560


55 Year Reunion Announcement!
---
Class of 1967 50th Reunion Photos
Sunday, June 30, 2019
Dear Tam '67 Grads,

Congratulations to all of you who made it to Saturday's [50th] reunion party!  I've posted individual photos that you can view or download from my Dropbox folder at https://www.dropbox.com/sh/cpkwiny1lk5hwix/AABOQ_aJO-Yck8DU1qnr79Tna?dl=0 [Use the "Click to open" link below, or, if that doesn't work, copy this URL and paste in your browser's address bar.]

There are a total of 134 photos in this folder.  Hint: look for your first or last name.  Please feel free to download anything you want.

For the techies in the group: the individual and casual photos are moderate-resolution photos (6-7 MB JPG files) that are suitable for viewing on a computer, posting on the internet, or printing up to 8x10 size.  I included the Group Photo as both lower resolution files (TIF and JPG) that are suitable for posting on the internet, and as a higher resolution PowerPoint file (18 MB) that is suitable for printing.

Please let me know if you have any difficulty viewing or downloading the files.  And apologies in advance if I miss-identified, miss-typed, or misspelled any names or photos.  Please let me know and I'll make the correction.

Best wishes,

Bill Schmidt
(Linda Cook Schmidt's husband)
E: [email protected]
More Information: Click To Open
---
Class of 67 Casual Get Together
Friday, August 12, 2022
tbd
We expect to have a low key, low cost, event on Friday evening.
---
Mill Valley Reunion Annual Event
Saturday, August 13, 2022 - 12:00 pm
Old Mill Park
The Mill Valley Reunion Annual Event is held every year on the 2nd Saturday, from 10:00-6:00, at Old Mill Park, for:

"Everyone who grew up in Mill Valley, Played at Old Mill Park, climbed Mt. Tam, Walked in the creeks, Hung out downtown...

"This is a pot luck, BYO-Everything and a dish to share."

There might be a theme for food, so check FB if you want to match. Otherwise bring your own favorite dish to share.

The Class of 67 or another may have a table or some other spot to check in from noon to 2 pm and find out who else is there. We may also have our own group photo around 1:30, the time that the main group shot is taken. Look for the Red & Blue.
---
Class News

1/18/2018
Michael Kelley Biber (Tam 1967) 1949 - 2017
Michael Kelley Biber Jan. 14, 1949 - Dec. 29, 2017 Michael was born in San Francisco. The family moved to Mill Valley when he was 5 years old. He attended Tam High School, where he excelle . . . Continued

3/20/2015
Dan Caldwell – Tam/Drake 1952; teacher and drama
Daniel Edmund Caldwell 1935 – 2015 Family and friends were saddened when Daniel Edmund "Dan" Caldwell passed away on March 15th as a result of Alzheimer's complications. The memory of . . . Continued

2/20/2011
Mosaics from 1930's New Deal project restored at Tam High
By Will Jason Marin Independent Journal Posted: 02/19/2011 03:52:00 PM PST After spending 37 years in a moldy storage room, a pair of 13-foot-tall mosaics dating to the 1930s could be . . . Continued


Reunion Feature-Length Documentary, Mill Valley Film Festival '08 Sylvia Hart, Mike Biber, Don Hunter, Scott Nelson, and James Webb Jr., plus Guy Barnett Bachelis, Jewell Barrow, Ernie Bergman's sister Julia, Joe Breeze and Steve Potts (for all you mountain bikers), Bill Champlin, George Duke, Betty Hodges, Tom Killion, Ann Killion, Rob Nillson, and Eileen Van Moppes. Teachers with speaking parts include Pete Beldon, Chuck Crawford, Frank Gold, Bob Greenwood, Willie Hector, Iris Meyers, Robert Prather, and Robert Sherman. Ed Chavez, Alice Dolan, Bruce Grant, Paul Schwarzbart, and Margaret Zegart are on the interviewee list.
Our Class Message Board
Your participation is requested!
We would like to hear from you. Post your messages here.

ADD NEW VIEW ALL

Indicates an included photo
Today's Featured Biography
Sailing Vessel Captain · July 15, 2014 to present

Significant event… Today it is official… the first day of my new job: Captain of "Tandemeer", a Nautical Development 56' ketch owned by International Rescue Group (IRG). IRG is a fledgeling 501(c)3 non-profit dedicated to providing first line emergency response and disaster relief to islands and communities in need and delivering medical teams, supplies and humanitarian aid for hard to reach and underserved coastal areas of developing countries. We will be sailing to small islands off the coast of Haiti and other remote areas in the Caribbean and Central America several times each year on a number of sailboats.

Tandemeer is an awesome sailing vessel, built in 1980 and featured in the last scene of the classic social commentary comedy film "Trading Places" with Eddie Murphy, Dan Akroyd and Jamie Lee Curtis. I will post a video of that scene soon, but first things first.

My commission as captain is for three years beginning when I formally take possession of the boat in Philadelphia in August at a promotional and fundraising event for IRG arranged by the family who generously donated the boat. I spent a week on Tandemeer last December in Delaware helping to get her ready to sail south to Florida in preparation for her new life and sailing to Haiti last winter while I was in California.

The Boat has four private double staterooms and when not carrying volunteers, medical supplies and donations to Haiti, I will be chartering and using her to invite friends and guests sailing in beautiful exotic locations such as Cuba and the Spanish Virgin Islands in addition to the more usual Bahamas and BVI's.

This will be the major focus of my life for at least the next three years, and something I have dreamed of and worked towards for many years. Wish me luck, and hey, how about coming sailing with me for a day, a week, a month or longer? You (or anyone you know) can volunteer as crew, be my guest just paying your expenses, or charter a cabin or the whole boat any time along our route from Philadelphia to Connecticut in August, NY to Florida in November, the Bahamas in January, to Haiti next March, or other beautiful locations in the Caribbean after that. And if you feel so moved, you could make a tax deductible donation of any amount to IRG to help fit out and maintain the boat, or to help provide medical supplies to those in need. IRG has no paid staff and zero overhead so 100% of all donations go directly to costs of maintaing the boats and delivering teams of volunteers and needed supplies directly to the hands of those in need. Pass it on.


Family News Summary
Enter your Family News Item choosing from our pre-defined categories:
Anniversary, Award, Birth, Death, Diagnosis, Engagement, Graduation, Lottery, Retirement, Vacation, Wedding, Other.
Death
BIBER, Michael Kelley, "Mike," 1949 - 2017 Micha
Posted by: Skip Lacaze

1/24/2018

Death
SMITH, James R. "Jim" (1949-2016) James Russell Sm
Posted by: Skip Lacaze

3/13/2017

Death
HILSMANN, Henry S. "Hank" (1949-2014) Hank HILS
Posted by: Skip Lacaze

2/26/2017

Death
GOOD, Kevin Wiley, 1949-2013, Portland Kevin Wile
Posted by: Skip Lacaze

9/4/2016

Death
SPANGLER, William Duane, 1949 – 2013, Durham, Cali
Posted by: Skip Lacaze

9/4/2016

Death
MILLER, Clifford (1949-1976) Clifford Seldon Mill
Posted by: Skip Lacaze

11/11/2015

Death
CALDWELL, Dan (1935 – 2015) Daniel Edmund Caldwel
Posted by: Skip Lacaze

3/20/2015
Calendar
There are no Calendar items on file
at this time.

Today's Featured Class Member Website
Classreport.org provides free Class Websites for every graduating class of every high school with free access for all.
We are one of the premier social networking sites dating back to 2003. We are a small, family-owned business and yet freely host over a million class websites. Our Story
Classreport holds a special place in the hearts of our users: Bravos.
Class Support Status

Our Class Site is Fully Funded!
Additional contributions are welcome and will be used to provide support for the larger Classreport community.
CLICK HERE TO LEARN MORE
Class Directory

Where in the world are you? Stats
Recent Profile Updates
| | |
| --- | --- |
| | Nov 9 |
| | Sep 9 |
| | Sep 9 |
| | Sep 9 |
| | Aug 17 |
| | Aug 17 |
| | Jul 18 |
| | Jul 11 |
Class Poll
There is no Active Poll
at this time.
Recent Reviews
There are no reviews on file
at this time.
This area is for comments on
books, movies, music,
restaurants, etc.
Visit Other Classes
The Office
(Admin use only)
If you have any questions or comments regarding this website, please contact:

Class Administrator
Skip Lacaze

Would you like a sneak peek at a
non-functioning view of The Office?

This class reunion website is a complementary addition to your existing alumni resources.
It is a product of Classreport, Inc. and may not be affiliated with Tamalpais High School or its alumni association.

Does your High School Class have a full-featured Alumni Website? Start One Now!
(Or start one for your Mother, Father, Sister, Brother, Spouse, Son, Daughter, Friend . . .)



"Just discovered your product today while trying to locate classmates ahead of our 50th reunion in 2020. The fact that you did this in a noncommercial manner in a world where everything has a price tag deserves recognition and respect, in my view. Thank you and good luck in all your endeavors." 5/5/2018


"THANKYOU so much for handling this for us! We are so appreciative! It looks GREAT!" 5/2/2018


"Thank YOU for helping us get the word out! I've posted a link to the website on our FB group page and vigorously encouraged other classmates to contribute" 4/27/2018


"Your site is amazing. Kudos to you and your staff. You have benefitted so many high school alumni in organizing their class reunions." 10/4/2017


"Thanks to classreport.org our class website played a huge part in the success of our Reunion. We greatly appreciate your wonderful support." 10/3/2017


"Thanks for all your hard work and ingenious spirit." 9/25/2017


"Thanks guys, you are Good!!" 9/23/2017


"I love your service and will continue to support you." 9/14/2017


"We have been using the website for more than 10 years now. It's still the best website out there for classmates to meet, collect their info and advertise their reunions. Thanks for inventing it all!" 9/11/2017


"Thank you for your assistance. It was very helpful. Looks good!" 9/5/2017



More bravos at: www.classreport.org/bravos




15th Anniversary!
There are no fees required for participation on this site.
Please support this site with your voluntary contributions.
We cannot provide this service without your support. Thank You!
Please read Our Story
ClassTraQ 11.003 Software Copyright © 2003 - 2017 Classreport, Inc. All Rights Reserved e1 amsc: 1