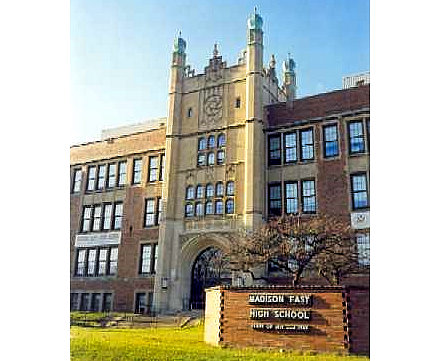 This photo can be changed by your Class Administrator.


This site is operated and funded by members of our class.
Class Administrator: Loren Seagrave
Page Hits: 52,076


50 Year Reunion Announcement!
---
50th Madison East Class of 1970 Reunion
Saturday, July 18, 2020 - 6:00 pm
The Bridges Golf Course, 2702 Shopko Dirve, Madison, Wisconsin 53704
No Charge for the Event, Cash Bar with Ordering Off the Menu
To: East High School Class of 1970
RE: 50th High School Reunion-July 17, 18, 19, 2020

We have planned three events of which you can attend one or all for our 50th high school reunion

The MAIN EVENT is Saturday, July 18th starting at 6:00 p.m. at Bridges Golf Course's Restaurant/Bar. Dress casual, appetizers provided, food and drink are on your own (this way we don't need to collect RSVP's or cash up front!)

A second event is Friday, July 17th, from 6:00-9:00 p.m. at Kavanagh's Esquire Club on Sherman Avenue. Similar to last reunion, we will have a room in the lower level available with again a cash bar and ability for those who want to order dinner (they have a great fish fry!).

On Sunday, July 19th, Barb Berntsen is organizing a 2 hour private Betty Lou Boat Cruise on Lake Mendota for our classmates and their significant others. Cost includes brunch, unlimited mimosas and cash bar. Boat holds 40. The cruise is from noon to 2 p.m. Cost is $47.00. Meet at the Mariner's Inn at 5339 Lighthouse Drive. Arrive 15 minutes early. To reserve a spot e-mail Barb at [email protected] She will need checks made out to her and mailed to: Barb Berntsen, 1685 Stella Drive, Colorado Springs, CO 80921 to reserve the boat. No refunds, cruise goes rain or shine. Must register/pay before event. Please let Barb know as soon as possible.

We will try to keep you posted on additional details at our classreport website…also, please update your e-mail address and mailing address at this same site. Go to the East High School Class of 70 website at
http://www.classreport.org/usa/wi/madison/ehs/1970/. Please sign in on the website and you will be given a choice to either go to My Class Page or My Profile. Select My Profile and make sure your contact information is up to date.

Also join the Madison East 1970 Facebook page.


Sue Springman
Geoffrey Hurtado
Barb Bernstein
Tim Cooley
Loren Seagrave
Kay and Tom McCarthy
Linda Kavanaugh
Maysie Raine
Ed Bosold
Julie Bran
Kris Flanagan
Event Contact: Loren Seagrave
---
Event Announcement!
---
---
Class News

4/25/2010
PHOTOS OF REUNIONS PASSED (Click to See Slideshow)
As the 23rd and 24th of July draw near some classmates are looking through photos. If you have some photos you would like to share send them using the e-mail class administrator. . . . Continued

12/5/2009
Start Rehearsing the Songs of Madison East High School
You might want to do more than hum along when invariablly the Alma Mater and Pep Song are played. Here are the words below. School Alma Mater To thee, our East Side High School Our Alm . . . Continued

12/5/2009
Petition Started to Re-Name Madison East High School
We thought that we would keep the Class of 1970 informed of an on-line petition started recently. As Milton McPike was principle long after we graduated, members of the Class of 1970 may not . . . Continued


Our Class Message Board
Your participation is requested!
We would like to hear from you. Post your messages here.

ADD NEW VIEW ALL

Indicates an included photo
| | |
| --- | --- |
| In Memory of Doug Walters | Class Administrator |
| Douglas A. Walters, 65 of Harrison Hills | Sat 12/15/2018 9:23 PM |
| In memory of Linda Cero-Greene | Class Administrator |
| Obituary for Linda Cerro MADISON- Linda | Sun 9/30/2018 6:46 AM |
| In Memory of Connie Hagen-Szymczak | Class Administrator |
| Connie Lee Hagen-Szymczak, 65, of Menomo | Sun 9/23/2018 9:08 AM |
| Quick favor to ask... | Loren Seagrave |
| Hey Everyone Several on my internationa | Thu 7/13/2017 10:44 AM |
| In Memory of Brian Scott Stroede | Class Administrator |
| MADISON-Brian "Scott" Stroede, age 64, o | Sat 5/27/2017 11:39 AM |
| Life Expectancy Calculator | Loren Seagrave |
| Hey y'all, sitting in Vaxjo, Sweden with | Sat 2/25/2017 2:19 PM |
| Paul Beckman Inducted Madison Bowling Associa | Class Administrator |
| Paul Beckman grew up a few blocks from C | Wed 8/31/2016 9:20 AM |
| In Memory of Marshall Wichern | Class Administrator |
| MADISON - Marshall Wichern, formerly of | Fri 12/11/2015 6:58 AM |
| In Memory of John Pobiecke | Class Administrator |
| TOKEN CREEK - John Wayne "Jack" "Bear" P | Fri 5/22/2015 9:08 AM |
| In Memory of Stan "Luke" | Class Administrator |
| Stan L. Stasieluk, 63 of Boyceville, pas | Fri 5/1/2015 1:01 PM |
| In Memory of Mary Phelan Ziech | Class Administrator |
| MCFARLAND - On Dec. 10, 2014, I passed p | Mon 12/29/2014 2:15 AM |
| 7th Annual Madison East All Class Reunion | Class Administrator |
| Looks like July 19th will be a busy day | Thu 11/13/2014 5:26 AM |
| Jan Manthe Kennedy | Blondie |
| Hi everyone. Been a bad year since last | Sat 9/27/2014 8:58 PM |
| Concerning Lydia Forrer | Doug Wedel |
| Lydia passed away sometime in the 70's ( | Sat 9/27/2014 3:45 PM |
| Were you on the Undefeated 1968 Football Team | Linda Seagrave Zach |
| MADISON EAST FOOTBALL PRESENTS Pre-Homec | Thu 9/18/2014 6:18 PM |
Today's Featured Biography
I went into the army after grad.where i went throught reg training then the NCOC school at fort benning ga. from there to vietnam for a year came home went to work for kohls ive worked in the groc industry till 98 when i retired i have a wonderful wife four kids and 4 grand kids!!! I hunt fish and putts around the yard take pictures and still act crazy im looking right now for my army buddys from ncoc and vietnam and doing pretty good !!!


---
---
45TH CLASS REUNION BETTY LOU SUNDAY BRUNCH
---
CLASSMATES MISSING... One of the most important functions of your reunion committee is to communicate with all classmates. We, collectively as a class, have made great strides to insure everyone, who wishes to know what is planned, is informed. We, as a class, should be very proud so many classmates' contact information has been verified. However, for the classmates displayed in the slide show, we have absolutely no contact information. If you can help us locate any of these classmates, please contact the web site administrator or direct our "missing" classmates to the web site so they may register.
Missing means we have absolutely no contact information for our classmates. On the web site class directory, "located" means that we have an address we believe to be valid. All correspondence will be done via e-mail and posted on the Class Web Site and Class Facebook Page. If you do not have a current and active e-mail registered with the Reunion Committee on the web site, be sure to regularly check this web site for the latest Madison East High School Class of 1970 activities. Please encourage your classmates to register on the web site and complete their profile, including their e-mail address and biography or e-mail the class administrator with your classmates' contact information
Family News Summary
Enter your Family News Item choosing from our pre-defined categories:
Anniversary, Award, Birth, Death, Diagnosis, Engagement, Graduation, Lottery, Retirement, Vacation, Wedding, Other.
There is no Family News on file
at this time.
Calendar
There are no Calendar items on file
at this time.

Today's Featured Class Member Website
MADISON EASTSIDE HIGH SCHOOL 40TH CLASS REUNION DINNER
Classreport.org provides free Class Websites for every graduating class of every high school with free access for all.
We are one of the premier social networking sites dating back to 2003. We are a small, family-owned business and yet freely host over a million class websites. Our Story
Classreport holds a special place in the hearts of our users: Bravos.
Class Support Status

Our Class Site is Fully Funded!
Additional contributions are welcome and will be used to provide support for the larger Classreport community.
CLICK HERE TO LEARN MORE
Class Directory

Where in the world are you? Stats
Recent Profile Updates
| | |
| --- | --- |
| | Jan 28 |
| | Jan 13 |
| | Jan 6 |
| | Jan 6 |
| | Jan 6 |
| | Jan 4 |
| | Jan 3 |
| | Jan 3 |
Class Poll
There is no Active Poll
at this time.
Recent Reviews
There are no reviews on file
at this time.
This area is for comments on
books, movies, music,
restaurants, etc.
Visit Other Classes
The Office
(Admin use only)
If you have any questions or comments regarding this website, please contact:

Class Administrator
Loren Seagrave

Would you like a sneak peek at a
non-functioning view of The Office?

This class reunion website is a complementary addition to your existing alumni resources.
It is a product of Classreport, Inc. and may not be affiliated with Madison East High School or its alumni association.

Does your High School Class have a full-featured Alumni Website? Start One Now!
(Or start one for your Mother, Father, Sister, Brother, Spouse, Son, Daughter, Friend . . .)



"Just discovered your product today while trying to locate classmates ahead of our 50th reunion in 2020. The fact that you did this in a noncommercial manner in a world where everything has a price tag deserves recognition and respect, in my view. Thank you and good luck in all your endeavors." 5/5/2018


"THANKYOU so much for handling this for us! We are so appreciative! It looks GREAT!" 5/2/2018


"Thank YOU for helping us get the word out! I've posted a link to the website on our FB group page and vigorously encouraged other classmates to contribute" 4/27/2018


"Your site is amazing. Kudos to you and your staff. You have benefitted so many high school alumni in organizing their class reunions." 10/4/2017


"Thanks to classreport.org our class website played a huge part in the success of our Reunion. We greatly appreciate your wonderful support." 10/3/2017


"Thanks for all your hard work and ingenious spirit." 9/25/2017


"Thanks guys, you are Good!!" 9/23/2017


"I love your service and will continue to support you." 9/14/2017


"We have been using the website for more than 10 years now. It's still the best website out there for classmates to meet, collect their info and advertise their reunions. Thanks for inventing it all!" 9/11/2017


"Thank you for your assistance. It was very helpful. Looks good!" 9/5/2017



More bravos at: www.classreport.org/bravos




16th Anniversary!
There are no fees required for participation on this site.
Please support this site with your voluntary contributions.
We cannot provide this service without your support. Thank You!
Please read Our Story
ClassTraQ 11.003 Software Copyright © 2003 - 2017 Classreport, Inc. All Rights Reserved e1 amsc: 1