Group photo at our 55th Reunion Banquet on September 26, 2015. Row 1 (front): Jim McNeil, Barb Schmidt, Judy Winters Kotzamanis, Marge Rohrer McAllister, Lynn Lewis Glaser, Barbara Frana Nix, Kaaren Holz Nichols, Sandra Tistle Kotlaba, Pam Fox, Pam Porter Duthie. Row 2: Carol Swanson Olsen, Jerry Romes, Karen Acton Truettner, Carol Wooten Kaczanowski, Bonnie Block Prims, Linda Helmick Clark, Sylvia Wright Kete, Gail Erickson Peterson, Lucille Krejci, Marianne Yonus Olson, Nancy Demorest Pujol, Joann Koy Butler, Sharon O'Brien Hoffman, Mellanie Willet Fowler, Carolyn Mustradi Nemeth, Judy Retzer High, Peggy Lambert Seeley, Penny Dean Carduff, Marshall Seese. Row 3: Earl Gebel, Ginny Breit Wood, Christine Nordgren Pfeiffer, Sherry Unger Lane, Trudy Johnson Sheek, Rick Arendt, Karen Zachia Vosmik, Bob Schuwerk, Darle Eichler Tilley, Todd Kantowowicz, Arlene Carlson Messick, Linda Raether Darlington, Rosemary Cleary Tourville, Don Baeuchler. Row 4: Dick Smith, Anita Wikstrom Hansen, Kathy Accola Coomer, Fred Johnson, Judy Plain Robins, Stu Schack, Mark Day, John Hash, Bill Walger, Steve Fox, Bob Kunkel, Bill Russell. Row 5: Barry Rietz, Bob Smith, James McGovern, Peter Paulson, Don Klemt, Alan Bragg, Bob Nemeth, Dick Pickup, Bill Spryison, Dan Nehlsen. Row 6: Joe Sciarra, Jim Coomer, John Masoncup, Eric Brookens, Pete Benda, Jerry Mason, Paul Traficanti Conti, Frank Kuper.



This site is operated and funded by members of our class.
Class Administrator: Peter Benda
Page Hits: 97,271





60 Year Reunion Announcement!

---
MTHS East and West 60th Reunion Registration is now open!
Sunday, September 20, 2020
Abbey Resort on Lake Geneva, Wisconsin
Events and costs are described below
Based on encouraging feedback, plans are now in place for our class's 60th - and FINAL - reunion September 20-22, 2020 at The Abbey Resort on Lake Geneva in Wisconsin. We are making this a "destination reunion," which many classmates have requested. This is a lovely spot near to where we all grew up and familiar to many of us. The Abbey is just 70 miles from O'Hare Airport (or 50 miles from the Milwaukee Airport). The dates have been chosen to obtain an affordable room rate (during peak summer season and fall weekends these rooms go for more than $350 per night) of $99 per night plus resort fee and taxes for a total of $124.99. We have made a down payment to hold a block of rooms and your reservations must be booked no later than June 30 by calling 262-275-9000 (or 800-709-1323) and requesting the "Maine Township High School" group rate (group code # is 11F1P4). The Abbey provides free parking and is making the discounted rate available to our classmates for two nights before or after our event for people who wish to stay longer. The hotel cancellation policy is 72 hours before the event with no penalty should something arise to prevent your attending. Further information about this exciting venue is found at: www.theabbeyresort.com

TRANSPORTATION OPTIONS: Two classmates, Barry Rietz and John Masoncup, both planning to attend our reunion, have offered to help with their own "private shuttle service" if needed. Barry has also suggested alternate airports in addition to O'Hare and Milwaukee for you to consider. See their offer and details in our Class Bulletin Board section of this Class of 1960 website.

Our reunion activities planned include an Sunday evening arrival dinner on the lawn (weather permitting), a two hour lake cruise with lunch on Monday (you will enjoy sailing from the Abbey's dock and a narrated cruise passing all of the fabulous mansions on Lake Geneva), our Monday evening banquet and a farewell brunch on Tuesday morning. The package prices for the meals and boat cruise is $220 per person which must be paid by check in advance along with your completed Registration Form (click below for the form). Our evening meals will include a cash bar for those desiring a stronger beverage. There are also optional activities which you may wish to enjoy such as (1) The Abbey's Day Spa, (2) nearby golf (Abbey Springs is one of the top courses in southern Wisconsin), (3) sightseeing or shopping with free shuttle service provided to and from downtown Lake Geneva, (4) the opportunity for Affinity Group meetings on Monday morning (we need volunteers to organize and host), plus opportunities for relaxing at our resort's beautiful lakefront and harbor.

With the opening of registration we are sending an email blast to the 634 classmates who have kept their email addresses current in our database. There are another 154 classmates who should expect to be notified of their invitation by phone. Forty-four classmates will receive their invitations via snail mail. Regrettably, we still have 127 classmates who are "lost" - and we need your help with the contact info for any of them (see the scrolling list of names on our class website). Sadly, we now know of 287 classmates who have moved on.

If you did not respond to our survey questions, or if you would now wish to change your responses based on new information, we'd like to hear from you. Please email your answers to the following questions to [email protected] ASAP (even if you plan to mail your check and registration form later). Having confirmed counts early will greatly assist with our planning ability.

1. Our reunion is now planned - will you attend? (YES, NO, MAYBE)
2. If not attending, please indicate why.
(dates, location, cost, format, health, travel issues, etc.)
3. Would you like to help with this event in some way?
4. If you are unable to attend our physical reunion, will you
participate in a "virtual reunion" utilizing our website?

Thanks to the 20+ respondents who have already offered to help with the planning or organizing required for our event. We will be calling on you to assist with contacting classmates, planning our program, or handling onsite activities like reunion registration and name badges. We will continue to use email and our Class of 1960 website (which has received more than 96 thousand visits in the past 12 years) to keep classmates informed and to promote our reunion.

We have now received survey responses from nearly 200 classmates regarding our group's desire to meet for this 60th - and FINAL - reunion for the combined MTHS East and West Class of 1960. About 31% of our located classmates who use email have responded with 46% saying YES, they would plan to attend a reunion next year. Another 19% said MAYBE with their decision to be based on dates, location and cost (all now finalized). The 35% who say they would not attend a 60th reunion cited reasons of health, distance, cost and scheduling issues.

For those who cannot make it to the physical reunion, our class website will continue to provide classmate news and updates - a sort of "virtual reunion." We encourage each classmate to visit and update their online profile and bio information. This in turn, could lead to email and phone conversations with classmates, some spontaneous lunch or dinner gatherings, and perhaps even some "mini-reunions" hosted for classmates from a certain area.
Event Contact: Pete Benda
Make Checks Payable To: MTHS Class of 1960 Reunion
Mail Payment To: Eric Brookens, 5780 Regal View Road, Colorado Springs, CO 80919-3541 (tel: 719-531-6803)
---
Class News

2/10/2020
We have just leaned of the passing of Leslie Pionke
The calls being made to classmates about our 60th reunion have uncovered the sad news of Leslie's passing on Nov 12, 2019 after dealing with cancer. She was living in Washington DC and her . . . Continued

2/7/2020
Recent death reported for Sue Hess Bimmerle
Thanks to classmate Andi Boehmer for sharing the sad news in the following obituary: Susan Bimmerle, 77, of Elgin passed away on February 4, 2020 in her home. She was born on August 20, 194 . . . Continued

2/4/2020
WMTH to celebrate 60th year of Broadcasting on April 4, 2020
Classmate Sheila Peterson Wertz came across this reminder to all of us . . . This just in from Chicago media columnist Robert Feder: "The student radio station of Maine Township High . . . Continued


Our Class Message Board
Your participation is requested!
We would like to hear from you. Post your messages here.

ADD NEW VIEW ALL

Indicates an included photo
Today's Featured Biography
I joined the Navy after graduation Jan 1961-Jan 1965. I worked in the grocery business until 1984. We then moved to Perry Mo.(Msrk Twain Lake Area) and become involved in the electric motor repair business and my wife had an upholstery business.In 1991 I also became a substitite rural mail carrier. In 2005 I became a full time mail carrier. I, along with my wife of 42 years (as of Apr. 2008)will retire in Sept. 2010.


Help Us Locate These MTHS 1960 Classmates who are still MISSING from our database.

Contact: Reunion Committee
Family News Summary
Enter your Family News Item choosing from our pre-defined categories:
Anniversary, Award, Birth, Death, Diagnosis, Engagement, Graduation, Lottery, Retirement, Vacation, Wedding, Other.
Death
Reporting the death of a classmate: Jean (Behli
Posted by: Ann Beyer Karoly

12/11/2019

Death
Stuart Hale Shakman passed away last month (Sept 2
Posted by: Willliam Russell

10/8/2019

Anniversary
Glenn, Class of '59, and I are on our way home fro
Posted by: Lynn Lewis Glaser

12/1/2013

Death
David Mahlert, husband of Dianne Johnson Mahlert,
Posted by: Dianne Johnson Mahlert

8/7/2011
Calendar
There are no Calendar items on file
at this time.

Today's Featured Class Member Website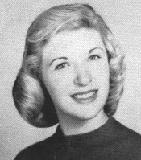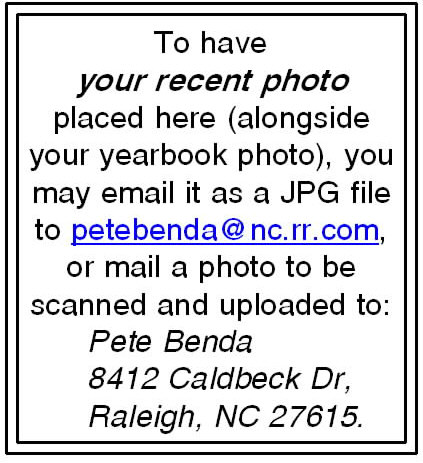 CLASSMATE DEMOGRAPHIC SURVEY

While we were still in high school a national publication ranked our school among the top ten public high schools in the U.S. We all knew that we were privileged to be part of a very special group during our years at Maine. We wondered what path our own life would follow after high school - and what good things might be in store for our classmates and friends. We wondered if all of the stuff we were struggling to learn was really important. After high school, paths diverged and occasionally crossed. Communication with classmates was not as good as we hoped it would be. Fifty years later we think back and wonder not only "whatever happened to good old so-and-so," but also, what in general, did our classmates end up doing with their lives?

Thanks to the 116 classmates who responded before our reunion. It's not too late to add yourself to our survey which will be periodically be summarized on this web site. This survey, while strictly optional, will provide us all with a snapshot summary of classmate journeys over the past half century. For example, we've so far learned that 62% of those responding have retired from their work careers (maybe that's why they had an extra 5 minutes to complete their survey!). The biography which you enter into your reunion profile (please do so now if you have not yet done this) gives your personal update to classmates. Responses to this survey will be used in a different way to create a broader picture of our class that can be presented in summary form at our reunion. Individual specifics from this survey will not be shared with anyone.

Thank you for your participation!
Click here to take the survey or Click below to download the survey form to your PC so that you may print it, complete it by hand, and mail it in: - Classmate Demographic Survey Form
Classreport.org provides free Class Websites for every graduating class of every high school with free access for all.
We are one of the premier social networking sites dating back to 2003. We are a small, family-owned business and yet freely host over a million class websites. Our Story
Classreport holds a special place in the hearts of our users: Bravos.
Class Support Status

Our Class Site is Fully Funded!
Additional contributions are welcome and will be used to provide support for the larger Classreport community.
CLICK HERE TO LEARN MORE
Class Directory

Where in the world are you? Stats
Recent Profile Updates
| | |
| --- | --- |
| | Feb 18 |
| | Feb 17 |
| | Feb 15 |
| | Feb 13 |
| | Feb 10 |
| | Feb 7 |
| | Feb 5 |
| | Feb 4 |
Class Poll
There is no Active Poll
at this time.
Visit Other Classes
The Office
(Admin use only)
If you have any questions or comments regarding this website, please contact:

Class Administrator
Peter Benda

Would you like a sneak peek at a
non-functioning view of The Office?

This class reunion website is a complementary addition to your existing alumni resources.
It is a product of Classreport, Inc. and may not be affiliated with Maine Township High School or its alumni association.

Does your High School Class have a full-featured Alumni Website? Start One Now!
(Or start one for your Mother, Father, Sister, Brother, Spouse, Son, Daughter, Friend . . .)



"Just discovered your product today while trying to locate classmates ahead of our 50th reunion in 2020. The fact that you did this in a noncommercial manner in a world where everything has a price tag deserves recognition and respect, in my view. Thank you and good luck in all your endeavors." 5/5/2018


"THANKYOU so much for handling this for us! We are so appreciative! It looks GREAT!" 5/2/2018


"Thank YOU for helping us get the word out! I've posted a link to the website on our FB group page and vigorously encouraged other classmates to contribute" 4/27/2018


"Your site is amazing. Kudos to you and your staff. You have benefitted so many high school alumni in organizing their class reunions." 10/4/2017


"Thanks to classreport.org our class website played a huge part in the success of our Reunion. We greatly appreciate your wonderful support." 10/3/2017


"Thanks for all your hard work and ingenious spirit." 9/25/2017


"Thanks guys, you are Good!!" 9/23/2017


"I love your service and will continue to support you." 9/14/2017


"We have been using the website for more than 10 years now. It's still the best website out there for classmates to meet, collect their info and advertise their reunions. Thanks for inventing it all!" 9/11/2017


"Thank you for your assistance. It was very helpful. Looks good!" 9/5/2017



More bravos at: www.classreport.org/bravos




17th Anniversary!
There are no fees required for participation on this site.
Please support this site with your voluntary contributions.
We cannot provide this service without your support. Thank You!
Please read Our Story
ClassTraQ 11.003 Software Copyright � 2003 - 2017 Classreport, Inc. All Rights Reserved e1 amsc: 1