This site is operated and funded by members of our class.
Class Administrator: Ann McKeown Glass
Page Hits: 53,101


50 Year Reunion Announcement!
---
Saturday, September 28, 2019 - 5:00 pm
Golden Gate Yacht Club, On The Marina, San Francisco
$125



Dear Fellow Classmates,

With our class' 50th reunion just a year away, your Reunion Committee has been working hard behind the scenes to put together celebrations worth traveling for. We hope to see as many of you as possible and, based on "SurveyMonkey" results from several months ago, multiple plans are underway, with more detailed descriptions below.

The weekend's unofficial start is Friday, September 27, when we will have arrived from all parts of the country. This gives you the opportunity to make connections for your own pre-event gatherings, and we encourage you to reach out to friends old and new in advance of the more formal activities to follow.

Saturday, Sept. 28 (evening) – a dinner event at the Golden Gate Yacht Club in San Francisco. We can all catch up with (we hope, and based on attendance at our 40th), over 100 old classmates — while revisiting the magical view in this corner of the world where we were all so privileged to spend our young years. Dress code is flexible: can be formal, dressy, dressy-casual, casual if you must, kilts...






Sunday, Sept. 29 (afternoon) — A BYO picnic in an enclosed private picnic area of the Piedmont Rec Center. This will be a totally informal gathering on old home turf. Although it is an outdoor "come and go" gathering, all participants must be prepaid, no last-minute arrivals can be accommodated.. Also, space is restricted to 60 people, so first come first served.

Please read on for more information about the respective venues. And while contemplating your own thoughts for next September, please know the time has now come for us to make final venue reservations and pay deposits, so getting a good estimated head count is now necessary.

To that end, we urgently need to hear from you as to whether you intend to come to one or both events, and whether we should count you as 1 or 2 adults for each. FYI, respective costs are $125 per person for the Golden Gate Yacht Club and $10 per person to reserve the space for the picnic.

The two main events:





Saturday night, 9/28 - Golden Gate Yacht Club (thank you especially to Jeanne Bloom Eber, Judy Rau Puckett, and Anne Cobbledick Gritzer for putting this together ):

The GGYC offers a beautiful venue with spectacular views and is a lovely sunny venue in the late afternoon. This is an upstairs venue, with an easy stair assent and a small elevator, the room fills the entire upstairs so the views, including from the adjacent bar, are almost 360. The venue also has two decks on the lee side of the building which are large enough to put some seating; one looks at Angel Island/Alcatraz and the other is a bay and city view, providing a good place to mingle and talk.

Anticipating that everyone will arrive hungry, we would start with a generous amount of hors d'oeuvres to enjoy during the cocktail hour (with cash bar: well drinks and wine by the glass are $6, with premium available), followed by buffet stations. (For those in cars, there is free public parking in the large lot between the St. Francis Yacht Club and the Golden Gate Yacht Club.)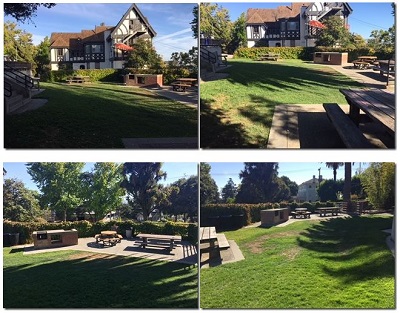 Sunday afternoon, 9/29: Piedmont Recreation Center (thank you especially to Judy, Anne C.G., Cliff Nancarrow & Sylvia Cartwright Simpson):

Highlander Afternoon Farewell to a Bold and Bonnie Bunch
On Sunday afternoon, as the weekend winds down and the sun sets, we will assemble on the grounds of the Piedmont Recreation Center, across from the high school from 12:30 until 5:30 pm. This will be a relaxed no-host, no speeches, gathering of the class, spouses, partners, and adult children. It is strictly BYO snacks, food, and beverages of choice. (And lawn chair if you've got one). The Piedmont Harvest Festival will be under way at the park, where there will be opportunities to procure a variety of food and beverage items as desired. We trust that "the wine of friendship" will flow freely, as we reflect on the events of the evening before and on the fifty years that have passed so swiftly by.

This is intended to be a program-free time of conversation, laughter, and fellowship before once more resuming our journeys along the high road. To cover the cost of venue rental, insurance, and associated incidental expenses, please add the non-refundable, sum of ten dollars ($10) per picnic participant to your Reunion Weekend remittance. Alas, we will be unable to process cash, checks or credit cards at the door on Sunday.
"Here's tae us!"

What's next? First, please RSVP via email as soon as you can to let us know which events you plan to attend. Then, the money:
Katherine Replogle has nobly signed up for the challenging job of Treasurer; she will be happy to accept payments by snail mail, but sooner rather than later.

Checks should be made out & sent to:

Katherine Replogle
Address Available On Request

$10 picnic charge is non-refundable, but $125 GGYC is refundable up until a mid-2019 deadline, TBA.

Please RSVP by email with your expected attendee(s)
i.e., one adult or two? :

Saturday night 9/28/19
Golden Gate Yacht Club
@$125 each: 1, 2, or none?

Sunday picnic 9/29/19
Piedmont Rec Center
@ $10 each: 1, 2, or none?


We hope to see you all!

-Your 50th Reunion Planning Committee

Ken Stehr, Sylvia Simpson, Matt Wilson, Cliff Nancarrow, Andy Poryes. Ann Mckeown Glass. Anne Cobbledick Gritzer, Anne Miller Lindl, Charlie Cochrane, Christine Ruppe, Emelyn Jewett Hasselfeld, James Lewis, Judy Rau Puckett, Katherine Replogle, Nancy Linford, Redge Martin, Reid Dabney, Robert Stetson, Robert Nelson, Claire Hass Rossi, Suzanne Higgins Bales, Wayne Nielsen, Griffith Adams, Jeanne Bloom Eber

NOTE: The "Look Who's Coming" link below includes all RSVP responses for either the Saturday evening event and/or the Sunday afternoon picnic event.
Event Contact: PHS 1969
Look Who's Coming!
Make Checks Payable To: Katherine Replogle
Mail Payment To: Katherine Replogle, Address Available Upon Request
---
Our Class Message Board
Your participation is requested!
We would like to hear from you. Post your messages here.

ADD NEW VIEW ALL

Indicates an included photo
Today's Featured Biography
Went to College of Marin for three years before losing my student deferment- remember those?

I still have my IV-F card, however...

Did one summer at Marin Shakespeare festival, and also went to Edinburgh Festival with Marin's Western Production of "Taming of the Shrew." Shook hands with Princess Margaret. Earned an A.A. in Drama 1972.

Went to UC Santa Barbara for two years and got a B.A. in Dramatic Art-emphasis on directing, 1974. Learned a lot about theatre and a lot about what not to do. Took a summer course at UCLA in film, and really had a great time. Still have that film.

Went to SF State for two years and worked toward an M.A. in Film...thought that I'd be another Kubrick! Tried to finish a film script that summer for the thesis, but wore out after a few hundred pages.

Married Elizabeth that summer, in 1976. She and I even went to our Senior Ball together at Piedmont under somewhat unusual circumstances. We re-met, fell for each other while working together on a variety show for Beach School in 1974.

Our High school years were a swirl of experiences which ended abruptly wih graduation. If I had known that I'd return to the old homestead to raise our sons, I might have taken better care of myself!

Taught for a couple of years- Drama at a J.C., Summer work, I built a cabin in the Sierras, and the next year was the Technical Director at Woodminster Amphitheatre. Worked at a small theatrical shop in San Francisco, did a bit of on-call with the IATSE out at the Concord Pavilion, then into display department at Liberty House, downtown Oakland. I wasn't there too long- retail people are whacky!

Went to work with a local theatrical scenic company as a carpenter- Western Scenic Studios, down in Oakland. I stayed with them from 1981-1997, when they closed.

At some point, the SF State people sent me a letter telling me that my time to complete the thesis was running out. Went back, took a class, and finished the thesis. finally got the M.A. in 1974. That piece of paper and $1.85 will buy a large Peets coffee even today!

I taught Drama for a year after that at Sonoma State, part-time, but couldn't afford to continue that line of work...loved it, but it was just too far away..

At Western Scenic, I started out as a carpenter, moved on to assistant Operations Manager, and finally as Technical Director.

Lisa and I have had two Great Kids, they went elementary (Havens) thru high in Piedmont. Drew was class of '03, and Ross was '05.

I had joined the IATSE in 1986, so when the scenic company closed, I "went on the board", working as a stagehand in local venues.

I am currently on the Executive Board of our local, work part-time as the Maintenance Supervisor down at the Paramount Theatre, and am one of the first four on the crew at the Paramount.

Drew did a couple of years at Diablo Valley, went on to graduate in English/Poli Sci from Cal Berkeley 2008. Ross went directly to CSU Chico, and just graduated May 2009, Magna Cum, in Economics.

Looking forward to seeing everyone at the reunion!

Revised 8/09: Large Peets is now $1.95

Added the video from the Police show a couple of years ago-

You should be able to spot me-and one of my sons!

Bill

Revised again 9/09:

Havens School is flattened to the ground, and the construction of the new grammar school is underway. The portables for the temporary high school classrooms are squatting on our old kindergarten site. The "new" first grade wing is gone, and Ellen Driscoll is undergoing significant retrofitting. Change is supposed to be good.

No change in Caffeine prices, but my schedule will prevent me from attending the reuinion. Sorry again! I might be able to get to the memorial, depending on which show requires my services that night. We have Bob Dylan at the Greek for two nights, and a gospel choir competition at the Oracle arena.

I wish everyone the best, and hope that the 50th will be even grander!

Bill


Family News Summary
Enter your Family News Item choosing from our pre-defined categories:
Anniversary, Award, Birth, Death, Diagnosis, Engagement, Graduation, Lottery, Retirement, Vacation, Wedding, Other.
Death
Classmate Marla MacNeur Stephenson, September 18th
Posted by: Robert Nelson

9/21/2018

Death
Classmate Kevin Lynch passed away in February 2014
Posted by: Robert Nelson

4/12/2015

Death
David W. Smith, 63, of Twin Falls, died Sunday, No
Posted by: Robert Nelson

12/17/2014

Death
Roxanne Millar Bickford, passed away on November 1
Posted by: Robert Nelson

12/17/2014

Death
"Tina Smith", or Christina Hope Shepherd, 64, of A
Posted by: Robert Nelson

5/4/2014

Death
Just letting everyone know Chris Schweitzer Ruppe'
Posted by: Robert Nelson

1/22/2014

Death
John Reilly passed away early November 6, 2012...
Posted by: Robert Nelson

11/10/2012
Calendar
There are no Calendar items on file
at this time.

Today's Featured Class Member Website
Classreport.org provides free Class Websites for every graduating class of every high school with free access for all.
We are one of the premier social networking sites dating back to 2003. We are a small, family-owned business and yet freely host over a million class websites. Our Story
Classreport holds a special place in the hearts of our users: Bravos.
Class Support Status

Our Class Site is Fully Funded!
Additional contributions are welcome and will be used to provide support for the larger Classreport community.
CLICK HERE TO LEARN MORE
Class Directory

Where in the world are you? Stats
Recent Profile Updates
| | |
| --- | --- |
| | Jan 7 |
| | Jan 2 |
| | Jan 2 |
| | Dec 20 |
| | Dec 11 |
| | Nov 26 |
| | Nov 17 |
| | Nov 9 |
Class Poll
There is no Active Poll
at this time.
Recent Reviews
There are no reviews on file
at this time.
This area is for comments on
books, movies, music,
restaurants, etc.
Visit Other Classes
The Office
(Admin use only)
If you have any questions or comments regarding this website, please contact:

Class Administrator
Ann McKeown Glass

Would you like a sneak peek at a
non-functioning view of The Office?

This class reunion website is a complementary addition to your existing alumni resources.
It is a product of Classreport, Inc. and may not be affiliated with Piedmont High School or its alumni association.

Does your High School Class have a full-featured Alumni Website? Start One Now!
(Or start one for your Mother, Father, Sister, Brother, Spouse, Son, Daughter, Friend . . .)



"Just discovered your product today while trying to locate classmates ahead of our 50th reunion in 2020. The fact that you did this in a noncommercial manner in a world where everything has a price tag deserves recognition and respect, in my view. Thank you and good luck in all your endeavors." 5/5/2018


"THANKYOU so much for handling this for us! We are so appreciative! It looks GREAT!" 5/2/2018


"Thank YOU for helping us get the word out! I've posted a link to the website on our FB group page and vigorously encouraged other classmates to contribute" 4/27/2018


"Your site is amazing. Kudos to you and your staff. You have benefitted so many high school alumni in organizing their class reunions." 10/4/2017


"Thanks to classreport.org our class website played a huge part in the success of our Reunion. We greatly appreciate your wonderful support." 10/3/2017


"Thanks for all your hard work and ingenious spirit." 9/25/2017


"Thanks guys, you are Good!!" 9/23/2017


"I love your service and will continue to support you." 9/14/2017


"We have been using the website for more than 10 years now. It's still the best website out there for classmates to meet, collect their info and advertise their reunions. Thanks for inventing it all!" 9/11/2017


"Thank you for your assistance. It was very helpful. Looks good!" 9/5/2017



More bravos at: www.classreport.org/bravos




16th Anniversary!
There are no fees required for participation on this site.
Please support this site with your voluntary contributions.
We cannot provide this service without your support. Thank You!
Please read Our Story
ClassTraQ 11.003 Software Copyright © 2003 - 2017 Classreport, Inc. All Rights Reserved e1 amsc: 1