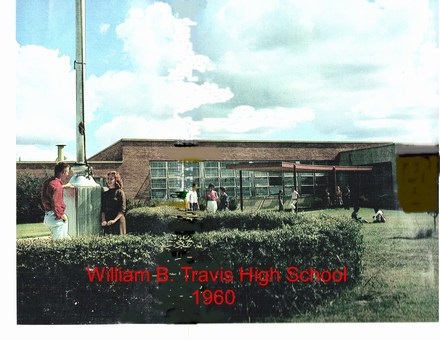 This site is operated and funded by members of our class.
Class Administrator: Patricia Gurley Schmitz
Page Hits: 39,584


Event Announcement!
---
1st Tuesday Rebels Lunch
Tuesday, October 2, 2018 - 11:30 am
Lady Rebs meet at DK Maria's
Ol' Rebs meet at Cherry Creek Catfish
Hope to see you there!
---
---
Class News

9/6/2018
COACH CHARLIE BOREN
Coach Boren passed away on September 4th at the age of 90. He coached baseball and football at Travis for several years before going into the administration field of education. He was respe . . . Continued

8/28/2018
Death of classmate
Gene Rhemann (Class of '59) passed away on August 14. Gene was drum major for the Travis band in our junior year, and will be fondly remembered by his bandmates. He had a distinguished caree . . . Continued

6/27/2018
EDWIN LUTHER HOLT, BAND DIRECTOR
Without a doubt, he lived a wonderful life and was loved by so many. Many of you were fortunate to play in the Rebel Band under his leadership and those memories will come to mind as you say . . . Continued


Our Class Message Board
Your participation is requested!
We would like to hear from you. Post your messages here.

ADD NEW VIEW ALL

Indicates an included photo
| | |
| --- | --- |
| Death of Freda Crawford | Tricia |
| I'm saddened to hear of the death of Fre | Fri 9/7/2018 9:59 PM |
| Death | Linda Livingston Callan |
| Saw today that Charles Boren a History t | Wed 9/5/2018 8:04 PM |
| Death | Tricia |
| Gordon Kelso (Class of'59)passed away Ju | Sat 8/4/2018 2:44 PM |
| Death of classmate's mother | Tricia |
| Sylvia Lester, age 102, passed away on M | Thu 4/12/2018 1:56 PM |
| Death of Classmate | Tricia Schmitz |
| Sadly, another classmate, Joe Angell, pa | Wed 12/6/2017 10:00 AM |
| Message | Tricia |
| Classmate Charles Finegan, husband of Ju | Sun 9/10/2017 6:20 PM |
| Death of classmate's brother | Tricia |
| Wayne Munson, brother of Carolyn Munson | Sun 9/10/2017 6:14 PM |
| Message | Tricia |
| We are deeply saddened by the death of S | Sun 9/10/2017 6:11 PM |
| Death of Classmate | Tricia |
| Another of our dear classmates, Richard | Tue 3/14/2017 10:11 PM |
| Classmate Death | Tricia |
| Joyce Bartlett Blumeyer passed away on O | Sun 10/26/2014 5:42 PM |
| Marriage | Tricia |
| Bill Faris and Kay Cantrell McKenzie (Cl | Fri 8/15/2014 8:23 PM |
| Death of Son | Tricia |
| Randy Richardson, beloved son of Zelma T | Thu 7/17/2014 6:55 PM |
| Death of mother | Tricia |
| Juanita Hazelwood, mother of Sharron Hoc | Sat 4/26/2014 1:59 PM |
| Death of mother | Tricia |
| Elizabeth "Lizzie" Christal, mother of P | Fri 4/25/2014 3:17 PM |
| Death of classmate's spouse | Tricia |
| Billy Joe Simpson, husband of classmate | Fri 4/4/2014 10:10 AM |
Today's Featured Biography
Two weeks after we graduated from high school, I joined the Marine Corps reserves. After basic training, I entered U.T., attended college in Mexico City my junior year, graduated from U.T. law school in '67.

Went to work in New York for Citibank. I was in the International Division, lived and worked for six years in NYC, Nicaragua, Puerto Rico and Panama.

In 1973, I married Bette, who is from Boston and who was teaching school in Puerto Rico when I met her there in the early '70s. We lived in Atlanta for a few years, and then
moved to Houston. I joined a Houston bank, which later become part of Chase Bank. During my first years in Houston I traveled internationally. Later I moved to the domestic side in various capacities. After retiring in 1998, I practiced law for awhile, then did arbitrations, which still occupies me on a part-time basis.

Over the past dozen years, Bette and I have traveled and have enjoyed life in Houston. My daughter Laura is smarter than I am - she moved to Austin when she became old enough to strike out on her own. My younger daughter Paige married Jean-Marc, who is French. They lived in Paris for a few years and now live in southern California with their two children, our grandchildren, Camille (8) and Christophe (6).

It has been interesting to read my classmates' stories, and I look forward to seeing you in April.



In Memory of...
Family News Summary
Enter your Family News Item choosing from our pre-defined categories:
Anniversary, Award, Birth, Death, Diagnosis, Engagement, Graduation, Lottery, Retirement, Vacation, Wedding, Other.
Other
Chuck Finegan, son of Julia Ann Warren and Charles
Posted by: Patricia Gurley Schmitz

7/31/2018

Death
Our hearts go out to Tommy Truehardt whose wife, P
Posted by: Patricia Gurley Schmitz

1/22/2018

Death
Faye Sanders Dickson (Class of '63), sister of cla
Posted by: Patricia Gurley Schmitz

11/3/2017

Death
Our heartfelt condolences go out to classmate Davi
Posted by: Patricia Gurley Schmitz

10/16/2017

Death
I'm sad to report the death of classmate Bobby Bro
Posted by: Patricia Gurley Schmitz

1/14/2016

Death
I sadly report the death of classmate Jimmy Young
Posted by: Patricia Gurley Schmitz

1/14/2016

Death
Sharleen Reed, class of '62, sister of classmate T
Posted by: Patricia Gurley Schmitz

1/1/2016
Calendar
There are no Calendar items on file
at this time.

Today's Featured Class Member Website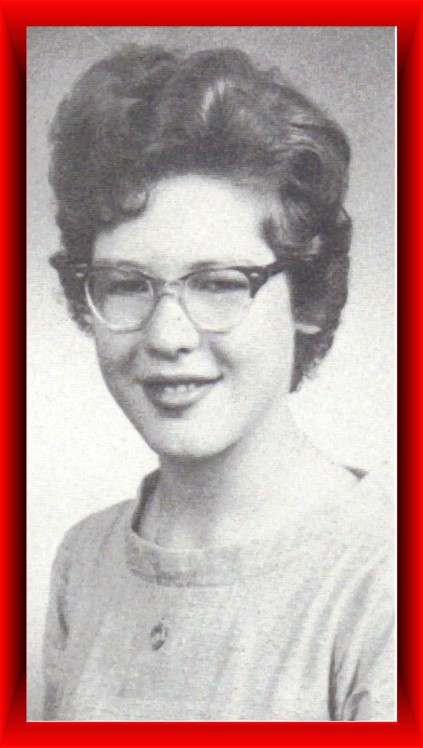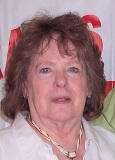 Classreport.org provides free Class Websites for every graduating class of every high school with free access for all.
We are one of the premier social networking sites dating back to 2003. We are a small, family-owned business and yet freely host over a million class websites. Our Story
Classreport holds a special place in the hearts of our users: Bravos.
Class Support Status

Our Class Site is Fully Funded!
Additional contributions are welcome and will be used to provide support for the larger Classreport community.
CLICK HERE TO LEARN MORE
Class Directory

Where in the world are you? Stats
Recent Profile Updates
| | |
| --- | --- |
| | Sep 18 |
| | Sep 7 |
| | Sep 7 |
| | Sep 7 |
| | Jul 31 |
| | Jul 31 |
| | Jul 31 |
| | Jul 31 |
Class Poll
There is no Active Poll
at this time.
Recent Reviews
There are no reviews on file
at this time.
This area is for comments on
books, movies, music,
restaurants, etc.
Visit Other Classes
The Office
(Admin use only)
If you have any questions or comments regarding this website, please contact:

Class Administrator
Patricia Gurley Schmitz

Would you like a sneak peek at a
non-functioning view of The Office?

This class reunion website is a complementary addition to your existing alumni resources.
It is a product of Classreport, Inc. and may not be affiliated with William B. Travis High School or its alumni association.

Does your High School Class have a full-featured Alumni Website? Start One Now!
(Or start one for your Mother, Father, Sister, Brother, Spouse, Son, Daughter, Friend . . .)



"Just discovered your product today while trying to locate classmates ahead of our 50th reunion in 2020. The fact that you did this in a noncommercial manner in a world where everything has a price tag deserves recognition and respect, in my view. Thank you and good luck in all your endeavors." 5/5/2018


"THANKYOU so much for handling this for us! We are so appreciative! It looks GREAT!" 5/2/2018


"Thank YOU for helping us get the word out! I've posted a link to the website on our FB group page and vigorously encouraged other classmates to contribute" 4/27/2018


"Your site is amazing. Kudos to you and your staff. You have benefitted so many high school alumni in organizing their class reunions." 10/4/2017


"Thanks to classreport.org our class website played a huge part in the success of our Reunion. We greatly appreciate your wonderful support." 10/3/2017


"Thanks for all your hard work and ingenious spirit." 9/25/2017


"Thanks guys, you are Good!!" 9/23/2017


"I love your service and will continue to support you." 9/14/2017


"We have been using the website for more than 10 years now. It's still the best website out there for classmates to meet, collect their info and advertise their reunions. Thanks for inventing it all!" 9/11/2017


"Thank you for your assistance. It was very helpful. Looks good!" 9/5/2017



More bravos at: www.classreport.org/bravos




15th Anniversary!
There are no fees required for participation on this site.
Please support this site with your voluntary contributions.
We cannot provide this service without your support. Thank You!
Please read Our Story
ClassTraQ 11.003 Software Copyright © 2003 - 2017 Classreport, Inc. All Rights Reserved e1 amsc: 1