Cool Text
CLICK HERE for CLASS OF 1960 SHOW
Cool Text
CLICK HERE for THE CLASS OF 60 BACCALAUREATE PROGRAM
Cool Text
CLICK HERE for 4TH OF JULY SHOW
Cool Text
CLICK HERE FOR THE LOST IN THE 50s SHOW
Cool Text
CLICK HERE for OUR TAIL LIGHTS SHOW

****WILDCATS GOING WILD****


This site is operated and funded by members of our class.
Class Administrator: Gordon Parkhill
Page Hits: 39,375


Event Announcement!
---
60th REUNION
Friday, September 10, 2021
WENATCHEE VALLEY
$22 Per Person + $5 for Printed and Mailed Group Photo (Digital Group Photo Free if Emailed)


We have finally rescheduled our long overdue 60th Reunion!

Here are the details so far:

MEET & GREET -- Friday, Sept 10, Walla Walla Point Park Shelter No 2, 1-5 PM, Bring Your Own Food/Drink, Water Provided, BBQ Grill Available

REUNION PARTY DINNER -- Saturday, Sept 11, The Party Barn, 1-5 PM,
Cost $22/Person for Olive Garden Buffet Dinner
+ $5 Per Group Photo Print to be mailed (if ordered)
Digital Group Photo Free By Email
Bring Your Own Beverages/Water Provided

FAREWELL GATHERING -- Sunday, Sept 12, Time/Place TBD, Pay As You Go
Stay tuned for more details.

Hope to see you there!!!

CLICK
HERE for 60TH REUNION SIGN UP FORM

NOTE -- WE WOULD LIKE TO INVITE SPOUSES OF OUR DECEASED CLASSMATES TO ATTEND THE 60TH REUNION IF THEY WOULD LIKE TO. IF YOU ARE IN CONTACT WITH ANY SPOUSES OF OUR DECEASED CLASSMATES PLEASE LET THEM KNOW ABOUT THE 60TH REUNION AND GIVE GORDY PARKHILL THEIR CONTACT INFO (EMAIL ADDRESS, PHONE NUMBER AND ADDRESS). WHEN WE FINALIZE THE REUNION DETAILS WE WILL INCLUDE THEM IN THE FORMAL INVITATION SENT OUT TO THE CLASS OF 60.

Cool Text
Event Contact: Gordy Parkhill
Make Checks Payable To: Eastmont Class of 60 Reunion Committee
Mail Payment To: Eastmont Class of 60 Reunion Committee, Attn: Gordon Parkhill, 13469 N Flaxleaf Pl, Oro Valley AZ 85755
---
Event Announcement!
---
FOUNDING FIVE CLASSES SCHOLARSHIP 2021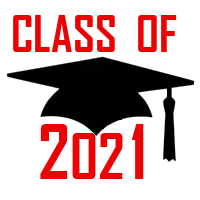 Cool Text
Cool Text


Cool Text

2021
FOUNDING FIVE CLASSES SCHOLARSHIP
WINNER

RYLEE ANNE HERSH

RYLEE HAS BEEN SELECTED AS THE WINNER OF OUR 2021 FOUNDING FIVE
CLASSES SCHOLARSHIP. SHE HAD A 4.0 GPA AND TOOK MANY COLLEGE LEVEL COURSES WHILE AT EASTMONT. SHE ALSO WAS AN ASB CLASS PRESIDENT,
PLAYED SOFTBALL AND VOLLEYBALL AND WAS IN THE BAND. SHE WAS NAMED A DISTINGUISHED REGENTS SCHOLAR BY WSU. SHE ALSO HAD MANY
EXTRACURRICULAR ACTIVITIES. SHE WILL ATTEND WASHINGTON STATE UNIVERSITY
IN THE FALL MAJORING IN CIVIL ENGINEERING.

CONGRATULATIONS RYLEE!


---
Class News

12/30/2020
Mary Churchill Brewer's Obituary/Funeral Plans
Here is a link to Mary Ruth's Obituary and Funeral Plans. https://www.jonesjonesbetts.com/obituaries/Mary-Brewer-27/#!/Obituary . . . Continued

12/28/2020
Mary Churchill Brewer
Sadly, I'm sorry to have to let you know that Mary passed away Christmas Day 2020. She had been suffering from Parkinson's. When I get any further information on any funeral plans, etc., I w . . . Continued

6/15/2019
Wes Newbill Passed Away
Hi Class of 60, I'm sorry to have to tell you that Wes Newbill, one of our favorite teachers and coaches, passed away May 20, 2019. His Memorial Service is scheduled at the Thornhill Val . . . Continued


Our Class Message Board
Your participation is requested!
We would like to hear from you. Post your messages here.

ADD NEW VIEW ALL

Indicates an included photo
| | |
| --- | --- |
| 39 IS FINE | Gordy |
| WELL WE REACHED 39.000+ HITS ON OUR CLAS | Fri 7/2/2021 8:51 AM |
| 38!!!!! | Gordy |
| It's a Great Thirty Eight hits on our we | Mon 2/8/2021 5:14 PM |
| Deanna Simmons Lannoye | Gordy |
| I am sad to have to inform you that Dean | Thu 1/7/2021 5:04 PM |
| Mary Ruth Churchill Brewer, Class of 1960 | Gordy |
| I am sorry to have to tell you that Mary | Thu 1/7/2021 5:00 PM |
| 37K!!!! | Gordy |
| We're still piling up visits to our Clas | Thu 9/3/2020 3:13 PM |
| Thanks Dave | Gordy |
| Thanks Dave. We're still having fun with | Sun 7/26/2020 12:13 PM |
| Message | Dave Bidwell |
| We want to thank for all that you do as | Mon 6/29/2020 11:16 AM |
| 60th Reunion Postponed | Gordy |
| I'm sorry to have to let you know that w | Sun 5/31/2020 7:40 PM |
| 2020 Founding Five Scholarship Winner! | Gordy |
| Audrey Millard has won our $1,000 Foundi | Wed 5/13/2020 1:36 PM |
| 36,000!!! | Gordy |
| Wow! We have had 36,000 hits on our webs | Wed 5/13/2020 12:08 PM |
| Thirty Five Thou!!! | Gordy |
| Hey 1960 Wildcats, we just went over 35, | Mon 2/24/2020 11:01 AM |
| Website Issues | Gordy |
| Sorry about the recent issues with our w | Sun 12/1/2019 1:16 PM |
| 34 Grand! | Gordy |
| Hey Wildcats, we have hit 34,000 hits on | Sat 10/5/2019 1:06 PM |
| Founding Five Picnic 2019 | Gordy |
| We had a COLD ONE this time. Lots of sh | Sat 6/15/2019 4:31 PM |
| 33 Grand is Grand | Gordy |
| Well, we just went over 33,000 hits on o | Tue 6/4/2019 4:56 PM |
Today's Featured Biography
In 1960 married had 4 children, 3 sons Kelly, Tim, Merv, 1 girl Ann, one son Tim died in 1977, a tractor ran over him while getting out of school that day to help in the picking of the apples and he needed help. Divorce in 1979, remarried in 1985 to Rich McCandless and I got my husband into old cars and we even built a car. We both rode motor cycles and traveled a lot on them had a lot of fun doing that.
Moved to Az, in 1993 bought a home, in Wickenburg Az. Became Manger of a High End Clothing Store called Double D Western World, then from there in 1995 Checker Auto Store and became 1st assentient Manager there until 2002 I had open heart surgery a stent and one bypass in Phx., and had to retire.
Have 6 grand children, 1 great grand children.
In 2004 moved to Kingman Az. I have a lot of health problems and can not get around well. Sorry I was not there was unable to come to the class reunion. Looks like it was a lot of fun.
Rich at the age of 84. We just found out he has acute copd of the lungs and coronary artery disease he has 6 stents put in. But doing well. I have coronary artery disease, have had open heart surgury, 15 stents, had a pacemaker and defibrillator put in almost died 3 different time, have dieberes (sp) w/ instin, congestive heart failure, 2 strokes. On oxygen most of the time 24-7 And could go on and on I liveing day by day, one day at a time now and enjoying every bit of it. I am back in Wenatchee now due to health reason been here since April 8 2013. Doing better


Family News Summary
Enter your Family News Item choosing from our pre-defined categories:
Anniversary, Award, Birth, Death, Diagnosis, Engagement, Graduation, Lottery, Retirement, Vacation, Wedding, Other.
Death
I am very sad again to announce the passing of ano
Posted by: Gordon Parkhill

12/6/2017

Death
I'M very sad to have to let you know Art Harmon pa
Posted by: Gordon Parkhill

7/13/2017

Diagnosis
Judi Rohlman Telford will be undergoing extensive
Posted by: Gordon Parkhill

11/16/2014

Death
I'm sorry to inform the Class of 60 that Bill "Pee
Posted by: Gordon Parkhill

4/28/2014

Death
I'm sorry to have to let you know that Jim Lyon pa
Posted by: Gordon Parkhill

1/30/2014

Other
Steve Rolfs' memorial service has been postponed u
Posted by: Gordon Parkhill

4/27/2013

Death
After a brave battle, Steve gently passed away, Th
Posted by: Gordon Parkhill

4/26/2013
Calendar
There are no Calendar items on file
at this time.

Today's Featured Class Member Website
Brian Talbott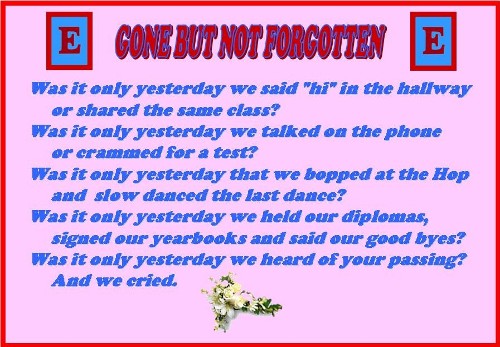 Remembering When…we sat and talked,
Dreaming of days to come.
Walking the halls, cafeteria food,
And laughing until we were numb.
The fall football games, the roar of the crowd,
The beat of the Eastmont Wildcat Band,
The autumn air still takes me back to that time,
To where we'd meet up with friends as planned.
Remembering when we cruised Wenatchee Ave,
The Triple X, sneaking into the VueDale Drive-in.
Scratchy formal dresses, big hair, corsages,
Crew cuts, white bucks, homecoming with friends.
Those tender times were of gentler days,
That now seem to be of a different world.
The march of time has brought with it changes,
As new generations of lives have unfurled.
All of those memories are but a whisper now,
That will forever echo in my mind.
Now and then I find myself searching
For the faces of those friends who left us behind.
Most friends remain - but some have gone
And left for a final place of rest.
Gone from our sight yet with the memories of those,
We surely have been blessed.
Remembering When…we had not a care in the world,
And how time just seemed to stand still.
I think of you now with fond thoughts and precious memories,
And I know that I always will.
[Modified from poem by Michelle Young, WCHS c/o 1976]

CLICK HERE for DECEASED CLASSMATES SHOW
CLICK HERE for DECEASED TEACHERS SHOW
Cool Text
CLICK HERE FOR JUDD HAMILTON SINGING HIS ALMOST A HIT "ON A NIGHT LIKE THIS"
Cool Text
CLICK HERE for EASTMONT CLASS OF 60 FACEBOOK PAGE
Cool Text
CLICK HERE for THE CLASS VETERANS SHOW
Classreport.org provides free Class Websites for every graduating class of every high school with free access for all.
We are one of the premier social networking sites dating back to 2003. We are a small, family-owned business and yet freely host over a million class websites. Our Story
Classreport holds a special place in the hearts of our users: Bravos.
Class Support Status

Our Class Site is Fully Funded!
Additional contributions are welcome and will be used to provide support for the larger Classreport community.
CLICK HERE TO LEARN MORE
Class Directory

Where in the world are you? Stats
Recent Profile Updates
| | |
| --- | --- |
| | Jul 26 |
| | Jul 11 |
| | Jul 1 |
| | Dec 30 |
| | Feb 27 |
| | Jan 23 |
| | Jan 13 |
| | Jan 13 |
Class Poll
There is no Active Poll
at this time.
Recent Reviews
Movie
McFarland

Rev by: Gordon Parkhill
Movie
The Monuments Men
George Clooney, Matt Damon, Kate Blanchett
Rev by: Gordon Parkhill
Movie
Saving Mr Banks
Tom Hanks & Emma Thompson
Rev by: Gordon Parkhill
Movie
The Artist

Rev by: Gordon Parkhill
Visit Other Classes
The Office
(Admin use only)
If you have any questions or comments regarding this website, please contact:

Class Administrator
Gordon Parkhill

Would you like a sneak peek at a
non-functioning view of The Office?

This class reunion website is a complementary addition to your existing alumni resources.
It is a product of Classreport, Inc. and may not be affiliated with Eastmont High School or its alumni association.

Does your High School Class have a full-featured Alumni Website? Start One Now!
(Or start one for your Mother, Father, Sister, Brother, Spouse, Son, Daughter, Friend . . .)



"Just discovered your product today while trying to locate classmates ahead of our 50th reunion in 2020. The fact that you did this in a noncommercial manner in a world where everything has a price tag deserves recognition and respect, in my view. Thank you and good luck in all your endeavors." 5/5/2018


"THANKYOU so much for handling this for us! We are so appreciative! It looks GREAT!" 5/2/2018


"Thank YOU for helping us get the word out! I've posted a link to the website on our FB group page and vigorously encouraged other classmates to contribute" 4/27/2018


"Your site is amazing. Kudos to you and your staff. You have benefitted so many high school alumni in organizing their class reunions." 10/4/2017


"Thanks to classreport.org our class website played a huge part in the success of our Reunion. We greatly appreciate your wonderful support." 10/3/2017


"Thanks for all your hard work and ingenious spirit." 9/25/2017


"Thanks guys, you are Good!!" 9/23/2017


"I love your service and will continue to support you." 9/14/2017


"We have been using the website for more than 10 years now. It's still the best website out there for classmates to meet, collect their info and advertise their reunions. Thanks for inventing it all!" 9/11/2017


"Thank you for your assistance. It was very helpful. Looks good!" 9/5/2017



More bravos at: www.classreport.org/bravos




18th Anniversary!
There are no fees required for participation on this site.
Please support this site with your voluntary contributions.
We cannot provide this service without your support. Thank You!
Please read Our Story
ClassTraQ 11.003 Software Copyright � 2003 - 2017 Classreport, Inc. All Rights Reserved e1 amsc: 1