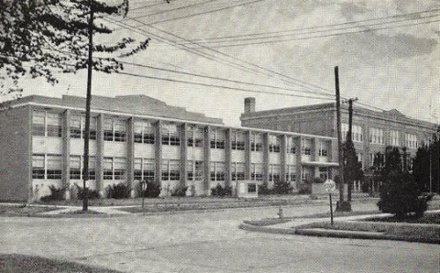 This photo can be changed by your Class Administrator.


This site is operated and funded by members of our class.
Class Administrator: Janet Faughn Cassen
Page Hits: 7,841
Event Announcement!
---
MCHS Class of 1961 61st (!) Reunion
Saturday, September 24, 2022
American Legion Hall 321 Market Street, Metropolis, IL 62960

We are pleased to try again to have our 60th reunion that was Covid postponed! Meet at the Veterans Hall again for possibly the last formal reunion.
Contact Sharon or Jan if you have not received an invitation. There is no charge
Event Contact: Jan Cassen / Sharon Glass
---
Event Announcement!
---
---
Our 55th Class Reunion on July 2, 2016 was a terrific success! Lots of catching up, renewing friendships and indulging in reminiscences. Fun memories were restored! To those who attended,Thank You! To those who could not be there, you were greatly missed and we hope you can attend next time.

Admitting we graduated 55 years ago is admitting that was a long time ago! In spite of time , we just picked up like it was yesterday and had a great time reflecting and sharing updates in our lives. We were just kids again for an evening!

The all-class reunion is being held on Sept 24, 2016. Several from our class plan to be there. Come and join the group representing our class! We are thinking about having our next reunion in 3 years and will keep everyone informed as plans are made.

Pictures will be posted on this site soon!
---
Class News

5/23/2022
Charlie Eichorn
We are saddened to report the passing on Friday,May 20th of Metropolis icon Charlie Eichorn. We will remember him from the Sani-Serve and many "Drive arounds" as well as the best burger . . . Continued

9/24/2016
Harold Lang
Just received word that Harpld Lang of Metropolis passed away this week.(Sept.2016) . . . Continued

7/5/2016
Class News
Our 55th Class Reunion on July 2, 2016 was a terrific success! Lots of catching up, renewing friendships and indulging in reminiscences. Fun memories were restored! To those who attended, . . . Continued


"Metroplis Loyalty" We're loyal to you M.C.H.S. We're red and white, M.C.H.S. We'll back you to stand 'Gainst the best in the land For we know you have sand, M.C.H.S. Rah! Rah! So crack out the ball, M.C.H.S. We're backing you all, M.C.H.S. Our team is our fame protector: On! Boys for we expect a Victory from you M.C.H.S.! Che-he, cha-ha, cha-ha-ha-ha, Metropolis, Metropolis, Rah, Rah, RAH! Fling out that dear old flag of Red and White, Lead on your sons and daughters Fighting for you Like men of old, on giants. Placing reliance, shouting defiance Oskee-wow-wow--------- Amid the broad green plains that nourish our land, For honest Labor and for Learning we stand. And unto thee we pledge our heart and our hand, Dear Alma Mater, METROPOLIS HIGH!
Today's Featured Biography
Two fortuitous events occurred after graduating from MCHS that have served me well. I attended our state school, University of Illinois in Champaign, and majored in Electrical Engineering. At the time I graduated in 1965 Illinois was a top 5 University for Engineering. Our graduating class was the first to be taught semiconductor theory. Engineers were in demand at this time, and because the University of Illinois which was considered leading edge in electronics, I had more than two dozen job offers.

I chose to go to work for Westinghouse Electric Corporation because they had a well defined career path to become a President/ CEO. This was my second positive event. To reach my career goal I needed an advanced degree. In 1969 I graduated from St. Louis University with an MBA. My major was in Finance. I attended night school and worked full time. Westinghouse paid for my education. The career path that was laid out required that you have hands-on job experience in all the major functions (Sales, Marketing, Engineering, Manufacturing, Quality Control, Human Resources, Finance)

Hence I was moved multiple times. We have lived in Boston, MA Long Island, NY Philadelphia, PA Summit, NJ Pittsburgh, PA Dallas, TX Grand Rapids, MI Los Angeles, CA and San Diego, CA. At least 4 times a year Westinghouse managers received training from professors from top business schools such as Harvard, Wharton, University of Chicago and Northwestern University. In the 1970s I do not believe there was another company where I could have worked where I would have received better training. I reached my career goals. I am able to be a consultant to small business owners. The last job I held was to turnaround the Westinghouse semiconductor business that was not growing and was in jeopardy of going out of business. More than 350 jobs were at risk. I have been able to travel the world on business and I feel truly blessed to have been given these opportunities.

A LITTLE KNOWN FACT
When we lived in LA, CA in the 1970s I became interested in wines. I spent at lot of time gaining knowledge on Chardonnays & Merlots from Sonoma and Cabernets from NAPA. My International travels helped educate me on wines from Italy, France and Spain. My ideal job would be a wine taster for Mondavi or Phelps wineries in NAPA



Classreport.org provides free Class Websites for every graduating class of every high school with free access for all.
We are one of the premier social networking sites dating back to 2003. We are a small, family-owned business and yet freely host over a million class websites. Our Story
Classreport holds a special place in the hearts of our users: Bravos.
Class Support Status

Our Class Site is Fully Funded!
Additional contributions are welcome and will be used to provide support for the larger Classreport community.
CLICK HERE TO LEARN MORE
Class Directory

Where in the world are you? Stats
Recent Profile Updates
| | |
| --- | --- |
| | Jul 13 |
| | Aug 25 |
| | Jul 3 |
| | Sep 24 |
| | May 23 |
| | Mar 31 |
| | Mar 3 |
| | Feb 26 |
U.S. Armed Forces
Active and Veterans

Please update your profile to be
included in this section.

0 from Our Class

1 from Our School

Class Poll
There is no Active Poll
at this time.
Featured Links
There are no Featured Links
at this time.
Recent Reviews
There are no reviews on file
at this time.
This area is for comments on
books, movies, music,
restaurants, etc.
Visit Other Classes
The Office
(Admin use only)
If you have any questions or comments regarding this website, please contact:

Class Administrator
Janet Faughn Cassen

Would you like a sneak peek at a
non-functioning view of The Office?

This class reunion website is a complementary addition to your existing alumni resources.
It is a product of Classreport, Inc. and may not be affiliated with Metropolis Community High School or its alumni association.

Does your High School Class have a full-featured Alumni Website? Start One Now!
(Or start one for your Mother, Father, Sister, Brother, Spouse, Son, Daughter, Friend . . .)



"Just discovered your product today while trying to locate classmates ahead of our 50th reunion in 2020. The fact that you did this in a noncommercial manner in a world where everything has a price tag deserves recognition and respect, in my view. Thank you and good luck in all your endeavors." 5/5/2018


"THANKYOU so much for handling this for us! We are so appreciative! It looks GREAT!" 5/2/2018


"Thank YOU for helping us get the word out! I've posted a link to the website on our FB group page and vigorously encouraged other classmates to contribute" 4/27/2018


"Your site is amazing. Kudos to you and your staff. You have benefitted so many high school alumni in organizing their class reunions." 10/4/2017


"Thanks to classreport.org our class website played a huge part in the success of our Reunion. We greatly appreciate your wonderful support." 10/3/2017


"Thanks for all your hard work and ingenious spirit." 9/25/2017


"Thanks guys, you are Good!!" 9/23/2017


"I love your service and will continue to support you." 9/14/2017


"We have been using the website for more than 10 years now. It's still the best website out there for classmates to meet, collect their info and advertise their reunions. Thanks for inventing it all!" 9/11/2017


"Thank you for your assistance. It was very helpful. Looks good!" 9/5/2017



More bravos at: www.classreport.org/bravos




19th Anniversary!
There are no fees required for participation on this site.
Please support this site with your voluntary contributions.
We cannot provide this service without your support. Thank You!
Please read Our Story
ClassTraQ 11.003 Software Copyright � 2003 - 2017 Classreport, Inc. All Rights Reserved e1 amsc: 1