Please Support Our Class Website in 2019. Can you chip in today?
All contributions will be DOUBLED through February 28!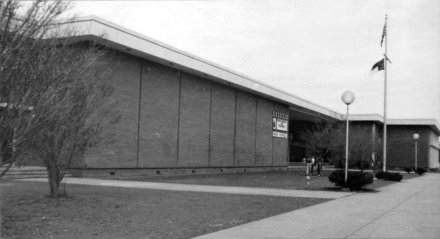 This photo can be changed by your Class Administrator.


This site is operated and funded by members of our class.
Class Administrator: Barbara Ward
Page Hits: 27,208


Event Announcement!
---
Updates
Thursday, July 18, 2019
We will continue to use this site as our main class reunion site. However, we now have a group page on facebook, as well. Go to the groups section and find the John T Hoggard Class of 1985 Reunion 2015 group. Those of you who do not want to join facebook can still find all reunion updates here as they become available.
---
Don't just be a spectator!!!
Sunday, November 10, 2019
If you were not officially invited to the reunion or to this website, it is probably because we do not know where you are! PLEASE add your info to this site!

If you were left off of the list of names, it was NOT intentional, so please add your name yourself. Even if you only went to school with us for a little while, if you were EVER a part of the John T. Hoggard Class of '85, you are welcome to add your name and information.

Someone may be wondering RIGHT NOW what ever happened to you!
---
30 Year Reunion Announcement!
---
I just realized that I did not post the award winners from the reunion!

There's No Place Like Home Award - lives closest to Hoggard HS
Gift - Wilmington post cards, flip flop floating candles
Winner- Kathryn Brown Ciarrocca, lives 1/2 mile away

Wary Traveler Award - most miles traveled to get to the reunion
Gift - sleep mask, travel bingo
Winner - Kimberly McIntyre Sherrett, traveled from CA

Restless Award - moved the most times since HS
Gift - mail forwarding kit, packing tape
Winner - Chris Bond, moved 14 times

Globe Trotter Award - has traveled to the most countries
Gift - googly eyes luggage tags, sleep mask
Winner - Randy Kirby, 50+ countries

Happy Homemaker Award - married the longest
Gift - French toast press, tv dinner magnetic memo pad
Winner - Linda Mezza Wooley, married 27 years

Just Hitched Award - most recently married
Gift - ball and chain matching wedding rings, tv dinner magnetic memo pad
Winner - Cynthia Sellers Gaston Hayes, married 7 months

Cheaper by the Dozen Award - most children
Gift - tissues with money printed on them, a bottle of aspirin
Winner - Robert Stanley, 5 children

Bundle of Joy Award - youngest child
Gift - Pac Man energy drink, silly straw eyeglasses
Winner - Ken Byrd, 18 month old

Forever Young Award - most grandchildren
Gift - ear plugs, whistle, box of chocolates pen (since "you never know what you're gonna get")!
Winner - Cathy Clavin Waite, 2 grandchildren. Honorable Mention - Keith Blackmon, one grandchild

Back to Driver's Ed Award - most car accidents
Gift - car magnet that looks like a Band-Aid, safe driver and road sign pamphlets
Winner - Greta Harrelson Phillips, 4 accidents

Beach Bum Award - officially retired
Gift - flip flop floating candles, retirement bingo, Lucky Charms lip balm (because she's lucky)!
Winner - Cathy Clavin Waite

Dedication Award - worked the longest for the same employer
Gift - hula girl key chain, Trix lip balm (because he must know tricks for staying)!
Winner - Craig Thiry, 27 years. Honorable mention, Ed Niedens, 26 years

No Writer's Block Award - writer of the most books
Gift - William Shakespeare car air freshener, assorted scented ink pens
Winner - Darien Brooks, 5 books

Revenge of the Cool Nerds Award - most college degrees
Gift - Nerds candy, money printed tissues
Winner - Robert Stanley, 4 degrees
---
Class News

8/25/2008
JTH memorabilia
Darien Brooks has asked if there is anyone in our class who may still have any Hoggard memorabilia from when we were students...school newspapers, student handbooks, etc. If you have any it . . . Continued

1/4/2006
BEST SITE!!!
Hope that everyone noticed that JTH of '85 is a BEST CLASS SITE!!!! Only the 5th in NC!!!! Let us continue the good work and a pat on the back to all of those involved in making us one!! . . . Continued

11/28/2005
Dates listed on this site
Please ignore the crazy dates on this site...I have to put future dates so that the items will continue to be visible. It does NOT mean that our next reunion is 11/28/2010! . . . Continued


Today's Featured Biography
Graduated from Campbell University in 1989 with a degree in Business Administation. Returned to Wilmington after graduating from college and worked for my family's real estate business from 1991 until 2001. In 1992 I married John Franck whom I met at Campbell University. He relocated to Wilmington when we married. We currently live in Wilmington and love raising our family here. I am a stay at home mom with four children. Looking forward to seeing everyone in November.


Classreport.org provides free Class Websites for every graduating class of every high school with free access for all.
We are one of the premier social networking sites dating back to 2003. We are a small, family-owned business and yet freely host over a million class websites. Our Story
Classreport holds a special place in the hearts of our users: Bravos.
Class Support Status

OUR CLASS SITE IS FUNDED THROUGH
January 2019
---
This site is funded by our
Voluntary Contributions

Click Here to Chip In


Class Directory

Where in the world are you? Stats
Recent Profile Updates
| | |
| --- | --- |
| | Jun 9 |
| | Apr 18 |
| | Mar 25 |
| | Feb 5 |
| | Nov 7 |
| | Mar 9 |
| | Feb 24 |
| | Jan 12 |
Class Poll
There is no Active Poll
at this time.
Recent Reviews
Music

Darius Rucker....."Learn and Live"
Rev by: Michael Marley
Music
Stadium Arcadium
Red Hot Chili Peppers
Rev by: Michael Marley
Music
Unpredictable
Jamie Foxx
Rev by: Michael Marley
Music
Looking for Lucky
Hootie and the Blowfish
Rev by: Michael Marley
Visit Other Classes
The Office
(Admin use only)
If you have any questions or comments regarding this website, please contact:

Class Administrator
Barbara Ward

Would you like a sneak peek at a
non-functioning view of The Office?

This class reunion website is a complementary addition to your existing alumni resources.
It is a product of Classreport, Inc. and may not be affiliated with John T Hoggard High School or its alumni association.

Does your High School Class have a full-featured Alumni Website? Start One Now!
(Or start one for your Mother, Father, Sister, Brother, Spouse, Son, Daughter, Friend . . .)



"Just discovered your product today while trying to locate classmates ahead of our 50th reunion in 2020. The fact that you did this in a noncommercial manner in a world where everything has a price tag deserves recognition and respect, in my view. Thank you and good luck in all your endeavors." 5/5/2018


"THANKYOU so much for handling this for us! We are so appreciative! It looks GREAT!" 5/2/2018


"Thank YOU for helping us get the word out! I've posted a link to the website on our FB group page and vigorously encouraged other classmates to contribute" 4/27/2018


"Your site is amazing. Kudos to you and your staff. You have benefitted so many high school alumni in organizing their class reunions." 10/4/2017


"Thanks to classreport.org our class website played a huge part in the success of our Reunion. We greatly appreciate your wonderful support." 10/3/2017


"Thanks for all your hard work and ingenious spirit." 9/25/2017


"Thanks guys, you are Good!!" 9/23/2017


"I love your service and will continue to support you." 9/14/2017


"We have been using the website for more than 10 years now. It's still the best website out there for classmates to meet, collect their info and advertise their reunions. Thanks for inventing it all!" 9/11/2017


"Thank you for your assistance. It was very helpful. Looks good!" 9/5/2017



More bravos at: www.classreport.org/bravos




16th Anniversary!
There are no fees required for participation on this site.
Please support this site with your voluntary contributions.
We cannot provide this service without your support. Thank You!
Please read Our Story
ClassTraQ 11.003 Software Copyright © 2003 - 2017 Classreport, Inc. All Rights Reserved e0 amsc: 1