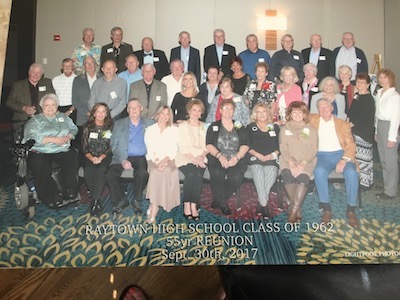 RHS 55th Reunion


This site is operated and funded by members of our class.
Class Administrator: Ruth Sudduth Light
Page Hits: 23,022


Class News

8/1/2017
Raytown 55Th Class Reunion
Please register above for 55th Class Reunion to let everyone know that you plan to attend the reunion on September 29th and 30th at the Doubletree. So far we have 45 that have paid to atte . . . Continued

4/26/2012
CONTRIBUTIONS TO CLASS FUND
THE FOLLOWING CLASS MEMBERS HAVE ADDED TO OUR CLASS FUND BY THEIR GENEROUS CONTRIBUTIONS: GAYLE ARBUCKLE BURGESS, RICHARD BLOSSER JOHN BOZARTH, MIKE EMERSON, FRED HARLE, TERRY NEEDHAM, BILL . . . Continued

3/6/2012
1962 History, Fun Facts, Trivia and Year In Review
World Series Champions:     New York Yankees NFL Champions:     Green Bay Packers AFL Champions:     Dallas Texans NBA Champions: . . . Continued


https://photos.app.goo.gl/FigDt5nq6nMScBcz1
Our Class Message Board
Your participation is requested!
We would like to hear from you. Post your messages here.

ADD NEW VIEW ALL

Indicates an included photo
| | |
| --- | --- |
| Message | Gayle Arbuckle Burgess |
| Roger Hale passed away on August 25, 201 | Tue 9/11/2018 10:07 AM |
| Message | Kathy Stonebarger Stehwien |
| We lost another class member. Kathleen | Mon 2/19/2018 9:07 PM |
| 55 year HIgh School Reunion | Kathy Stonebarger Stehwien |
| We had a great time at our 55th High Sch | Mon 10/2/2017 6:37 PM |
| Message | Gayle Arbuckle Burgess |
| Just wanted to add this note to all clas | Thu 7/27/2017 10:05 PM |
| Michael A. Schroer | Gayle Arbuckle Burgess |
| Michael Schroer passed away on June 15, | Tue 6/20/2017 8:52 AM |
| Death | RE: Patrick G. Patterson |
| Patrick G. Patterson died July 20, 2006 | Wed 8/24/2016 11:08 PM |
| Karen Breeze Maxwell | Ruth Sudduth Light |
| KAREN M. MAXWELL(1944 - 2016) Karen M. M | Mon 8/1/2016 9:19 PM |
| Death | Ruth Sudduth Light |
| Ronnie Rockwell passed Novenber 28,2015. | Tue 12/1/2015 7:15 PM |
| Robert (Bob) Erwin | Ruth Sudduth Light |
| Passed away May 7, 2015. The services we | Sat 5/16/2015 1:12 PM |
| GIlbert Hundley | Ruth Sudduth Light |
| GILBERT S. HUNDLEY Jr. 
Obituary | | Sun 12/28/2014 8:11 AM |
| Message | Ruth Sudduth Light |
| No Message Entered | Sun 12/28/2014 8:10 AM |
| Message | Ruth Sudduth Light |
| No Message Entered | Sun 12/28/2014 8:10 AM |
| Message | Gayle Arbuckle Burgess |
| Barbara Bross Prater soul mate George Sc | Tue 10/28/2014 6:32 AM |
| Message | Gayle Arbuckle Burgess |
| Jean Adams Smith husband John, 74, passe | Tue 10/28/2014 6:28 AM |
| Lyle Dehues Passing | Ruth Sudduth Light |
| Lyle Edward DeHues, 70, Raytown, passed | Thu 9/25/2014 10:13 AM |
Today's Featured Biography
I did the normal routine for school, I started at Blue Ridge Elementary in 2nd grade thru 5th grade. Then on to 6th grade at the old city hall and then on to the new Raytown Jr. High for 7&8 grades, finally to Raytown High School.
The last five years have been tough for me, mentally and physically. Lets start with the mental aspect of this Bio.
On Sept.27, 2008 my nineteen year old grand daughter was killed (Chiara Acker)by a drunken driver at Sand Lake (sand dune's) about seven miles north of Pacific City in Oregon. Her father Matt Acker (my second son) had a tough time dealing with his daughter's death and he died on Jan. 1,2009. This makes both son's that I have lost, and a grand daughter.
Now on the physically side, it was just as bad. I was on my daily two mile walk when it started to rain so I started to jog and slipped and fell flat on my face on the sidewalk. I did not know at the time that I had just herniated a disc in my neck,and it went down my spinal cord canal in the vertebra's at the C-4&C-5 (located just behind the adam's apple). As time went along I started to get weaker & weaker. I could not walk straight. My Docter thought I might have"ALS" so he sent me to a neurologist. An MRI was ordered and the problem was found. Now it was a race to get me to surgery as fast as they could. I was slipping fast. If I fell again I could be paralyzed from the neck down. A surgical intervention was performed on Jan. 13,2009. After the neurosurgery (2 1/2 hours long) the next day I walked out of the hospital in the morning at 10:30 AM and got in my wife's car and went home with no restrictions "just take it easy". They put in a metal plate & four screw's in my neck. After the neck involvement, my golf went south, I am working to get it back to nomal.
The next problem came along the morning of Feb.6,2012. I was doing my stretching exercise's, got up off the floor and could not walk straight. So I went to the emergency room at Saint Luke's East in Lee's Summit. They ran another MRI of my head & neck. The next day it was discovered that my carotid artery was greater than 95% blocked on the left side and they transported me down to the Plaza hospital for surgery. My wife left work and beat me to the hospital and I was riding in an ambulance. At the hospital there were two nurse's and three Doctor's waiting to examine me. After that it was off to surgery (2hours). This surgery is performed with you awake.Doctor Coleman Martin the interventional neurologist was carrying on a full conversation throughout the surgery with me. We talked about my work and about Corvette's. Some people said it was his way to make sure that I was still there, and awake. They put a stent in my left carotid artery. I spent the next four day's in NSICU waiting for my blood pressure to come up, it was 90/41. After I left the Hospital I had no restrictions. During this ordeal, one question was asked over and over (20 times) again, "did you ever smoke?" This one make's me mad,because I never did. When I was dating,if a girl smoked, around me she was like a dog that chased car's, she was not around very long with me.
As teenager's I still say we grew up in a great time. I am still looking for a picture of White Zesto's at 50 highway & Gregory and of Allen,s at Paseo & 63rd street. I still work cutting grass around the neighborhood (I take care of 9 yards) just to keep the weight off and the body in some kind of shape and my goof off money in good supply. My weight is 160 lbs, the same as it was when I was running track in high school,the year that I made the Missouri all state track team.
I have been retired from Western Electric/AT&T/Lucent for sixteen years after thirty five years of service. My daughter is living in Chicago, she like's the big town. Me and my wife Wendy have been married for thirty two wonderful years. I still have both Corvette's (Blue 1965 convertible & Red T top 1975).
I wish all my classmate's the best of health and enjoy your children, every minute is precious no matter how old. Hope to see you at the reunion.



Family News Summary
Enter your Family News Item choosing from our pre-defined categories:
Anniversary, Award, Birth, Death, Diagnosis, Engagement, Graduation, Lottery, Retirement, Vacation, Wedding, Other.
Death
Kathleen Walters Morris 73, passed away February 1
Posted by: Ruth Sudduth Light

2/20/2018

Death
Linda Floyd Hanes, age 69, Raytown, Mo. Passed awa
Posted by: Ruth Sudduth Light

7/25/2014

Death
Jim Davis age 69, Appleton City, Mo. passed away A
Posted by: Ruth Sudduth Light

7/25/2014

Death
David C Downum, age 69, of Belton, MO, passed away
Posted by: Ruth Sudduth Light

6/19/2013

Death
H. ROBERT CRADDOCK Bob Craddock, 74, who spent
Posted by: Ruth Sudduth Light

5/16/2012

Death
Joe Morgan from San Antonio, Texas passed away on
Posted by: Gayle Arbuckle Burgess

1/24/2012
Calendar
There are no Calendar items on file
at this time.

Today's Featured Class Member Website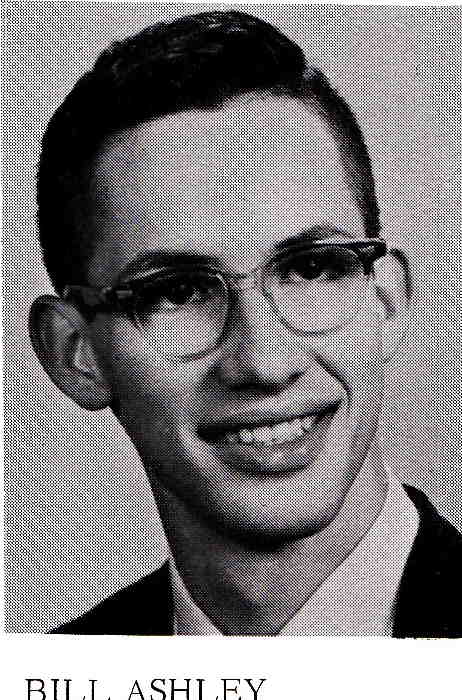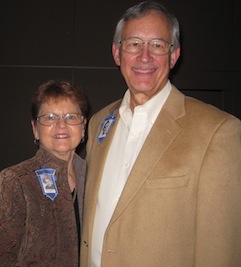 Classreport.org provides free Class Websites for every graduating class of every high school with free access for all.
We are one of the premier social networking sites dating back to 2003. We are a small, family-owned business and yet freely host over a million class websites. Our Story
Classreport holds a special place in the hearts of our users: Bravos.
Class Support Status

Our Class Site is Fully Funded!
Additional contributions are welcome and will be used to provide support for the larger Classreport community.
CLICK HERE TO LEARN MORE
Class Directory

Where in the world are you? Stats
Recent Profile Updates
| | |
| --- | --- |
| | Sep 11 |
| | Sep 2 |
| | Aug 14 |
| | Feb 20 |
| | Oct 28 |
| | Oct 27 |
| | Oct 10 |
| | Oct 10 |
Class Poll
There is no Active Poll
at this time.
Recommended Recipes
Recipe Name
Submitted by: Ruth Sudduth Light
Visit Other Classes
The Office
(Admin use only)
If you have any questions or comments regarding this website, please contact:

Class Administrator
Ruth Sudduth Light

Would you like a sneak peek at a
non-functioning view of The Office?

This class reunion website is a complementary addition to your existing alumni resources.
It is a product of Classreport, Inc. and may not be affiliated with Raytown High School or its alumni association.

Does your High School Class have a full-featured Alumni Website? Start One Now!
(Or start one for your Mother, Father, Sister, Brother, Spouse, Son, Daughter, Friend . . .)



"Just discovered your product today while trying to locate classmates ahead of our 50th reunion in 2020. The fact that you did this in a noncommercial manner in a world where everything has a price tag deserves recognition and respect, in my view. Thank you and good luck in all your endeavors." 5/5/2018


"THANKYOU so much for handling this for us! We are so appreciative! It looks GREAT!" 5/2/2018


"Thank YOU for helping us get the word out! I've posted a link to the website on our FB group page and vigorously encouraged other classmates to contribute" 4/27/2018


"Your site is amazing. Kudos to you and your staff. You have benefitted so many high school alumni in organizing their class reunions." 10/4/2017


"Thanks to classreport.org our class website played a huge part in the success of our Reunion. We greatly appreciate your wonderful support." 10/3/2017


"Thanks for all your hard work and ingenious spirit." 9/25/2017


"Thanks guys, you are Good!!" 9/23/2017


"I love your service and will continue to support you." 9/14/2017


"We have been using the website for more than 10 years now. It's still the best website out there for classmates to meet, collect their info and advertise their reunions. Thanks for inventing it all!" 9/11/2017


"Thank you for your assistance. It was very helpful. Looks good!" 9/5/2017



More bravos at: www.classreport.org/bravos




16th Anniversary!
There are no fees required for participation on this site.
Please support this site with your voluntary contributions.
We cannot provide this service without your support. Thank You!
Please read Our Story
ClassTraQ 11.003 Software Copyright © 2003 - 2017 Classreport, Inc. All Rights Reserved e1 amsc: 1