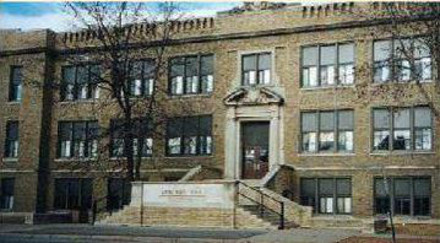 Our Beloved Old High School -- Now Apartments...


This site is operated and funded by members of our class.
Class Administrator: Cheryl Wos Davis
Page Hits: 9,833


55 Year Reunion Announcement!
---
Ready to come again in 5 years?????
Saturday, September 21, 2019
Our 50th was a fantastic reunion. And we're already hearing that folks want to try again in 5 years!!!! Hey, a little planning ahead never hurts... (Though the date is a pure guess...)

Want to see a photo slide show of the 50th Reunion??? Please send Cheri photos so she can create one...

There are people who would like to contact you. So PLEASE click the Yes button under your email address to display your email address with your profile. (If you don't know how, just send Cheri email, and she will update your profile.)

We'd like to create a Memory Book. So PLEASE PLEASE update your profile!!!! If you don't want to do the updates or photo upload yourself, send the data to Cheri and she'll update it for you.

Finally, we've still got people we can't find. Please email Cheri if you have any clues on where these "MISSING" CLASSMATES are:
Connie Berg, Beth Blumentritt,
Karon Bohn, Marilyn Brown, Donald Burt, Rose Cory,
Jonathan Dacken, Candace Drury, James Gunn,
Lawrence Haack, Clarence Hengel, Janice Inman,
Graham Jacobson, Anthony Kammerer, Louise Kanz,
Gerald Klaus, Vincent Krohse, Marsha Lutz,
Kathryn Martin, Sharon Moore, Dennis O Brien,
Mary Olson, Jacqueline Peterson, Mary Jo Przybylski,
Edward Schell, John Seibert, Deanna Sobeck,
Edith Steinert, Arthur Stender, Susan Stueve,
David Torgeson

---
Remember Our 50 YEAR REUNION PARTY???
Tuesday, December 31, 2019
Here's to our


50 YEAR REUNION PARTY
September 20, 2014
Winona County History Center
160 Johnson Street, Winona, MN 55987



The party was a splendid event with classmates from near and very far!!! Final headcount: 150 attendees representing 98 classmates!! Not bad for 50 years after...

List of classmates who attended:
Ackels Wagner, Nancy; Addington Youngberg, Cally; Ahearn Miller, Joan; Allen, Roger; Bauer, Frederick; Behling, Richard; Block, William; Bohn Nelson, Mechelle; Boller Feigal, Jennifer; Braatz Baker, Suzanne; Burleigh, Donn; Burt Hall, Sandra; Carlblom Dunn, Kathryn; Chuchna Woodford, Bonnie; Cisewski Peterson, Cheryl; Deye Riemer, Kathryn; Dinkler Goodyear, Carole; Edstrom, Fran; Evenson, James; Fay Monahan, Vicki; Felsch, Lyle; Findlay Dorn, Jane; Gallagher, Loren; Gerlach, Gregory; Haefner, Robert; Haessig, John; Hahn Gonzales, Elaine; Hamilton Persons, Elaine; Hannon, Roger; Hartwich, Roger; Hines, Glen; Homola Murray, Sheila; Hoover, James; Hubbard, Bruce; Jasmer Eich, Mary; Johnson Ortiz, Pamela; Karnath Carrillo, Jean; Keller, Steve; Kiehnbaum, William; Knopick, Jim; Korupp, Terrence; Kratz Learn, Cheryl; Kuklinski Nolan, Sandra; Kutchara Welzien, Lois; Lander Gerlach, Lana; Larson Thorn, Norma; Laufenburger, Donald; Laufenburger Mach, Nancy; Loucks, Donald; Lubinski Hannon, Barbara; Lucas, Laurie; Lueck Denzer, Patricia; Mahlke Miller, Judy; Masepohl Colbenson, Beverly; McCready, James; McElmury Bias, Dianne; Merchlewitz, Harold; Mogren Keller, Gloria; Morrison Skattum, Jeanne; Nelson Roffler, Susan; Newcomb, Dale; Niemeyer Newcomb, Clara; Ohnstad, Rolf; Ollom Fakler, Janet; Opsahl Lorenson, Jacqueline; Palbicki Myszka, Diane; Papenfuss Ruud, Cheryl; Pettersen Thicke, Bernadette; Pflughoeft Johnson, Betty; Pflughoeft Mouritsen, Judy; Riemann Glynn, Patricia; Rodgers Virnig, Ruth; Sanders, John; Sawyer, George; Schaale, Roy; Scharmer, LaVerne; Shaw Johnson, Margaret; Sheridan Meyer, Patricia; Sherman, Fred; Sievers McGuire, Carolyn; Sifferath Schmier, Gloria; Spaag Friesen, Donna; Stover, Tom; Theis Fitzgerald, Joyce; Tushner Anderson, Joan; Underdahl, Enid; Vierus, Clifton; Waite Ostinelli, Janet; Weimer, Wendy; Weisman, Mark; Werner Drazkowski, Ann; Whetstone Barth, Judith; Wild, Richard; Winston, John; Woodworth, Pete; Wos Davis, Cheryl; Zieman Loucks, Shirley; Zimmerman Cords, Terry



REMEMBER… NEVER AGAIN, AND NEVER BEFORE,
HAS THERE BEEN A CLASS LIKE '64!

---
Class News

7/5/2014
Another Class of 64 Reunion Web Site on Classmates.com
Pamela Johnson Ortiz has set up another Class of '64 reunion Web site at http://www.classmates.com/reunions/1964-50th-class-reunion/2490394#!/eh?eventId=2490394 Be sure to check it out!!! . . . Continued


On your first visit to this Web site, please register!
Click Click Here to Register in the Sign In box and enter your email address and a password (6–12 letters or numbers). Then click the Sign in box. Then you can select:
My Profile – Please update your personal info. Your address/phone won't be displayed on the site, only used to contact you. But your classmates will LOVE looking at your bio data. Scroll down thru the page and tell us about your spouse/partner, children, employer, and bio!!! If you'd like our classmates (only) to contact you by email, check the Yes button right under your email address.
My Class Page – Scroll down and click the Register Online box to tell us whether you'll be able to attend the reunion; you can also click Look Who's Coming!
To see what your classmates have been up to, click on VIEW CLASS DIRECTORY (located under the globe). Use the blue alphabet list bar to select classmates based on name at time of graduation. Simply click a classmate's name to open a page with info on that person. If displaying the email address was enabled, you can click the email address and send a message.
Today's Featured Biography
- Graduated from the University of Colorado in 1969 with a major in math.
- Moved to Southern California after graduating from college, but my heart stayed in Colorado.
- Graduate degree from Golden Gate University - MBA with a
major in banking in 1974.
- Worked for Bank of America for 10 years ending in North America Division Problem Loan Section as a Vice President.
- Vice President / CFO of our own commercial/industrial general contracting company in Pasadena, CA for 15 years. I handled the financial end of the business.
- Retired in 1992 and moved to Colorado Springs in 1994.
- Married 27 years to partner in the construction business.
- Later married 11 1/2 years to a captain of a fire station.
- Divorced now for two years.
- Got my private pilot's license in California, but am no longer flying.
- Have trained and shown horses most of my life - western, hunters, dressage, and reining. Competed in two Olympic Festivals - 1985 & 1986.
- Now teach yoga and meditation - E-RYT 500.
- Looking forward to the 50th reunion.




Classreport.org provides free Class Websites for every graduating class of every high school with free access for all.
We are one of the premier social networking sites dating back to 2003. We are a small, family-owned business and yet freely host over a million class websites. Our Story
Classreport holds a special place in the hearts of our users: Bravos.
Class Support Status

Our Class Site is Fully Funded!
Additional contributions are welcome and will be used to provide support for the larger Classreport community.
CLICK HERE TO LEARN MORE
Class Directory

Where in the world are you? Stats
Recent Profile Updates
| | |
| --- | --- |
| | Sep 8 |
| | Sep 8 |
| | Sep 8 |
| | Sep 8 |
| | Sep 8 |
| | Sep 8 |
| | Sep 8 |
| | Aug 30 |
Class Poll
There is no Active Poll
at this time.
Recent Reviews
There are no reviews on file
at this time.
This area is for comments on
books, movies, music,
restaurants, etc.
Visit Other Classes
The Office
(Admin use only)
If you have any questions or comments regarding this website, please contact:

Class Administrator
Cheryl Wos Davis

Would you like a sneak peek at a
non-functioning view of The Office?

This class reunion website is a complementary addition to your existing alumni resources.
It is a product of Classreport, Inc. and may not be affiliated with Winona Senior High School or its alumni association.

Does your High School Class have a full-featured Alumni Website? Start One Now!
(Or start one for your Mother, Father, Sister, Brother, Spouse, Son, Daughter, Friend . . .)



"Just discovered your product today while trying to locate classmates ahead of our 50th reunion in 2020. The fact that you did this in a noncommercial manner in a world where everything has a price tag deserves recognition and respect, in my view. Thank you and good luck in all your endeavors." 5/5/2018


"THANKYOU so much for handling this for us! We are so appreciative! It looks GREAT!" 5/2/2018


"Thank YOU for helping us get the word out! I've posted a link to the website on our FB group page and vigorously encouraged other classmates to contribute" 4/27/2018


"Your site is amazing. Kudos to you and your staff. You have benefitted so many high school alumni in organizing their class reunions." 10/4/2017


"Thanks to classreport.org our class website played a huge part in the success of our Reunion. We greatly appreciate your wonderful support." 10/3/2017


"Thanks for all your hard work and ingenious spirit." 9/25/2017


"Thanks guys, you are Good!!" 9/23/2017


"I love your service and will continue to support you." 9/14/2017


"We have been using the website for more than 10 years now. It's still the best website out there for classmates to meet, collect their info and advertise their reunions. Thanks for inventing it all!" 9/11/2017


"Thank you for your assistance. It was very helpful. Looks good!" 9/5/2017



More bravos at: www.classreport.org/bravos




16th Anniversary!
There are no fees required for participation on this site.
Please support this site with your voluntary contributions.
We cannot provide this service without your support. Thank You!
Please read Our Story
ClassTraQ 11.003 Software Copyright © 2003 - 2017 Classreport, Inc. All Rights Reserved e1 amsc: 1