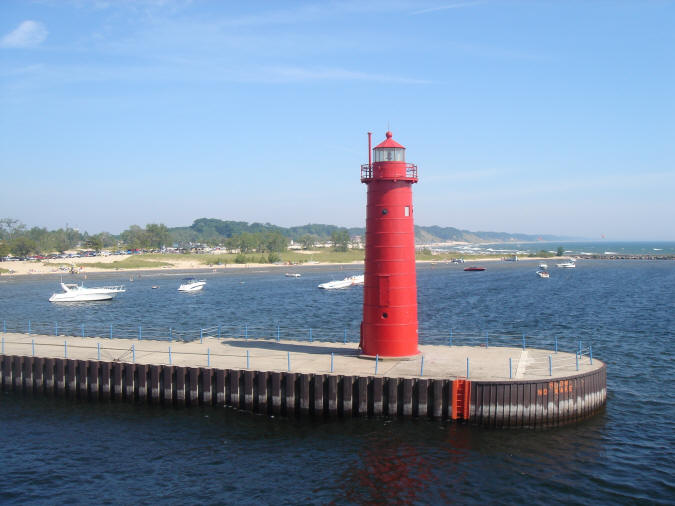 This site is operated and funded by members of our class.
Class Administrator: Tom Hammond
Page Hits: 23,275


59 Year Reunion Announcement!
---
59 Year Annual Informal Reunion
Friday, August 30, 2019 - 12:00 pm
Mona Lake Boating Club, 327 Randall Road, Mona Shores, MI
None. Order off the menu
Join us for a great time with old friends. We had over 75 attending in 2018.
Event Contact: Tom Hammond
---
Class News

9/3/2018
58 Year Reunion News
What a great time was had by the 75 or so who attended. The following are those who attended: Bill and Jan (Hylen) Grant, Ron and Darleen (Steele) Rowe, Phillip Dobb, Peggy Seastrom Kosk . . . Continued

9/8/2015
Roy Burch Remembrance
Roy's remembrance is to be at the Mona Boat Club on Sunday, September 27 from 3 to 7 pm. Roy was instrumental in the organization and planning of our 55th reunion. . . . Continued

8/17/2015
Alan Perysian
Just received the sad news that Alan was killed in an auto accident near his home in Mesa, Arizona on August 13. This news via Marilyn Booker Bannon. . . . Continued


Today's Featured Biography
SOMEONE SAID LIFE IS A ROLLER COASTER -- I THINK THEY WERE RIGHT ---
    Before graduating from Muskegon Senior High in 1960 I became intensely interested in radio broadcasting and haunted both WTRU and WKBZ in Muskegon.
Local broadcasters gave me the same advice: "shorten your name. Lirones has too many syllables, and George just doesn't roll." The other piece of advice was to attend the Midwestern Broadcasting School in Chicago for quick entry into the business.
    I took that advice and less than two years later graduated from Midwestern, decided the professional name "Jack Kelly" sounded snappy and landed my first job as a disc jockey in a fast pace hard rock station in Brunswick, Ga., a small tourist town surrounded by three resort islands on the Atlantic Ocean. It proved to be an excellent training ground, and I worked all facets of radio for a bit over a year.
    Meanwhile, a pretty blonde girl who moved to Muskegon from Scottville, Mich., to study to become an X-ray technician during my post high school life had stolen my heart and prompted me to move from Georgia back to the old hometown.
    That pretty gal, Carol, became my wife. I worked at a couple more radio stations before taking a job in Benton Harbor-St. Joseph at a large staff 5,000 watt region radio station. We fell in love with the quaint St. Joe area and decided it was a great place to raise a family.
A life-changing blow came when Carol suffered an unexpected heart attack and passed away in 1971, leaving me a widower with two sons, age 3 ˝ and 6.
    With the help of two different grandmotherly-type nanny/housekeepers, I continued to work at the radio station along while starting a part-time public relations/communications business, Jack Kelly & Associates, to finance our needs at home.
    The public relations business continued to grow as I shifted interests at the radio station from playing records to radio news and then into full blown radio documentaries dealing with business and social issues.
    About the same time, photography became another interest, and the idea of adding pictures to the documentaries turned into making slide tape and videotape productions.
    Jack Kelly & Associates finally eased me out the radio station, and in 1975 I opened a full-time communications business, expanded into production of brochures, more documentaries and a consulting branch offering public relations seminars.
    The business jobs took me to Toronto several times, to the Bahamas, Greece, twice to Hawaii, Taiwan, Hong Kong and Japan, yet most of my clients were and still are right here in the Midwest.
    As the boys grew up and became more independent, our second nanny/house keeper decided to retire –and I found time for a hobby, collecting antiques, specifically vintage advertising signs and old mechanical coin-operated devices including slot and vending machines.
    My public relations, writing and photography background easily blended into the antiques collecting scene, where I now write news stories and shoot photos for several national publications -- while adding to my collection!
    Collecting also helped me to land a job writing a book on the famous Kane County Antique Market, 35 miles west of Chicago. That venture took over two years to complete and resulted in a 150-page hardbound book.
    Looking back across 50 years, life really has been a roller coaster, but my proudest attributes are my sons, Mike born in 1969 and Mark born in 1964 who have grown into fine young men and presented me with two wonderful grandchildren, ages 11 and 14.
    I look forward to seeing old friends and classmates at our 50th reunion – and if you have an mechanical slot machine or vending machine you want to sell – look me up!
    P.S. Although Jack Kelly is my radio/pen name I'm still George or "Jack" Lirones to family and friends.



Classreport.org provides free Class Websites for every graduating class of every high school with free access for all.
We are one of the premier social networking sites dating back to 2003. We are a small, family-owned business and yet freely host over a million class websites. Our Story
Classreport holds a special place in the hearts of our users: Bravos.
Class Support Status

Our Class Site is Fully Funded!
Additional contributions are welcome and will be used to provide support for the larger Classreport community.
CLICK HERE TO LEARN MORE
Class Directory

Where in the world are you? Stats
Recent Profile Updates
| | |
| --- | --- |
| | Oct 8 |
| | Aug 31 |
| | Jul 31 |
| | Jul 20 |
| | Jul 5 |
| | Jun 14 |
| | Jun 3 |
| | Apr 27 |
Class Poll
There is no Active Poll
at this time.
Recent Reviews
There are no reviews on file
at this time.
This area is for comments on
books, movies, music,
restaurants, etc.
Visit Other Classes
The Office
(Admin use only)
If you have any questions or comments regarding this website, please contact:

Class Administrator
Tom Hammond

Would you like a sneak peek at a
non-functioning view of The Office?

This class reunion website is a complementary addition to your existing alumni resources.
It is a product of Classreport, Inc. and may not be affiliated with Muskegon High School - Big Reds or its alumni association.

Does your High School Class have a full-featured Alumni Website? Start One Now!
(Or start one for your Mother, Father, Sister, Brother, Spouse, Son, Daughter, Friend . . .)



"Just discovered your product today while trying to locate classmates ahead of our 50th reunion in 2020. The fact that you did this in a noncommercial manner in a world where everything has a price tag deserves recognition and respect, in my view. Thank you and good luck in all your endeavors." 5/5/2018


"THANKYOU so much for handling this for us! We are so appreciative! It looks GREAT!" 5/2/2018


"Thank YOU for helping us get the word out! I've posted a link to the website on our FB group page and vigorously encouraged other classmates to contribute" 4/27/2018


"Your site is amazing. Kudos to you and your staff. You have benefitted so many high school alumni in organizing their class reunions." 10/4/2017


"Thanks to classreport.org our class website played a huge part in the success of our Reunion. We greatly appreciate your wonderful support." 10/3/2017


"Thanks for all your hard work and ingenious spirit." 9/25/2017


"Thanks guys, you are Good!!" 9/23/2017


"I love your service and will continue to support you." 9/14/2017


"We have been using the website for more than 10 years now. It's still the best website out there for classmates to meet, collect their info and advertise their reunions. Thanks for inventing it all!" 9/11/2017


"Thank you for your assistance. It was very helpful. Looks good!" 9/5/2017



More bravos at: www.classreport.org/bravos




16th Anniversary!
There are no fees required for participation on this site.
Please support this site with your voluntary contributions.
We cannot provide this service without your support. Thank You!
Please read Our Story
ClassTraQ 11.003 Software Copyright © 2003 - 2017 Classreport, Inc. All Rights Reserved e1 amsc: 1