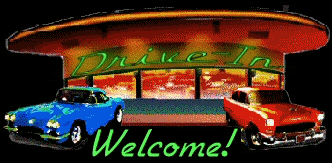 Click here to check out the videos
on our YouTube Channel!
This site is operated and funded by members of our class.
Class Administrator: Connie Evans
Page Hits: 15,745


Class News

1/18/2008
Reunion Committee Meeting Recap
Just thought I'd pass on a few little tidbits from the Reunion Committee. They had a few more people show up to help at the meeting on Tuesday, which is great! The caterer and photogra . . . Continued

1/11/2008
SCHS 50th Reunion Planning Committee Meeting
The first meeting of the new year for our Reunion Committee will be held on Tuesday, January 15, at 1:00 p.m. at the Pizza Man in Salem. Topics of discussion include caterers, the letter an . . . Continued

10/5/2007
SCHS 50th Reunion Planning Committee Meeting
Date: October 11, 2007 Time: 1:00 PM Place: Pizza Man - Salem, IL Beverly (Jones) Hayes invites everyone from our class to enjoy sharing a good time over pizzas while discussing plans f . . . Continued



Check out the results of our Senior Class Favorites Poll from 1958! Can you guess who was voted as our favorite actor and actress? Our fave popular song? What was our favorite sport? (No, it was NOT watching the submarine races -- at least not officially!) Click here to find out ....



Class of 1958 - Senior Class Favorites



---

I found this great article recently that I wanted to share -- some great nostalgia! I hope you enjoy it as much as I did!



Do You Remember When? What We Said in '58



---

Ready for a walk down memory lane? Check out our Class Will and Class Prophecy, published in The Broadcaster on May 23, 1958. (If you have a slower connection, it may take awhile for the Class Will page to load - it has quite a few images on it!)
Our Class Message Board
Your participation is requested!
We would like to hear from you. Post your messages here.

ADD NEW VIEW ALL

Indicates an included photo
| | |
| --- | --- |
| Jack "Butch" Moore | Connie Evans |
| Jack passed away on August 4, 2009. | Sat 10/31/2009 5:52 PM |
| Death | Connie Evans |
| Our Classmate "Jack" Wehmeyer died on Oc | Sat 10/31/2009 5:45 PM |
| Mrs. Turnbull | Connie Evans |
| Correction of the last message. Mrs. Tu | Sun 5/31/2009 8:13 PM |
| Death of Mrs. Mary Turnbull | Connie Evans |
| Mary Turnbull, age 100, died Friday, May | Sun 5/31/2009 12:51 PM |
| Message | Betty A. Devor wife of Paul |
| I am in the process of working on my cla | Thu 8/7/2008 12:05 PM |
| Brother of Carole (Huls) Spencer | Laura Berry Bengelsdorf |
| Richard F. Huls, class of 1962 at Salem | Thu 5/15/2008 3:01 AM |
| Salem Times-Commoner Website Going Offline | Connie Evans |
| Just FYI ... the Salem Times-Commoner we | Sat 3/29/2008 4:09 PM |
| How to Be a Good Wife (circa 1955) | Connie Evans |
| Ahhh, how times have changed! From Hous | Fri 2/15/2008 4:09 PM |
| Benefit dinner set at SCHS for Sullens family | Connie Evans |
| On Saturday, February 9, the faculty and | Fri 2/1/2008 6:49 PM |
| Trivia Quiz - 1956-1959 | Connie Evans |
| Take the quiz, see how much you remember | Thu 1/10/2008 4:18 PM |
| 1958 Pop History | Connie Evans |
| A bit of Pop History from 1958, accordin | Thu 1/10/2008 12:05 AM |
| What Stuff Cost in '58 | Connie Evans |
| According to FiftiesWeb.com ... House: | Wed 1/9/2008 11:50 PM |
| Penny Postcards | Connie Evans |
| Huge thanks to Barbara (Elder) Haines fo | Tue 1/8/2008 11:52 PM |
| Happy Holidays from Betty (VanEtten) Roux | Connie Evans |
| Here's a Christmas photo of Betty (Van | Tue 1/1/2008 5:46 PM |
| Christmas Card from Dale & Mary Ann Seiber | Connie Evans |
| Just received the following Christmas ca | Thu 12/20/2007 11:42 PM |
Today's Featured Biography
Retired 1992 from Mobile Pipeline Co. Worked in Alaska, Saudi Arabia, Netherlands, England and Scotland. Toured Europe while there. Now we travel in our 5th wheel unit. Love to fish and hunt.

Have been going to La Mollie, Il.for the past 7 year to harvest corn.

Have enjoyed the granddaughters and now the grandson. They grow up to fast.

Pat and I are looking forward to seeing everyone at the next reunion.

Have a good year.


Please Update Your Profile!


If this is your first visit to ClassReport.org, find the "First visit here?" link and then locate your name (if you're not listed, then click the first letter of your last name) -- at the top of the next page you'll see "Click here to add your name"; click on your name, submit your working email address and a password.

You'll then see Your Profile; click on it, and you can enter as much information as you want. If you run into any problems, just email me at

[email protected]

, and I'll be glad to help you!



Put Yourself on the Map!




Where in the world are you? Just click on the map and you can show us! Go to our SCHS Class of 1958 GuestMap and plug in your address. Once there, you can add personal details (Name, link, message, etc.). If you have a pic you'd like to upload as well, please do so!


A huge *THANK YOU* to the classmates pictured above for making this website possible with their generous contributions!
Family News Summary
Enter your Family News Item choosing from our pre-defined categories:
Anniversary, Award, Birth, Death, Diagnosis, Engagement, Graduation, Lottery, Retirement, Vacation, Wedding, Other.
Death
Nov. 3, 2012, my husband James C. Bengelsdorf, pas
Posted by: Laura Berry Bengelsdorf

5/15/2012

Death
Our Classmate Dennis Tackett passed away on Novemb
Posted by: Connie Evans

12/22/2008

Retirement
Born to Minnie and Bill Beck 2/19/39 in 3 room log
Posted by: Earl Beck

8/8/2008

Death
Carole(Huls) Spencer's younger brother Richard Hul
Posted by: Laura Berry Bengelsdorf

5/15/2008

Death
Our classmate, Larry Coughlin, passed away on Mond
Posted by: Connie Evans

3/22/2008

Death
Barbara JoAnn (Denham) McCollom's mother, Lucy Hay
Posted by: Connie Evans

3/17/2008

Death
Former SCHS math/physics instructor Roland Autenri
Posted by: Connie Evans

2/15/2008
Calendar
There are no Calendar items on file
at this time.

Today's Featured Class Member Website
Betty VanEtten Roux

Just press the PLAY button below to listen to some good old-fashioned 1950s rock and roll!
Classreport.org provides free Class Websites for every graduating class of every high school with free access for all.
We are one of the premier social networking sites dating back to 2003. We are a small, family-owned business and yet freely host over a million class websites. Our Story
Classreport holds a special place in the hearts of our users: Bravos.
Class Support Status

Our Class Site is Fully Funded!
Additional contributions are welcome and will be used to provide support for the larger Classreport community.
CLICK HERE TO LEARN MORE
Class Directory

Where in the world are you? Stats
Recent Profile Updates
| | |
| --- | --- |
| | May 30 |
| | Nov 8 |
| | Oct 1 |
| | Apr 18 |
| | Dec 7 |
| | Nov 16 |
| | Nov 16 |
| | Oct 8 |
U.S. Armed Forces
Active and Veterans

Please update your profile to be
included in this section.

0 from Our Class

7 from Our School

Class Poll
There is no Active Poll
at this time.
Visit Other Classes
The Office
(Admin use only)
If you have any questions or comments regarding this website, please contact:

Class Administrator
Connie Evans

Would you like a sneak peek at a
non-functioning view of The Office?

This class reunion website is a complementary addition to your existing alumni resources.
It is a product of Classreport, Inc. and may not be affiliated with Salem Community High School or its alumni association.

Does your High School Class have a full-featured Alumni Website? Start One Now!
(Or start one for your Mother, Father, Sister, Brother, Spouse, Son, Daughter, Friend . . .)



"Just discovered your product today while trying to locate classmates ahead of our 50th reunion in 2020. The fact that you did this in a noncommercial manner in a world where everything has a price tag deserves recognition and respect, in my view. Thank you and good luck in all your endeavors." 5/5/2018


"THANKYOU so much for handling this for us! We are so appreciative! It looks GREAT!" 5/2/2018


"Thank YOU for helping us get the word out! I've posted a link to the website on our FB group page and vigorously encouraged other classmates to contribute" 4/27/2018


"Your site is amazing. Kudos to you and your staff. You have benefitted so many high school alumni in organizing their class reunions." 10/4/2017


"Thanks to classreport.org our class website played a huge part in the success of our Reunion. We greatly appreciate your wonderful support." 10/3/2017


"Thanks for all your hard work and ingenious spirit." 9/25/2017


"Thanks guys, you are Good!!" 9/23/2017


"I love your service and will continue to support you." 9/14/2017


"We have been using the website for more than 10 years now. It's still the best website out there for classmates to meet, collect their info and advertise their reunions. Thanks for inventing it all!" 9/11/2017


"Thank you for your assistance. It was very helpful. Looks good!" 9/5/2017



More bravos at: www.classreport.org/bravos




16th Anniversary!
There are no fees required for participation on this site.
Please support this site with your voluntary contributions.
We cannot provide this service without your support. Thank You!
Please read Our Story
ClassTraQ 11.003 Software Copyright © 2003 - 2017 Classreport, Inc. All Rights Reserved e1 amsc: 1