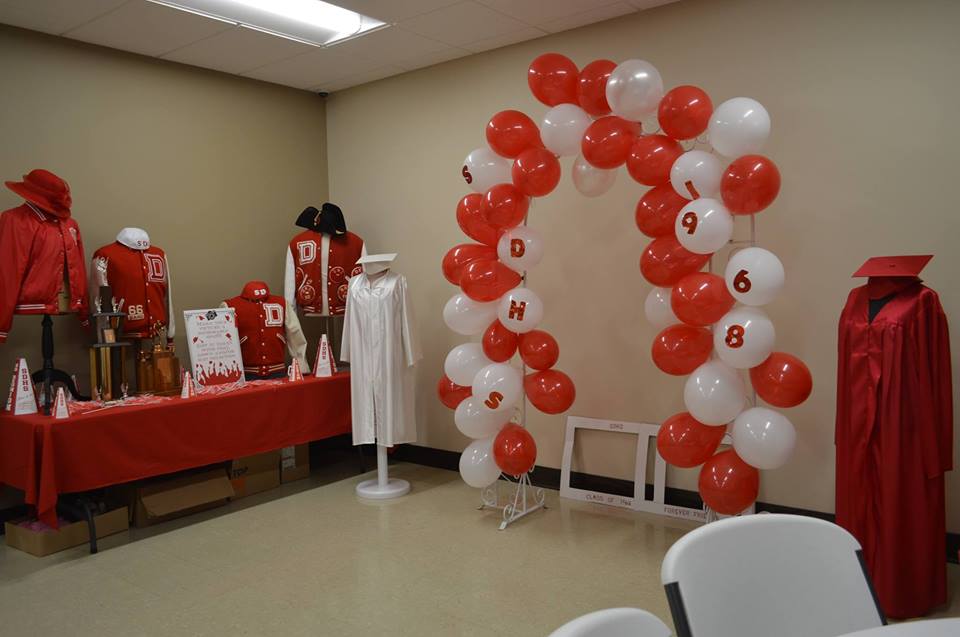 The Golf Outing for our 50th Reunion is June 23, 2018 at Red Tail Run in Decatur. The outing is dedicated to Mike Rusk who passed away this past year. Mike arranged all of the outings for our class reunions since we began having reunions.


This site is operated and funded by members of our class.
Class Administrator: Charles Force
Page Hits: 54,060


Class News

11/15/2018
Two of our classmates passed on during the month of October 2018
Julia Terneus died October 24, 2018. Gwendolyn Sain Hawkins died October 25, 2018. Obituary Here is Julia J. Ward's online obituary. Please accept Everhere.com's sincere condolences . . . Continued

6/19/2018
David Leon Rhodes, 67, of Decatur, IL passed away Sunday, June 3, 2018,
David Leon Rhodes, 67, of Decatur, IL passed away Sunday, June 3, 2018, at his home. David was born July 12, 1950, in Decatur, IL, son of Joseph D. and Nina M. (Langston) Rhodes. He marrie . . . Continued

4/20/2018
Our classmate David Richardson passed away Wednesday, April 18, 2018
David's daughter sent this message to our class: This is Holly Richardson, David Richardson's daughter. You (or other classmates) may have heard via Facebook, but unfortunately, my fa . . . Continued


Today's Featured Biography
Well that was a quick 40 yrs. Anyone up for another 40? I'be been thinking about having that Reunion at my place. I'll fly you all out here. Just let me know if you're in. Hope to see you sooner, but if not, it's a 'go' for 2048.

Email Received from Bill on April 12, 2018 concerning our 50th Reunion:

Sounds like so much fun. Just wanted to check in and let you know I won't be able to get back there for this one. Fill my empty seat with a sack of rocks and a note that says, "hi, I'm Bill's sister…the family genius. My brother, the real gem, sends his regrets."



I do want to acknowledge and thank you and others on the planning committee for your time & energy. Part of our 1968 legacy is a willingness, and sometimes eagerness, to get involved in social causes. This reunion is one with more common ground than most. I hope it's a grand success for all.



Just a short update on my journey through time. I live in Tacoma, WA with my wife, Bonnee. Our two sons also live in the Puget Sound area: Quinn (37), his wife & daughter (3) in Seattle; Lee (33) in Tacoma. Both Bonnee and I retired from behavioral health careers in 2012 & 2013. After 33+yrs in the field, we walked away with great respect, satisfaction, and many lifelong friends. We had settled in WA for various reasons....mountains, saltwater, and Bonnee's side of the family lived here. A great place to raise a family. It turned out to also be a place of progressive, challenging, stimulating colleagues…an easy place to lean left.



Our IL friends and family are fewer with each passing yr. Dad passed away in 2007; Mom in 2015. Three of my 4 siblings still live in IL, none in Decatur. My older sister lives just outside of Tacoma, WA. I'm organizing a "cousin" reunion here in Aug, so will get to reconnect with some family then. There's also a small, strong network of college friends that we still see who live in the SIU area near Carbondale. I've had recent contact with a few of our HS graduating class when we all met in Tucson (Moe & Carla Wilcox, Steve Whitfill, Steve Pellegrini, Dave Wortman). I would enjoy seeing others….maybe next yr.


Classreport.org provides free Class Websites for every graduating class of every high school with free access for all.
We are one of the premier social networking sites dating back to 2003. We are a small, family-owned business and yet freely host over a million class websites. Our Story
Classreport holds a special place in the hearts of our users: Bravos.
Class Support Status

Our Class Site is Fully Funded!
Additional contributions are welcome and will be used to provide support for the larger Classreport community.
CLICK HERE TO LEARN MORE
Class Directory

Where in the world are you? Stats
Recent Profile Updates
| | |
| --- | --- |
| | Nov 15 |
| | Nov 15 |
| | Aug 19 |
| | Jun 26 |
| | Jun 26 |
| | Jun 12 |
| | Jun 11 |
| | Jun 11 |
Class Poll
There is no Active Poll
at this time.
Visit Other Classes
The Office
(Admin use only)
If you have any questions or comments regarding this website, please contact:

Class Administrator
Charles Force

Would you like a sneak peek at a
non-functioning view of The Office?

This class reunion website is a complementary addition to your existing alumni resources.
It is a product of Classreport, Inc. and may not be affiliated with Stephen Decatur High School or its alumni association.

Does your High School Class have a full-featured Alumni Website? Start One Now!
(Or start one for your Mother, Father, Sister, Brother, Spouse, Son, Daughter, Friend . . .)



"Just discovered your product today while trying to locate classmates ahead of our 50th reunion in 2020. The fact that you did this in a noncommercial manner in a world where everything has a price tag deserves recognition and respect, in my view. Thank you and good luck in all your endeavors." 5/5/2018


"THANKYOU so much for handling this for us! We are so appreciative! It looks GREAT!" 5/2/2018


"Thank YOU for helping us get the word out! I've posted a link to the website on our FB group page and vigorously encouraged other classmates to contribute" 4/27/2018


"Your site is amazing. Kudos to you and your staff. You have benefitted so many high school alumni in organizing their class reunions." 10/4/2017


"Thanks to classreport.org our class website played a huge part in the success of our Reunion. We greatly appreciate your wonderful support." 10/3/2017


"Thanks for all your hard work and ingenious spirit." 9/25/2017


"Thanks guys, you are Good!!" 9/23/2017


"I love your service and will continue to support you." 9/14/2017


"We have been using the website for more than 10 years now. It's still the best website out there for classmates to meet, collect their info and advertise their reunions. Thanks for inventing it all!" 9/11/2017


"Thank you for your assistance. It was very helpful. Looks good!" 9/5/2017



More bravos at: www.classreport.org/bravos




16th Anniversary!
There are no fees required for participation on this site.
Please support this site with your voluntary contributions.
We cannot provide this service without your support. Thank You!
Please read Our Story
ClassTraQ 11.003 Software Copyright © 2003 - 2017 Classreport, Inc. All Rights Reserved e1 amsc: 1