Please Support Our Class Website in 2019. Can you chip in today?
All contributions will be DOUBLED through March 31!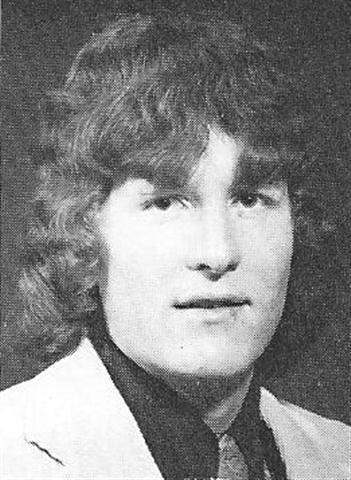 Mark King - Located the Fountain of Youth


This site is to be operated by members of our class.
We need a Class Administrator.
CLICK HERE TO LEARN MORE OR TO VOLUNTEER

Page Hits: 4,679




Class News

3/1/2009
Invitations Are Sent - Please Respond & Pay!
You have responsibilities for the 35th year reunion of Indianola High School's Class of 1974! We're finalizing reservations, menus, etc., and need you to RSVP to Lea Wood Jamison whethe . . . Continued

2/7/2009
HELP Us Locate Missing Classmates!
Please go to "Missing" to identify these missing classmates, for whom we have no valid addresses or emails. If you know the whereabouts of any of these people (and assuming you'd like t . . . Continued

1/22/2009
In Memory of Donna Robbins
Sadly, our classmate Donna Robbins (52) passed away January 14th, 2009 at her home in rural Dallas, Iowa. She is survived by her daughter, Nikki Robinson of New Sharon, parents, Bud and . . . Continued


Today's Featured Biography
Chuck Davey
Biography
As of Jan. 2017
Where have I been? What have I done? After IHS graduation, I thought I wanted to work at the Firestone Tire & Rubber plant in Des Moines. After all, my dad, grandpa, and uncles all worked there. So I did. In 1975 I joined the Indianola Fire Department. I kind of liked this and helping people seemed to be what I really enjoyed. I thought I would never go back to school, but in 1978, I enrolled in EMT school. I also met and married my wife Sally. She was a 911 dispatcher and told me where to go on emergencies. Now 36 years later, she's still telling me where to go! Anyway, 4 years of Firestone, the same thing day in and day out was enough. In 1978 I landed a job with the State of Iowa as an Airport Firefighter at the Des Moines Airport. This was the ticket. 24 hours on duty and 48 hour off was an awesome schedule. That gave me 48 hours to do what I loved doing the most, helping the people of Indianola. I began splitting my off time between IFD and Warren County Ambulance. To skip forward a couple of years, 1980 a daughter Kari entered the picture then in 1982, a son Eric and 1985 another son Curtis.
In 1987 I again returned to school. This time it was Mercy College of Health Sciences. In 1988 I graduated as a Paramedic. I was blessed to progress through the ranks of IFD. I served in several different capacities; firefighter, medic, Rescue Captain, Deputy Chief, Assistant Chief and Interim Fire Chief. I was the department's first salaried part-time employee. I served as EMS Service Director. I was responsible for everything from staff, budget, training, equipment purchasing, answering calls for emergencies and most importantly, a thorn in the City Manager's side. I have never been one to play politics. I pretty much called it as I saw it. I had the opportunity to take the City Manager and City Council head on to achieve the goal hiring the first 6 full-time firefighter / paramedics. This was the first time the city had guaranteed people to answer emergency calls without the delay in responding from home. The citizens of Indianola were awesome. They recognized the need as well and supported our efforts by filling the city council chambers.
My career as an airport firefighter changed in 1993. I was promoted to Assistant Chief. I now had the responsibility to hire, fire, lead and supervise my shift of firefighters. I have filled the role as fire chief during my boss's military deployments to the Middle East. In 2000, after 25 years of service to the City of Indianola, I retired. It was just too much fire department. 23 years of working both fire departments everyday takes a toll. I quickly became bored on my 2 days off from the airport. I began driving tour buses for Windstar Lines. I love it! I traveled all over the state or where ever I could go and get back in time to work at the Airport. There were a few times each year I would take some time off the airport to take a longer bus trips. I have traveled all over the USA and Canada. I transport everything from school kids on school trips; college sports teams, Buc's Hockey, Chop's Hockey, DSM Menace Soccer, NASCAR trips, Over 55 Groups to Branson, to Presidential Candidates and staff.
Now for the fun stuff! Working for the State of Iowa as an Assistant Fire Chief came with the possibility of retiring at the age of 55. So in 2010 I began to thinking of what it was we would like to do when I retired. Two of our three kids and grandkids lived in Missouri and we wanted to be closer but not to close.
By doing bus trips I was able to see a lot of country. My trips to the Branson, MO area were always great with the Ozark Mountains, winters that were much warmer than Iowa. So we put a for sale by owner sign in the front yard of our acreage. We had many calls and people interested in it but no offers to buy. Keep in mind this was right in the middle of the housing market crash. So we decided to just keep the sign in our yard. My retirement date of August 18, 2011 was set. As this date got closer we decided we would just stay in Indianola until our house sold. Well Retirement Day was here. The Iowa Air National Guard did something for me that they had never done for a civilian employee. I was presented the State of Iowa Medal for Meritorious Service. I was very moved by this gesture. Additionally I was offered a ride in the back seat of an F-16 Fighter Jet. They didn't have to ask twice. I have ridden a lot of roller coasters in my day but this ride was the ultimate roller coaster. We did an unrestricted take-off from the Des Moines Airport and climbed straight up to 18,000 feet. OMG what a rush. Then we flew to northwest Iowa over the Carroll area where the Air Force controls the air space. That's where the real fun began. Rolls, loops, dives, we did them all. I became a member of the Nine G club that day. I was also given the opportunity to fly the plane. I was doing loops and rolls. After a 1 ½ hours we headed back to Des Moines but on the way back we flew over Indianola and the Iowa State Fair. Then one last high speed, low pass over the airport with one last hard climb and roll we landed safely and without losing my lunch. What was to come next was not expected. In the Air Force when a pilot fly's the last mission, a call is made to the fire department to do a pilot wash down. So when we parked, there was the fire department just waiting to soak the boss down, which they did when I got out of the plane. Later that day as I was spending some quality time with my guys, I received a phone call. It was a family who had looked at our house months earlier and wanted to make an offer on the house. The offer was right where it needed to be and we accepted. House Sold!
We began to look online at houses in the Branson area, made a trip to the Kimberling City area and bought our retirement home. I must say, God is good! The plans for my retirement fell into place. We made the move to Kimberling City, MO just two blocks off Table Rock Lake. I still drive tour buses for Windstar but only when a group specifically requests me and if I want to. We have have found a church home and I still play bass guitar with the worship team. I also occasionally play with other groups in and around the Branson area. So in closing, we have been truly blessed! We are enjoying everything the Branson and the Table Rock area has to offer and always look forward to visits from our friends back home.



Classreport.org provides free Class Websites for every graduating class of every high school with free access for all.
We are one of the premier social networking sites dating back to 2003. We are a small, family-owned business and yet freely host over a million class websites. Our Story
Classreport holds a special place in the hearts of our users: Bravos.
Class Support Status

OUR CLASS SITE IS FUNDED THROUGH
February 2019
---
This site is funded by our
Voluntary Contributions

Click Here to Chip In


Class Directory

Where in the world are you? Stats
Recent Profile Updates
| | |
| --- | --- |
| | Feb 26 |
| | Mar 14 |
| | Feb 24 |
| | Jan 10 |
| | Jun 8 |
| | May 23 |
| | Mar 5 |
| | May 11 |
Class Poll
There is no Active Poll
at this time.
Featured Links
There are no Featured Links
at this time.
Recent Reviews
There are no reviews on file
at this time.
This area is for comments on
books, movies, music,
restaurants, etc.
Visit Other Classes
The Office
(Admin use only)
If you have any questions or comments regarding this website, please contact:

Class Administrator
We Need a Volunteer

Would you like a sneak peek at a
non-functioning view of The Office?

This class reunion website is a complementary addition to your existing alumni resources.
It is a product of Classreport, Inc. and may not be affiliated with Indianola High School or its alumni association.

Does your High School Class have a full-featured Alumni Website? Start One Now!
(Or start one for your Mother, Father, Sister, Brother, Spouse, Son, Daughter, Friend . . .)



"Just discovered your product today while trying to locate classmates ahead of our 50th reunion in 2020. The fact that you did this in a noncommercial manner in a world where everything has a price tag deserves recognition and respect, in my view. Thank you and good luck in all your endeavors." 5/5/2018


"THANKYOU so much for handling this for us! We are so appreciative! It looks GREAT!" 5/2/2018


"Thank YOU for helping us get the word out! I've posted a link to the website on our FB group page and vigorously encouraged other classmates to contribute" 4/27/2018


"Your site is amazing. Kudos to you and your staff. You have benefitted so many high school alumni in organizing their class reunions." 10/4/2017


"Thanks to classreport.org our class website played a huge part in the success of our Reunion. We greatly appreciate your wonderful support." 10/3/2017


"Thanks for all your hard work and ingenious spirit." 9/25/2017


"Thanks guys, you are Good!!" 9/23/2017


"I love your service and will continue to support you." 9/14/2017


"We have been using the website for more than 10 years now. It's still the best website out there for classmates to meet, collect their info and advertise their reunions. Thanks for inventing it all!" 9/11/2017


"Thank you for your assistance. It was very helpful. Looks good!" 9/5/2017



More bravos at: www.classreport.org/bravos




16th Anniversary!
There are no fees required for participation on this site.
Please support this site with your voluntary contributions.
We cannot provide this service without your support. Thank You!
Please read Our Story
ClassTraQ 11.003 Software Copyright � 2003 - 2017 Classreport, Inc. All Rights Reserved e0 amsc: 1