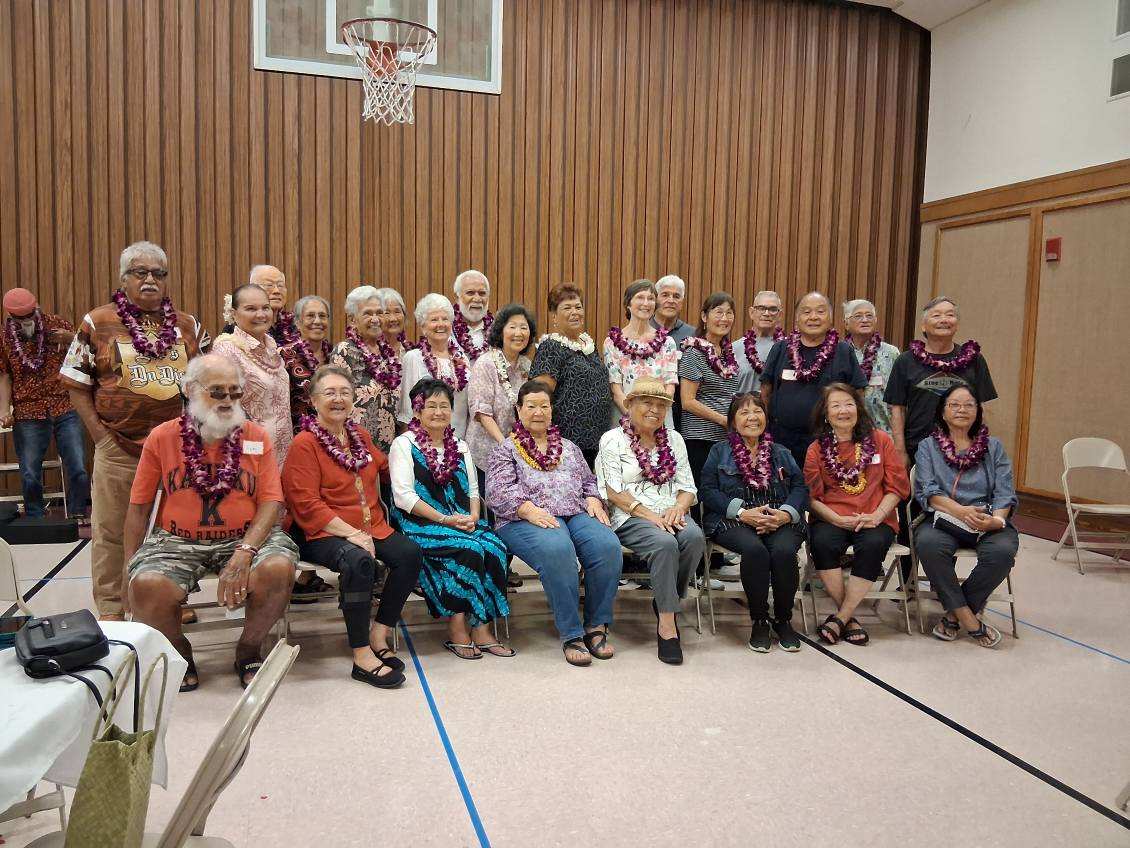 This site is operated and funded by members of our class.
Class Administrator: Barbara Kanda Leu
Page Hits: 7,458


---
Event Announcement!
---
Celebrating the Year of the Dog
- 11:00 am
Pounder's Restaurant; PCC/Laie, HI
For those of us "baby boomers" who were born in 1946, we were born in the Year of the Dog, according to the Chinese Zodiac. There are 12 animals that make up the Chinese Zodiac so our year comes around every 12 years. 2018 is the Year of the Dog. For those who live to see another Year of the Dog, that will take place in 2030!!!

We thought it would be great fun to hold an informal luncheon at Pounder's Restaurant in Laie. We are hoping that you'll be able to join us in this fun celebration. There's lots of parking in the PCC parking lot, just in front of the restaurant.

Keep an eye out for more information ..... like the date and cost.

In the meantime, we wish you all a safe, joyous, peaceful, and prosperous new year!!!


Info on Year of the Dog: 1946ers are "fire" dogs. We are intelligent, hardworking and sincere. Our lucky numbers are: 3,4,9. Lucky colors are: red, green, purple. Our lucky flowers are: rose, cymbidium orchids.

Dogs are loyal and honest, amiable and kind, cautious and prudent. Due to having a strong sense of loyalty and sincerity, Dogs will do everything for the person who they think is most important.
As Dogs are not good at communication, it is difficult for them to convey their thoughts to others. Therefore, Dogs tend to leave others with the impression that they have a stubborn personality.
Born with a good nature, Dogs do not tend to be criminals or seek dishonest gains. They just need a quiet life and a good family and, therefore, forget the ugliness and evil on Earth.
Dogs are always ready to help others and do not care about their own interests, but if they find themselves betrayed by cunning people they will feel shocked and hurt.
When thrown into doubt, Dogs think the world is evil and complicated. Then they criticize sharply when giving comments on something, and infer all things are according to their pessimistic point of view.

For more info on the Year of the Dog: https://www.chinahighlights.com/travelguide/chinese-zodiac/dog.htm

Event Contact: Barb Leu
Make Checks Payable To: KHS Class of '64
Mail Payment To: Evie Perry
---
Class News

11/26/2016
Ingie
Just received word that Lohengrin "Ingie" Nahoopii passed away in his sleep over night, Nov. 26, 2016. His jokes and hearty laughter will be missed by his family and friends. Rest in peace, . . . Continued

7/24/2016
Margie Fernandez
Sadly, this "class news" section seem always to announce sad news. We bid farewell to Margie who passed away in May. We remember that infectious smile and her fun attitude. We were so hap . . . Continued

2/22/2016
Prayers for the Fermantez Family
Herbert Fermantez and family are mourning the loss of their 42 year old daughter-in-law, Marsha, who passed away last month from lung cancer. She ran a successful hula halau in Japan. Plea . . . Continued


Today's Featured Biography
Once upon a time a naive young girl left Kahuku to go to Duke U. After a really shy time there, I got married to husband #1, worked in a library while he graduated from law school, lived communally with friends of his in Charlottesville, VA, and was a frequent political activist in Washington a few hours away. I had the honor of having a heat stroke while holding a vigil with the Quakers in front of the White House. After he graduated we moved to Louisville, KY, where he ran off with a lesbian lady (hey, it was the '70s!). I got a "real job" with the state in a women's prison, got fired for sympathizing with the prisoners, got married again to someone who ended up on drugs, got divorced again! My younger brother Pete was diagnosed with leukemia in 1978 and I was focused on supporting him until he died in 1980, then brought his wife back to Louisville with me. We remain very close. By then I was working for community social services for the state. In 1984 I was in a steady relationship and working in juvenile services for the state chasing teenagers around town, when I found I was pregnant at age 38. It was the very happiest thing! Her dad and I married; after she was born I was hired by an agency that provided therapy for families with incest and physical abuse issues and worked there for 12 years. My daughter was a hoot from the start and remains the highlight of my life. We three lived on 5 acres outside Louisville and I indulged a lifelong interest in organic gardening and wildflower gardening, while maintaining my hibiscus and plumeria plants on the deck. In 2000 several things happened: my father died after years of smoking those cigarettes, and my husband and I split. I was working in the state mental hospital at that time, and went from there to the state forensic mental health center (doing pretrial competency and criminal responsibility evaluations). I retired from there in 2005, after trying to juggle work and daughter with the needs of my mother who lives in North Carolina. In 2005 she was diagnosed with Alzheimer's and was living with my youngest brother Mark who was quite abusive to her. I got her to my home, and after a time I was unable to provide enough supervision to keep her safe. Her sister was still in her home and subject to my brother's abusive behavior, so we placed them together in assisted living. She has adjusted to that setting very well after a tough beginning. I'm her guardian so much of my time is spent with her paperwork. I am back to work full time in community mental health after working part time in emergency psychiatric services for 2 years. My primary clientele is children under 6 who have been abused one way or another. I am on the floor all day long! Covered with paint, playing games, collecting toys, teaching yoga stretches and guided imagery, singing and dancing. And they pay me for this! My daughter works for our congressman, a really good guy, in Washington, DC. She spent a year in France and I visited her there for several weeks a few years ago, and on her graduation we camped through the west for 3 weeks, fell in love with so many places, and fell in love again with camping. I live in a little place now and have my organic garden, wildflowers, and magical kingdom in the back yard. Wish I could grow more tropicals to keep my eyes and nose in touch with Hawaii!


Classreport.org provides free Class Websites for every graduating class of every high school with free access for all.
We are one of the premier social networking sites dating back to 2003. We are a small, family-owned business and yet freely host over a million class websites. Our Story
Classreport holds a special place in the hearts of our users: Bravos.
Class Support Status

Our Class Site is Fully Funded!
Additional contributions are welcome and will be used to provide support for the larger Classreport community.
CLICK HERE TO LEARN MORE
Class Directory

Where in the world are you? Stats
Recent Profile Updates
| | |
| --- | --- |
| | Sep 21 |
| | Feb 6 |
| | Sep 25 |
| | Sep 25 |
| | Jun 19 |
| | Feb 17 |
| | Jun 29 |
| | Jan 4 |
U.S. Armed Forces
Active and Veterans

Please update your profile to be
included in this section.

0 from Our Class

6 from Our School

Class Poll
There is no Active Poll
at this time.
Featured Links
There are no Featured Links
at this time.
Recent Reviews
There are no reviews on file
at this time.
This area is for comments on
books, movies, music,
restaurants, etc.
Visit Other Classes
The Office
(Admin use only)
If you have any questions or comments regarding this website, please contact:

Class Administrator
Barbara Kanda Leu

Would you like a sneak peek at a
non-functioning view of The Office?

This class reunion website is a complementary addition to your existing alumni resources.
It is a product of Classreport, Inc. and may not be affiliated with Kahuku High School or its alumni association.

Does your High School Class have a full-featured Alumni Website? Start One Now!
(Or start one for your Mother, Father, Sister, Brother, Spouse, Son, Daughter, Friend . . .)



"Just discovered your product today while trying to locate classmates ahead of our 50th reunion in 2020. The fact that you did this in a noncommercial manner in a world where everything has a price tag deserves recognition and respect, in my view. Thank you and good luck in all your endeavors." 5/5/2018


"THANKYOU so much for handling this for us! We are so appreciative! It looks GREAT!" 5/2/2018


"Thank YOU for helping us get the word out! I've posted a link to the website on our FB group page and vigorously encouraged other classmates to contribute" 4/27/2018


"Your site is amazing. Kudos to you and your staff. You have benefitted so many high school alumni in organizing their class reunions." 10/4/2017


"Thanks to classreport.org our class website played a huge part in the success of our Reunion. We greatly appreciate your wonderful support." 10/3/2017


"Thanks for all your hard work and ingenious spirit." 9/25/2017


"Thanks guys, you are Good!!" 9/23/2017


"I love your service and will continue to support you." 9/14/2017


"We have been using the website for more than 10 years now. It's still the best website out there for classmates to meet, collect their info and advertise their reunions. Thanks for inventing it all!" 9/11/2017


"Thank you for your assistance. It was very helpful. Looks good!" 9/5/2017



More bravos at: www.classreport.org/bravos




16th Anniversary!
There are no fees required for participation on this site.
Please support this site with your voluntary contributions.
We cannot provide this service without your support. Thank You!
Please read Our Story
ClassTraQ 11.003 Software Copyright © 2003 - 2017 Classreport, Inc. All Rights Reserved e1 amsc: 1