Please Support Our Class Website in 2018. Can you chip in today?
All contributions will be DOUBLED through November 30!



This site is operated and funded by members of our class.
Class Administrator: Timothy Allen
Page Hits: 15,573


Our Class Message Board
Your participation is requested!
We would like to hear from you. Post your messages here.

ADD NEW VIEW ALL

Indicates an included photo
| | |
| --- | --- |
| Good Times | Doug Achterberg |
| Tim, You and your staff did a great job | Wed 12/5/2007 1:12 PM |
| 77 Pirates | Gene Tafoya |
| Tim, this was a great event, Marylou and | Sun 10/28/2007 10:04 PM |
| Missed Opportunities... | Kevin Aguilar-Ferrari |
| Tim, From the comments and the photos, | Tue 10/23/2007 10:56 PM |
| We are blessed! | Cheryl Powell |
| Tim, You organized a wonderful event! I | Mon 10/22/2007 9:12 PM |
| Thanks for the Memories.... | Tommy D |
| I knew you could do it Tim! What a GREA | Mon 10/22/2007 9:09 PM |
| Wonderful time! | Jennice Puckett Acosta |
| My comments are the same as the others t | Mon 10/22/2007 4:42 PM |
| Message | Maryann LaMacchia Rhoe |
| It was great to see everyone Saturday ni | Mon 10/22/2007 2:47 PM |
| Message | Marie Enea Pekari |
| Wow, what a night. My husband and I had | Mon 10/22/2007 1:56 PM |
| Message | George Navarro |
| TO MY '77 CLASSMATES, Thanks for great | Mon 10/22/2007 12:37 PM |
| Who knew it would be so good?!! | Michael Cronan |
| Hey everyone - I thought is was going to | Mon 10/22/2007 1:11 AM |
| Truly Memorable Night! | Sara Bruno Jones |
| Ditto to everything John J. states about | Sun 10/21/2007 5:01 PM |
| Message | John J. Siino III |
| Tim, Thank you for an incredible experi | Sun 10/21/2007 10:21 AM |
| CURRENT PHOTOS | Tim allen |
| Send me your current photos (we all look | Mon 7/16/2007 10:58 PM |
| Message | Tim Allen (925) 698-4338 |
| I really need help in Trying to locate a | Fri 6/8/2007 10:24 PM |
Today's Featured Biography
10/1/2012 - To be updated

Ok, enough of this procrastinating, here I go… After graduating from PHS, I went to California State University, Sacramento, where I earned my Bachelor of Science Degree in Business Administration and a Minor in Communication Studies. I met my Prince Charming in College and have bee happily married for 25 years. The fact that he continues to spoil and treat me like a Princess may have something to do with it.

After graduating from college, I worked for Union Oil Corporation in San Francisco as a Customer Service Rep for two years. During this time I had my first son, Nicolas, who is now 23. He lives in Walnut Creek with his beautiful and pregnant wife (Heather) and works as a Quality Control Specialist for an Aggregate Company in Sunol. Their baby and my grandchild (that sounds so weird)to come (It's a boy!) will be named Ender Nicolas Jones. For those of you who are into Orson C. Scott, you'll know where the first name came from.

I quit my job when Nick was born and later came to work for John Muir Medical Hospital in Walnut Creek as a Network Administrator in the IT Department. Two years later, I had another son, Wyatt, who is 20. He is a Jazz Musician and is going to College in Arizona. He plans on finishing up his Education at UC Berkeley to earn a degree in Music and Business Administration. (and he's not even a Liberal).

My husband and I also have technical staffing agency which he runs. If your company needs good, reliable and hard working IT people, come to us. We'll give you a great deal!

My hobbies and interests in life (besides spending time with my husband, sons, daughter-in-law and soon to be grandson), include traveling, running charity races, yoga, cooking, the Theatre, SF and my IPOD.

My future goals in life include staying healthy, taking more College Ed classes, catching up with good reading, volunteer service, writing a book (which I have already started, unfortunately I really can't disclose the subject matter but don't worry, none of you will be in it) and when I turn 50, I'm buying myself a VESPA. I'm not quite sure where I'll ride it but I'm sure I'll need a "picker upper" if I'm fortunate enough to make it to that age.

Oh,one more thing for the future, seeing John J. perform as Steve Perry (I just bought my tickets for Slims in November)

I have two dogs, Zena, who is a Charpee and Shepherd mix, and Mickey, a Puggle (Beagle/Pug mix). They follow me wherever I go and around the house like little "puppy dogs" (no pun intended). They are SPOILED!

I really appreciate those classmates who developed this great Web site and Tim, for putting this future event together. I'm looking forward to seeing the greatest Graduating Class of PHS in a couple of weeks. Be safe, be yourself and I'll see you all there!

Sara



Family News Summary
Enter your Family News Item choosing from our pre-defined categories:
Anniversary, Award, Birth, Death, Diagnosis, Engagement, Graduation, Lottery, Retirement, Vacation, Wedding, Other.
There is no Family News on file
at this time.
Calendar
There are no Calendar items on file
at this time.

Today's Featured Class Member Website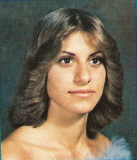 Classreport.org provides free Class Websites for every graduating class of every high school with free access for all.
We are one of the premier social networking sites dating back to 2003. We are a small, family-owned business and yet freely host over a million class websites. Our Story
Classreport holds a special place in the hearts of our users: Bravos.
Class Support Status

OUR CLASS SITE IS FUNDED THROUGH
October 2018
---
This site is funded by our
Voluntary Contributions

Click Here to Chip In


Class Directory

Where in the world are you? Stats
Recent Profile Updates
| | |
| --- | --- |
| | Nov 25 |
| | Sep 10 |
| | Feb 24 |
| | Feb 16 |
| | Feb 2 |
| | Jan 20 |
| | Apr 6 |
| | Apr 6 |
U.S. Armed Forces
Active and Veterans

Please update your profile to be
included in this section.

0 from Our Class

1 from Our School

Class Poll
There is no Active Poll
at this time.
Recent Reviews
There are no reviews on file
at this time.
This area is for comments on
books, movies, music,
restaurants, etc.
Visit Other Classes
The Office
(Admin use only)
If you have any questions or comments regarding this website, please contact:

Class Administrator
Timothy Allen

Would you like a sneak peek at a
non-functioning view of The Office?

This class reunion website is a complementary addition to your existing alumni resources.
It is a product of Classreport, Inc. and may not be affiliated with Pittsburg High School or its alumni association.

Does your High School Class have a full-featured Alumni Website? Start One Now!
(Or start one for your Mother, Father, Sister, Brother, Spouse, Son, Daughter, Friend . . .)



"Just discovered your product today while trying to locate classmates ahead of our 50th reunion in 2020. The fact that you did this in a noncommercial manner in a world where everything has a price tag deserves recognition and respect, in my view. Thank you and good luck in all your endeavors." 5/5/2018


"THANKYOU so much for handling this for us! We are so appreciative! It looks GREAT!" 5/2/2018


"Thank YOU for helping us get the word out! I've posted a link to the website on our FB group page and vigorously encouraged other classmates to contribute" 4/27/2018


"Your site is amazing. Kudos to you and your staff. You have benefitted so many high school alumni in organizing their class reunions." 10/4/2017


"Thanks to classreport.org our class website played a huge part in the success of our Reunion. We greatly appreciate your wonderful support." 10/3/2017


"Thanks for all your hard work and ingenious spirit." 9/25/2017


"Thanks guys, you are Good!!" 9/23/2017


"I love your service and will continue to support you." 9/14/2017


"We have been using the website for more than 10 years now. It's still the best website out there for classmates to meet, collect their info and advertise their reunions. Thanks for inventing it all!" 9/11/2017


"Thank you for your assistance. It was very helpful. Looks good!" 9/5/2017



More bravos at: www.classreport.org/bravos




15th Anniversary!
There are no fees required for participation on this site.
Please support this site with your voluntary contributions.
We cannot provide this service without your support. Thank You!
Please read Our Story
ClassTraQ 11.003 Software Copyright © 2003 - 2017 Classreport, Inc. All Rights Reserved e0 amsc: 1