PLEASE PUT IN YOUR BIRTHDAY WHEN YOU REGISTER, AND WRITE YOUR BIOGRAPHY. OUR 55TH REUNION SEPTEMBER 14



This site is operated and funded by members of our class.
Class Administrator: Lois Hardel Donovan
Page Hits: 14,324


---
55 Year Reunion Announcement!
---
---
I WOULD LIKE TO ADD A NEW SLIDE SHOW OF PICTURES OF YOUR FAMILIES. I THINK IT ALSO WOULD BE FUN TO ADD A SLIDE SHOW OF THINGS THAT ARE HAPPENING IN YOUR LIFE, CLASSMATES THAT YOU MIGHT HAVE VISITED WITH, ETC. I FEEL IT WOULD KEEP OUR WEBSITE CURRENT.

IF YOU HAVE NAMES, I WOULD APPRECIATE GETTING THEM SO I CAN ADD IT TO THE PICTURES.


Event Contact: Lois Hardel Donovan
---
CLASS PICTURES
IF YOU HAVE PICTURES FROM OTHER REUNIONS OR GET TOGETHERS, PLEASE SCAN AND SEND THEM TO US BY EMAIL OR POSTAL SERVICE.

PLEASE SEND PICTURES - WE HAVE ALL GAINED WEIGHT, HAVE WRINKLES, LOST OUR HAIR - OK MAYBE THERE ARE ONE OR TWO WHO HAVE HAD FACE LIFTS - BUT IF I DON'T SEE WRINKLES I HAVE THIS WONDERFUL PROGRAM TO ADD THEM!!! OF COURSE YOU DON'T SEE WRINKLES ON MY FACE ON THE PICTURE BECAUSE I CAN ALSO DELETE THEM!!!! Seriously, it really makes for a more interesting website if I can get pictures.

Lois
Event Contact: Lodono1@gmail.com>
LOIS HARDEL
---
Class News

9/11/2015
Judy Arena Sackerson Member of our Reunion Committee
I am sadden to say Judy Arena Sackerson passed away on August 27, 2015. She has been a member of the "50th & 55th Reunion Committee" and will be very much missed by all Classmates. She was . . . Continued

5/22/2010
HOW TO USE THIS WEB PAGE! (INSTRUCTIONS)
How To Use This Web Sight How to use and understand this site... If you are a newcomer WELCOME!!! Here are a few hints to help you fully utilize this alumni website. 1. If . . . Continued

8/31/2009
Commitee Members
Judy Arena Sackerson, Carol McMillin Buran, Lois Hardel Donovan Caryl Manhardt Mayer, Carole Weiss Hoppe, Jean Kraehmer Wagner . . . Continued


Our Class Message Board
Your participation is requested!
We would like to hear from you. Post your messages here.

ADD NEW VIEW ALL

Indicates an included photo
| | |
| --- | --- |
| Message | Lois Hardel Donovan |
| Tom you asked how many attended the "50t | Sat 8/1/2015 1:54 PM |
| Message | Ron Kutsche |
| Missed the 50th, but glad to still be he | Tue 7/14/2015 6:22 PM |
| 50th (2010) reunion attendance | Tom Klatt |
| I may be able to attend this years 55th. | Sun 7/12/2015 2:58 PM |
| Miss Krebs/Mr. Voltz | Richard Boneske |
| Thanks, Russ. It was Mr. Voltz I had for | Wed 4/2/2014 11:13 PM |
| Miss Krebs | Russ Rutter |
| I think you are thinking of Miss Kritz, | Wed 2/5/2014 11:35 AM |
| Message | Richard Boneske |
| Miss Krebs taught other classes besides | Fri 12/7/2012 9:21 PM |
| Message | Linda Jackson Fidler |
| Enjoyed what you had to say about Miss K | Thu 12/6/2012 9:52 AM |
| CLASS REUNION BOOK??? | MARVE |
| HI LOIS-- A couple of years back I contr | Fri 11/30/2012 5:21 PM |
| Message | Russ Rutter |
| I can't do better than follow Jim Richte | Thu 11/29/2012 11:40 AM |
| Bud Truebenbach | Bud |
| News from the West Coast - November 5 20 | Mon 11/12/2012 11:17 AM |
| Message | Richard Boneske |
| Burr, You are probably right. In any ca | Sun 8/19/2012 10:45 PM |
| Recollection about classroom locations | Burr Hartman |
| Dear Dick Boneske, I recall differently. | Sun 5/20/2012 12:26 AM |
| Caesar Street | James Richter |
| My favorite high school teacher, mr. Str | Tue 1/24/2012 5:06 PM |
| Third Floor | Richard Boneske |
| Someone told me that the third floor of | Mon 8/16/2010 9:03 PM |
| PRESS ADD NEWS TO PUT NEWS ON HERE TO SOMEONE | Lois Hardel Donovan |
| PLEASE USE THIS TO TALK TO ONE ANOTHER | Sat 8/7/2010 1:39 PM |
Today's Featured Biography
50 years since graduation? Still a teen! Maybe a few more stories to live/tell...

Actually, still living in the area – Brookfield - for over 40 years.

Married to my 1st wife – Maureen - for over 40 years and am still on double secret probation. What's with that??

We have 2 children – Kirsten Lynn who resides in New Jersey and is employed by Mars Candy; and Richard, Jr. who lives in North Carolina and is a manager for Bausch and Lomb. Rick has 3 children including a 9 month old baby boy who just happens to smile a great deal – especially when I am with him. Actually, on the day he was born, I cajoled a "Grampa" out of him. Only doubters don't believe this...

I have been involved in advertising, public relations, TV and radio on-air and production, investment real estate, writing, internet ventures, t-shirt imaging/sales, and a constant search for fresh interests.

My hobbies include (or included) handball, softball, golf, biking, travel, photography, reading, writing, the internet, and a very serious quest for fun.

I admire humor, initiative, incentive, new adventures, and common and uncommon sense!

Life has been and is Good!

Practice common sense until you have it mastered!



Family News Summary
Enter your Family News Item choosing from our pre-defined categories:
Anniversary, Award, Birth, Death, Diagnosis, Engagement, Graduation, Lottery, Retirement, Vacation, Wedding, Other.
Job/Career
Retired -Regional Manager Dollar Tree; Also, worke
Posted by: Frank Anton

9/19/2015
Calendar
There are no Calendar items on file
at this time.

Today's Featured Class Member Website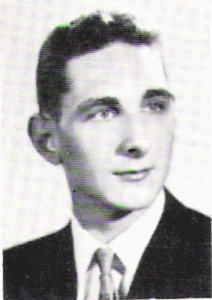 Scott and Cynthia Powers, for Nancy Brill
Classreport.org provides free Class Websites for every graduating class of every high school with free access for all.
We are one of the premier social networking sites dating back to 2003. We are a small, family-owned business and yet freely host over a million class websites. Our Story
Classreport holds a special place in the hearts of our users: Bravos.
We are funded through voluntary contributions. Can you help keep this site online for another year? Thank you for your support!
Please click here to contribute.
Class Support Status

Our Class Site is Fully Funded!
Additional contributions are welcome and will be used to provide support for the larger Classreport community.
CLICK HERE TO LEARN MORE
Class Directory

Where in the world are you? Stats
Recent Profile Updates
| | |
| --- | --- |
| | Jul 4 |
| | Apr 21 |
| | Mar 22 |
| | Feb 6 |
| | Jan 22 |
| | Jan 9 |
| | Dec 29 |
| | Dec 29 |
Recent Reviews
There are no reviews on file
at this time.
This area is for comments on
books, movies, music,
restaurants, etc.
Visit Other Classes
The Office
(Admin use only)
If you have any questions or comments regarding this website, please contact:

Class Administrator
Lois Hardel Donovan

Would you like a sneak peek at a
non-functioning view of The Office?

This class reunion website is a complementary addition to your existing alumni resources.
It is a product of Classreport, Inc. and may not be affiliated with Wauwatosa High School or its alumni association.

Does your High School Class have a full-featured Alumni Website? Start One Now!
(Or start one for your Mother, Father, Sister, Brother, Spouse, Son, Daughter, Friend . . .)



"Your site is amazing. Kudos to you and your staff. You have benefitted so many high school alumni in organizing their class reunions." 10/4/2017


"Thanks to classreport.org our class website played a huge part in the success of our Reunion. We greatly appreciate your wonderful support." 10/3/2017


"Thanks for all your hard work and ingenious spirit." 9/25/2017


"Thanks guys, you are Good!!" 9/23/2017


"I love your service and will continue to support you." 9/14/2017


"We have been using the website for more than 10 years now. It's still the best website out there for classmates to meet, collect their info and advertise their reunions. Thanks for inventing it all!" 9/11/2017


"Thank you for your assistance. It was very helpful. Looks good!" 9/5/2017


"I am so grateful I found your website. It is especially wonderful for our classmates. I will spread the word!!" 8/31/2017


"Our high school reunion was a great success and our site on ClassReport.Org was a HUGE help in that success! ClassReport.Org is by far the best platform on the Internet when it comes to high school reunions!" 8/30/2017


"Thanks for all of your help and the great web site you have. We have a great response for our upccoming reunion events in September." 8/7/2017



More bravos at: www.classreport.org/bravos




14th Anniversary!
There are no fees required for participation on this site.
Please support this site with your voluntary contributions.
We cannot provide this service without your support. Thank You!
Please read Our Story
ClassTraQ 11.003 Software Copyright © 2003 - 2017 Classreport, Inc. All Rights Reserved e1 amsc: 1