Please Support Our Class Website in 2017. Can you chip in today?
All contributions will be DOUBLED through June 30!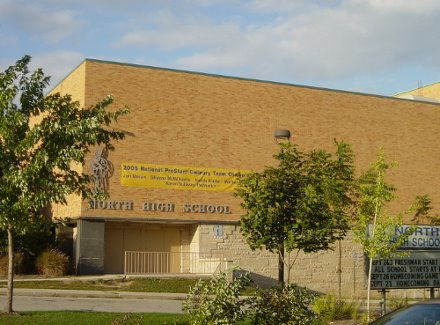 This photo can be changed by your Class Administrator.


This site is operated and funded by members of our class.
Class Administrator: David Prigge
Page Hits: 36,438


Class News

5/4/2017
Tim Drews has passed.
Sadly, another classmate has passed away. I was close to Tim in junior high. He was a character. Always on the go and huge sense of humor. Tim Patrick Drews, 56, of Akron, OH, formerly of . . . Continued

2/13/2017
Once Again We've Lost Another....Harley Harrington has passed away.
Harrington, Harley J. I entered into the Kingdom of God on February 10, 2017 after a short battle with Esophageal Cancer. I was born into this world on March 30, 1961, the only son of . . . Continued

1/22/2017
Sarah Michels Orkowski needs your support!
Our classmate Sarah Michels Orkowski is fighting for her life. She needs your prayers, love and support. Even if it is a prayer or some positive vibes, I'm sure her family would appreciate i . . . Continued


Today's Featured Biography
(revised) After graduating from UW-Madison in '83, I canceled my second Peace Corp interview and took a similar job as a first and second grade teacher in Brevig Mission, Alaska, just south of the Arctic Circle, and just west of Russia (I don't think Palin has really seen it, but I have). After two years I left the region with Annie. We were married in Sheboygan after a year of her going to MATC, and me traveling the country with the UW Ultimate Frisbee team. We left Alaska for a total of five winters (the local measurement of time and durability) as my wife earned her elementary ed degree. I spent the the last four years of that span as a ski instructor and bike tour guide in Vermont, and whitewater canoe guide for Outward Bound in Maine. The two of us returned to Alaska in 1991, and have been here every winter since. I have taught first grade, sixth grade, and high school Algebra 1 and geometry (I know Mr. Olson would flip over that news), and my wife has her dream job developing a program as the Cultural Studies teacher. /// I've enjoyed many Alaskan adventures from Barrow to Ketchikan, including running a 150-mile race with my dog team, being a wilderness guide for kayaking in Glacier Bay National Park, numerous hair raising grizzly, black, and polar bear encounters, hitchhiking the Alaska highway with a pair of fellas that turned out to be fugitives of the law, climbing Mt. McKinley (with Dave Griffiths in 1989), and traveling across the Root Glacier in 50-mph winds with Matt Bogenschultz last summer. My wife and I have two beautiful, adopted children - Emerson and Mallory. Our favorite thing to do is to skijor with our Iditarod sled dogs. My wife and I were fortunate to travel to Dallas for the Super Bowl to see the Packers win!!


THE NEXT CHAPTER. Don't go to the Bahamas!! I returned from an extended trip there last summer (where the surfing was amazing, by the way) vowing to leave the "grind-it-out" world of everyday work. I had to wait a year, as I had the wonderful opportunity of having my daughter in my class this year, but I just retired. Yeehaa. I look forward to homeschooling Mallory through her junior high years, doing more freelance writing, and getting into real estate. I am also happyt to be on my fifth year as an EMT with the local volunteer ambulance service. The 235 days a year I am not on skis, I am getting ready for the upcoming ski season. Emerson ended his high school ski and biathlon career as 5-time rural state champion, and twice qualified and competed internationally at the Arctic Winter Games. 12-year-old Mallory already has regional ski and biathlon championships under her belt, and is nipping at the heals of the older, and much taller, girls at the state level. Thanks to Dave P. for all his hard work. Greetings and Happy Trails to all. Come visit!!!!!!


You can view and post photos to this Class Photo Page
If you have a shutterfly account, you can log in and upload your own to share. If you don't have an account, it is simple and free to set one up or email your pics to me and I will upload them!
nhs1979@gmail.com
Classreport.org provides free Class Websites for every graduating class of every high school with free access for all.
We are one of the premier social networking sites dating back to 2003. We are a small, family-owned business and yet freely host over a million class websites.
Classreport holds a special place in the hearts of our users: Bravos.
We are funded solely through your voluntary contributions. Can you help us keep this site online and ad-free for another year? Thank you for your support!
Please click here to contribute.
No Ads, No Spam, No Pop-ups, No Fees.
Class Support Status

OUR CLASS SITE IS FUNDED THROUGH
June 2017
---
This site is funded by our
Voluntary Contributions


Class Directory

Where in the world are you? Stats
Recent Profile Updates
| | |
| --- | --- |
| | May 4 |
| | Apr 9 |
| | Apr 3 |
| | Mar 22 |
| | Feb 13 |
| | Jan 12 |
| | Jan 1 |
| | Dec 21 |
U.S. Armed Forces
Active and Veterans

Please update your profile to be
included in this section.

0 from Our Class

5 from Our School

Class Poll
There is no Active Poll
at this time.
Recent Reviews
Restaurant
The Cedars

Rev by: Scott Duening
Book
The Shack
Wm P Young
Rev by: Tim Uphoff
Visit Other Classes
The Office
(Admin use only)
If you have any questions or comments regarding this website, please contact:

Class Administrator
David Prigge

Would you like a sneak peek at a
non-functioning view of The Office?

This class reunion website is a complementary addition to your existing alumni resources.
It is a product of Classreport, Inc. and may not be affiliated with North High School or its alumni association.

Does your High School Class have a full-featured Alumni Website? Start One Now!
(Or start one for your Mother, Father, Sister, Brother, Spouse, Son, Daughter, Friend . . .)



"Ttanks for your support. I was able to get the correct document uploaded. Your site is amazing." 2/9/2017


"You have done a GREAT job with this site. I will be telling our class to update their profiles." 2/8/2017


"My class appreciates your organization more than I can say. THANK YOU." 2/8/2017


"Many thanks for the news update about our class. The site is really looking great!" 2/6/2017


"Thanks for all you do for us!" 1/13/2017


"I enjoy reading the website." 12/27/2016


"You have a great web site - Thank you!" 12/24/2016


"Thank you for having such a wonderful site. Our class appreciates your continuing work." 11/24/2016


"We are glad that you all maintain this web site. We think our site is a really good site and want to keep it running." 11/23/2016


"Great Stuff!!! Thank you." 11/23/2016



More bravos at: www.classreport.org/bravos




14th Anniversary!

Search All Schools Best Classes Reunions Features Setup Your Class FAQ Funding Our Story Support Support Privacy Policy We DO NOT sell advertising to support this site. We DO NOT sell names and addresses to third parties.
There are NO POP-UP ads. There are no registration fees required for participation.
Please support this site with your voluntary contributions.
We cannot provide this service without your support. Thank You! Read Our Story

ClassTraQ 11.003 Software Copyright © 2003 - 2017 Classreport, Inc. All Rights Reserved e1
amsc: 1