No Ads. No Spam. No Pop-Ups. No Fees. Read Our Story.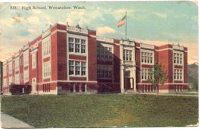 45th Class Reunion


This site is operated and funded by members of our class.
Class Administrator: Mike Cattin
Page Hits: 23,022


50 Year Reunion Announcement!
---
Panther Prowl
Wednesday, June 21, 2017
Wenatchee Avenue
No Cost
Cruise the Ave. Drive through the old Artic Circle and Vic's sites. Burgers at Dusty's.

Classic/Older vehicles if you have them, Purple and Gold Streamers, WHS '67 signage.
---
Elementary School Reunion Picnic
Thursday, June 22, 2017 - 11:00 am
Rotary Park. Corner of Western Ave and Mulberry Lane
Hosted by your Reunion Committee and Sponsors
Come reunite with your classmates from Elementary School(s). Signs for each school. Non Alcohol Event.
---
Class of '67 Golf Putting Tournament
Thursday, June 22, 2017 - 3:00 pm
Highlander Golf Course, 2920 8th Street SE | East Wenatchee
TBD
This tournament is open to everyone. Experienced golfers or duffers. Classmate and their guests are welcome. The costs are yet to be determined but it will be very affordable. Putters will be provided.

We will meet after the tournament to share stories and have refreshments. This is bound to be a lot of fun.
---
Hiking Saddlerock
Friday, June 23, 2017 - 9:30 am
Circle St Parking Lot
No Cost
A Wenatchee landmark, Saddle Rock with its weathered rock towers and surrounding wild lands is both wonderfully scenic and ridiculously close to town.
This hike is rated at a skill level 2 and a fitness level 2. You don't have to climb clear to the top to see some incredible views of the Wenatchee Valley. The hike is 2.7 miles with an elevation gain of about 900 ft.

---
Lady of the Lake Cruise
Friday, June 23, 2017 - 3:30 pm
Lake Chelan
TBD expect the $30 range
Please Note: This event will be limited to 60 guests.

Transportation will be provided to and from Wenatchee. Your registration will include transportation, a 2.5 hour cruise of Lake Chelan on the Lady of the Lake Express and refreshments.

Those of you that went on the 60th Birthday party cruise no how much fun this was.....

We should be back in Wenatchee by 8:30 in time to meet up with other classmates for informal gatherings.


---
Walk/Bike the Apple Capital Loop Trail. Panther Prowl at the Owl
Saturday, June 24, 2017 - 9:00 am
No Cost
Come join us for a walk of the Apple Capital Loop Trail. We will walk the trail north from Pybus Public Market and return to cross the foot bridge for a short 2 blocks to meet at the Owl Soda Fountain at approximately 10:30. Those that decide not walk are welcome to join us at the Owl.

The Owl Soda Fountain is located at the corner of 1st St. and Wenatchee Ave.
---
Reunion Dinner
Saturday, June 24, 2017 - 6:00 pm
Event Center Pybus Public Market, 7 N. Worthen, Wenatchee, WA
TBD expect the $25 range
The Dinner will be a catered affair.
Costs for the dinner are yet to be determined. Most probably in the $25 range. The bar will be a BYOB.

We will have a short program.

We will be sending out a registration letter for all the planned events in February or early March.
We are making every effort to make the weekend affordable.

We will be hosting several Faculty members that were at WHS during our years.

Your Reunion Committee
---
Farewell Breakfast at Pybus Public Market
Sunday, June 25, 2017 - 9:00 am
Event Center Pybus Public Market, 7 N. Worthen, Wenatchee, WA
TBD
Please join us for a Farewell Breakfast at Pybus. Head home with a full stomach and a heart full of joy from seeing old friends.
---
50 Year Reunion Announcement!
---
Special Hotel Rate
Coast Wenatchee Center Hotel
Arrangements have been made with the Coast Wenatchee Center Hotel for a special guest rate.

The room rate is $119.00 +tax. You need to say that you are a member of the Wenatchee High Class of '67 to get the rate.

The Hotel is located downtown at 201 N Wenatchee Ave. The phone number is 509.662.1234


---
Class News

12/15/2016
Passing of Tom VanDeMark - December 5, 2016
Tom's Obituary as posted in the Seattle Times. Thomas Jay Vandemark Born September 30, 1948 in Chelan, Washington and passed December 5th, 2016. Leaves wife of almost 20 years, Sarah Bea . . . Continued

11/29/2016
Passing of Richard "Hunt" Nickell
I apologize for the delay in the posting of the passing of Richard "Hunt" Nickell. Here is obituary that was printed in the Wenatchee World. Richard Hunter Nickell September 30, 1949 ~ . . . Continued

11/10/2016
The passing of Dick Whitely
Saddened to report the passing of Dick Whitley on November 09,2016. The following was posted by his wife Susan on Dick's Facebook page. Because Dick Whitely accepted Jesus Christ as his . . . Continued


Today's Featured Biography
I retired from Central Washington Hospital as the Clinical Nutrition Manager in 1999, on the same day Mitch retired from Chelan Co. Working as a Registered Dietitian was a wonderful chapter of my life, but this one is even better.
We live in Wenatchee but have a place in Elk City, Idaho as well. Being a remote and sparsely populated area, it is ideal for snowmobiling in the winter and riding four wheelers and motorcycles on the vast trail system in the warmer months. There are elk, deer, moose, and turkeys grazing in our yard throughout the year. In the fall we enjoy tromping around the hills looking for elk that used to be in our yard. Elk read the game pamphlets so they know the hunter migration patterns.
Interests I have include playing the piano; tap dancing; reading books; and quilting. The Follies production is a call for local Wenatchee "talent" to come out on stage and entertain the audience every 3 years. My favorite parts include the kickline, tap dance, and jazz routines.
We have a love of the water opportunities in our area so have three boats...one for fishing Kokanee in Lake Chelan; one for skiing and "jetting" around; and a 24 ft. hard top Bayliner that we use when going to Stehekin and the San Juan Islands.
The river front loop trail is ideal for us for riding our mountain bikes. We have taken several group trips along the Coeur d'Alene Bike Trail. Riding through the old rail tunnels on the Hiawatha Trail in northern Idaho is a real kick as you have to wear headlamps to see where you are going.
Besides snowmobiling, we enjoy alpine and Nordic skiing in the snow months. The Icicle Cross Country trail is not just scenic but a good workout opportunity for classic skiing. An added bonus is the O'Grady Cafe located right next to the course. The food is fabulous and offers a nice end to the outing.
Clubs I belong to include Sunrise Rotary; Gold's Gym; The Book Worms; and the Elk City Quilters.
I am blessed to be happily married to the man of my dreams. In addition I am fortunate to have a close relationship with my sisters; as well as with many wonderful, lifelong friends.
It is not the destination but the process of the journey that matters.




Classreport.org provides free Class Websites for every graduating class of every high school with free access for all.
We are one of the premier social networking sites dating back to 2003. We are a small, family-owned business and yet freely host over a million class websites.
Classreport holds a special place in the hearts of our users: Bravos.
We are funded solely through your voluntary contributions. Can you help us keep this site online and ad-free for another year? Thank you for your support!
Please click here to contribute.
No Ads, No Spam, No Pop-ups, No Fees.
Class Support Status

Our Class Site is Fully Funded!
Additional contributions are welcome and will be used to provide support for the larger Classreport community.
CLICK HERE TO LEARN MORE
Class Directory

Where in the world are you? Stats
Recent Profile Updates
| | |
| --- | --- |
| | Jan 19 |
| | Jan 12 |
| | Jan 12 |
| | Dec 29 |
| | Dec 28 |
| | Dec 15 |
| | Dec 7 |
| | Nov 29 |
Class Poll
There is no Active Poll
at this time.
Visit Other Classes
The Office
(Admin use only)
If you have any questions or comments regarding this website, please contact:

Class Administrator
Mike Cattin

Would you like a sneak peek at a
non-functioning view of The Office?

This class reunion website is a complementary addition to your existing alumni resources.
It is a product of Classreport, Inc. and may not be affiliated with Wenatchee High School or its alumni association.

Does your High School Class have a full-featured Alumni Website? Start One Now!
(Or start one for your Mother, Father, Sister, Brother, Spouse, Son, Daughter, Friend . . .)



"Your website has been awesome to work with. It made our reunion planning and execution much easier to handle." 6/24/2016


"I have been the co-chair of the reunion for many years and am just now coming across your site. I appreciate the time you have put into this and I am sure this will help our reunion to be very successful." 6/23/2016


"Thank you all so much! Coming up on our reunion, I continue to get many compliments from class members on the website. If they only knew who the real guru's behind it are. I truly couldn't get by without you and we appreciate all that you do for us." 6/20/2016


"I so appreciate Classreport.org and I extend my gratefulness for your efforts. Best regards and good wishes!" 6/13/2016


"I am most appreciative of the Classreport.org site and your support, which far exceeds anything else out there. Many thanks for what you all have done. We are well on our way for our upcoming reunion!" 6/11/2016


"I am so impressed with the Office portion of the website and the wonderful way the information here keeps us all connected. Thank you to the whole Classreport staff for following your dreams and making this possible for so many high school reunion groups to keep in touch. We are happy to support your cause with thankfulness and gratefulness for such a helpful tool. Thank you for all that you do!" 6/10/2016


"I love your site. At my age it is hard putting names and faces together and your site makes it easier than the others. Keep up the good work." 6/6/2016


"What a great website you have!! Our reunion was the best ever because of you and we expect many more at the next one due to the outstanding success of the site! Thx so much!!" 6/4/2016


"This site has helped my class members and I connect with each other that otherwise would not have been possible. We are already starting to plan our next Reunion. Thank you for this website." 5/28/2016


"Thank you for your response to my questions. I appreciate your very kind response and I am very happy with Classreport." 5/20/2016



More bravos at: www.classreport.org/bravos




14th Anniversary!

Search All Schools Best Classes Reunions Features Setup Your Class FAQ Funding Our Story Support Privacy Policy We DO NOT sell advertising to support this site. We DO NOT sell names and addresses to third parties.
There are NO POP-UP ads. There are no registration fees required for participation.
Please support this site with your voluntary contributions.
We cannot provide this service without your support. Thank You! Read Our Story

ClassTraQ 9.7003c Software Copyright © 2003 - 2015 Classreport, Inc. All Rights Reserved e1