No Ads. No Spam. No Pop-Ups. No Fees. Read Our Story.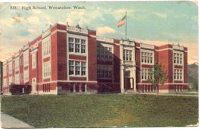 45th Class Reunion


This site is operated and funded by members of our class.
Class Administrator: Mike Cattin
Page Hits: 23,650


Event Announcement!
---
Payment for Class Reunion Registration
Friday, May 5, 2017
Wenatchee, Washington
If you wish to pay through PayPal please enter the total from your registration document.
Click on this link: PayPal.Me/WHSClassof1967

You may have to cut and paste this address to your web browser.
NOTE:
If you pay through PayPal we will still need to have you mail your registration form. We will then be able to match up your money with the right events.

Thanks,

Mike Cattin

If you need a registration form it is at the end of Reunion announcements "Click here for Reunion Documents"






Make Checks Payable To: WHS Class of 1967
Mail Payment To: WHS Class of 1967, 1640 Huntwood Lane, East Wenatchee, WA 98802
---
Special Hotel Rate
Friday, June 9, 2017
Coast Wenatchee Center Hotel
Arrangements have been made with the Coast Wenatchee Center Hotel for a special guest rate.

The room rate is $119.00 +tax. You need to say that you are a member of the Wenatchee High Class of '67 to get the rate.

The Hotel is located downtown at 201 N Wenatchee Ave. The phone number is 509.662.1234


---
Panther Prowl
Wednesday, June 21, 2017 - 7:00 pm
Wenatchee Avenue to Monitor
No Cost
Cruisin' the Ave. Our "Panther Prowl" will begin at Pybus Market at 7 pm, and continue to Wenatchee Avenue. We will drive as far as The Hot Rod Café in Monitor where we will stop to eat. All are welcome, and if you have an older vehicle or classic car, all the better!
---
Elementary School Reunion Picnic
Thursday, June 22, 2017 - 12:00 pm
Rotary Park. Corner of Western Ave and Mulberry Lane
Hosted by your Reunion Committee and Sponsors
Elementary School Reunion picnic at Rotary Park is scheduled for 12noon. All classmates are invited to this free event, including folks who did not attend one of Wenatchee's elementary schools. This is a Non Alcohol Event.
---
Class of '67 Golf Putting Tournament
Thursday, June 22, 2017 - 3:00 pm
Highlander Golf Course, 2920 8th Street SE | East Wenatchee
$10
Class of '67 Putting Competition at Highlander Golf Course. Putters and balls will be provided, and prizes will be awarded in several categories. We will end the evening with no-host food & drinks at the Highlander Clubhouse.

Make Checks Payable To: WHS Class of 1967
Mail Payment To: WHS Class of 1967, 1640 Huntwood Lane, East Wenatchee, WA 98802
---
Hiking Saddlerock
Friday, June 23, 2017 - 9:30 am
Circle St Parking Lot - south to the end of Miller St, left on Circle
No Cost
Guided Hike up Saddle Rock at 9:30 am, led by members of the Chelan-Douglas Land Trust. This 2.7-mile hike has a 900-foot elevation gain, with a level 2 skill & fitness level. Participants can hike all or part of the trail. Frequent interpretive stops along the way will allow hikers to proceed at a leisurely pace.
---
Lady of the Lake Cruise
Friday, June 23, 2017 - 3:30 pm
Lake Chelan
$46
Lady of the Lake Cruise on Lake Chelan from 3:45-8:30 pm.

A bus will provide transportation to and from Chelan. The bus will leave the south parking lot of Pybus Public Market at 4 pm. We will be back in Wenatchee at approximately 8:30pm.

The cost of $46/per person includes the bus, boat ride & light dinner. There will be beer and wine on the boat. Total capacity for this activity is 65, so you MUST register early if you want to attend this event because the boat will fill up fast.

Make Checks Payable To: WHS Class of 1967
Mail Payment To: WHS Class of 1967, 1640 Huntwood Lane, East Wenatchee, WA 98802
---
Wine Tasting
Friday, June 23, 2017 - 6:00 pm
Wenatchee Valley Chamber of Commerce Tasting Room
$25 per person
Wine Tasting from 6-8pm, at the Wenatchee Valley Chamber Tasting Room in downtown Wenatchee at 1st and Wenatchee Ave.
Featuring local wines and vintners, representatives from three local wineries will be with us, providing a wealth of information on our local award-winning wines as well as a bit of entertainment. The cost of $25/per person will pay for wine tastings and light appetizers. Following each of these events, classmates are invited back to Pybus Public Market to visit and catch up with each other.


Make Checks Payable To: WHS Class of 1967
Mail Payment To: WHS Class of 1967, 1640 Huntwood Lane, East Wenatchee, WA 98802
---
Walk/Bike the Apple Capital Loop Trail. Panther Prowl at the Owl
Saturday, June 24, 2017 - 9:00 am
Starts at Pybus Public Market
No Host
Come join us for a walk of the Apple Capital Loop Trail. Starting at 9am, we will leave from Pybus Public Market and walking as far as the Boathouse in the Linden Tree area. We will turn and walk back to the pedestrian footbridge, ending up at The Owl Soda Fountain on First & Wenatchee Avenue. Those that decide not walk are welcome to join us at the Owl.


---
Reunion Dinner
Saturday, June 24, 2017 - 5:00 pm
Event Center Pybus Public Market, 7 N. Worthen, Wenatchee, WA
$25 per person
Reunion Banquet.

We hope to have invited former faculty members join us for dinner and a fun brief program.
A Social hour will begin at 5:00 with light appetizers.

A buffet dinner of grilled flank steak with chimichurri & visalia relish, orange-balsamic glazed chicken with fresh rosemary, roasted vegetables, garlic smashed potatoes, Caesar salad, green salad w/apples and dried cranberries, mixed nuts, and feta cheese. desrt will be strawberry shortcake.
The cost is $25/per person.

This will be a BYOB event with mixers, water and ice provided.

A portion of the cost of this event has been subsidized by donations from classmates.
Make Checks Payable To: WHS Class of 1967
Mail Payment To: WHS Class of 1967, 1640 Huntwood Lane, East Wenatchee, WA 98802
---
Farewell Breakfast at Pybus Public Market
Sunday, June 25, 2017 - 9:00 am
Event Center Pybus Public Market, 7 N. Worthen, Wenatchee, WA
No Cost
Please join us for a Farewell Breakfast at Pybus Public Market.
Your reunion committee will be preparing a full breakfast to see everyone on their way. Head home with a full stomach and a heart full of joy from seeing old friends.

No Cost. This event is sponsored by your classmates.
---
Class News

2/15/2017
Class Facebook Page
Did you know we have a Class Facebook page? It is a closed group meaning only members of the group can see posts or pictures. Here is the link if you wish to join. Currently we have 146 . . . Continued

12/15/2016
Passing of Tom VanDeMark - December 5, 2016
Tom's Obituary as posted in the Seattle Times. Thomas Jay Vandemark Born September 30, 1948 in Chelan, Washington and passed December 5th, 2016. Leaves wife of almost 20 years, Sarah Bea . . . Continued

11/29/2016
Passing of Richard "Hunt" Nickell
I apologize for the delay in the posting of the passing of Richard "Hunt" Nickell. Here is obituary that was printed in the Wenatchee World. Richard Hunter Nickell September 30, 1949 ~ . . . Continued


Today's Featured Biography
Update: (3/6/17) After working in education for 40 years (teaching, writing, consulting) I am enjoying retirement. I am traveling all over the world with my sister Janice - such fun. When home, I garden, quilt, work with glass arts and play.

I graduated from Central Washington University in 1970 and married a man named Alan Kertes that same year. After he finished his military service in 1971 we moved to Ellensburg and then to Cheney. In the early 70's I had a wonderful time raising my two boys, Tom and Steve. I managed to find enough time to finish my masters in early childhood education. I taught kindergarten and primary school and also presented workshops on educational topics once my children started school. My husband and I divorced in 1985 and I moved to Poulsbo to work as a specialist in the curriculum department at Central Kitsap. I married a wonderful man, Dean Smith. I currently teach full time in a fifth grade gifted classroom, teach professional certification for PLU and do a few educational workshops. I love to work with glass (stained, fused, mosaic), paint, make jewelry, garden, traveling......I'm pretty busy..... My oldest son Steve is a computer engineer in Seattle, so I get to see him often. He's still single, so no grand kids yet! My younger son Tom lives in Canada with his partner Ron (no grand kids there either!). He's moving from Toronto back to the West Coast (Vancouver) this summer and I can hardly wait. Tom is a political activist and organizes for rights for people in poverty. Currently, in addition to his worker's rights activities, he is getting his masters and also works for the Canadian government in education. He's hard to keep up with!

This all sounds pretty boring, but really--it's been a great time!


Classreport.org provides free Class Websites for every graduating class of every high school with free access for all.
We are one of the premier social networking sites dating back to 2003. We are a small, family-owned business and yet freely host over a million class websites.
Classreport holds a special place in the hearts of our users: Bravos.
We are funded solely through your voluntary contributions. Can you help us keep this site online and ad-free for another year? Thank you for your support!
Please click here to contribute.
No Ads, No Spam, No Pop-ups, No Fees.
Class Support Status

Our Class Site is Fully Funded!
Additional contributions are welcome and will be used to provide support for the larger Classreport community.
CLICK HERE TO LEARN MORE
Class Directory

Where in the world are you? Stats
Recent Profile Updates
| | |
| --- | --- |
| | Mar 24 |
| | Mar 22 |
| | Mar 21 |
| | Mar 21 |
| | Mar 19 |
| | Mar 16 |
| | Mar 16 |
| | Mar 16 |
Class Poll
There is no Active Poll
at this time.
Visit Other Classes
The Office
(Admin use only)
If you have any questions or comments regarding this website, please contact:

Class Administrator
Mike Cattin

Would you like a sneak peek at a
non-functioning view of The Office?

This class reunion website is a complementary addition to your existing alumni resources.
It is a product of Classreport, Inc. and may not be affiliated with Wenatchee High School or its alumni association.

Does your High School Class have a full-featured Alumni Website? Start One Now!
(Or start one for your Mother, Father, Sister, Brother, Spouse, Son, Daughter, Friend . . .)



"Ttanks for your support. I was able to get the correct document uploaded. Your site is amazing." 2/9/2017


"You have done a GREAT job with this site. I will be telling our class to update their profiles." 2/8/2017


"My class appreciates your organization more than I can say. THANK YOU." 2/8/2017


"Many thanks for the news update about our class. The site is really looking great!" 2/6/2017


"Thanks for all you do for us!" 1/13/2017


"I enjoy reading the website." 12/27/2016


"You have a great web site - Thank you!" 12/24/2016


"Thank you for having such a wonderful site. Our class appreciates your continuing work." 11/24/2016


"We are glad that you all maintain this web site. We think our site is a really good site and want to keep it running." 11/23/2016


"Great Stuff!!! Thank you." 11/23/2016



More bravos at: www.classreport.org/bravos




14th Anniversary!

Search All Schools Best Classes Reunions Features Setup Your Class FAQ Funding Our Story Support Privacy Policy We DO NOT sell advertising to support this site. We DO NOT sell names and addresses to third parties.
There are NO POP-UP ads. There are no registration fees required for participation.
Please support this site with your voluntary contributions.
We cannot provide this service without your support. Thank You! Read Our Story

ClassTraQ 9.7003c Software Copyright © 2003 - 2015 Classreport, Inc. All Rights Reserved e1