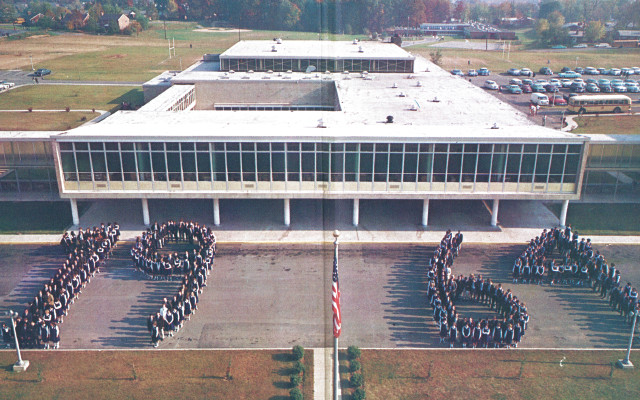 CLass of '64


This site is operated and funded by members of our class.
Class Administrator: Michael Ohleger
Page Hits: 15,116


Event Announcement!
---
PARTY ALERT !!
Saturday, October 20, 2018
WATCH THIS SPACE FOR UPCOMING EVENTS ORGANIZED BY YOUR CLASS OF 64 PARTY COMMITTEE. THERE'S MORE TO COME!! YOU WON'T WANT TO BE LEFT OUT!
---
Class News

9/4/2018
The Passing of Charlie Boone
It's with a heavy heart that I tell you of the passing of our beloved classmate Charlie Boone on August 31. He passed away peacefully at home with his son, Michael by his side. The funeral . . . Continued

5/31/2018
The Passing of Joe Koons
Joseph Robert Koons, Sr. went to be with his Lord and Savior, Jesus Christ, on Sunday, May 27th, 2018. He is survived by the love of his life and wife of 50 years, Nancy Ann Koons, his ten . . . Continued

3/21/2018
Remembering Pat Delbarco
We mourn the Death of Pat DelBarco on March 12, 2018. Survived by daughters, Jennifer Stander and Maryrose delBarco, sisters, Anne delBarco and Delores delBarco Peanick and grandson, Perrin. . . . Continued


Our Class Message Board
Your participation is requested!
We would like to hear from you. Post your messages here.

ADD NEW VIEW ALL

Indicates an included photo
| | |
| --- | --- |
| Message | Stevie |
| We're getting together at Bonnie's, but | Wed 8/8/2018 10:59 AM |
| A Tribute to Shirin and an affirmation from h | "ACE" !!!!! |
| What can I say? I had another dream abou | Fri 9/16/2016 8:50 AM |
| Myrtle Beach!! | "ACE" !!!!! |
| You know, I just read the part about us | Fri 9/16/2016 8:39 AM |
| We're never too old . . . | Stevie Hooper Mills |
| Check out this article, which includes f | Tue 9/13/2016 2:02 PM |
| Waht Are You Waiting For | Mike |
| Hey classmates! What are you waiting for | Sun 7/17/2016 11:02 AM |
| Party Planning | Mike |
| ATTENTION ALL RISING SEPTUAGENARIANS!! | Sun 5/3/2015 12:16 PM |
| Message | Joe |
| Greetings - and fond memories ( maybe so | Fri 1/2/2015 7:11 PM |
| Shirin | "ACE" !!!!! |
| Having had two dreams about Shirin in th | Fri 10/31/2014 3:00 PM |
| Many thanks!! | Rosemary DeCarlo Snow |
| The reunion committee and organizers did | Wed 10/29/2014 10:40 AM |
| What a great weekend!!! | Rick Conaway |
| Many thanks to all the organizers. Amaze | Sat 10/25/2014 8:47 AM |
| Big Thank You | Mary Fay Tennyson |
| Such a wonderful weekend! Merci to the g | Fri 10/24/2014 11:11 AM |
| The best of times! | Sharon Stewart White |
| What a great evening. I feel like my lif | Tue 10/21/2014 6:59 PM |
| What a Party!! | Mike |
| What a fabulous Reunion. I wished the p | Tue 10/21/2014 9:31 AM |
| Reunion | Trish Godsey |
| Oh my goodness, what a fun, fun reunion! | Mon 10/20/2014 8:41 PM |
| 50th Reunion | Fran Ziegler Brinkley |
| Thanks to all who made this reunion such | Mon 10/20/2014 2:10 PM |
Today's Featured Biography
With the single exception of 1969, I answered the tolling of the school bell every September from 1951 until 2011 (in Arlington; Philadelphia; Bloomington, IN; Brookings, SD; Pittsburg, KS; St. Cloud, MN; Galway, Ireland; and, finally Tianjin, China). For 42 of those years, I was studying or teaching English literature, language, and writing at universities in those places; for most of a decade, I was dean of my college, but returned to the classroom in 1997. By my count, I taught more than 30 distinct courses, primarily in British, Irish, and American fiction, and in writing, mostly in technical, scientific, and workplace rhetoric. I have taught students in engineering, nursing, medicine, business, public relations, agriculture, and most areas of the humanities and social science, as well as MDs, police officers, government workers, bankers, and high school teachers. Most of them paid attention—or were clever enough to appear so—and only a handful threatened me, one, memorably, with a [fortunately, unloaded] pistol. I was neither famous nor infamous; I think one can still check Rate my Prof for details. My greatest pleasure has been watching my best students accomplish far more than I ever did.

My personal life could be described politely as haphazard, though some might consider it chaotic. I will spare the particulars, except to say that I celebrate this summer 15 years of happy marriage to Marya. In my dotage I read, take advantage of the great musical and theatrical offerings of Minneapolis, and ski and snowshoe through our extended winters, bicycle through our all too fleeting summers. I remain one of the few Minnesotans never to have owned anything that floats or travels overland on petro fuel. Marya and I are most proud of her son Erik, who at 25 is more savvy than I at 67 in most areas; he currently is the sound and light guy at the University of Minnesota football stadium, responsible for the smooth operation of millions of dollars' worth of complex gadgets we mortals would dare not [or be allowed] to touch.

If allowed a mulligan on this life, I would change little, except to have been more open, inclusive, curious, and adventuresome in my youth, certainly including the four years we shared on Little Falls Road. Peace and best wishes to all: those I knew well and those I should have known better.



Family News Summary
Enter your Family News Item choosing from our pre-defined categories:
Anniversary, Award, Birth, Death, Diagnosis, Engagement, Graduation, Lottery, Retirement, Vacation, Wedding, Other.
Military
I just wanted to remark that you know that you're
Posted by: Michael Ohleger

12/29/2017
Calendar
There are no Calendar items on file
at this time.

Today's Featured Class Member Website
Classreport.org provides free Class Websites for every graduating class of every high school with free access for all.
We are one of the premier social networking sites dating back to 2003. We are a small, family-owned business and yet freely host over a million class websites. Our Story
Classreport holds a special place in the hearts of our users: Bravos.
Class Support Status

Our Class Site is Fully Funded!
Additional contributions are welcome and will be used to provide support for the larger Classreport community.
CLICK HERE TO LEARN MORE
Class Directory

Where in the world are you? Stats
Recent Profile Updates
| | |
| --- | --- |
| | Jun 1 |
| | May 6 |
| | May 4 |
| | Mar 21 |
| | Dec 12 |
| | Dec 8 |
| | Nov 15 |
| | Sep 30 |
Visit Other Classes
The Office
(Admin use only)
If you have any questions or comments regarding this website, please contact:

Class Administrator
Michael Ohleger

Would you like a sneak peek at a
non-functioning view of The Office?

This class reunion website is a complementary addition to your existing alumni resources.
It is a product of Classreport, Inc. and may not be affiliated with D J O'Connell High School or its alumni association.

Does your High School Class have a full-featured Alumni Website? Start One Now!
(Or start one for your Mother, Father, Sister, Brother, Spouse, Son, Daughter, Friend . . .)



"Just discovered your product today while trying to locate classmates ahead of our 50th reunion in 2020. The fact that you did this in a noncommercial manner in a world where everything has a price tag deserves recognition and respect, in my view. Thank you and good luck in all your endeavors." 5/5/2018


"THANKYOU so much for handling this for us! We are so appreciative! It looks GREAT!" 5/2/2018


"Thank YOU for helping us get the word out! I've posted a link to the website on our FB group page and vigorously encouraged other classmates to contribute" 4/27/2018


"Your site is amazing. Kudos to you and your staff. You have benefitted so many high school alumni in organizing their class reunions." 10/4/2017


"Thanks to classreport.org our class website played a huge part in the success of our Reunion. We greatly appreciate your wonderful support." 10/3/2017


"Thanks for all your hard work and ingenious spirit." 9/25/2017


"Thanks guys, you are Good!!" 9/23/2017


"I love your service and will continue to support you." 9/14/2017


"We have been using the website for more than 10 years now. It's still the best website out there for classmates to meet, collect their info and advertise their reunions. Thanks for inventing it all!" 9/11/2017


"Thank you for your assistance. It was very helpful. Looks good!" 9/5/2017



More bravos at: www.classreport.org/bravos




15th Anniversary!
There are no fees required for participation on this site.
Please support this site with your voluntary contributions.
We cannot provide this service without your support. Thank You!
Please read Our Story
ClassTraQ 11.003 Software Copyright © 2003 - 2017 Classreport, Inc. All Rights Reserved e1 amsc: 1