Please Support Our Class Website in 2017. Can you chip in today?
All contributions will be DOUBLED through August 31!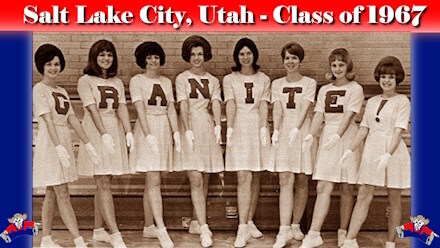 Please Register for Our Upcoming 50 Year Reunion!


This site is operated and funded by members of our class.
Class Administrator: Carl Smith
Page Hits: 39,482


50 Year Reunion Announcement!
---
THE HALF CENTURY MARK - TIME FOR OUR 50 YEAR CLASS REUNION!
Saturday, August 26, 2017 - 5:00 pm
LITTLE AMERICA in SALT LAKE CITY, UTAH
$45 per person in ADVANCE
$55 per person AFTER deadline and DAY OF EVENT

CLICK THE LINK BELOW THE PICTURE ABOVE or THIS LINK:

REGISTER & PAY BEFORE
:
12 AUGUST 2017

KEEP YOUR CONTACT INFORMATION UP TO DATE!, here on our reunion site and spread the word...!

When the time comes to get details out about the 50 year reunion, and your contact information is current, then you will still be "in the loop" to get the information about joining in the celebration...!

Stay tuned to this site and, PLEASE>, keep in touch as time permits...
Please visit our official reunion website for the Class of 1967 now online: CLASS of 1967 WEBSITE
More Information: Click To Open
Event Contact: REUNION COMMITTEE
Look Who's Coming!
Make Checks Payable To: GRANITE HIGH SCHOOL CLASS of 1967 50-YR REUNION
Mail Payment To: JOHN ROBISON, 1131 EAST 500 NORTH, BOUNTIFUL, UT 84010
---
Class News

6/11/2016
HELP FUND OUR CLASS!
Hello, All...!ClassReport.Org is running a special that will match all donations towards the funding of our reunion site, but only until June 30, 2016...!! So...We need to come up with $105 . . . Continued


Today's Featured Biography
My deep, dark secret is out, published in print, spoken over the airwaves, publically acknowledged: I am a "plygie kid"--28th of 48 children born to my father, Dr. Rulon Clark Allred, and my mother, Mabel Finlayson Allred, his fourth wife. May I apologize to all of you I misled into believing that I was a generic teenager with a small dash of rebellion? I'm sorry that I didn't connect with you more honestly in high school; please understand that I was protecting my family, for I grew up with the threat that being truthful could send my parents to prison and result in us children being placed in foster homes. Bruce Solomon was one of two people I told the truth of my background; perhaps this, in addition to a good deal of chemistry, predisposed us to marry a few months after graduation, before he went to Vietnam to serve with the U.S. Marine Corps near the DMZ. We had our first daughter, Denise, while he was overseas. She was a good reason for him to come home, and as the mother of three and a labor and delivery nurse, she has proven to be a big contributor. Bruce's survival was further underscored by the birth of our second daughter, Layla, mother of five and a communication trainer/life coach. Then we had a son, Jeff, who is a successful financial advisor with an organization bearing the family name. Our baby--"Sister Golden Hair Surprise"--who came to console me following the assassination of my father--has just competed in the Mrs. International pageant, where she made the final cut of 64 delegates and won the Fitness Award.
It truly has been a roller-coaster ride. Early on, during the years when I juggled motherhood and scholarship at the University of Utah, and later, while I was teaching junior high and college, even before I had heard of PTSD and Agent Orange poisoning, I knew that Bruce and I were in trouble. To alleviate matters in our marriage, we took a human development course and not only salvaged our relationship but found important life work. Together, we served as communication facilitators and personal growth coaches for 30 years, opening human development centers in several cities across the United States and in China. Exhausted by the travel and the demanding, fulfilling work of conducting marathon trainings, we changed paths. Bruce earned a second Master's Degree and we moved to St. George where he delivers therapy to combat veterans and their families and I teach writing at Dixie State University. I've published four books, with another forthcoming next year, but there are manuscripts I've begun and I'm trying to finish before its too late. It's not easy because I love being a grandmother more than anything--it truly is the best part of life--and we have fourteen grandchildren! Better yet, we are the United Nations: our family contains many colors and ethnic backgrounds: Korean, Chinese, Hispanic, Mohawk, Italian, African American plus English-Scotch-Irish-Scandinavian-European. We are rich in love and resoundingly blessed.


Classreport.org provides free Class Websites for every graduating class of every high school with free access for all.
We are one of the premier social networking sites dating back to 2003. We are a small, family-owned business and yet freely host over a million class websites.
Classreport holds a special place in the hearts of our users: Bravos.
We are funded solely through your voluntary contributions. Can you help us keep this site online and ad-free for another year? Thank you for your support!
Please click here to contribute.
No Ads, No Spam, No Pop-ups, No Fees.
Class Support Status

OUR CLASS SITE IS FUNDED THROUGH
October 2017
---
This site is funded by our
Voluntary Contributions


Class Directory

Where in the world are you? Stats
Recent Profile Updates
| | |
| --- | --- |
| | Aug 22 |
| | Aug 16 |
| | Aug 12 |
| | Aug 4 |
| | Aug 4 |
| | Aug 1 |
| | Aug 1 |
| | Aug 1 |
Class Poll
There is no Active Poll
at this time.
Featured Links
There are no Featured Links
at this time.
Recent Reviews
There are no reviews on file
at this time.
This area is for comments on
books, movies, music,
restaurants, etc.
Visit Other Classes
The Office
(Admin use only)
If you have any questions or comments regarding this website, please contact:

Class Administrator
Carl Smith

GHS Site Coordinator
Carl Smith
Class of 1967

Would you like a sneak peek at a
non-functioning view of The Office?

This class reunion website is a complementary addition to your existing alumni resources.
It is a product of Classreport, Inc. and may not be affiliated with Granite High School or its alumni association.

Does your High School Class have a full-featured Alumni Website? Start One Now!
(Or start one for your Mother, Father, Sister, Brother, Spouse, Son, Daughter, Friend . . .)



"Thank you so much for doing this. I appreciate it" 7/21/2017


"We had our 50th reunion in June. It was a great success in large part due to the creation and use of the Classreport web site. Of our 379 classmates, we've located 322 and confirmed another 46 are deceased. We've had 7,900 hits in less than a year. Thanks for making available a great product that we will continue to use!" 7/14/2017


"My name is Debbie and I'm a teacher. I came across your page while searching for information about genealogy for an upcoming student project. The resources you have are very helpful! I just wanted to thank you and thought you should know how useful it is as it's made collecting information a lot easier." 7/11/2017


"Y'all Rock!" 7/11/2017


"Just want to send you a huge 'thank you' for your awesome website! Using this website has been such a blessing and an ease in creating name tags for our reunion and just having our classmates keep in touch. We had the best 50th reunion with the most attendees ever! This class of ours has had a reunion every 5 years since graduation. Not sure if we will have another one but the website will keep us connected. Again, thank you for this awesome website." 7/10/2017


"I want to thank you for running this site! It is a huge support in keeping track of everyone and getting the word out about reunions." 7/6/2017


"Ttanks for your support. I was able to get the correct document uploaded. Your site is amazing." 2/9/2017


"You have done a GREAT job with this site. I will be telling our class to update their profiles." 2/8/2017


"My class appreciates your organization more than I can say. THANK YOU." 2/8/2017


"Many thanks for the news update about our class. The site is really looking great!" 2/6/2017



More bravos at: www.classreport.org/bravos




14th Anniversary!

Search All Schools Best Classes Reunions Features Setup Your Class FAQ Funding Our Story Support Support Privacy Policy We DO NOT sell advertising to support this site. We DO NOT sell names and addresses to third parties.
There are NO POP-UP ads. There are no registration fees required for participation.
Please support this site with your voluntary contributions.
We cannot provide this service without your support. Thank You! Read Our Story

ClassTraQ 11.003 Software Copyright © 2003 - 2017 Classreport, Inc. All Rights Reserved e1
amsc: 1