No Ads. No Spam. No Pop-Ups. No Fees. Read Our Story.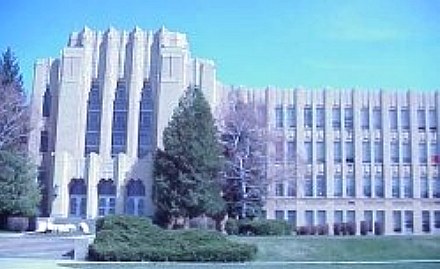 This photo can be changed by your Class Administrator.


This site is operated and funded by members of our class.
Class Administrator: Lewis Thorpe
Page Hits: 6,075


60 Year Reunion Announcement!
---
Golf Tournament
Friday, August 18, 2017 - 8:00 am
Riverside Golf Course
$20 (includes cart) to be paid at Riverside
We'll pay and line up foursomes at Riverside. Tee times start at 8am. Play will be a 9 hole scramble.
Event Contact: Val Weathers or Carl Mattsson (801) 725-3667
---
Reception / Hotel Rooms
Friday, August 18, 2017 - 6:00 pm
BEN LOMOND HOTEL
MINIMAL COST TBD
Meet your classmates and enjoy some appetizers. For those coming from out of town, rooms available at the Ben Lomond for $79/night
---
Farmers Market & Historic 25th Street
Saturday, August 19, 2017 - 8:00 am
25th Street Between Washington Blvd and Wall Ave.
No cost
Saturday mornings in the summer is the time to see the Farmers Market and visit revitalized 25th Street. But don't forget to be in the OHS auditorium by 11am.
---
Tour and Class Photo
Saturday, August 19, 2017 - 11:00 am
OHS Auditorium @ 11 am for Tour and 12:30 pm on front steps for photo
The cost for a copy of the class photo will be announced later
Larry Leatham,classmate and former OHS Principal, will give a brief history of OHS followed by a tour of the school led by current OHS cheerleaders. At 12:30 pm we will meet on the front steps of the school for a group photo.
---
60 Year Reunion Dinner
Saturday, August 19, 2017 - 6:00 pm
Timbermine Restaurant
Cost for dinner is $30/person
Dinner will be at the Timbermine near the mouth of Ogden Canyon. The menu choices will be; Prime Rib, Chicken, or Salmon. Appetizers, dessert, punch and coffee are included; other drinks can be purchased separately.
Make Checks Payable To: OHS Class of 57
Mail Payment To: Carl Mattsson @ 5553 Elderberry Court, Ogden, UT 84403
---
Today's Featured Biography
It took me a long time to choose a direction after High School. Attended Weber State but left on a mission to Ontario Canada, where Pres. Thomas Monson was our mission President. Working for and with him helped mature me. Upon returning home I re-entered school and married my best friend and was drafted. The day after our honeymoon I reported to Camp Williams for assignment.

After graduating from Weber State University I taught History and English on the secondary High School level for 12 years. During this time I also coached football (6 championships), basketball, track (10 championships), baseball, and tennis. Never could get the tush job, of Golf team, there was a long line waiting.

I bought into a business and quit teaching. There was no incentive, as everyone was lumped into the same kettle of fish and the wealth was distributed. My kids reached teenage and I couldn't afford to cloth them without working two jobs and many hours. Applying the same motivation and hours in business made more sense. I took my retirement and bought into the Automotive Aftermarket and after about 10 years I purchased another business of International Intra-state Automotive Sales and ran it until Dupont bought the company and retired me. During this time and venture I was blessed to meet many good friends and associates across this nation and across the seas.

Also became involved in Community Service through the Jaycees, serving as a Utah State Vice President, and United States Jaycee Director. These ventures led me into politics and I was elected as City Mayor Pro-Tempor for two terms. Served in many capacity's in Rotary, University Alumni Board, State Government, Professional and Business Associations. Opportunity has allowed Sharon and me to sit and associate with many U.S. Senators and Congressmen, and five different Presidents. World travel reminds us, what a Great Country we are a part.

Being in politics have opened our country to our family. Most of the grandkids have traveled with us to Orlando Disneyworld, a destination of their choice upon there 8th birthday and all have been to Washington DC, when they reach age 11 and have kept their grades above 'B'(some have been multiple times paying their own way just to return), we have enjoyed treating them to these trips. While on the Washington trip, we take in as many of the sites of national heretiage as we can in a week. This has been most educational. These kids have great respect for their country and it's beginnings.

All three of my children have graduated from the Weber State University and are currently living successful, professional lives, providing us with eleven grandkids and one great grandson.

We enjoy spending family time at Lake Powell on our houseboat during the summers, and playing golf at different courses around the west. Sharon's goal is to play every golf course in Utah, we are now at about 50%.

Since retirement, I have spent time converting from a city boy to the country. Most of my days are spent breeding and training Quarter Horses. Along with this goes all of the chores and veternarian work associated with these animals. I've learned alot. Horse Racing became a short hobby with some flavorful lessons of life. Horses provide a training ground and conduit for communication with my grand children and one great grandson.

We have been blessed with good enough health too allow us to travel across our Nation, visiting all but four states and making many close friends and associates. Our Company was headquartered in Colon Germany and required many trips to Europe over the years. We have traveled through Germany, France, Italy, Netherlands, Belgium, Skied Swiss Alps, The Balkans and Baltic States or Hungary (Lazar Lipizzan Equestrian Ranch), Czech Rep., Austria (played a Stradivarius), Slovakia, Croatia (hosted exchange student), England, Scotland, Ireland (my favorite), Mexico, Costa Rica, Peru, The Amazon, Tahiti, and Hawaii. The bucket list is not complete yet. We still look forward to Scandanavia, Russia, Friends in Austrailia and maybe Indonesia (Thialand) if the USA is still economically viable.

I spend most Sundays teaching at church and with the family. All of our families live within a short drive of our home. This allows us to remain close and have many family activities. We have one grandaughter attending Weber State and another starting school at Southern Utah University this fall. The remainder are stretched out over pre-school to High School. Sharon and I have taken half or the grandkids to see their Nations Capitol in DC. These have been memorable trips that we look forward to making.

I hope everyone's life is like a snowdrop, and leaves it's mark, but leaves no stain.


Classreport.org provides free Class Websites for every graduating class of every high school with free access for all.
We are one of the premier social networking sites dating back to 2003. We are a small, family-owned business and yet freely host over a million class websites.
Classreport holds a special place in the hearts of our users: Bravos.
We are funded solely through your voluntary contributions. Can you help us keep this site online and ad-free for another year? Thank you for your support!
Please click here to contribute.
No Ads, No Spam, No Pop-ups, No Fees.
Class Support Status

Our Class Site is Fully Funded!
Additional contributions are welcome and will be used to provide support for the larger Classreport community.
CLICK HERE TO LEARN MORE
Class Directory

Where in the world are you? Stats
Recent Profile Updates
| | |
| --- | --- |
| | Mar 7 |
| | Dec 29 |
| | Apr 15 |
| | Feb 25 |
| | Dec 9 |
| | Jan 17 |
| | Nov 13 |
| | Jul 22 |
Class Poll
There is no Active Poll
at this time.
Featured Links
There are no Featured Links
at this time.
Visit Other Classes
The Office
(Admin use only)
If you have any questions or comments regarding this website, please contact:

Class Administrator
Lewis Thorpe

Would you like a sneak peek at a
non-functioning view of The Office?

This class reunion website is a complementary addition to your existing alumni resources.
It is a product of Classreport, Inc. and may not be affiliated with Ogden High School or its alumni association.

Does your High School Class have a full-featured Alumni Website? Start One Now!
(Or start one for your Mother, Father, Sister, Brother, Spouse, Son, Daughter, Friend . . .)



"Ttanks for your support. I was able to get the correct document uploaded. Your site is amazing." 2/9/2017


"You have done a GREAT job with this site. I will be telling our class to update their profiles." 2/8/2017


"My class appreciates your organization more than I can say. THANK YOU." 2/8/2017


"Many thanks for the news update about our class. The site is really looking great!" 2/6/2017


"Thanks for all you do for us!" 1/13/2017


"I enjoy reading the website." 12/27/2016


"You have a great web site - Thank you!" 12/24/2016


"Thank you for having such a wonderful site. Our class appreciates your continuing work." 11/24/2016


"We are glad that you all maintain this web site. We think our site is a really good site and want to keep it running." 11/23/2016


"Great Stuff!!! Thank you." 11/23/2016



More bravos at: www.classreport.org/bravos




14th Anniversary!

Search All Schools Best Classes Reunions Features Setup Your Class FAQ Funding Our Story Support Privacy Policy We DO NOT sell advertising to support this site. We DO NOT sell names and addresses to third parties.
There are NO POP-UP ads. There are no registration fees required for participation.
Please support this site with your voluntary contributions.
We cannot provide this service without your support. Thank You! Read Our Story

ClassTraQ 9.7003c Software Copyright © 2003 - 2015 Classreport, Inc. All Rights Reserved e1