Please Support Our Class Website in 2018. Can you chip in today?
All contributions will be DOUBLED through October 31!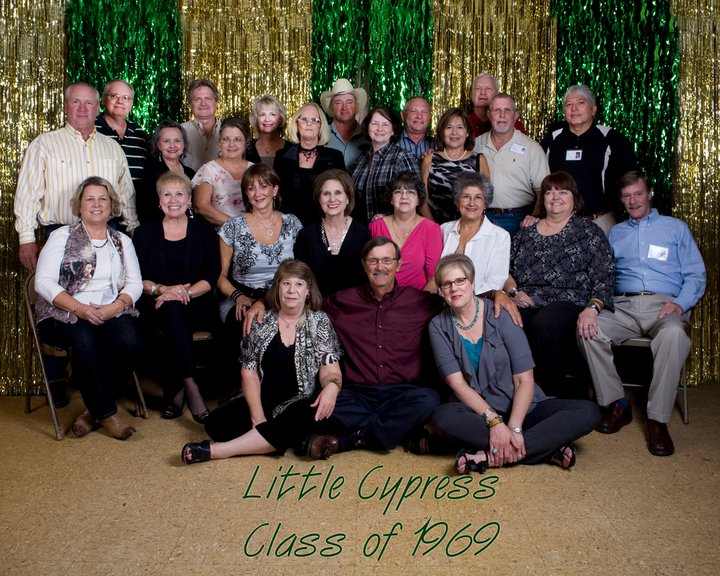 Little Cypress High School Class of 1969 - Reunion 2004


This site is operated and funded by members of our class.
Class Administrator: Dale Clark Carlton
Page Hits: 11,741


50 Year Reunion Announcement!
---
OH, NO........IT'S THE BIG 50 !!!!!
Saturday, October 12, 2019
The home of Sandy Narducci Pate. Beaumont, Texas
We are planning a wonderful and exciting 50th class reunion for our Class of 1969. Our celebration will be held at Sandra Narducci Pate's home in Beaumont on October 12, 2019 starting at 6pm. Join us all for a great night of visiting with friends, eating great food, listening to great music, and karaoke for those brave friends ready to perform again for us !! We decided not to have this event in a restaurant. We wanted to have it in a place where we could stay as long as we like and keep the cost down. As we have done in the past, we are asking each classmate to contribute by bringing a delicious covered dish, appetizer, dessert, snack platter, and various types of drinks / beverages. We have some really good cooks / bakers in our class and we were treated to some pretty awesome food last time. If you have questions regarding plans please contact me through email at TrianglenTexas@yahoo.com
Event Contact: Dale Clark Carlton
Look Who's Coming!
---
Event Announcement!
---
LEGACY PARK BRICKS IN MEMORY OF CLASSMATES
go to www.lcmcisd.org click on LCM Education Foundation click on Legacy Park
$30 for each 4X8 or $60 for each 8X8 brick
The members of the Class of 1969 are making donations to place 8X8 inch bricks in Legacy Park in memory of our classmates that have passed. Please contact Dale Clark Carlton if you wish to make a contribution toward this project. We are remembering :

Virginia Boyett
Frank Frederick
Patsy Watson
Sherry Ware
Leona Anderson
Rita Boyett Hucko
Tommy Fears
Gene Hutchison
Rhonda Hanks
Winona Smith
Fern Stanfield
Diane Mooney
Carolyn Morrison
Joe Bick
Jimmy Idleman
Robert Parsons

A brick has been purchased in memory of Gene Hutchinson earlier in the year.

Please read the information on the LCM Website about Legacy Park. We are also taking orders for classmates that would like to have a brick placed in Legacy Park in honor of friends or family members. Many of our classmates have already purchased their own personal bricks, and the bricks have been installed in the park. We have sold engraved bricks to LCM alum for the last year. Legacy Park is located on the land where the new LCM Administration Building has been built. The bricks are a lasting tribute to Bears of the past, present, and future...... and makes a great gift in honor of or in memory of anyone that attended Little Cypress. Proceeds from the bricks go to LCM teachers to help them purchase enrichment materials for their classes. If you need any other information regarding the park / bricks, please contact Dale Clark Carlton 886-5991

Event Contact: Dale Clark Carlton
Mail Payment To: LCM Administration Building LCM Education Foundation ( see address on order form)
---
PLEASE SEND ME YOUR REUNION 2009 PICTURES
There were so many great moments on both Friday and Saturday night....and there were lots of cameras flashing !!! Please send me pics by email, or if you could possible mail me a CD with the pics on it, that would be greatly appreciated. We are working on putting a video together.......we need your great pictures !!!
---
REUNION 2009 ---- THE BEST EVER !!
Although Reunion 2009 is over, the memories will last forever !

It was amazing to see everyone having such a great time, and the comments keep coming in........along with requests to do this again... real soon !!! There was some discussion to have a mini-reunion in 2010. We are working on a plan to have a Class of 1969
Brisket Throwdown and The Class of 69 Cookoff ! So, get your best recipe ready to go !!

Of course, we will have to have the repeat performances of the Class of 69 Karaoke Singers and Dancers !!!

Attending the 2009 Reunion :

Katy Allbright Latiolais
Dale Clark Carlton
Jimmy Delaney
Walter Evans
Danny Hoosier
Ruth Neil
Stacy Russell
Donna Stephenson
Eva Courts
Carolyn Duplissey Pate
Cathey Luna
Mary Pachuca McDuffie
Debbie Scott Fears
Benny Stevens
Debbie Custer Johnson
Tedine Eaves Soule
Gary Kemp
Cathey Smith Self
Kent Sweezy
Bill Vincent
Sherry Hoffman Sittig
Sandra Narducci Pate
Mel Geer Harriss
Fran Gross Piegari
Carolyn Mello
Deborah Hall Kibodeaux
Danny Pettersen
Don Hunter
Keith Kyle
Rick Morgan
Pam Tutor Strohm
Mike Dubois
Cathey Fleming
Sammy Parrish
Patsy Watson

Our first party was on Friday, Oct. 23, 2009 at Sandy Pate's home in Beaumont. It was a great night...... visiting with classmates as we sat around the fire pit, eating fabulous party food and awesome desserts, and being entertained as some of our brave classmates entertained us with "blasts from the past" 60's karaoke music.

Our second party was on Saturday, Oct. 24, 2009 at The Garden District Restaurant in Orange. After taking group pictures, we had a beautiful evening of reconnecting with friends, eating a fabulous buffet, and enjoying the desserts provided by our classmates. By special requests, we convinced our Class of 69 karaoke singers to do a repeat performance......and they did !! We loved every moment of it.

Please take time to read the comments below in the Messages section.















---
Class News

4/24/2011
Dale Brooks daughter killed in accident
I recently learned of the death of Dale Brooks' daugher, Kristal. Kristal was killed after she was struck by an Amtrak train as she and her three children were walking along some tracks in . . . Continued

6/30/2010
HAMPTON INN OF ORANGE - SPECIAL REUNION RATES
The new Hampton Inn of Orange is offering a special reunion rate of $59.00 per night for the weekend of our reunion. Please contact the hotel at 409 883-2500. Be sure to tell them that y . . . Continued

4/11/2010
Sherry Ware Williams
I have learned that Sherry Ware Williams passed away on April 3, 2010. Please keep Sherry's family in your thoughts and prayers. . . . Continued


Today's Featured Biography
OH MY! I was trying to think of something "cool", but nothing at all came to mind--we sound way too much like Ozzie and Harriet(only I'm not as neat with the housekeeping!)

I have spent much of the last 35 years being a Sunday school teacher/den mother/domestic engineer!(oh, did I forget loving wife) I did manage the Singer Store for 6 years when the boys were in the "terrible teens", and had to deal with the teenage boys' car woes and the expenses that come with that!

I am now retired, and still doing VBS at church(and trying to convince my two oldest grandaughters that they are not too old for vacation bible school)! I have 4 grandchildren - ages 10,9,almost7, and 3!

Hobbies & interests: Ebay enthusiast, Women's Miinstries at church, Master Volunteer, Senior Citizen Activity Coordinator, Fun grandmother !

Collect: antiques, milkglass, vintage beaded Christmas ornaments

Can't wait to see everyone!


Classreport.org provides free Class Websites for every graduating class of every high school with free access for all.
We are one of the premier social networking sites dating back to 2003. We are a small, family-owned business and yet freely host over a million class websites. Our Story
Classreport holds a special place in the hearts of our users: Bravos.
Class Support Status

OUR CLASS SITE IS FUNDED THROUGH
September 2018
---
This site is funded by our
Voluntary Contributions

Click Here to Chip In


Class Directory

Where in the world are you? Stats
Recent Profile Updates
| | |
| --- | --- |
| | Oct 12 |
| | Oct 12 |
| | May 13 |
| | Jan 23 |
| | Dec 30 |
| | May 7 |
| | Feb 5 |
| | Aug 15 |
U.S. Armed Forces
Active and Veterans

Please update your profile to be
included in this section.

0 from Our Class

5 from Our School

Class Poll
There is no Active Poll
at this time.
Recent Reviews
There are no reviews on file
at this time.
This area is for comments on
books, movies, music,
restaurants, etc.
Visit Other Classes
The Office
(Admin use only)
If you have any questions or comments regarding this website, please contact:

Class Administrator
Dale Clark Carlton

Would you like a sneak peek at a
non-functioning view of The Office?

This class reunion website is a complementary addition to your existing alumni resources.
It is a product of Classreport, Inc. and may not be affiliated with Little Cypress-Mauriceville High School or its alumni association.

Does your High School Class have a full-featured Alumni Website? Start One Now!
(Or start one for your Mother, Father, Sister, Brother, Spouse, Son, Daughter, Friend . . .)



"Just discovered your product today while trying to locate classmates ahead of our 50th reunion in 2020. The fact that you did this in a noncommercial manner in a world where everything has a price tag deserves recognition and respect, in my view. Thank you and good luck in all your endeavors." 5/5/2018


"THANKYOU so much for handling this for us! We are so appreciative! It looks GREAT!" 5/2/2018


"Thank YOU for helping us get the word out! I've posted a link to the website on our FB group page and vigorously encouraged other classmates to contribute" 4/27/2018


"Your site is amazing. Kudos to you and your staff. You have benefitted so many high school alumni in organizing their class reunions." 10/4/2017


"Thanks to classreport.org our class website played a huge part in the success of our Reunion. We greatly appreciate your wonderful support." 10/3/2017


"Thanks for all your hard work and ingenious spirit." 9/25/2017


"Thanks guys, you are Good!!" 9/23/2017


"I love your service and will continue to support you." 9/14/2017


"We have been using the website for more than 10 years now. It's still the best website out there for classmates to meet, collect their info and advertise their reunions. Thanks for inventing it all!" 9/11/2017


"Thank you for your assistance. It was very helpful. Looks good!" 9/5/2017



More bravos at: www.classreport.org/bravos




15th Anniversary!
There are no fees required for participation on this site.
Please support this site with your voluntary contributions.
We cannot provide this service without your support. Thank You!
Please read Our Story
ClassTraQ 11.003 Software Copyright © 2003 - 2017 Classreport, Inc. All Rights Reserved e0 amsc: 1