No Ads. No Spam. No Pop-Ups. No Fees. Read Our Story.


Loss of a Class member. Dean Bass We received word yesterday that Dean Bass passed away last week. 09/10/11
You guys check out the website: http://www.facebook.com/l/8270cNnN3n82NZj7bkCXwyRZJNA/www.1909HMKingSchool.org


This site is operated and funded by members of our class.
Class Administrator: Whit Herrington
Page Hits: 20,099


Class News

7/10/2008
Class News
No Message . . . Continued


Memorial for Dean Bass Burton Dean Bass Nov. 7, 1939-Sept. 8, 2011 Dean was born in Corpus Christi, Texas. His family moved to Mexico when he was about 2 & 1/2 and remained there about 5 years. At this time his family moved to Okla. From here they made their home in the Valley of So. Tex. The next move for his family was to Kingsville, Texas during his Jr. High days. He graduated from H.M. King High School in 1959. He was very active in their sports programs; running track and playing both basketball and football. In 1958 he served as a football captain along with Arturo Flores, James Pilot, Doug Harvey, and Ronny Johnson. He received a scholarship from the University of Houston where he played defensive end in their football program. Upon graduating from U. of H., Dean began a career in the steel industry. This career took him to Mexico where he worked until his retirement. One of the highlights of his career was to be the overseer in building a steel plant and then putting it into operation. Dean is survived by his son, Travis, his sister, Sue Bass (Wiley) Barton as well as several nieces, nephews, great nieces, great nephews, and cousins. Memorials may be made in Dean's name to the charity of your choice.
Our Class Message Board
Your participation is requested!
We would like to hear from you. Post your messages here.

ADD NEW VIEW ALL

Indicates an included photo
Today's Featured Biography
After HS graduation I worked at a local construction company until November, 1958. College was too expensive, so I joined the Army. I was sent to Ft. Bliss, Texas to attend Nike Air Defense Guided Missile Fire Control (radar) School. About 30% through the Nike course, I was transferred to the first class of Hawk just coming into the Army inventory. After almost a year learning the missile and launcher, I was sent to instructor school. After graduation, I taught the missile guidance system. In late 1960, I was sent to Korea to install Hawk missile batteries around Seoul and the DMZ.

In January 1962, I was discharged from the Army and secured employment with Raytheon Aerospace Corporation at White Sands Missile Range, New Mexico. I was a Technical Representative assigned to the Army Research Projects Agency supporting the Army and Marine Corps Hawk testing program. Additionally, I worked on many new programs to include some associated with the Apollo space mission, the early development of the Patriot missile acquisition radar and other sensitive projects.

Jeralyn and I married in September, 1962. Our first daughter was born on February 29, 1964 in Las Cruces, New Mexico. We moved to Portland, Oregon in December so that I could continue my education. Jeralyn was trained as a Dental Assistant and worked to support us. Her parents lived in Portland and they were available to help us with JoAnn. After two years of college, I found that I needed to go back to work. Janelle was born December 26, 1967 in Portland. My education would have to be put on hold for awhile.

I was hired by Tektronix as a Maintenance Technician on numerical control machines. After five years working swing shift I got into the marketing side of the business as a Machine Control Applications Engineer. I designed and installed machine control interfaces to customer machines and traveled extensively throughout the US and Europe over a three year period. I was granted Engineering Certification by the Manufacturing Engineering Certification Institute in Dearborn, Michigan on June 30, 1979. Over the next ten years, I held positions as a Manufacturing Engineer, Senior Projects Engineer and Project Manager. One project entailed writing, producing and directing industrial training video programs. One of these programs was industry acclaimed and received a national award. Another employer, Floating Point Systems, an array processor manufacturer, was granted two patents for my designs.

Through the years, I worked for several companies in various management capacities to include Plant/Operations Manager of Japan Aviation Electronics Corporation (JAE), a five shift, 24-7, QS 9000 manufacturing facility. They make electrical connectors for automotive airbag systems. As QA Manager and a Certified QS/ISO 9000 Lead Auditor at JAE and also at Compact Controls Corporation, a hydraulic valve manufacturer, I had the arduous task of leading them through the international ISO certification process.

I retired from industry in 2001. I've been on the Mechanical Engineering and Manufacturing Engineering Board for the Oregon Institute of Technology twenty-eight years, ten as Chairperson, and past Regional Chairman for the Society of Manufacturing Engineers.

I spent twenty years with the Oregon Air National Guard with the 142nd Fighter Interceptor Group as a Flight Simulator Instructor and Technician on the F-101 (Voodoo) and F-4 (Phantom). Additionally I was a Weapons Control Maintenance Technician on the F-4 and the F-15 (Eagle). I am a Commercial pilot and Flight Instructor (single & multi-engine, instrument, airplane) and I have flown over twenty aircraft. I do not do much instructing now, but I still fly occassionally in support of Angel Flight West, a non-profit organization that flies patients to specialist throughout the country and transplant organs for patients needing them to continue their lives.

Trains have always been one of my hobbies. In 1981, I volunteered to help on a tourist railroad and that humble beginning has grown into a part-time vocation. I received some basic training from the Union Pacific in Salt Lake, Utah. I've operated trains for three railroads and the Metro Zoo. I'm a Certified Locomotive Engineer and presently operate passenger and freight trains part-time on the Mt. Hood Railroad. I have amassed a collection of model trains of various scales over the years to include a full-size Frisco wide-vision caboose.

Jeralyn loves flower arranging and had her own floral shop at our home for several years. We travel some, mostly to the Oregon coast. We have four grandchildren, one boy and one girl from each daughter. Both live in the Portland area. We've been married 46 years, are in good health and pray for many more. We look forward to seeing everyone (you-all) in Kingsville at the reunion.

A bit of trivia...

Jeralyn said she was sending me a living letter that I interpreted to mean that she was coming to visit me in Las Cruces, New Mexico where I lived at the time. She, of course, meant a recording. I called her only to find out my mistake, but with my charm, I was able to convenience her to fly to El Paso. We met at the El Paso airport and three days later in Carlsbad Caverns, I proposed. We had written to each other several years as friends, but we had never seen each other in person before that. As I had no engagement ring, I gave her my King High ring to wear around her neck until I could get to Portland for the wedding. We were married three months later on September 5, 1962. (Yes, she did get both a wedding and engagement ring.)

My mother died the day after I was born and Jeralyn's mother passed away twenty days after her birth. Ironically, we both had the same foster parents in Los Angeles. We even wore the same baby shoes that are "bronzed" and displayed in our home. Before I was two years old, I was adopted by my grandparents and Jeralyn was raised by her aunt and uncle. Incidentally, they were my foster parents.





Family News Summary
Enter your Family News Item choosing from our pre-defined categories:
Anniversary, Award, Birth, Death, Diagnosis, Engagement, Graduation, Lottery, Retirement, Vacation, Wedding, Other.
There is no Family News on file
at this time.
Calendar
There are no Calendar items on file
at this time.

Today's Featured Class Member Website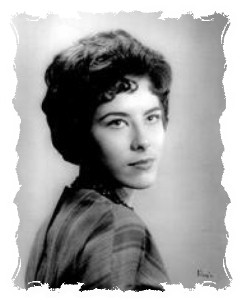 CHIUMINATTO Martin J. Chiuminatto, age 90, a resident of Kingsville, Texas passed away Tuesday, January 25, 2011 in Kingsville. He was born in Beaumont, Texas to Martin and Rose Oliveri Chiuminatto. Mr. Chiuminatto taught at the Kingsville Independent School District as an industrial arts teacher for over 30 years until his retirement. He had earned a bachelors and masters degree from Texas College of Arts and Industries. Mr. Chiuminatto was a U.S. Navy veteran of World War II and subsequently retired from the Navy Reserve as a Chief Petty Officer. He was preceded in death by his parents; son, John C. Chiuminatto; and two sisters, Mary Messina and Peggy Staten. Mr. Chiuminatto is survived by his wife, Jimmie Sue Chiuminatto of Kingsville; son, Martin J. (Mary) Chiuminatto Jr. of Kingsville; daughter, Lee (Jim) Means of Waukesha, Wisconsin; two step-daughters, Lisa (Steve) Manus of Houston, Texas and Kim (Kevin) Davis of Weesatche, Texas; 11 grandchildren; and two great-grandchildren. Visitation will take place on Friday, January 28, 2011 from 5:00 p.m. until 9:00 p.m. at the Turcotte-Piper Mortuary with the family receiving friends from 6:00 p.m. until 7:00 p.m. Funeral service will be held at 10:00 a.m. Saturday, January 29, 2011 at the Turcotte-Piper Mortuary Chapel with Roy Smalling officiating. Burial with military honors will follow in Kingsville at Chamberlain Cemetery.
Classreport.org provides free Class Websites for every graduating class of every high school with free access for all.
We are one of the premier social networking sites dating back to 2003. We are a small, family-owned business and yet freely host over a million class websites.
Classreport holds a special place in the hearts of our users: Bravos.
We are funded solely through your voluntary contributions. Can you help us keep this site online and ad-free for another year? Thank you for your support!
Please click here to contribute.
No Ads, No Spam, No Pop-ups, No Fees.
Class Support Status

Our Class Site is Fully Funded!
Additional contributions are welcome and will be used to provide support for the larger Classreport community.
CLICK HERE TO LEARN MORE
Class Directory

Where in the world are you? Stats
Recent Profile Updates
| | |
| --- | --- |
| | Sep 20 |
| | Jan 9 |
| | May 25 |
| | Feb 12 |
| | Feb 1 |
| | Jul 29 |
| | Feb 22 |
| | Feb 20 |
Class Poll
There is no Active Poll
at this time.
Visit Other Classes
The Office
(Admin use only)
If you have any questions or comments regarding this website, please contact:

Class Administrator
Whit Herrington

Would you like a sneak peek at a
non-functioning view of The Office?

This class reunion website is a complementary addition to your existing alumni resources.
It is a product of Classreport, Inc. and may not be affiliated with King High School or its alumni association.

Does your High School Class have a full-featured Alumni Website? Start One Now!
(Or start one for your Mother, Father, Sister, Brother, Spouse, Son, Daughter, Friend . . .)



"Ttanks for your support. I was able to get the correct document uploaded. Your site is amazing." 2/9/2017


"You have done a GREAT job with this site. I will be telling our class to update their profiles." 2/8/2017


"My class appreciates your organization more than I can say. THANK YOU." 2/8/2017


"Many thanks for the news update about our class. The site is really looking great!" 2/6/2017


"Thanks for all you do for us!" 1/13/2017


"I enjoy reading the website." 12/27/2016


"You have a great web site - Thank you!" 12/24/2016


"Thank you for having such a wonderful site. Our class appreciates your continuing work." 11/24/2016


"We are glad that you all maintain this web site. We think our site is a really good site and want to keep it running." 11/23/2016


"Great Stuff!!! Thank you." 11/23/2016



More bravos at: www.classreport.org/bravos




14th Anniversary!

Search All Schools Best Classes Reunions Features Setup Your Class FAQ Funding Our Story Support Privacy Policy We DO NOT sell advertising to support this site. We DO NOT sell names and addresses to third parties.
There are NO POP-UP ads. There are no registration fees required for participation.
Please support this site with your voluntary contributions.
We cannot provide this service without your support. Thank You! Read Our Story

ClassTraQ 9.7003c Software Copyright © 2003 - 2015 Classreport, Inc. All Rights Reserved e1