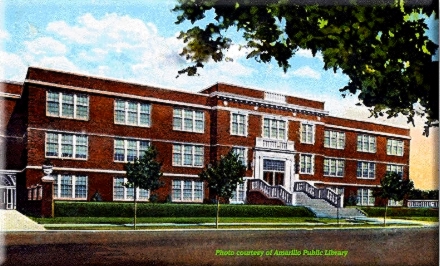 This photo can be changed by your Class Administrator.


This site is operated and funded by members of our class.
Class Administrator: Evaline McSpadden Thompson
Page Hits: 20,378


50 Year Reunion Announcement!
---
Friday Night Registration, Mixer and Dinner
Friday, October 5, 2018 - 6:30 pm
Shriner East Room - $20 per person or $20.88 Using Debit, Credit or PayPal
---
Tour of Amarillo High School
Saturday, October 6, 2018 - 9:30 am
Amarillo High School - $0 per person
The tour will be conducted by Mr. Biggers who is a long term teacher at Amarillo High School and expert on the history of Amarillo High School. This event will include viewing of valuable art work saved from the original Amarillo High School building as it was burning.
---
Saturday Lunch Event
Saturday, October 6, 2018 - 11:30 am
Youngblood's Cafe - $15 per person or $15.74 Using Debit, Credit or PayPal
---
Saturday Night Dinner and Dance
Saturday, October 6, 2018 - 6:30 pm
Amarillo Country Club - $55 per person or $56.90 Using Debit, Credit or PayPal
---
50th Sandie Reunion Worship Service
Sunday, October 7, 2018 - 10:00 am
Original Building of First Baptist Church located at 12th and Tyler across from the campus of our old alma mater
---
50 Year Reunion Announcement!
---
Reserved Blocks of Rooms for the Reunion Weekend
Blocks of rooms are set up for our class at the following hotels:
1. Embassy Suites downtown for $139.00 plus taxes per
night (use the following link to book this hotel:
Embassy Suite Link
Or copy and paste
http://embassysuites.hilton.com/en/es/groups/personalized/A/AMADOES-AHS-20181002/

2. Springhill Suites Marriott located at 2301 Amarillo Boulevard
for $99.00 plus taxes per night (call 806-381-3400 to make
reservations)

3. Drury Inn and Suites at 8540 West I40 for $129.99 plus
taxes per night (use the following link to book at this hotel:
Drury Inn Link
Or copy and paste
https://www.druryhotels.com/bookandstay/newreservation/?groupno=2324816
---
Class News

10/2/2008
AHS 40th Reunion Worship Service - July 27, 2008
AHS 40th Reunion Worship Service July 27, 2008 Pondering the Past: Facing the Future Life's Grand Adventure Good morning! It's my privilege to deliver the message for this AHS 40th reun . . . Continued

8/19/2008
Sidney Allen Crim's message to the class delivered at the church service
I asked Bill if he needed help with the service so I could contribute in some small way to our reunion, after all the work so many of you have put into the reunions I have enjoyed. I figur . . . Continued

8/18/2008
Dair Hileman's message to the class which was read at the church service
Dear Class of '68, "There is a time for everything; a time for every event under heaven." Of course I believe those words from the Bible, but I would add that it sometimes seems there is j . . . Continued


Today's Featured Biography




Ms. Ann Boney a native of Amarillo, Texas has called Bryan her home for the past 23 years. Ms. Boney, for the past 20 years, has works at Texas A&M University in the College of Agriculture and Life Sciences the Department of Horticulture for the Benz School of Floral Design, in addition, the Advisor for the Forsyth Chapter of the Student American Institute of Floral Designers.
As a member of the Greater Tabernacle Baptist Church, under the pastorate of Reverend D.N. Jones, she serves as the Director of Youth and Youth choir director, Assistant Sunday School teacher, Assistant Director of the Baptist Training Union, and works with the Mission II Auxiliary both at home and in the District.. Ann serves in the Central District Association of Churches as the district choir director. She has served and represented her community as an avid speaker of God's word at home, state, region and national events. Ann is a member of the African-American Professional Organization (AAPO) on the campus of Texas A&M University, a member of the Citizen Advisory Committee for Bryan Police Department, member of the Brazos Valley Health Partnership Board, B/CS Family Solutions Committee, and Friend of the American Institute of Floral Designers in addition she was one of four African Americans featured for Black History Month by KBTX-TV.
Ann currently serves as the president of the Brazos County Branch of the NAACP. She served three terms as secretary of the Branch and two terms as vice president before her tenure as president. She serves as an elected member of the Executive Committee of the Texas State Conference. During her 03-04 term she served as one of five Texas State Conference NAACP Certified Trainers. She has served as the key-note speaker at several Texas NAACP Branches Freedom Fund/Award banquets.
Among some of the awards that Ann has received: '08 HomwTown Hero's presented by the B/CS Convention & Visitor's Bureau; '06 "Woman of Distinction" given by the Bluebonnet Girl Scout Council, Concerned Black Men of the Bravos Valley, '05 "Leadership Award", NAACP "Trailblazer", Award, Delta Sigma Theta Sorority, Inc. "Frederica Chase Dodd Service Award", "Nubian Festival" Salute to Faculty or Staff Member presented by Texas A&M University MSC Black Awareness Committee, and the "Distinguished Citizen" recognized by the African American National Heritage Museum.
Her immediately past affiliations include Conference Coordinator for the 92nd. Session of the Congress of Christian Workers Missionary Baptist General Convention of Texas, Board of Directors of OPAS and Brazos Valley Regional Leadership, History of Africans Americans at Texas A&M Committee, presenter during Kappa week (Mis-edukation of the Negro), presenter at the Charles Williams II Annual Leadership Institute at Texas A&M University, panelist on the discussion of the book "A Lesson Before Dying" by Earnest Gains presented by the English Department at TAMU, "HOST" participant at Neal Elementary School. Ann has two sons, Christopher 38, and Raymond 32, and one daughter Roycee 37. In addition she is the proud grandmother of 8.








Classreport.org provides free Class Websites for every graduating class of every high school with free access for all.
We are one of the premier social networking sites dating back to 2003. We are a small, family-owned business and yet freely host over a million class websites. Our Story
Classreport holds a special place in the hearts of our users: Bravos.
Class Support Status

Our Class Site is Fully Funded!
Additional contributions are welcome and will be used to provide support for the larger Classreport community.
CLICK HERE TO LEARN MORE
Class Directory

Where in the world are you? Stats
Recent Profile Updates
| | |
| --- | --- |
| | Sep 21 |
| | Sep 19 |
| | Sep 19 |
| | Sep 16 |
| | Sep 14 |
| | Sep 13 |
| | Sep 10 |
| | Sep 6 |
Class Poll
There is no Active Poll
at this time.
Recent Reviews
There are no reviews on file
at this time.
This area is for comments on
books, movies, music,
restaurants, etc.
Visit Other Classes
The Office
(Admin use only)
If you have any questions or comments regarding this website, please contact:

Class Administrator
Evaline McSpadden Thompson

Would you like a sneak peek at a
non-functioning view of The Office?

This class reunion website is a complementary addition to your existing alumni resources.
It is a product of Classreport, Inc. and may not be affiliated with Amarillo High School or its alumni association.

Does your High School Class have a full-featured Alumni Website? Start One Now!
(Or start one for your Mother, Father, Sister, Brother, Spouse, Son, Daughter, Friend . . .)



"Just discovered your product today while trying to locate classmates ahead of our 50th reunion in 2020. The fact that you did this in a noncommercial manner in a world where everything has a price tag deserves recognition and respect, in my view. Thank you and good luck in all your endeavors." 5/5/2018


"THANKYOU so much for handling this for us! We are so appreciative! It looks GREAT!" 5/2/2018


"Thank YOU for helping us get the word out! I've posted a link to the website on our FB group page and vigorously encouraged other classmates to contribute" 4/27/2018


"Your site is amazing. Kudos to you and your staff. You have benefitted so many high school alumni in organizing their class reunions." 10/4/2017


"Thanks to classreport.org our class website played a huge part in the success of our Reunion. We greatly appreciate your wonderful support." 10/3/2017


"Thanks for all your hard work and ingenious spirit." 9/25/2017


"Thanks guys, you are Good!!" 9/23/2017


"I love your service and will continue to support you." 9/14/2017


"We have been using the website for more than 10 years now. It's still the best website out there for classmates to meet, collect their info and advertise their reunions. Thanks for inventing it all!" 9/11/2017


"Thank you for your assistance. It was very helpful. Looks good!" 9/5/2017



More bravos at: www.classreport.org/bravos




15th Anniversary!
There are no fees required for participation on this site.
Please support this site with your voluntary contributions.
We cannot provide this service without your support. Thank You!
Please read Our Story
ClassTraQ 11.003 Software Copyright © 2003 - 2017 Classreport, Inc. All Rights Reserved e1 amsc: 1