Dear Classreport users:
We are one of the premiere social networking websites dating back to 2003. We are a small, family owned and operated business with less than 15 staff but freely host over a million class websites. Classreport holds a special place in the hearts of our users:
Bravos
. We are funded solely through your voluntary contributions. Despite our small size we have the same costs as any other site: servers, security, software, and staff. So now we ask for your support. If everyone reading this gave $15, our fundraiser would be over in one day. If Classreport is useful to you, take one minute to keep it online and ad-free for another year. Thank you.
Click here to chip in now
.
Please Support Our Class Website in 2013. Can you chip in today?
Classreport will match all 6 month contributions through Dec 31!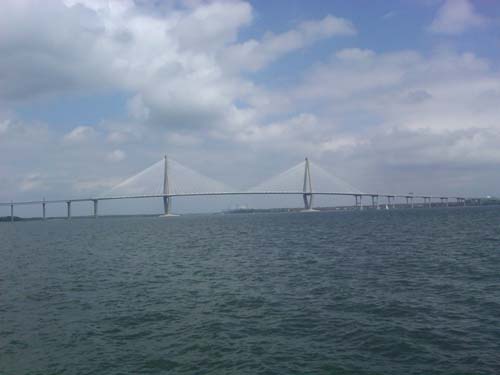 This site is operated and funded by members of our class.
Class Administrator: Eric Sojourner
Page Hits: 3,465


Today's Featured Biography
After graduation from MHS in 1976, I went on to the College of Charleston (Class of 1980). While at the CofC I was a member of the Chi Omega sorority for 4 years, and a member of the CofC theatre company, Center Stage, for 2 years. I majored in alcohol, partying and finally actually earned a B.S. degree in Sociology (and no, I did not graduate with honors) with the intent of becoming a social worker -- what the hell was I thinking -- long hours and no money -- you live and learn! College was were I found my "inner wild child" self. I have lived life to the fullest ever since.

Since college, I have actually been a social worker for the past 30 years at the Charleston County Department of Social Services. I'm a child protective services supervisor -- don't be hating -- God don't like "ugly"! I'm exited and scared at the same time, because I plan to retire in March 2012 -- look out world, she'll be on the loose again! Anyone got any good job offers for a young, retired social worker?

My personal life is a little boring -- I've never been married, and I'm still single and looking -- let me know if there are any takers out there! I have a beautiful daughter, Lindsey (22), and she is married to a wonderful guy, Chris (25) -- and I really mean that -- I adore my son-in-law. I have a little toy poodle, Mimi -- she's a real cutie. If I knew anything about embedding or uploading photos, there would be pictures. So if you want to see pictures, you'll have to look me up on Facebook (Debi Gupton).

Now my social life is another story all together! I rarely have a night that I'm not out involved in some type of activity. I guess that's how I became so "well-rounded" -- yes, I have a great sense of humor. My daughter was posting on Facebook the other day, and there was something about me, and being shy when I was in high school -- my friends, from "now", replied that they had a hard time believing that -- so I told them "Just ask anyone that I went to high school with that didn't know me -- which would have been most of the Class of 1976."

Now, almost everyone knew my younger brother (yes -- even though he looks older, he is actually 2-1/2 years younger than me), Kenneth. He's married with 2 grown sons -- Justin (24) and Max (20); he and Page live in Huntersville, NC (a suburb of Charlotte, NC). Justin is an assistant golf pro at Carolina Golf Club in Charlotte, NC and working on getting onto the major PGA tour (Justin is the athlete). Max is a junior at Appalachian State University, majoring in accounting (he is the smart one out of our 3 children, and also an athlete). My daughter is the talented one -- she was a vocal major at the Charleston County School of the Arts -- she also acts, writes, and draws -- anyone need to hire a smart and talented young lady -- she's looking for a new job (she is not an athlete).

Well, now you know what I've been up to for the past 35 years. Hope I'm able to make it to the 35th Reunion in October. If I make it, I'll be attending without a date -- I'm just sayin' -- I'm look forward to seeing all those people who didn't know me back in high school -- now's your chance! ;-) By the way, what are HTML tags and .jpg extensions -- they sound like a skin condition and something to do with hair? :-)


Classreport.org provides free Class Reunion Websites
for every graduating class of every high school, with free access for all class members.
No Ads, No Spam,
No Pop-ups, No Fees
Class Support Status

OUR CLASS SITE IS FUNDED THROUGH
November 2013
---
This site is funded by our
Voluntary Contributions

Click Here to Chip In


Recent Profile Updates
| | |
| --- | --- |
| | Oct 5 |
| | Dec 23 |
| | Nov 13 |
| | Sep 4 |
| | Sep 1 |
| | Jun 6 |
| | Dec 14 |
| | Nov 15 |
Class Poll
There is no Active Poll
at this time.
Featured Links
There are no Featured Links
at this time.
Recent Reviews
There are no reviews on file
at this time.
This area is for comments on
books, movies, music,
restaurants, etc.
Visit Other Classes
The Office
(Admin use only)
If you have any questions or comments regarding this website, please contact:

Class Administrator
Eric Sojourner

Would you like a sneak peek at a
non-functioning view of The Office?

This class reunion website is a complementary addition to your existing alumni resources.
It is a product of Classreport, Inc. and may not be affiliated with Middleton High School or its alumni association.

Does your High School Class have a full-featured Alumni Website? Start One Now!
(Or start one for your Mother, Father, Sister, Brother, Spouse, Son, Daughter, Friend . . .)



"We just had our Reunion and I received many appreciative comments about the website. You all are doing a wonderful job. Keep up the good work!" 12/5/2013


"We have utilized your website many times and it has helped bring many of us together again. Our class members have been very responsive to our postings and indeed the site contributed greatly to our recent successful reunion. In fact, it was so successful we'll probably have another reunion next year! Thank you for everything." 12/2/2013


"I am getting to know the website and there are many options that will help with our reunion organizing! Thanks!" 11/30/2013


"We are so thankful for you all that started this website. We all love it!!!" 11/27/2013


"My class members truly LOVE your site. It helped make our recent reunion a great success. Have a Happy Holiday season." 11/25/2013


"We absolutely love the classreport website. It is working great for all of our needs. We are really happy to be part of the website and we appreciate all of your efforts to keep improving the site." 11/21/2013


"Ya'll do such a fantastic job with this site and I sing your praises all the time! The other classes from our school are beginning to join the site and they just love it too!" 11/15/2013


"Thank you so much for the fabulous website you provide. Such a wonderful way to connect with our class members and get our information out." 11/12/2013


"Classreport has been a huge help in assisting us with connecting with our class members and your staff has always been so helpful and kind." 11/6/2013


"Our class greatly appreciates your efforts as us oldsters are gradually getting more adept with these 'new' gadgets!" 10/27/2013



More bravos at: www.classreport.org/bravos

Search All Schools Best Classes Reunions Features Setup Your Class FAQ Funding Our Story Support Privacy Policy

We DO NOT sell advertising to support this site. We DO NOT sell names and addresses to third parties.
There are NO POP-UP ads. There are no registration fees required for participation.
Please support this site with your voluntary contributions.
We cannot provide this service without your support. Thank You! Read Our Story

ClassTraQ 8.1001a Software Copyright © 2003 - 2012 Classreport, Inc. All Rights Reserved e0