Please Support Our Class Website in 2016. Can you chip in today?
All contributions will be DOUBLED through October 31!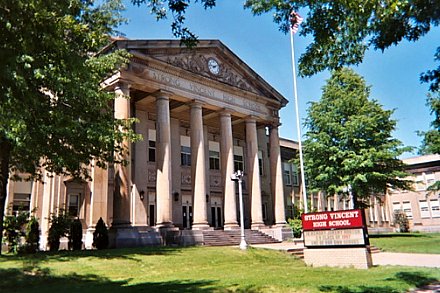 This photo can be changed by your Class Administrator.


This site is to be operated by members of our class.
We need a Class Administrator.
CLICK HERE TO LEARN MORE OR TO VOLUNTEER

Page Hits: 6,705




50 Year Reunion Announcement!
---
Friday, June 23, 2017
Location, time, cost - to be determined
CASUAL FRIDAY - details will be announced when they're firmed up

If you suspect we do not have your correct address, phone, or e-mail, please contact Kathy McLaughlin McCarthy

Event Contact: Kathy McLaughlin McCarthy
---
---
Class News

3/2/2016
Names & pictures & some data added
Hi...names and pictures have been added. Some locations and other items have also been entered, but all the data should be double-checked...as data change over time. Married names for the f . . . Continued


Today's Featured Biography
Date: March 12, 2001
Publication: Erie Times-News (PA)

Terry Scutella announces bid for seat on Millcreek School Board
Terry M. Scutella has announced he is seeking one of four Millcreek School Board seats in this year's ballot.
Scutella, 52, a Democrat, has cross-filed on both the Democratic and Republican ballots for the May 15 primaries. He is seeking a four-year term on the nine-member board.
In a news release announcing his candidacy, Scutella said he believes "we must understand all issues...

====
Elect Terry M. Scutella for Pennsylvania State Senate
Posted on February 25, 2012 by admin
Terry M. Scutella is excited to announce his candidacy for Pennsylvania State Senate in the 49th District. Terry would like to be the voice for the people of Erie County, as well as all the citizens of the Commonwealth of Pennsylvania. Terry will bring their concerns to Harrisburg to work with both Democrats and Republicans in the legislature in resolving these concerns.

As a school board director, Terry's biggest passion is for students. With the opportunity of this position, Terry hopes to pass legislation that will help students achieve more success, not just on a local level, but on the state level as well by working with the Senate to improve:

Public school funding for education
Higher education funding
Subsidies and resources to school districts
In addition, Terry will work to address these concerns:

Economic development
Improving the manufacturing base in Erie County
Tax reform, not tax shifting

Meet Terry:
Family...Terry Scutella has been married to his wife, the former Christine D'Aurora for 36 years. Terry and Christine have two daughters, Tara Scutella Butcher, 32 and Lindsey, 23, as well as a son-in-law, Paul Butcher Jr., 32. The family has also recently adopted a beagle puppy, Hunter.

Terry, a lifelong resident of Erie, is the eldest son of the Ernest (deceased) and Jacqueline Scutella. Terry has four brothers, Carmen, Ernie, Steve and John.

Educational and Professional Experience: After graduating from Strong Vincent High School in 1967, Terry joined the United States Marine Corps Reserves until 1973. Through the local Marine Corps Reservists, Terry was actively involved in the Toys for Tots program. Also beginning in 1967, Terry began his work at the General Telephone Company as a lineman and cables splicer until 1973.

In 1975, Terry began his career with the Pennsylvania Department of Revenue as a revenue enforcement collection agent. Terry's duties included enforcing the tax laws of the state of Pennsylvania, such as sales tax, employer withholding, corporation tax and inheritance tax. Terry shared his knowledge at many seminars where he gave talks to tax preparers that dealt with Pennsylvania tax laws. During his tenure with the Department of Revenue, his achievements were recognized with awards, such as the Secretary's Revenue Award for Excellence and the Extraordinary Customer Relations Achievement Award. In June of 2009, Terry retired after over 33 years of service.

Community and Political Involvement: Millcreek School Board... Presently, Terry is serving in his 11th year on the Millcreek School Board. Terry became involved with many projects as a school director, including the renovation of J.S. Wilson Middle School, Asbury Elementary School and Asbury Woods Nature Center. His involvement also led to the passing of many programs that continue enhance the educational opportunities for the students of Millcreek. He is currently the district's treasurer and the chairman of the technology committee. He sits on the personnel and operations committee as well.

Terry has also served as the board's president for four terms. He sat on the finance, instruction, policy and student service committees, as well. Up until February 2012, he was the Millcreek representative for the Erie County Votech School initiative.

Other community and political involvements include:
* Current Committee Member of the Community Health Net
* Current Committee Member of the Ronald McDonald Charities
* Current PTA Member of Millcreek Schools – 1995-Present
* Recording Secretary of the Erie County Democratic Party – 1989-1996
* Executive Board of the Erie County Democratic Party – 1989
* President of AFSCME Local 1975 Union – 1982-1983
* Secretary of Guiseppe Mazzini Civic Association – 1989-1996
* Committee Allocation Member for the United Way – 1982

Interests and Volunteer Experiences: From 1968-1973, Terry volunteered his time coaching the Boy's Baseball League of Erie. One year, he was honored as Coach of the Year. Terry was able to continue his passion for coaching when his daughter, Lindsey, began playing softball in 1999. Terry coached her Millcreek Youth Athletic Association team until 2004 and sat on the MYAA Board of Directors from 2002-2003.

Terry has been avid bocce player since 1989. He plays year-round in the men's league at La Nuova Aurora Club and in the summer league for St. George's School.


Classreport.org provides free Class Websites for every graduating class of every high school with free access for all.
We are one of the premier social networking sites dating back to 2003. We are a small, family-owned business and yet freely host over a million class websites.
Classreport holds a special place in the hearts of our users: Bravos.
We are funded solely through your voluntary contributions. Can you help us keep this site online and ad-free for another year? Thank you for your support!
Please click here to contribute.
No Ads, No Spam, No Pop-ups, No Fees.
Class Support Status

OUR CLASS SITE IS FUNDED THROUGH
September 2016
---
This site is funded by our
Voluntary Contributions

Click Here to Chip In


Class Directory

Where in the world are you? Stats
Recent Profile Updates
| | |
| --- | --- |
| | Oct 16 |
| | Oct 6 |
| | Sep 29 |
| | Sep 29 |
| | Sep 29 |
| | Sep 29 |
| | Sep 29 |
| | Sep 29 |
Class Poll
There is no Active Poll
at this time.
Featured Links
There are no Featured Links
at this time.
Recent Reviews
There are no reviews on file
at this time.
This area is for comments on
books, movies, music,
restaurants, etc.
Visit Other Classes

This class reunion website is a complementary addition to your existing alumni resources.
It is a product of Classreport, Inc. and may not be affiliated with Strong Vincent High School or its alumni association.

Does your High School Class have a full-featured Alumni Website? Start One Now!
(Or start one for your Mother, Father, Sister, Brother, Spouse, Son, Daughter, Friend . . .)



"Your website has been awesome to work with. It made our reunion planning and execution much easier to handle." 6/24/2016


"I have been the co-chair of the reunion for many years and am just now coming across your site. I appreciate the time you have put into this and I am sure this will help our reunion to be very successful." 6/23/2016


"Thank you all so much! Coming up on our reunion, I continue to get many compliments from class members on the website. If they only knew who the real guru's behind it are. I truly couldn't get by without you and we appreciate all that you do for us." 6/20/2016


"I so appreciate Classreport.org and I extend my gratefulness for your efforts. Best regards and good wishes!" 6/13/2016


"I am most appreciative of the Classreport.org site and your support, which far exceeds anything else out there. Many thanks for what you all have done. We are well on our way for our upcoming reunion!" 6/11/2016


"I am so impressed with the Office portion of the website and the wonderful way the information here keeps us all connected. Thank you to the whole Classreport staff for following your dreams and making this possible for so many high school reunion groups to keep in touch. We are happy to support your cause with thankfulness and gratefulness for such a helpful tool. Thank you for all that you do!" 6/10/2016


"I love your site. At my age it is hard putting names and faces together and your site makes it easier than the others. Keep up the good work." 6/6/2016


"What a great website you have!! Our reunion was the best ever because of you and we expect many more at the next one due to the outstanding success of the site! Thx so much!!" 6/4/2016


"This site has helped my class members and I connect with each other that otherwise would not have been possible. We are already starting to plan our next Reunion. Thank you for this website." 5/28/2016


"Thank you for your response to my questions. I appreciate your very kind response and I am very happy with Classreport." 5/20/2016



More bravos at: www.classreport.org/bravos




13th Anniversary!

Search All Schools Best Classes Reunions Features Setup Your Class FAQ Funding Our Story Support Privacy Policy We DO NOT sell advertising to support this site. We DO NOT sell names and addresses to third parties.
There are NO POP-UP ads. There are no registration fees required for participation.
Please support this site with your voluntary contributions.
We cannot provide this service without your support. Thank You! Read Our Story

ClassTraQ 9.7003c Software Copyright © 2003 - 2015 Classreport, Inc. All Rights Reserved e0