Today's Featured Biography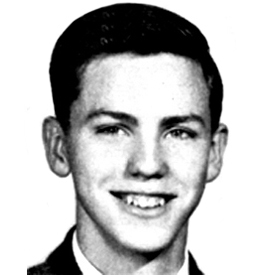 Carl Donald (Don) HANES Donald


6/2015
Don Hanes for the 55th - Things I'd like to share with my Strong Vincent Class of 1960:
I love to travel! I have been to 43 of our 50 states, including Alaska & Hawaii and ten foreign countries.

Canada is one, of course. I have been to six of their provinces: British Columbia, Alberta, Saskatchewan, Manitoba, Ontario, and Quebec. Other than Canada, I stopped briefly in France on my way to my first short-term Mission trip, which was Poland in the summer of 2006. I even learned a little bit of Polish before I went, as well as learning more of their history.

In 2007, I visited Manila, Philippines to see a child we had sponsored for 13 years graduating from college. The airplane flight time was 18.25 hours, with a brief stop in Japan for refueling.
After my mission trip to Poland, I was ready to try another one. January of 2009, I went to the Dominican Republic and liked it well enough to return five more times. In the summer of 2009, I went to Mexico with some members of my adult Spanish class and high-school students from McDowell. This was a 12 day trip, 8 of which were an immersion experience in the language.

A group from my church organized a trip to Israel in 2011, which gave me an opportunity to see the Holy Land, and to get to know some of my church family on an extended trip. We had a few hours stop in Germany en route. This was in March, so Israel was not too hot, although the Dead Sea area was much warmer than Jerusalem.

Then in 2014, I finally convinced my wife to go to a foreign country, Columbia. It was not as adventurous as it sounds. Cartegena, Columbia, was the first stop on our 12-night Southern Caribbean cruise with NCL.

I am an avid Penn State fan and had season tickets for 33 years, starting in 1975. I still go to some games, but I buy tickets from other Nittany Lion Club members. Since my retirement, I help teach English to foreign students.

====
Earned three college degrees. Joined U.S.A.F. 25 July 1966, discharged at Minot AFB, ND 25 Jul 1970 as S/Sgt.
Married July 9,1966.
Worked in Education as a substitute teacher, also Accountant & Tax Preparer, and retired from Verizon. I like to travel, which included six missions trips: one to Lublin, Poland and five to the Dominican Republic and Columbia. I have been to 42 states as well as the Philippines, Israel, Mexico, Peru, and brief stops in France, Germany, Japan, and several Caribbean islands, plus six Canadian Provinces.

I am especially fond of history, learning Spanish and encountering different cultures.
I currently volunteer with the Erie City Mission, and help teach, sometimes teaching English to foreigners and refugees.