No Ads. No Spam. No Pop-Ups. No Fees. Read Our Story.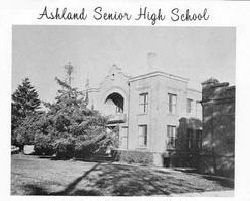 This site is operated and funded by members of our class.
Class Administrator: Class of '61' Administrator
Page Hits: 6,001


Reunion Information
Our 55th Class Reunion is coming up in 2016. We have nothing tentatively planned that can be posted at this time.
Remember the "All Class Reunion" Day.

Every year, it is the last Saturday of July.

A coffee gathering in the Ashland High School Quad at 10:00 am and Buffet in the evening.

The All Class Reunion information will be confirmed and posted in the Reunion Section. The cost and location of the buffet will be announced there also.

Register with Alan Hassell.



If this is your first visit, register per the instructions below. Update your profile information also.
Home Page Table of Contents

On the home page, I have colored various sections to help you locate instructions. I will put up 2 colors which will be the background color and the border color, like this one is Yellow/Orange.

1. Blue/blue is general assistance via an Email request. Just below it is the link to classmate stories.

2. Gold/Bronze is how to post to various forums.

3. White/Violet is instructions on posting pictures, slideshows and Movies.

4. Green/Green is general site information.             

5. White/Blue is how to register and update your profile.

6. Violet/Violet is Search instructions and Picture links.

7. Red/Red is Other Class Activites.
This site will always be under construction!
Check back often for Up-dates and Class Reunion information.
On this site, you have many things that you can post directly into. You can post just anything on your profile. The exceptions are listed below for first what you can do. In the right column there are 3 things that you can post to if you have logged on, Recent Reviews, Recommended Recipes and Prayer Requests. In the left column there is Our Class Message Board. I recommend that you type the message you want to post into a word processor first and then after you have spell checked it, The copy it to the clipboard and paste it into the location you have selected. This is true of the profile also. On the profile, you can answer all the questions listed but remember that these postings will be shown to the public at large. You have to have the administrator or assistant post the Yearbook and Now picture on the Profile. On the Home Page the administrator must do the posting to The Calendar, Family News Summary, Reunion Announcement area and Featured Links. If you have a movie, slide show or an album of pictures that you would like to show, your can post those on your Profile page. If it is worthy of the Home Page, contact the Administrator and the information can be moved from your site to the Home Page. I also have the ability to make links to some profiles from the Home Page. For help or assistance, make selection below.
For help or assistance, make selection below.
First Visit Here? Click Here to Register
Featured Links
Just to the right are some links to various Class Sites. Please check out these sites by clicking on the link name.
There are sections that you can post in just below the Featured Links. Please feel free to use them. Do not forget about the Class Message Board and the Family News Summary sections. You can post entries there also.
Instructions to post Pictures, Slideshows and Videos on your Profile.
Placing pictures or even a slideshow of your pictures is something that you can do on your Profile.

For pictures, you will want to make a photo album and use the services of photobucket.com or the other providers of these types of services.

For Slides, you need to go through slide.com or slideshow.com for the making of a slideshow. They are download sites that will make the slideshow for you. You download the pictures, order them the way you want them to be shown and you can even select background music.

Once this is done, they provide the HTML coding to be placed on the profile. I would open a text editor like Notepad to save the HTML coding there first as you do not want to loose this. It is the access to those pictures. Then post the code to the Profile in the Slideshow section provided.

I use Windows Movie Maker and download what I made to youtube.com where they make the video and store it for you. They, also, give you the HTML code that you insert into your profile page.

If you are planning on taking on this type of project and feel uneasy in doing such, select the green Assistance button in the blue box above and drop me a line.

Our Class Message Board
Your participation is requested!
We would like to hear from you. Post your messages here.

ADD NEW VIEW ALL

Indicates an included photo
| | |
| --- | --- |
| Message | from Linda Barker Monroe |
| Deceased classmates: Forrest Farmer Do | Wed 7/28/2010 11:21 PM |
| 1961 deceased classmates: | Linda Barker Monroe |
| Deceased 1961 classmates: Forrest Farm | Wed 7/28/2010 11:19 PM |
Today's Featured Biography
I was born in Ashland, Oregon and started first grade at the NEW Briscoe School in 1949. I attended little tot dance classes in 1947 and kindergarten in 1948 at the old Pioneer Building across from the Lithia Park. My family, including my grandparents, attended the Ashland First Methodist Church where my parents were married and I was baptized as an infant. Dale Monroe's family attended this church also. Dale and I started dating after an MYF party in July of 1958 at the Felter's home. He was working at Claude Wright's Standard Station at the time. He started working when he was 8 years old selling newspapers on street corners. My folks owned the creamery across the street from the entrance to the Lithia Park playground. They sold the business and went into real estate. My family moved to Medford before my junior year in Ashland. I hated Medford High and wanted to move back to Ashland to be with the friends I grew up with. My mom said "just get married then and move back". I did and went back to Ashland High for my senior year. We were married on my grandpa's birthday, August 28, 1960 in the Ashland First Methodist Church. My grandparents loved Dale too, Dale took Grandpa fishing. Our first son, Steve was born in Oct.1961, our second son, Bob was born in Feb.1963, our third son, Todd was born in Nov.1966 and our fourth son, Marc was born in April,1970 seven weeks after my dad, Ray Barker, passed away following his third open heart surgery in Portland, hence his name Marc Raymond. My dad had been a Jackson County Tax Appraiser and the Tax Assessor. Mom had her own real estate office, Oregon Southgate Real Estate. They also raised and showed Tennessee Walking horses. Mom was the Oregon State Ladies champion on year. Dad won often too. When dad was in the hospital waiting for his third surgery Dale was our official driver to horse shows, not his favorite pastime. Dale wasn't overly fond of the horses. I spent the first 16 years of our marriage as a domestic engineer and raising our boys. We left the Rogue Valley in 1969 when Dale took an office job with Oroweat Baking Company in Beaverton, Oregon. In 1972 they transferred us to Dallas, Texas where we lived for 6 years. I owned an Oroweat Thrift Store in Denton until I got my Texas Real Estate license at SMU. I was the Red Carpet salesperson of the month for November 1977. We decided that we wanted to move back to the northwest in 1978. We both got Oregon Real Estate licenses and worked in my mom's Medford real estate office for a couple of years. We then moved to Vancouver, Washington and worked for the Evergreen School District where Dale was the purchasing director and I was the secretary of Burton Elementary School for 8 years. That was really fun! Our buildings were next door to each other and he would come to the staff room for lunch with me quite often. We moved again and spent 20 years in Bellingham, Washington where Dale worked as the Director of Business Services for Western Washington University. He got his Master and Doctorate degrees during that time. We lived in several homes in Bellingham the last being a beautiful 3500 sq ft home overlooking Bellingham, Bellingham Bay, Lummi Island, the yacht club, and we could see night skiing on Grouse Mountain in Canada from our deck. I had retired during this time to take care of our youngest grandson so that Todd could go back to college for a teaching certificate for a career change. The kids all lived in the area and all came to the house monthly for family dinners and barbecues to celebrate birthdays, anniversaries and holidays. Dale retired in 2007 but flunked retirement and didn't move back to Medford because the university kept giving him special projects until I went up and said it's time to move "home." While Dale stayed in Bellingham living in our little house RV we bought, and I redecorated, a small one story house in Medford close to the doctors, dentists, and Rogue Valley hospital ~ planning ahead. Our criteria for a home was RV parking and room for our pool table, but small enough not to require a lot of maintenance. My mom lives about 10 minutes away. She does really well for 92+, but it's good that we are here for her. I've had a variety of jobs over the years and retired three times. I owned an Oroweat Bread store in Denton, Texas, sold real estate in Texas and Oregon, worked as a car advertising photographer and real estate magazine photographer, was the sales rep for two Harmon Homes magazines in Northwest Washington, was an elementary school and Presbyterian Church secretary. As a hobby I video and photograph our trips, our kids and grandkids. When Todd was in Korea with the Air Force, he said, "Mom, you'd take a picture of a stop sign". Actually, I did take a few shots of Korean stop signs when I went over to spend a couple of weeks with him in Seoul. We now have seven grandchildren, 4 boys and 3 girls. I've videoed weddings, including our oldest grandsons. When our grandson was married in Lynden, Washington, I put together a slide show of wedding photos and set up the video camera. I didn't stay in the balcony with the video camera because Caleb wanted to walk his Grammy and Papa down the aisle to our seats. We have great kids! We all lived in Bellingham until 2007 when we moved to Medford and Todd graduated with his teaching certificate and moved his wife Kim and family (Mandi, Jordan & Colton) to Great Falls, Montana. Our sons Marc and Bob, with Bob's daughter Jessica Rae, followed us down which is nice for us. Our son Steve, is a corporate trainer working on his PhD. Steve and his family are still in Washington. Steve married Christine Schalegar of Medford. Chris' father was the pastor at the Lutheran Church and married them. For retirement we are going to take up golf when we get time. Besides redecorating our house, we are very involved in the Ashland Methodist Church. Dale and I are on several committees, Dale is chairing a strategic planning committee and personnel committee and I'm the chair of the Board of Trustees. I also interview and video Veteran's for the Veteran's History Project at the Library of Congress in Washington DC. I do the interviews, for the most part, at the White City DOM. We enjoy fishing and traveling in our "little house" as our youngest grandson, Colton calls our 25' Salem trailer that we pull with a van so that the kids can watch TV/videos on the road. It works great. We plug them into a movie with earphones and by the time the movie is over, it's time for a pit stop. We had a 33 day trip from Medford, to Great Falls, to Bellingham recently. We took our two Montana grandsons on a trip fishing, visiting gold mines and train museums across Montana, Idaho and Washington. They had a great time but have a new respect for "full hook-ups" after a week of dry camping and fishing on the Missouri River in Montana, but we all are ready to go again anytime. Life is good!


When was this?

Site Information
This is a totally Fee Free site.
The contribution is only to give the Administrator some extra tools provided by ClassReport.org. This site can exist without these tools. Do not feel obligated in any way to contribute. Any Help would be appreciated though.

Class Administrator
Register so we can find you when the Reunion Committee convenes.
To register, click the link below and find youself. If you are not listed, click to Add your name. Enter a password to keep people out of your private Profile information. The address and phone number will never be shown. You have the choice to show your city of residence and your Email address. Showing the Email address will provide a way for classmates to contact you, but that is your choice. The BIO will show to visitors of your page. Please enter something but remember that the world can see it. If you need help, see the Assistance section.



First Visit Here? Click Here to Register



Finding a classmate on the site.
In the red line at the top of this Home Page you will find some links to various sections on this site. The Class Directory will provide the access to the classmate pages. The Administrator addresses come up but are not part of the alphebetic list. You must select A through Z to find the classmate. Only information they feel they want to show is displayed.
As this is a site still under construction, not every class member has logged on. Spread the word that the site exists and also feel free to post in the various sections. If you have Class News, send it to the News link near the top and I will see that is posted.

Assistant Class Administrator.


Family News Summary
Enter your Family News Item choosing from our pre-defined categories:
Anniversary, Award, Birth, Death, Diagnosis, Engagement, Graduation, Lottery, Retirement, Vacation, Wedding, Other.
There is no Family News on file
at this time.
Calendar
There are no Calendar items on file
at this time.

Today's Featured Class Member Website
Charles Wood

On this Ashland Class of 1961 site:
There are 20 registered classmates as of 10/20/2008
In 2016, 70 registered Classmates but 0 Veterans
The site was established on 09/18/2008.
A general broadcast of its existance was sent out on 10/16/2008. Keep the registrations coming in. Notify all of your classmates again. Call them, Email them, Snail mail them. Get them to look at the site. All they need to do is go to the library and browse classreport.org and they can get to this site from there.
No Email address is required.
No Fees either.

Class Activities Information Area

Classreport.org provides free Class Websites for every graduating class of every high school with free access for all.
We are one of the premier social networking sites dating back to 2003. We are a small, family-owned business and yet freely host over a million class websites.
Classreport holds a special place in the hearts of our users: Bravos.
We are funded solely through your voluntary contributions. Can you help us keep this site online and ad-free for another year? Thank you for your support!
Please click here to contribute.
No Ads, No Spam, No Pop-ups, No Fees.
Class Support Status

Our Class Site is Fully Funded!
Additional contributions are welcome and will be used to provide support for the larger Classreport community.
CLICK HERE TO LEARN MORE
Class Directory

Where in the world are you? Stats
Recent Profile Updates
| | |
| --- | --- |
| | Jul 8 |
| | Feb 4 |
| | Jan 26 |
| | Jul 21 |
| | Jul 9 |
| | Jan 15 |
| | Jan 20 |
| | Nov 19 |
U.S. Armed Forces
Active and Veterans

Please update your profile to be
included in this section.

0 from Our Class

49 from Our School

Class Poll
There is no Active Poll
at this time.
Recent Reviews
There are no reviews on file
at this time.
This area is for comments on
books, movies, music,
restaurants, etc.
Visit Other Classes
The Office
(Admin use only)
If you have any questions or comments regarding this website, please contact:

Class Administrator
Class of '61' Administrator

Would you like a sneak peek at a
non-functioning view of The Office?

This class reunion website is a complementary addition to your existing alumni resources.
It is a product of Classreport, Inc. and may not be affiliated with Ashland High School or its alumni association.

Does your High School Class have a full-featured Alumni Website? Start One Now!
(Or start one for your Mother, Father, Sister, Brother, Spouse, Son, Daughter, Friend . . .)



"Your website has been awesome to work with. It made our reunion planning and execution much easier to handle." 6/24/2016


"I have been the co-chair of the reunion for many years and am just now coming across your site. I appreciate the time you have put into this and I am sure this will help our reunion to be very successful." 6/23/2016


"Thank you all so much! Coming up on our reunion, I continue to get many compliments from class members on the website. If they only knew who the real guru's behind it are. I truly couldn't get by without you and we appreciate all that you do for us." 6/20/2016


"I so appreciate Classreport.org and I extend my gratefulness for your efforts. Best regards and good wishes!" 6/13/2016


"I am most appreciative of the Classreport.org site and your support, which far exceeds anything else out there. Many thanks for what you all have done. We are well on our way for our upcoming reunion!" 6/11/2016


"I am so impressed with the Office portion of the website and the wonderful way the information here keeps us all connected. Thank you to the whole Classreport staff for following your dreams and making this possible for so many high school reunion groups to keep in touch. We are happy to support your cause with thankfulness and gratefulness for such a helpful tool. Thank you for all that you do!" 6/10/2016


"I love your site. At my age it is hard putting names and faces together and your site makes it easier than the others. Keep up the good work." 6/6/2016


"What a great website you have!! Our reunion was the best ever because of you and we expect many more at the next one due to the outstanding success of the site! Thx so much!!" 6/4/2016


"This site has helped my class members and I connect with each other that otherwise would not have been possible. We are already starting to plan our next Reunion. Thank you for this website." 5/28/2016


"Thank you for your response to my questions. I appreciate your very kind response and I am very happy with Classreport." 5/20/2016



More bravos at: www.classreport.org/bravos




13th Anniversary!

Search All Schools Best Classes Reunions Features Setup Your Class FAQ Funding Our Story Support Privacy Policy We DO NOT sell advertising to support this site. We DO NOT sell names and addresses to third parties.
There are NO POP-UP ads. There are no registration fees required for participation.
Please support this site with your voluntary contributions.
We cannot provide this service without your support. Thank You! Read Our Story

ClassTraQ 9.7003c Software Copyright © 2003 - 2015 Classreport, Inc. All Rights Reserved e1