No Ads. No Spam. No Pop-Ups. No Fees. Read Our Story.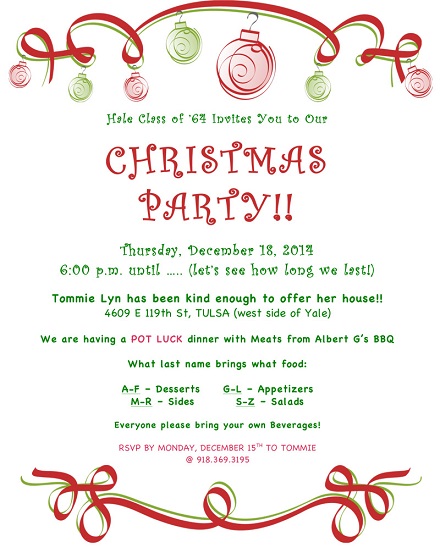 This site is operated and funded by members of our class.
Class Administrator: Stewart Leigh
Page Hits: 13,724
---
50 Year Reunion Announcement!
---
Nathan Hale Class of 64

Our 50 year class reunion is not that far away. We're looking for you and your help. (Plus money, ideas, suggestions, desires, thoughts, support, etc.)

We are forming a 50th year Reunion Committee now and hope many of you will be willing and able to help. The first planning meeting is scheduled for next Tuesday, 31 July, 2012 at 7:00 pm. Janie Haddock Miller is hosting this first meeting at her home. The address is 3909 N. Battle Creek Drive, Broken Arrow, OK. For a map to take you right there, go to this link: http://db.tt/YDuUGXm1

If you need more information feel free to contact Janie at 918-355-3909 or Janie@sitemaster.com or simply reply to this message. We need helping planning a 50th Reunion everyone will enjoy and truly want to attend so you input is critical. We also still have about 100 classmates listed on our roster we have not been able to contact so your help is also needed to locate information on this people. Every tip helps. You may not have seen them recently but may know who they were dating, where they went to school after high school, seen them in a casual or work environment, etc. Dig back into the deep recesses of your memory and help us locate another friend. Even if you can't make this meeting just let us know if you are interested in helping in one way or another. We know many of you are not living in the Tulsa area but that doesn't mean you can't help. Let us hear from you!

Thanks!

Sherrie "Smith" Tucker
---
Class News

7/6/2012
Ronnie Ford is gone
Sorry to inform you classmate Ronnie Ford has passed away. Tim Rector notified Tony Tarchione who passed the info on the Joe Hamby. He passed away July 5, 2012. . . . Continued

6/23/2012
Pamela D. (Trout) Sanders has entered eternal rest
Pam entered eternal rest on Sunday, June 3, 2012. She was surrounded by her loving family. Pam was born on November 24, 1945 in Pryor, Oklahoma to Dyhrol "Tuff" Trout and Beatrice Faye (Mit . . . Continued

6/23/2012
Stanley Riggs Has Passed Away!
Harold Stanley Riggs passed away Friday, March 24, 2012 at the age of 65. He was born May 26, 1946 in Tulsa, OK to his parents, Lafe and Imogene (Pratt) Riggs. Stan graduated from Nathan Hal . . . Continued


Our Class Message Board
Your participation is requested!
We would like to hear from you. Post your messages here.

ADD NEW VIEW ALL

Indicates an included photo
Today's Featured Biography
Graduated from Univ. of Tulsa in 1968; married Sandra Yeager (Edison '64) in 1968 and commissioned 2nd Lt. USAF in June1968. Served on active duty until 1974 and Reserves until 1982. Ph.D Texas Tech 1976. Faculty positions at Arizona State Univ. (1977 to 1982); Univ. of Missouri (1982 to 1986); Texas A&M (1986 to 1995); OSU (dean of School of Business) (1995 to 1999); President of OSU Tulsa 1999 to 2009. Consultant for the Chicago Board Options Exchange; chair of Oklahoma Advisory Board for Blue Cross/Blue Shield, Trustee of Oklahoma Teachers Retirement System; Chair of board for Tulsa Air and Space Museum. Currently, President's Council Chair of Finance (OSU).


Please send us any recent personal photos you may have from the reunion or your current lives (friends, family, vacations, events, etc.) in which you yourself also appear to be used for the My School Memories Photos slideshow page. You may also send any current clear face shot of yourself for your official NOW profile photo (if you don't already have one or would like to update it) or past or present school related pictures of friends, family, classmates, vacations, events, etc., to be used in the My School Memories Photos slideshow. E-mail all photos you would like to share for editing & inclusion via the corresponding buttons at the bottom or to 64rangers@gmail.com. Thanks for your contribution and for keeping our site updated and timely!

SEND IN YOUR PHOTOS! Click one of the buttons below to submit either

A) Your current portrait for your official profile "Now" photo, or along with any younger portraits to be featured in My School Memories Photos slideshow or

B) Any snapshots of your life today or in the past(appearing with family, friends, classmates, on vacation, at special events, etc.) for the main My School Memories Photos slideshow:

*All other snapshots of family, friends, places or events in which you yourself do not appear may be added directly to your profile using the upload options outlined when editing it.
Welcome to our little nest on the Internet
...thanks for "popping in" and saying hello!
Custom Glitter Text
Custom Glitter Text
Custom Glitter Text
Family News Summary
Enter your Family News Item choosing from our pre-defined categories:
Anniversary, Award, Birth, Death, Diagnosis, Engagement, Graduation, Lottery, Retirement, Vacation, Wedding, Other.
There is no Family News on file
at this time.
Calendar
There are no Calendar items on file
at this time.

Today's Featured Class Member Website

Classreport.org provides free Class Reunion Websites
for every graduating class of every high school, with free access for all class members.
No Ads, No Spam,
No Pop-ups, No Fees
Class Support Status

Our Class Site is Fully Funded!
Additional contributions are welcome and will be used to provide support for the larger Classreport community.
CLICK HERE TO LEARN MORE
Recent Profile Updates
| | |
| --- | --- |
| | Apr 26 |
| | Apr 23 |
| | Apr 23 |
| | Apr 14 |
| | Mar 16 |
| | Mar 11 |
| | Mar 10 |
| | Feb 18 |
Recent Reviews
There are no reviews on file
at this time.
This area is for comments on
books, movies, music,
restaurants, etc.
Visit Other Classes
The Office
(Admin use only)
If you have any questions or comments regarding this website, please contact:

Class Administrator
Stewart Leigh

Would you like a sneak peek at a
non-functioning view of The Office?

This class reunion website is a complementary addition to your existing alumni resources.
It is a product of Classreport, Inc. and may not be affiliated with Nathan Hale High School or its alumni association.

Does your High School Class have a full-featured Alumni Website? Start One Now!
(Or start one for your Mother, Father, Sister, Brother, Spouse, Son, Daughter, Friend . . .)



"Our Reunion Committee feedback regarding your website and the value it is providing remains very positive!" 3/23/2013


"I can't remember if I said thank you or not! So, thank you! I really do appreciate all that you do." 3/21/2013


"The site is very easy to use and I appreciate that you can continually update your profile and bio." 3/16/2013


"We recently had our reunion and all went well. I want to just drop you guys a note of thanks for the hard work and priceless gift you have given to many schools in the website that you have created for our use. It has been invaluable to be able to run your office programs to keep track of the class members and also the tools for printing labels etc. Thank you very much." 2/28/2013


"As the administrator of my class page, I am pleased to let you know that I have already received several favorable comments about the site." 2/25/2013


"With our next reunion fast approaching, this site has enabled our class to keep in touch on a regular basis. I have been fortunate to have class members willing to submit pictures and articles that I can change on a regular basis. Thanks again!" 2/22/2013


"So kind of you to remember us when you have so many schools and classes to deal with. You all have done a great job with Classreport and your level of service continues to lead the way. Thanks!" 2/20/2013


"Keep up the good work on the site! Looks like we're going to have a great reunion!!" 2/15/2013


"You all have been very helpful and evidently many of our class members think so as well. Just look at all the visits they have recorded!! Thank you very much!" 2/13/2013


"We get so many nice comments on our site, by our own class members and by others who visit it." 2/7/2013



More bravos at: www.classreport.org/bravos

Search All Schools Best Classes Reunions Features Setup Your Class FAQ Funding Our Story Support Privacy Policy

We DO NOT sell advertising to support this site. We DO NOT sell names and addresses to third parties.
There are NO POP-UP ads. There are no registration fees required for participation.
Please support this site with your voluntary contributions.
We cannot provide this service without your support. Thank You! Read Our Story

ClassTraQ 8.1001a Software Copyright © 2003 - 2012 Classreport, Inc. All Rights Reserved e1