Please Support Our Class Website in 2018. Can you chip in today?
All contributions will be DOUBLED through September 30!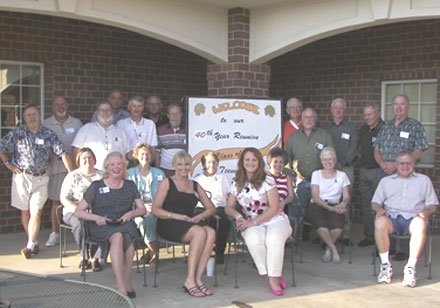 This site is operated and funded by members of our class.
Class Administrator: Donna Shackelford Harr
Page Hits: 4,127


Class News

6/2/2015
50th Anniversary Plans
During our Class meeting this year, it was decided that we would not only have a Golden Anniversay Party on Alumni weekend in 2018 but also take a cruise in April of that year for those who . . . Continued

6/2/2015
2015 Alumni Banquet
The Class of 1968 had our largest attendance in recent years. Those attending were Robert Barnett, Martha Beasley Vaughan, Ruth Coy Clark, Bertha Fellows Cantrell, Dennis Henderson, Pat Laws . . . Continued

6/2/2015
2015 Class Meeting
Saturday afternoon, May 30, 2015 at 1:30pm, Shawnee Library A meeting was held to discuss plans for our 50th Reunion party, as well as a cruise. Information was handed out about trips lea . . . Continued


Today's Featured Biography
Following graduation from high school, I continued to work part time at Pratts.

In the fall of 1968 I started attending The University of Oklahoma majoring in Electrical Engineering.

In 1970 I took a break from OU to earn some money - with the intent to return to OU in the fall. My friendly draft board cancelled my student deferment and after passing a physical and some mental tests, they rated me for induction when my lottery number came up.

My draft lottery number was 158 and the local draft board was calling up 153. I decided to control my own destiny and so I joined the Navy. My plan for the Navy was to become a nuclear reactor technician on a submarine - this required a Top Secret Clearance. Part of the enlistment contract was that I would receive in excess of 52 weeks of nuclear reactor training after boot camp and then at the end of my four year enlistment I would be paid a lump sum of $10,000 for extending my enlistment for two years

I attended boot camp in Orlando, Florida. During boot camp I went through eleven interviews to secure my Top Secret Clearance. My final interview was with a very senior captain who lived and breathed nuclear missile submarines and fast attack submarines. He asked some general background questions mentioning some of my grade school and other teachers who apparently were contacted as part of my background check.

There were many other questions including simple things to put me at ease. After about an hour of interrogation, he asked what I thought of the Vietnam War. I told him that since the President as Commander in Chief was for the war it was our duty to do everything we could to achieve victory - he said that was a very good answer. He asked some other "put me at ease questions" and then he asked me if I ever talked in my sleep - I replied that I could carry on a cogent conversation in my sleep and not remember it until the person talking to me told me about it.

The Captain burst out with - You mean no other interviewer in my command has asked you that? I said, "Only you asked me." After using some choice curse words about the previous interviewers in his command he finally calmed down and explained that I could not get a top secret clearance because of talking in my sleep.

He said he hated to lose me from the nuclear submarine program and was certainly not going to lose me from the Navy. To keep me he said that he had the authority to give me my choice of any other job in the Navy. I told him that I would like to be a Fire Control Technician - that is a technician who repairs, maintains, and operates radars, computers and related systems to control guns or missiles. He gave me what I requested. Fire Control Technician also came with at least 52 weeks of school after boot camp and a payment of $10,000 lump sum when my four year enlistment was up, for a two year enlistment extension.

As soon as Boot Camp was over, I was transferred to the Great Lakes Naval Station north of Chicago where I attended schools for more than 58 weeks. At school I elected to pursue gun weapon systems control.

While I was at Great Lakes Training Command I made several trips back to Oklahoma. On one of those trips I had a date with Beverly Sue Reaves and fell head-over-heels in love; and so did she.

I was scheduled to finish my last equipment training school on March 24, 1972 - Beverly and I were married in Tecumseh First Baptist Church at 3pm on Sunday, March 26, 1972. As I write this in 2017, we are still in love after 45 years.

Following the wedding Beverly and I moved to Norfolk, VA and I reported to the William M. Wood DD714 to practice my training in the real world.

A few months later the Navy decided to homeport the Wood in Pireaus (Athens), Greece and they only wanted volunteers to re-station. Beverly and I didn't want to live in Greece, so ignoring the caution that the acronym NAVY means "Never Again Volunteer Yourself", I volunteered to be transferred to the USS Blandy DD943 which was a newer ship. The Blandy did a few short exercises and in October, 1972 the Navy decided to send the Blandy and four other destroyers, which made up DESRON 26, to join the Vietnam War.

Off we went to Vietnam arriving on the Gun Line in early November. The Blandy had flag quarters, so the Gun Line Commander rode the Blandy - he had lost his son, a Navy pilot, over North Vietnam and he had a score to settle. That meant that the Blandy stayed 2,000 yards off the coast and 2,000 yards below the DMZ and accepted every firing mission within the 12 mile range of our guns - leaving only to re-arm and re-fuel. This was real war not practice drills.

In my firing watch section I monitored the computer results for achieving a firing solution and then closed the firing key to fire the two five inch gun mounts. During three months I personally fired 3,933 times. The three watch sections fired a total of 10,213 times.

Real war would get even more real when we did live calls for fire called in by Marine Forward Spotters. My greatest sorrow was when a Marine Spotter called in fire "close" and our fire did not stop the Viet Cong and the spotter stepped our fire onto his own position rather than be capture or killed slowly by the Viet Cong. War really became too real for me, but I plowed ahead and soon 1973 rolled around and the majority of the Vietnam War ceased fire. We went home to Norfolk, arriving just after my first wedding anniversary.

Time passed and about six months later we went to the Caribbean and played war games at the Navy's private bombardment island - repeating many of the type of firing missions we had done in Vietnam. These practice war games brought all my real war memories back.

When we returned to Norfolk I came to the conclusion that I couldn't "play" war anymore - I contacted The Friends Society and used their materials to craft my 26 page application to the Navy to be classed as a Conscientious Objector and to be discharged.

The Navy moves slowly and by November, 1974 the Blandy was scheduled to go to the Mediterranean for six months.

Beverly and I were praying that my discharge would come through before the ship left for the 6 month cruise to European and North African ports surrounding the Med.

I have heard that God is always on time - this time He cut it pretty close.

It was about 30 minutes before we were scheduled to leave Norfolk when the ship's Executive Officer came running down to the fan tail where the Fire Control Techs including me were waiting to get underway. When he reached me he told me that they had just received a radio message from the Bureau of Naval Personnel authorizing my transfer to Norfolk Naval Station to be honorably discharged as soon as possible. He shook my hand and said he respected my action and then he told me to go get my stuff and get off his ship and that he would have my orders waiting at the gangway by the time I got back with my sea bag.

I ran to get my stuff - packing it back into the sea bag I had just that morning emptied out and stowed my stuff in my locker.

I got back to the gangway and my orders were waiting on me. As soon as I was off the ship they took in the gangway and started casting off lines to get underway. God is so good - just in time.

I reported to Norfolk Naval Station and they did the necessary paperwork to schedule my household goods to be moved and prepared my final discharge papers.

I was officially discharged from the Navy two days before Thanksgiving, 1974.

Beverly and I were out of our house with everything being moved by the Navy and so we spent Thanksgiving eve with some friends and then headed to Oklahoma in our car.

We rented an apartment in Norman. I would start school at OU in January, 1975 back in Electrical Engineering.


In my work life, I did projects in the following countries:

Canada
Mexico
England
Egypt
South Korea
Hong Kong
Singapore
Japan
Vietnam
Philippines
Guam (US Territory)
Midway Island (US Holding)
Panama
Ecuador

In my work life I did projects in the following states:

Florida
Georgia
North Carolina
Virginia
Washington DC
Maryland
Delaware
Pennsylvania
New Jersey
New York
Rhode Island
West Virginia
Ohio
Indiana
Kentucky
Illinois
Missouri
Tennessee
Alabama
Louisiana
Iowa
North Dakota
South Dakota
Nebraska
Michigan
Wisconsin
Kansas
Arkansas
Oklahoma
Texas
Colorado
Wyoming
Montana
Utah
New Mexico
Arizona
Nevada
California
Oregon
Washington
Hawaii







Classreport.org provides free Class Websites for every graduating class of every high school with free access for all.
We are one of the premier social networking sites dating back to 2003. We are a small, family-owned business and yet freely host over a million class websites. Our Story
Classreport holds a special place in the hearts of our users: Bravos.
Class Support Status

OUR CLASS SITE IS FUNDED THROUGH
August 2018
---
This site is funded by our
Voluntary Contributions

Click Here to Chip In


Class Directory

Where in the world are you? Stats
Recent Profile Updates
| | |
| --- | --- |
| | May 25 |
| | May 22 |
| | May 21 |
| | May 21 |
| | May 20 |
| | May 20 |
| | May 20 |
| | May 7 |
Class Poll
There is no Active Poll
at this time.
Recent Reviews
There are no reviews on file
at this time.
This area is for comments on
books, movies, music,
restaurants, etc.
Visit Other Classes
The Office
(Admin use only)
If you have any questions or comments regarding this website, please contact:

Class Administrator
Donna Shackelford Harr

Would you like a sneak peek at a
non-functioning view of The Office?

This class reunion website is a complementary addition to your existing alumni resources.
It is a product of Classreport, Inc. and may not be affiliated with Tecumseh High School or its alumni association.

Does your High School Class have a full-featured Alumni Website? Start One Now!
(Or start one for your Mother, Father, Sister, Brother, Spouse, Son, Daughter, Friend . . .)



"Just discovered your product today while trying to locate classmates ahead of our 50th reunion in 2020. The fact that you did this in a noncommercial manner in a world where everything has a price tag deserves recognition and respect, in my view. Thank you and good luck in all your endeavors." 5/5/2018


"THANKYOU so much for handling this for us! We are so appreciative! It looks GREAT!" 5/2/2018


"Thank YOU for helping us get the word out! I've posted a link to the website on our FB group page and vigorously encouraged other classmates to contribute" 4/27/2018


"Your site is amazing. Kudos to you and your staff. You have benefitted so many high school alumni in organizing their class reunions." 10/4/2017


"Thanks to classreport.org our class website played a huge part in the success of our Reunion. We greatly appreciate your wonderful support." 10/3/2017


"Thanks for all your hard work and ingenious spirit." 9/25/2017


"Thanks guys, you are Good!!" 9/23/2017


"I love your service and will continue to support you." 9/14/2017


"We have been using the website for more than 10 years now. It's still the best website out there for classmates to meet, collect their info and advertise their reunions. Thanks for inventing it all!" 9/11/2017


"Thank you for your assistance. It was very helpful. Looks good!" 9/5/2017



More bravos at: www.classreport.org/bravos




15th Anniversary!
There are no fees required for participation on this site.
Please support this site with your voluntary contributions.
We cannot provide this service without your support. Thank You!
Please read Our Story
ClassTraQ 11.003 Software Copyright © 2003 - 2017 Classreport, Inc. All Rights Reserved e0 amsc: 1