Please Support Our Class Website in 2014. Can you chip in today?
Classreport will match all 6 month contributions through March 31!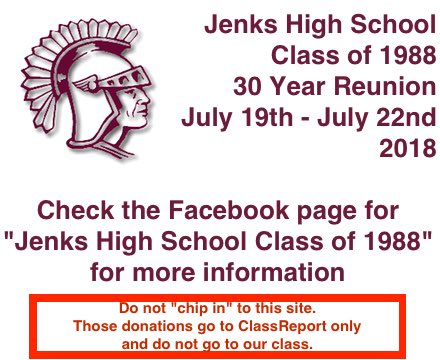 Send your pictures to jenks88@live.com


This site is operated and funded by members of our class.
Class Administrator: Nancy Graham Rex
Page Hits: 28,822


Class News

11/14/2008
Jenks alumni book due out April 2009
Call in and update your info. 866-263-0267 I got a couple of postcards recently and just called the number today. There is a company putting together a book and CD of Jenks alumni from 19 . . . Continued

8/24/2008
PROFESSIONAL PHOTOS FROM REUNION
To view albums from the reunion, scroll down to "featured links" on the right column of this page. Choose either Friday Night Album or Saturday Night Album to view over 200 photos from the . . . Continued


What a wonderful weekend!
It was great seeing you all!
---
Great work, Kelly, on the Reunion Slideshow!
Send us old photos.
Send us photos from the reunion!
Keep sending them. We all love to see them.
eMail to Jenks88@live.com
Thanks for your help!
Class of 88 Panoramic Photo - Click Here!
---
Photos and Stuff
Kelly found a great online group collaboration site called ning.com. We are tinkering around with it now. It has all kinds of features like photo sharing, discussion groups, blogging, video, announcements, event calendars, and most importantly privacy, etc. etc. We are adding photos and testing out all the features now. We will make an announcement soon. Stay tuned!!
---
Memorable Quotes
Send your memorable quotes to stevedeleo@hotmail.com

"Are we having a 25th?" Jeff Curtis
"This was the best reunion ever." Kellye Scott Porter
"Thanks for playing The Fat Boys." Todd Philcox
"You look phenomenal!" Cavan Howard
"I'm taking over the bar. This party is going all night." James Kern
"It was a bouffant, not a mullet." John Forney
"Who are you, again?" Jeff Maxwell
"Long live Flour Baby!" Jim Young
"Our flag unfurls in bright array..." Mark Frie
"I had a totally awesome freakin' radical time!" Steve DeLeo
"I'm not doing any more 20 year reunions." Ashley Hedges Lewis
---
What happened?
July 25th and 26th, 2008
Golf Outing
When: Friday, July 25th at 8:30am
Where: Clary Fields in Sapulpa

Meet & Greet - Alumni & Guests
When: Friday, July 25th at 7pm
Where:Ale Haus at the Jenks Riverwalk

Jenks High School Tour
When: Saturday 10:30am
Where: Meet in the famous OVAL parking lot

Family Picnic
When: Saturday, July 25th from 11:30am to 1:30pm
Where: Veterans Park in Jenks

Main Event
When: Saturday, July 25th from 6:30pm until Midnight
Where: Five Oaks Lodge in Jenks >
---
Reunion Fund Donations
Thank you all for your generous donations!
We raised about $5,000!
Special thanks to Jeff Maxwell and Mark Tedford for their Platinum Level donations!
Mark Hawkins, David Blaylock, Peter Brolick, Stephanie Cook Rhoda, Mark Luitwieler, Tricia Whitten McCaleb, Erin Kelly, David and Angel Labonte Stacy, Michelle Doell, James Young, Cori Peterson Campbell, Lance Lockhart, Julie Dunbar Green, Bret Perkins, John Forney, Robert and Dione Holden Leak, Karen Eberstein Wiley, Brian Chalmers, Joe Connors, Brett Patrick, Cindy Terry Wagner, Renee Bishop Garvens, Seth Hogan, Jerry Nickel, Ron Miller, Chris Houston, Travis Carter, Clint Cowen, Jeff Williams, Cherie Rees Humphries, Becky Keeth Flesher, Melissa Kirk Givens, Tony Cordova, Michele Overton Brown, Tony & Kristi Ferrell Dunn, Chris Compton, Deborah Morgan Thompson, Heather Word Ratliff, Steve DeLeo, Brooke Butler Hargrove, and Nancy Graham Rex.
General Donations to the JHS 1988 Reunion Fund
---
More old music for the week!
(-:DJD:-)
Today's Featured Biography
After leaving Jenks HS, I attended OSU and studied Hotel & Restaurant Admiinistration. Being blinded by love, I decided to get married in college. After college, we moved to NW Arkansas where I managed a private country club. This marriage lasted 7 years and brought me a beautiful daughter, Madison.

We divorced by the time that Madison was 2 years old and I found my way into fundraising for non-profit organizations. I've had the privelge of working for the Mental Health Association in Tulsa, Philbrook Museum of Art and for the last seven years, Oklahoma State University Foundation. In my current role, I am an Assistant Vice President and supervise three areas in Stillwater; regional campuses in Tulsa and OKC; and regional offices in Dallas and Houston. I practically live in my car.

After many years of singleness (9), I met a wonderful man through OSU events. Jay and I married in October of 2006 in Hawaii. He brings a daughter to our marriage as well. We have two girls that are three months apart in age both turning 13 soon. I apologize to my mom every week for my "attitude." They go to Jenks and are having a great time. I live in Jenks city limits but have a Sapulpa address - crazy.

Twenty years.....wow. Does anyone remember where we buried that time capsule?




Classreport.org provides free Class Websites for every graduating class of every high school with free access for all.
No Ads, No Spam, No Pop-ups, No Fees.
Class Support Status

OUR CLASS SITE IS FUNDED THROUGH
January 2015
---
This site is funded by our
Voluntary Contributions

Click Here to Chip In


Recent Profile Updates
| | |
| --- | --- |
| | Jan 30 |
| | Jan 21 |
| | Jan 20 |
| | Jan 16 |
| | Dec 4 |
| | Dec 4 |
| | Dec 3 |
| | Dec 2 |
Class Poll
There is no Active Poll
at this time.
Visit Other Classes
The Office
(Admin use only)
If you have any questions or comments regarding this website, please contact:

Class Administrator
Nancy Graham Rex

Would you like a sneak peek at a
non-functioning view of The Office?

This class reunion website is a complementary addition to your existing alumni resources.
It is a product of Classreport, Inc. and may not be affiliated with Jenks High School or its alumni association.

Does your High School Class have a full-featured Alumni Website? Start One Now!
(Or start one for your Mother, Father, Sister, Brother, Spouse, Son, Daughter, Friend . . .)



"Your site has been so helpful with planning our reunions, making up booklets, badges etc. Couldn't have done it without you. Hope the site continues it's success." 2/17/2014


"Thank you, the site is nice!" 2/15/2014


"I am so enjoying reminiscing over so many memories! Thanks for putting this together." 2/14/2014


"I appreciate using your web site! I heard about your site from our reunion committee who are hoping to use your site to locate and inform class members." 2/12/2014


"Kudos to all those who have taken the time to make this website so wonderful!!" 2/11/2014


"You bring pleasure and connection to thousands across the country. Thank you so much for this!" 2/10/2014


"Our class made a generous contribution recently to help maintain your good work! We appreciate all that you do. Many thanks!" 2/8/2014


"It is so nice to be able to keep up with all our classmates lives and information we would not have known otherwise. Thanks for all your hard work!" 2/6/2014


"Thanks for having such a great web-site and I know I certainly enjoy being the Class Administrator for our class page. It is such a delight to be finding our missing class members. Our class really appreciates this!" 2/3/2014


"Thanks to you for the site administration and event organizing. This is a very good thing." 1/31/2014



More bravos at: www.classreport.org/bravos




10th Anniversary!

Search All Schools Best Classes Reunions Features Setup Your Class FAQ Funding Our Story Support Privacy Policy We DO NOT sell advertising to support this site. We DO NOT sell names and addresses to third parties.
There are NO POP-UP ads. There are no registration fees required for participation.
Please support this site with your voluntary contributions.
We cannot provide this service without your support. Thank You! Read Our Story

ClassTraQ 9.6001a Software Copyright © 2003 - 2014 Classreport, Inc. All Rights Reserved e1