Please Support Our Class Website in 2018. Can you chip in today?
All contributions will be DOUBLED through September 30!



This site is operated and funded by members of our class.
Class Administrator: David Albright
Page Hits: 10,923


45 Year Reunion Announcement!
---
BHBL Class of 1977 45th Reunion
Saturday, October 15, 2022
We are announcing a BHBL Class of 1977 45th Reunion!!!

The reunion will be held sometime in 2022 (probably late summer or fall). Planning for the event will begin around August 2021.
---
BHBL Class of 1977 40th Reunion
Thursday, August 12, 2027
Our 40th Reunion was held on August 12, 2017 (3pm to 10pm) at the Lakeside Farms Pavilion in Ballston Lake.

We had 125 attendees, with 91 of those being members of the Class of 1977. That is very close to 25% of our living alumni! Most alumni stayed for the entire seven hour event and found they still didn't get to talk with everyone they wanted to see that day.

Our attempts to contact as many alumni as possible were very successful with about 90% of our alumni being made aware of the reunion. If you were one of the alumni who weren't contacted, please register your email address on this website and you will be included in all future emails. Note: many people counted in the larger "Missing" number displayed on this site had actually been contacted in some way other than via email. This website calculates the "Missing" number from the living alumni who have not provided an email address (the "Missing" alumni do not receive the group emails).

We have uploaded "Current Photos" for almost all of the alumni who attended the 40th reunion, plus, there are "Current Photos" for some other alumni, as well. If you would like a "Current Photo" displayed in your listing, please send me a picture. To see the "Yearbook" and "Current Photos", click on the "Everyone" link in the "Class Directory" box to the right.

If you then click on a classmate's name, any biographical information provided by that alumnus will be displayed. For most of our deceased alumni, their obituary will be displayed in the "bio" section.


40th Reunion Printouts and Slideshow:
The following link displays the handouts that were printed for the 40th Reunion, as well as the slideshow that ran during the event. Note: the slideshow pdf file is large (51 MB) and has about 120 images submitted by various alumni.
BHBL Class of 1977 40th Reunion Printouts.

Photos from the August 12th 40th Reunion
============================
REGISTERING ON THIS WEBSITE:
If you haven't yet registered on this site, please do so by clicking on the "Click Here To Register" link to the right, then select your name from the list. If your name is not listed or is misspelled (sorry!), you can easily add your name or edit your listing. Registering on this site will put you on a mailing list for reunion announcements. Please consider adding biographical information to your listing.

An administrator may have already added an email address to your listing. If so, that email address will NOT be visible to other users. If you would like your email address to be visible to other registered users of this site (i.e., your classmates), then choose "Yes" to the "Display email address to registered class members?" question. NOTE: Unregistered visitors to this site cannot see anyone's email address, regardless of the privacy setting.

This ClassReport.org site is NOT associated with the BHBL Class of 1977 - it acts as a host for thousands of class reunion websites. Many elements on these pages, including the requests for donations, are put up by the ClassReport.org company, not the BHBL Class of 1977. Any donations that are made to this website do NOT directly benefit the BHBL Class of 1977 (except for enabling certain useful administrative tools), but go to the developers of this nicely designed website. There is no cost to register or to use this website.

If you have email addresses of "missing" alumni, have found mistakes in this site or have news of deceased alumni, please email the information to: djalbright314@gmail.com.
---
Class News

9/6/2016
Life in 1977
Life in 1977 World population: 4.2 billion (growth rate 1.77%) vs 7.4 billion (growth rate 1.07%) in 2016 US population: 220 million vs 323 million in 2016 President: Jimmy Carter (Jan 197 . . . Continued


Today's Featured Biography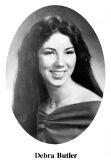 Debra 'Debbie' Butler McDonald


Happy '40th' class of 1977!!!! Wow! Where do I begin? It's been a journey that's for sure! Right out of High School I became a licensed Cosmetologist... a ready job, my mom owned "The Beauty Bower" back then, but then I developed Rheumatoid Arthritis. My parents made the decision to move our family to Arizona for my health. Although difficult to leave, I had made some 'unhealthy' choices in my last couple years in H.S. and I felt that the move was an opportunity for a new focus and positive changes...a new life, a new name... Moynalaynae. What??? I know but the change was a healthy one for me spiritually and physically. Bob and I met and married a year and a half later (It will be 36 years this next September)! We moved to California. We lived there for 15 years. It's where our three children were born. Yes...ahh beautiful San Diego, beaches and Western sunsets.. loved it! Moved back to Arizona in 2002 for family. Our sons have each gifted us with a beautiful granddaughter and our daughter is currently a Junior in High School.
Over the years I have experienced the curves, jumps, bumps, stumbles and falls that are life's gifts... and I have to say, I'm eternally grateful, because the joys of growth, strength, values and especially Faith have blessed me with cherished memories and relationships I treasure.
I've had a lot of fun and been privileged to do so many things... I was an Insurance Agent. I have owned three Small Businesses. I have been involved in Christian Ministry Ordained since 1989, serving in Children's Ministry, Music Ministry, Pastoral Care and for years as a Hospice Chaplain. Our family has been host to around 150 Foreign Exchange Students (while living in Cali) and we were a Foster Family for 4 children (2 teen boys, and 2 teen girls) here in Arizona. Our home has been an open door for friends, family and the homeless. I was a Den Mother, a baseball coach for a little league team and have loved every practice, game, competition, concert, party for and with my children! My husband and children are the loves of my life... my Faith is everything!
Looking back at the pics of you my classmates, and reading the bios was an emotional experience. It's amazing to flashback and it be as if it was yesterday! I just want to say Thank You class of 1977 for all the experiences! I won't be there for the reunion, but I am reflecting, remembering, crying and rejoicing for those years gifted to me. I want to apologize and say I'm sorry to any I may have hurt, disappointed, neglected, ignored over those years... stupid stuff huh!
I value times together and am regretful of opportunities lost.... I am forever grateful I can say I graduated from Burnt Hills Ballston Lake High School... A Spartan!
If ever in Phoenix... look me up... 'you just call out my name and you know wherever I am I'll come running...to see you again'!!!



Classreport.org provides free Class Websites for every graduating class of every high school with free access for all.
We are one of the premier social networking sites dating back to 2003. We are a small, family-owned business and yet freely host over a million class websites. Our Story
Classreport holds a special place in the hearts of our users: Bravos.
Class Support Status

OUR CLASS SITE IS FUNDED THROUGH
March 2024
---
This site is funded by our
Voluntary Contributions


Class Directory

Where in the world are you? Stats
Recent Profile Updates
| | |
| --- | --- |
| | Aug 13 |
| | Jul 24 |
| | Jul 18 |
| | Mar 15 |
| | Feb 20 |
| | Feb 15 |
| | Feb 14 |
| | Feb 8 |
Class Poll
There is no Active Poll
at this time.
Featured Links
There are no Featured Links
at this time.
Recent Reviews
There are no reviews on file
at this time.
This area is for comments on
books, movies, music,
restaurants, etc.
Visit Other Classes
The Office
(Admin use only)
If you have any questions or comments regarding this website, please contact:

Class Administrator
David Albright

Would you like a sneak peek at a
non-functioning view of The Office?

This class reunion website is a complementary addition to your existing alumni resources.
It is a product of Classreport, Inc. and may not be affiliated with Burnt Hills-Ballston Lake High School or its alumni association.

Does your High School Class have a full-featured Alumni Website? Start One Now!
(Or start one for your Mother, Father, Sister, Brother, Spouse, Son, Daughter, Friend . . .)



"Just discovered your product today while trying to locate classmates ahead of our 50th reunion in 2020. The fact that you did this in a noncommercial manner in a world where everything has a price tag deserves recognition and respect, in my view. Thank you and good luck in all your endeavors." 5/5/2018


"THANKYOU so much for handling this for us! We are so appreciative! It looks GREAT!" 5/2/2018


"Thank YOU for helping us get the word out! I've posted a link to the website on our FB group page and vigorously encouraged other classmates to contribute" 4/27/2018


"Your site is amazing. Kudos to you and your staff. You have benefitted so many high school alumni in organizing their class reunions." 10/4/2017


"Thanks to classreport.org our class website played a huge part in the success of our Reunion. We greatly appreciate your wonderful support." 10/3/2017


"Thanks for all your hard work and ingenious spirit." 9/25/2017


"Thanks guys, you are Good!!" 9/23/2017


"I love your service and will continue to support you." 9/14/2017


"We have been using the website for more than 10 years now. It's still the best website out there for classmates to meet, collect their info and advertise their reunions. Thanks for inventing it all!" 9/11/2017


"Thank you for your assistance. It was very helpful. Looks good!" 9/5/2017



More bravos at: www.classreport.org/bravos




15th Anniversary!
There are no fees required for participation on this site.
Please support this site with your voluntary contributions.
We cannot provide this service without your support. Thank You!
Please read Our Story
ClassTraQ 11.003 Software Copyright © 2003 - 2017 Classreport, Inc. All Rights Reserved e1 amsc: 1