No Ads. No Spam. No Pop-Ups. No Fees. Read Our Story.






The Father of Rock 'N Roll




Click on the arrow to begin play
To view "full screen" place your mouse on the bottom of the screen and then click on box on the far right



Music of the Fifties
This site is operated and funded by members of our class.
Class Administrator: Alex Cinamon
Page Hits: 101,544


Event Announcement!
---
80th Birthday Bash
Saturday, August 5, 2017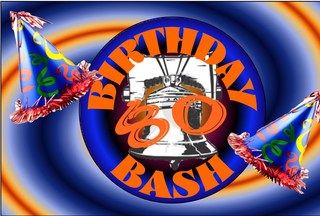 We are going to have
A Birthday Bash
on Saturday,August 5, 2017 1 pm to 5 pm
at Russo's On The Bay (near JFK Airport)
to celebrate everyone's
80th Birthday!!
(last year, this year or next year)

View a list of ATTENDEES in Class News below.

View a list of HOTELS near JFK in Class News below.

View the MENU in Class News below.




To recapture our youth we will play games from our youth
Hit the Quarter
We'll use a big ball and a quarter,
not a penny, due to our diminishing eyesight.
The winner of a round-robin competition wins a prize.

Pin Something on the Teacher
Not a tail, but hair, glasses, tie or beard.
The most accurate wins a prize.

Spin the Champagne Bottle
Not a soda bottle
since we don't need to be carded any longer.
You will have an option to spin for a random selection
OR
point the bottle for a specific selection.
The best male and female kissers win a prize.


The price is $89 per person.

Reservation forms have been emailed.
If you did not receive one call Al C at 917-859-4150



By the time we reach 80, we've learned everything.
The problem is remembering it!------George Burns

Hal Cohen Paul says:
"Reminders of special occasions in the form of one more party, celebration, reflection of happy days behind and not in front but still times to recall sweet occurrences...as my beloved high school is calling for us to gather once more...tjhs55--namely, Thomas Jefferson High School in East New York Brooklyn--home of sooo many famous and nearly famous, including me! And so we are now invited to attend our 80 Bash when those of this class will have turned 80 in 2016, 2017 and 2018...coming Aug 5th in Queens ...thinking pretty good about it and would love to say hello once more!!"
---
Review of Our 60th Reunion Aug. 2015
Saturday, December 30, 2017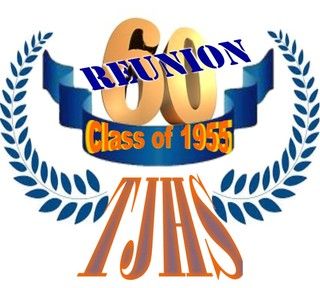 Review by Phyllis Hoffman Miller
Well, of course we looked a little older — just a little — but when the JHS 149 alumni got up and belted out "1-4-9 is the school for me, Free from all adversity" all the way through, we could stand up the whole time, we could sing with lusty voices, and we remembered all the words. Not bad, not bad at all.

And when we all trooped in to the next room to have our group picture taken, some of us could even stand up on a chair—and get down again. How cool was that!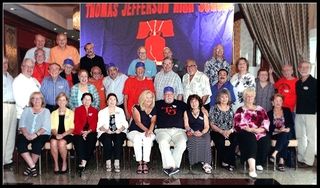 The tables at the elegant Russo's on the Bay were identified not by numbers but by the names of our teachers of 60 years ago. I was delighted to be seated at the table of Dr. Kramer, a teacher I really loved and admired. (By the way, when I was working at Montclair State University I discovered that she had taught there right after her graduation, but dismayed by the animus toward female professors in those days, especially mathematicians, she moved on; and aren't we lucky she did!)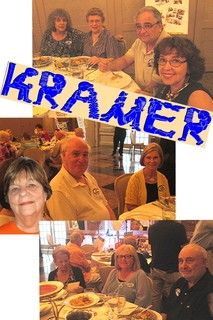 The food was great, and it kept on coming. Just when we thought the meal was over the next course was served! We talked, we reminisced; we talked about our lives as students and our lives as grownups; we talked about what we did and what we do, about where we've been and where we are. A video by Bob Nemser reminded us of what we looked like and what we wore. We talked about past friends who are still our friends, and those who have passed away.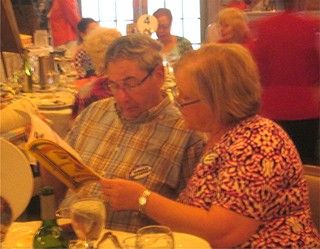 There were awards: a replica (not full-size) of the Liberty Bell and a framed certificate for outstanding achievements (see the list elsewhere on our website). For most of the honorees, it was not the first award they had ever received, but it had special meaning coming from our classmates. Two awards were presented posthumously, and we had the good fortune to have family members present to accept them.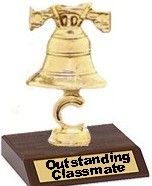 Elaine Fishman Axelrod accepted the award for Outstanding Achievement in Education on behalf of her husband, Manny Axelrod, Manny became Superintendent of Schools in Orange County, NY and had a building named for him in his honor. Sadly, Manny died in 2013.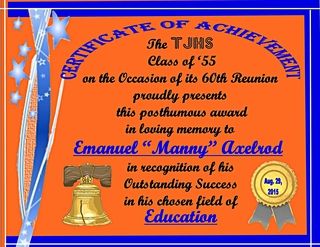 Avram Fefer accepted the award for Outstanding Achievement in Medicine on behalf of his father, Alex Fefer. Alex became a famous oncologist and was ranked as one of the top 100 doctors in the country. Alex died in 2010 while in Washington DC where he was supposed to accept an award for his cancer research.
And there was a surprise: a beautifully framed picture of Al Cinamon (wearing a T-shirt he purchased in Israel and a NY Yankee cap) presented to him on behalf of the whole class. Afterwards, many classmates wrote beautiful thank you notes on the matte border. One example from Murray Rosenthal said, "We love you and we wouldn't be here if it wasn't for your wonderful effort!"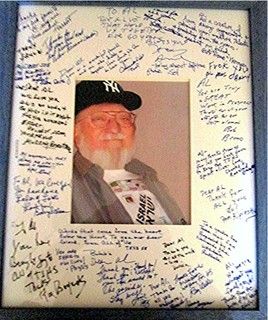 Our Class of '55 Poet Laureate Doreen Deutsch Spungin penned an original poem in which she calls Al, "the glue that has held us together, keeping the bond alive."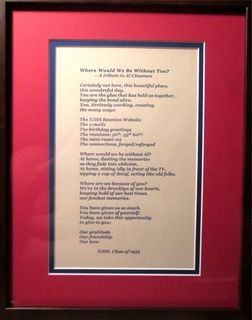 In her poem, Doreen encapsulated the gratitude we all feel toward Al, who, once again (along with Ruth Yablonsky Becker and Myles Seitz), put together a spectacular reunion. A print of the poem was framed and presented to Al, and nothing says it better than this excerpt:
"Where are we because of you?
We're in the Brooklyn of our hearts,
keeping hold of our best times,
our fondest memories."


Tribute to Al C
The poem reads as follows:



Where Would We Be Without You?

Certainly not here, this beautiful place,
this wonderful day.
You are the glue that has held us together,
keeping the bond alive.
You, tirelessly working, creating
the many ways:

The TJHS Reunion Website
The e-mails
The birthday greetings
The reunions: 50th, 55th, 60th!
The mini-reunions
The connections, forged/reforged

Where wold we be without Al?
At home, dusting the memories
as they fade into oblivion.
At home, sitting idly in front of the TV,
sipping a cup of decaf, acting like old folks.

Where are we because of you?
We're in the Brooklyn of our hearts,
keeping hold of our best times,
our fondest memories.

You have given us so much.
You have given of yourself.
Today, we take this opportunity
to give to you:

Our gratitude
Our friendship
Our love.

TJHS, Class of 1955





---
Our 55th Reunion/Luau Nov. 2010
Friday, March 30, 2018
A Review by Phyllis Hoffman Miller
There was a wedding (a few months late), anniversaries, bat mitzvahs, hula dancing and fire dancing; there was food and drink, music and prizes; there was an MC who got his early training in the Catskills; there was Al C. in a grass skirt and coconut bra—OMG! What more could you ask for? Oh yes: old friends.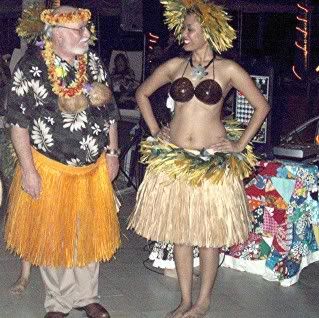 It was the Class of '55 out of Jeff for 55 years, having a great time at a luau in Florida. A luau?? Florida?? Wasn't Jeff in Brooklyn?? Well, it was Florida, but it was still Brooklyn. The tables didn't have numbers; they had street names, Hawaiian style: Van Siclen Avenue became VanSiclenuku Ave.

Old friends, decorated with colorful leis, sat together and went table-hopping to greet other old friends and compare notes—Retired? Grandchildren? Health?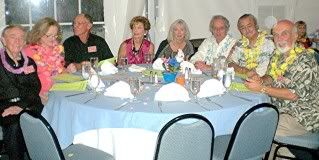 Dotty Baier was interviewed on JLTV about our group Bat-Mitzvah. Go to "Featured Links" and click on Dotty to watch the show.
Doreen Deutsch Spungin, the Class of '55 Poet Laureate, read her poetry. Butchie Davidson sang "Rumania" (not an easy song to sing!) and emceed the event.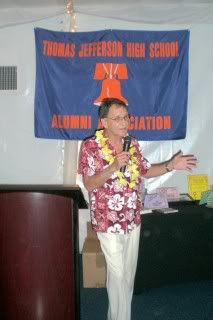 For those who didn't have enough to eat that evening, there was brunch the next morning, at the hotel or on a boat on the Intracoastal Waterway.


Later that week it was Thanksgiving, and we had a lot to be thankful for. For having Al C. so dedicated and so good at what he does; for having such a fabulous committee whose members worked hard to make this a truly memorable weekend; for having great weather for the reunion and the boat ride; for having friends who enjoyed getting together; for being able to be there with them. May we continue to be able to be there for many more to come.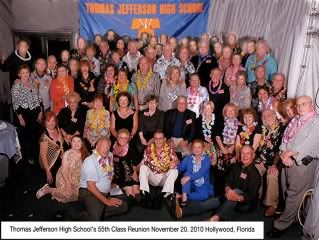 ---
Class News

3/18/2017
80th Birthday Bash HOTELS (Near JFK and Russo's)
Hotel- Holiday Inn.....154-71 Brookville Rd. Phone- 718-712-0100.....Rate- $212....Rating-3 ½ Amenities- Free Shuttle & Breakfast        . . . Continued

3/18/2017
80th Birthday Bash ATTENDEES
Look Who's Coming As of March 26: 49(including spouses and lovers--er,I mean significant others) Arav, Lillie Lipskin Averne, Harvey Axelrod, Elaine Fishman Bailis, Ellie Cohen Becker, Rut . . . Continued

3/18/2017
80th Birthday Bash MENU
Appetizer- Hot Antipasto Pasta- Cavatelli with meat sauce Choice of 7 entrees Shell Steak Chicken Francese Lemon Filet of Sole Pork Chop Milanese Veal Rollatine Stuffed Shrimp Eggplant Par . . . Continued


Today's Featured Biography
After TJHS, I attended Hunter College(AB,1959) and Polytechnic Inst. Brooklyn(PhD, 1966). I worked in New Jersey for 40 years and retired in 6/05 to Massachusetts. My career included research and lab management in many major chemical companies in NJ and I was Director of R&D for Fisher Scientific for 10 years. I hold 5 patents and 19 scientific publications.

Both my kid's careers led them to the Boston-Cambridge area and along with their kids(4)convinced Barbara and me to buy a condo in an over 55 development to be near them. Len has since movecd to Belle Meade in NJ!

My daughter, the Chem E., runs the pilot plant for BiogenIdec in Cambridge and Len, the Harvard molecular biologist instructor, is taking a position at UMDNJ, Rutgers U., Piscataway, to administer/research an NIH grant to do research on AIDS-HIV started August 01,06.

Thank you, Mr. Littel, for getting me interested in Chemistry. Getting me interested has now permeated to two generations of Edelsteins.

I wish I could have attended the Reunion in November of 2005, but it was 3 days after surgery for a new hip at Mass General, Boston. Everything went well and I can walk without pain. BUT, I had to miss the reunion. I was hoping to see Martin Milden and Irwin Feller there, guys from PS 191 and the SP at JHS 210. I hear there will be another get together in Florida. Perhaps I'll get to attend that one. In the meantime I'll just have to do with the DVD of the 50th.


Classreport.org provides free Class Websites for every graduating class of every high school with free access for all.
We are one of the premier social networking sites dating back to 2003. We are a small, family-owned business and yet freely host over a million class websites.
Classreport holds a special place in the hearts of our users: Bravos.
We are funded solely through your voluntary contributions. Can you help us keep this site online and ad-free for another year? Thank you for your support!
Please click here to contribute.
No Ads, No Spam, No Pop-ups, No Fees.
Class Support Status

Our Class Site is Fully Funded!
Additional contributions are welcome and will be used to provide support for the larger Classreport community.
CLICK HERE TO LEARN MORE
Class Directory

Where in the world are you? Stats
Recent Profile Updates
| | |
| --- | --- |
| | Mar 23 |
| | Mar 20 |
| | Mar 20 |
| | Mar 14 |
| | Mar 13 |
| | Mar 13 |
| | Mar 13 |
| | Mar 13 |
Class Poll
There is no Active Poll
at this time.
Visit Other Classes
The Office
(Admin use only)
If you have any questions or comments regarding this website, please contact:

Class Administrator
Alex Cinamon

TJHS Site Coordinator
Alex Cinamon
Class of 1955

Would you like a sneak peek at a
non-functioning view of The Office?

This class reunion website is a complementary addition to your existing alumni resources.
It is a product of Classreport, Inc. and may not be affiliated with Thomas Jefferson High School or its alumni association.

Does your High School Class have a full-featured Alumni Website? Start One Now!
(Or start one for your Mother, Father, Sister, Brother, Spouse, Son, Daughter, Friend . . .)



"Ttanks for your support. I was able to get the correct document uploaded. Your site is amazing." 2/9/2017


"You have done a GREAT job with this site. I will be telling our class to update their profiles." 2/8/2017


"My class appreciates your organization more than I can say. THANK YOU." 2/8/2017


"Many thanks for the news update about our class. The site is really looking great!" 2/6/2017


"Thanks for all you do for us!" 1/13/2017


"I enjoy reading the website." 12/27/2016


"You have a great web site - Thank you!" 12/24/2016


"Thank you for having such a wonderful site. Our class appreciates your continuing work." 11/24/2016


"We are glad that you all maintain this web site. We think our site is a really good site and want to keep it running." 11/23/2016


"Great Stuff!!! Thank you." 11/23/2016



More bravos at: www.classreport.org/bravos




14th Anniversary!

Search All Schools Best Classes Reunions Features Setup Your Class FAQ Funding Our Story Support Privacy Policy We DO NOT sell advertising to support this site. We DO NOT sell names and addresses to third parties.
There are NO POP-UP ads. There are no registration fees required for participation.
Please support this site with your voluntary contributions.
We cannot provide this service without your support. Thank You! Read Our Story

ClassTraQ 9.7003c Software Copyright © 2003 - 2015 Classreport, Inc. All Rights Reserved e1