Please Support Our Class Website in 2018. Can you chip in today?
All contributions will be DOUBLED through September 30!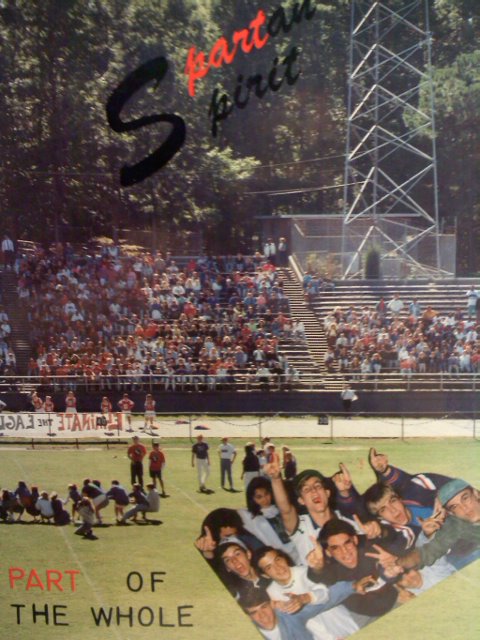 What part did you play?


This site is operated and funded by members of our class.
Class Administrator: Kristi Summerville Thompson
Page Hits: 10,323


---
25 Year Reunion Announcement!
---
SHS Class of 1991 25th Reunion (Take Two)

Over the years we've reconnected on MySpace, Skype, Facebook, Twitter, Linkedin, various personal blogs & websites, etcetc. Let's now reconnect in person! Let's share the hugs & high fives & fist bumps that we've sent to each other via cyber space!

Please join us Saturday December 3, 2016, to celebrate 25 years at Lugano Ristorante (owned & operated by our very own Tom Havrish).
Good Food, Good Vibes and a slidshow mixed in = GOOD TIME!

Lugano Ristorante
1060 Darrington Drive
Cary, NC 27513
*8 o'clock in the evening until ...


Tickets are $40 per person.

Update December 2nd: You may pay online or at the door.

You may pay online:
paypal.me/thompsonkristi

NOTE: if you mailed a check to attend the previous scheduled reunion please contact Cassy.

And last but not least, please make sure all your contact information is current at our class website for future events
http://www.classreport.org/usa/nc/raleigh/shs/1991/


---
---
Class News

3/24/2011
Our former Principal Richard Murphy
We are sad to post that Mr. Richard J. Murphy passed away Saturday, March 19, 2011, after a long battle with cancer. Please follow the link below to read of his life story, offer tributes/c . . . Continued


Today's Featured Biography
After SHS, I went to Louisburg College. I met my husband, Jeremy, there in fall of 1991 (though we would not marry until 2010). He was the love of my life, but had been drafted to play MLB, and that life-long dream had to come 1st!....God brought us closer to HIM through our individual storms of life over the next 15 yrs, so that HE could bring us back together in HIS timing!! I was to worship JESUS, not jeremy! I married Bret Waller, graduated from nursing school, and had Haley 8-19-97. Haley started dancing at age 2 1/2, took ballet for 9 yrs, danced in The Nutcracker for the Carolina Ballet in '06, '07, '08. By 2009 she had outgrown the childrens costumes, and decided to try cheering. We joined a competative team for Wake Forest All Stars, and she loved it! She is now 14 yrs, and starts high school this week--yikes!! She tried out for the school cheer team in may and made the JV and competition teams. I think JP is as excited as she is! She had the 1st cheer accident of the season....broken nose on 7-13-11, surgery on 7-15-11. God really had a plan, though, as HE always does......She was able to show her teammates that it isn't about how you look on the outside, but is more important to shine from the inside. She never missed a day of practice, though she had to sit on the bench for 2 wks. She went to practice everyday with a very messed up face, but told me that she wasn't worried about it at all, because she could shine JESUS with her smile even if her nose was not straight or in the center of her face!! She has decided that her new high school is going to be her mission field, and that she is going to give cheerleaders a GOOD name! Over the past 10 yrs, I have worked full time as a registered nurse, Haley and I have enjoyed our horse (Haley showed "JESSIE" for 4 yrs, and I enjoyed trail rides every weekend), I've been a mom 24/7 and love it, enjoyed Bible studies, and we have gotten very involved in our church-Faith Baptist in Youngsville. I have been on the worship team for the past 3 yrs and love it!! Haley is also very involved in youth group (she is a vocalist in the youth praise band), and teaches a 2 yr old sunday school class every week. Now we are enjoying cheering, and getting ready for football season! I got married in 2010. After 1 year of persuing me, I could finally see that JP was the man God intended for me to spend the rest of my life with, the one I would grow old with. I never considered getting married again, so this was a real shocker for me! I married my best friend, Jeremy, on 6-12-10, and Haley was my maid of honor. For years, Jp and I REALLY were just friends. He has been a daddy to Haley since she was about 5. She has called him every time she needed "a dad" for something like ballet recitals, swim meets, father/daughter dances, 5th grade graduation, 1st day of middle school, cotillion balls, help with her forehand/backhand (tennis), plays, etc. He has been there for everything she has asked him to be. The bond they share is quite remarkable-it is just a GOD THING, because every little girl needs and deserves a "daddy"!!. It is clear that his loyalty is not only to me, but to her equally. One would never know that he is not her biological father-it really is precious, and we are blessed as a family. I joined facebook to get all of the info for the reunion, but it was already too late :( I soooo enjoyed the pics, and missed being there to visit with you all. Contact me anytime!


Classreport.org provides free Class Websites for every graduating class of every high school with free access for all.
We are one of the premier social networking sites dating back to 2003. We are a small, family-owned business and yet freely host over a million class websites. Our Story
Classreport holds a special place in the hearts of our users: Bravos.
Class Support Status

OUR CLASS SITE IS FUNDED THROUGH
August 2018
---
This site is funded by our
Voluntary Contributions

Click Here to Chip In


Class Directory

Where in the world are you? Stats
Recent Profile Updates
| | |
| --- | --- |
| | Jun 6 |
| | Jan 9 |
| | Nov 27 |
| | Oct 26 |
| | Sep 23 |
| | Sep 19 |
| | Sep 8 |
| | Sep 4 |
Class Poll
There is no Active Poll
at this time.
Recent Reviews
There are no reviews on file
at this time.
This area is for comments on
books, movies, music,
restaurants, etc.
Visit Other Classes
The Office
(Admin use only)
If you have any questions or comments regarding this website, please contact:

Class Administrator
Kristi Summerville Thompson

Would you like a sneak peek at a
non-functioning view of The Office?

This class reunion website is a complementary addition to your existing alumni resources.
It is a product of Classreport, Inc. and may not be affiliated with Sanderson High School or its alumni association.

Does your High School Class have a full-featured Alumni Website? Start One Now!
(Or start one for your Mother, Father, Sister, Brother, Spouse, Son, Daughter, Friend . . .)



"Just discovered your product today while trying to locate classmates ahead of our 50th reunion in 2020. The fact that you did this in a noncommercial manner in a world where everything has a price tag deserves recognition and respect, in my view. Thank you and good luck in all your endeavors." 5/5/2018


"THANKYOU so much for handling this for us! We are so appreciative! It looks GREAT!" 5/2/2018


"Thank YOU for helping us get the word out! I've posted a link to the website on our FB group page and vigorously encouraged other classmates to contribute" 4/27/2018


"Your site is amazing. Kudos to you and your staff. You have benefitted so many high school alumni in organizing their class reunions." 10/4/2017


"Thanks to classreport.org our class website played a huge part in the success of our Reunion. We greatly appreciate your wonderful support." 10/3/2017


"Thanks for all your hard work and ingenious spirit." 9/25/2017


"Thanks guys, you are Good!!" 9/23/2017


"I love your service and will continue to support you." 9/14/2017


"We have been using the website for more than 10 years now. It's still the best website out there for classmates to meet, collect their info and advertise their reunions. Thanks for inventing it all!" 9/11/2017


"Thank you for your assistance. It was very helpful. Looks good!" 9/5/2017



More bravos at: www.classreport.org/bravos




15th Anniversary!
There are no fees required for participation on this site.
Please support this site with your voluntary contributions.
We cannot provide this service without your support. Thank You!
Please read Our Story
ClassTraQ 11.003 Software Copyright © 2003 - 2017 Classreport, Inc. All Rights Reserved e0 amsc: 1