Please Support Our Class Website in 2015. Can you chip in today?
All contributions will be DOUBLED through October 31!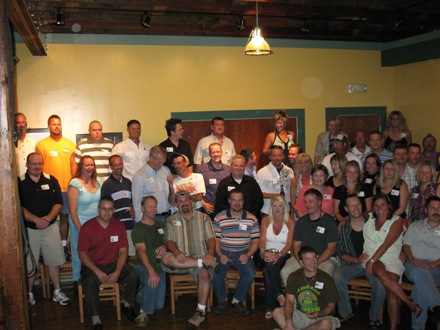 This site is to be operated by members of our class.
We need a Class Administrator.
CLICK HERE TO LEARN MORE OR TO VOLUNTEER

Page Hits: 5,207








Click the tiger to go to the
Freshman Video on a seperate page.
I'm getting used to a new editor so things
are a bit half assed :) and it takes awhile
to load...


Today's Featured Biography
Guess with all this updating I could take to time to update me, eh? I just know I'm in for a long haul once I start writing something...

After graduation, I decided to take a year off of school as I was feeling a bit burned out...there is some irony there in hind sight. After that year, I moved to Phoenix at the behest of my sister (who lived there) to get away from some "bad influences" and to get myself into college...there's even more irony there in hind sight ;). After a year of partying and showing up for a handful of classes at MCC (mostly fencing), I moved back to Springfield and transfered to SMSU.

At MCC I majored, as would be of little surprise to anyone, in computer system engineering and transfered a limited amount of credit on that path. Some god-awful pre- Calc teacher convinced me that I'd never pass the required Calc classes for that major and I changed to Psych/Philosophy (not that he actually SAID that to me, he just sucked as a teacher and I did poorly in the subject). I pondered counseling of some sort before accepting that I'm often tactless and empathetically dysfunctional. This began a number of major changes that took me through most of the scientific disciplines on campus over a 10 year period before I settled on one I thought I should go ahead and graduate with. Before finishing the Pre-Med curriculum with a Psych Major and Biomed Minor, I nearly finished minors in Chem, Math, Physics, Philosophy, Criminal Justice (and pre-law curriculum), and computer science. Curiously enough, I had to take Calculus for Pre-Med and aced it.

My college decade was marked by a number of road trips and excessive partying that left me with a certain amount of regret but lots of cool stories ;-). During this time, I also was married and had my first son, Tristan, who was 8 weeks premature. Over 10 years later, while working at St. John's I had nurses coming up to me saying, "Were you the guy in the Greatful Dead Flying Frog t-shirt that came up and read Grimm's Fairy Tales to your son in the NICU every night?" -- Yep, that was me...

Tristan turned out fine (despite an ADD diagnosis, he is one of the biggest kids in his class, and a straight A student) and I'm terribly proud of him, although I don't get to see him near enough. Shortly before I finished my degree, I lost my sister Merri to cancer and divorced soon after that. Tristan's mother retained physical custody of him and moved back to St. Louis where they still reside. Our ten-year reunion followed this particularly difficult time in my life...but we did have a free house to throw a few pre- and post- reunion parties!

I moved to St. Louis for awhile (hate that place) to be closer to Tris and took my first job in the neurodiagnostic field, a sleep tech position. It was here that I met Dawn, my fiance (and boss at the time...gotta get to the top somewhere right?). After a couple years and a Sleep Registry later, I started cross-training in EEG and a corporate take over resulted in our sleep lab going under. Dawn and I moved to Springfield and started at St. John's; she in the sleep lab, and I began working in EEG full time. We bought our house outside the SW side of Springfield a year after moving here. We both hate moving so it should be easy to find us!

I obtained my 2nd registry, this time in EEG and started crossing over into brain and spine surgery monitoring, eventually obtaining certification in it too. St. John's and I did not work out and after 5 years there I returned to the Sleep Field, this time from a research perspective. 5 years after that, I started traveling with Nihon Kohden doing clinical support for neurodiagnostic equipment.

Dawn and I have 2 children of our own: Patrick was born in 2005, and Asher in 2007. we get to see Tris about once a month and get him for some extended time in the summer and near Christmas. We used to do quite a bit of traveling but kids really put a damper on that, so we spend much of our time just raising them. Hopefully we'll get a mind to start road tripping again once the boys we'll be of an age to dig it too. They have proven to be some very smart inquisitive guys, so I expect they'll like to see some new stuff, eventually.

I've recently gotten into playing on Facebook and have gone nuts with posting photo's and catching up with people even pre-dating YOU people. It has been a blast and I've really enjoyed seeing people's families and how they've turned out after 20years. If you're not there already....I recommend you go now!


Classreport.org provides free Class Websites for every graduating class of every high school with free access for all.
We are one of the premier social networking sites dating back to 2003. We are a small, family owned business but freely host over a million class websites.
Classreport holds a special place in the hearts of our users: Bravos.
We are funded solely through your voluntary contributions.
No Ads, No Spam, No Pop-ups, No Fees.
Class Support Status

OUR CLASS SITE IS FUNDED THROUGH
September 2015
---
This site is funded by our
Voluntary Contributions

Click Here to Chip In


Class Directory
| | | |
| --- | --- | --- |
| | | |
| | 108 | |
| | 137 | |
| | 3 | |
| Total On File: | 248 | |
| | | |
| | 0 | |

Where in the world are you? Stats
Recent Profile Updates
| | |
| --- | --- |
| | Nov 5 |
| | Feb 5 |
| | Feb 3 |
| | Jan 16 |
| | Jan 15 |
| | Dec 5 |
| | Jan 2 |
| | Jul 21 |
Class Poll
There is no Active Poll
at this time.
Visit Other Classes
The Office
(Admin use only)
If you have any questions or comments regarding this website, please contact:

Class Administrator
We Need a Volunteer

Would you like a sneak peek at a
non-functioning view of The Office?

This class reunion website is a complementary addition to your existing alumni resources.
It is a product of Classreport, Inc. and may not be affiliated with Willard High School or its alumni association.

Does your High School Class have a full-featured Alumni Website? Start One Now!
(Or start one for your Mother, Father, Sister, Brother, Spouse, Son, Daughter, Friend . . .)



"We appreciate all your effort establishing and upgrading the Classreport networking, social website. Thank you." 10/5/2015


"You guys are great!" 9/15/2015


"Nice site." 9/7/2015


"Thanks for putting together great websites for alums to enjoy. Great job." 9/5/2015


"This is a great web site." 8/31/2015


"Your instructions worked perfectly. Thank you so much." 8/28/2015


"Thanks so much for your site as we use it quite often!" 8/21/2015


"Thanks. You have good information and the Admin Forum is a good source of info." 8/19/2015


"Thank you very much for this website!! It is truly a wonderful site!!" 8/17/2015


"I REALLY ENJOY THE SITE!! GREAT JOB !!!" 8/5/2015



More bravos at: www.classreport.org/bravos




12th Anniversary!

Search All Schools Best Classes Reunions Features Setup Your Class FAQ Funding Our Story Support Privacy Policy We DO NOT sell advertising to support this site. We DO NOT sell names and addresses to third parties.
There are NO POP-UP ads. There are no registration fees required for participation.
Please support this site with your voluntary contributions.
We cannot provide this service without your support. Thank You! Read Our Story

ClassTraQ 9.7003c Software Copyright © 2003 - 2015 Classreport, Inc. All Rights Reserved e0