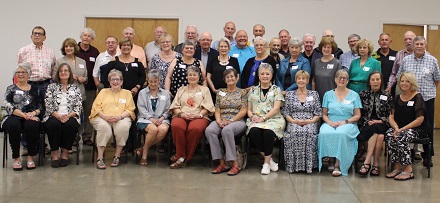 50th Class Reunion Was A HUGE Success...Thanks to everyone who attended and made it so special!


This site is operated and funded by members of our class.
Class Administrator: Ellen Marlotte Davis
Page Hits: 30,938


Class News

4/19/2018
Deanna Kay (Yowell) Gallagher Obit - 2018
Deanna Kay (Yowell) Gallagher passed away peacefully in her home located in Jefferson City, MO on January 18, 2018 with her daughter by her side. Born November 30, 1950 in Moberly, MO, she w . . . Continued

4/19/2018
Edward Lawrence Wright Obit - 2018
EDWARD LAWRENCE WRIGHT: Edward L. Wright, 67 passed away on Sunday, April 15, 2018 in Sterling. Private family services will be held at a later time. Edward Lawrence was born in Moberly, Mi . . . Continued

3/12/2018
Bill Newby Obit - 2016
Rev. William "Bill" Newby passed away Oct. 16, 2016 in Joplin, MO after years of failing health. Bill was married and leaves behind his wife, two daughters, grandchildren, and many friends. . . . Continued


Our Class Message Board
Your participation is requested!
We would like to hear from you. Post your messages here.

ADD NEW VIEW ALL

Indicates an included photo
| | |
| --- | --- |
| Ellen (Marlotte) Davis' Father | Ellen Marlotte Davis |
| Ted Marlotte (91) passed away on Friday, | Sun 8/19/2018 10:00 AM |
| Pam (O'Neal) Botkin's Mother | Marilee |
| Mary Alice O'Neal, age 90, passed peacef | Wed 3/14/2018 8:18 AM |
| Albert Rodney Obit | Steve Crosswhite |
| Albert E. Rodney Albert (Al) E. Rodney, | Sat 1/20/2018 8:05 PM |
| Deanna Kay (Yowell) Gallagher | Steve Crosswhite |
| Deanna Kay (Yowell) Gallagher passed awa | Sat 1/20/2018 1:36 PM |
| Death | Marilee |
| The Class of '68 extends their condolenc | Tue 9/12/2017 7:39 AM |
| Steve Afeman's wife | Marilee |
| Susan, Steve Afeman's wife of 45 years, | Thu 7/20/2017 10:00 PM |
| Message | James Allen |
| It is with great sadness that James L. A | Tue 3/14/2017 12:29 AM |
| Greg Williams - Obit | Marilee |
| Fellow classmate, Greg Williams, passed | Thu 10/13/2016 8:37 AM |
| Additional Information: | Marilee |
| Mrs. Hollenbeck's service will be held i | Mon 9/19/2016 1:29 PM |
| Death of Ruth Hollenbeck | Steven Crosswhite |
| Classmates,I received an email from John | Mon 9/19/2016 1:09 PM |
| Nancy Leavene's father | Marilee |
| Nancy's father, Robert, passed away on J | Sat 1/23/2016 1:25 PM |
| Jill Hasson's father | Marilee |
| Many of you knew Robert Hasson personall | Mon 10/19/2015 4:46 PM |
| Tami Larkin's Mother | Marilee |
| Tami Larkin's mother recently passed awa | Mon 8/31/2015 6:45 PM |
| Message | Sandra Price Viers |
| A mistake was made in error about a scho | Wed 7/1/2015 9:00 PM |
| Message | Steve White |
| Steve and Ginny White received their 5th | Tue 2/3/2015 12:05 PM |
Today's Featured Biography
Shadi and I have recently moved to Louisville, Ky from Signal Mountain, TN. Shadi is doing a lot of international travel for his job and I have just started my new job as an RN in the newborn intensive care unit (NICU) of Kosair Children's Hospital. We hope to buy a house in Old Louisville where there are more brick victorian houses than anywhere else in the U.S. It's a change for us to live in the city instead of the burbs. We like being able to walk downtown or to little restaurants in the neighborhood.

My six wonderful children are...well, wonderful! Sara is a stay-at-home mom when she is not singing for some occasion. She and Steve have four children. We took her oldest, Hope, to England and Scotland last summer in our second installment of "grand travel," an idea I got from Barry's grandparents who took all of their grandchildren on trips. It was great.

Rachel and Nadim have three little ones and live in St. Louis. Rachel in a pediatrician specializing in pediatriinfectious diseases.

Rebekah and Mark live in Parkville, MO. Rebekah teaches English as a second language to pre-schoolers. Three years ago we took her oldest, Leighton, on a trip to Italy for our first try at "grand travel" It was so much fun.

Gabrielle lives in St. Louis, also. She does hospital social work, but is getting ready to go to nursing school in January. She is one industrious chick.

Brendan and Britney live in Chattanooga and have two beautiful little girls. He is a paramedic, but is currently working as a physician recruiter for the Shoemaker Group.

Nicholas, my baby boy, just turned 27. Yikes! He married lovely Courtney last summer and they live in Columbia. Nichol is an insurance underwriter and great white hunter.

Gee whiz that was long, but LIFE IS GOOD and it takes a long time to tell about it.

I'm looking forward to seeing everyone at the reunion.

P.S. Know anyone who wants to buy a house in Signal Mountain, TN?


Check out the Class of 1968 Facebook Page Moberly High School - Class of 1968
Family News Summary
Enter your Family News Item choosing from our pre-defined categories:
Anniversary, Award, Birth, Death, Diagnosis, Engagement, Graduation, Lottery, Retirement, Vacation, Wedding, Other.
Death
My father, Ted, passed away on Friday, August 17th
Posted by: Ellen Marlotte Davis

8/19/2018

Death
Thoughts and prayers for our classmate, Curt Padge
Posted by: Marilee Lewis -Palmer

9/8/2017

Death
Randi (Bartley) Baygents lost her husband, William
Posted by: Marilee Lewis -Palmer

6/29/2017

My husband, Calvin, passed away at our summer home
Posted by: Marilee Lewis -Palmer

6/10/2017

Thoughts and prayers are sent to Becky (Noel) Moye
Posted by: Marilee Lewis -Palmer

6/10/2017

Death
Gary Wood's father, Oren Eugene (Gene) Wood, passe
Posted by: Marilee Lewis -Palmer

6/10/2017

Death
Don Loudermilk's father, Glen Ray Loudermilk, pass
Posted by: Marilee Lewis -Palmer

5/19/2017
Calendar
There are no Calendar items on file
at this time.

Today's Featured Class Member Website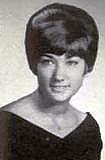 Classreport.org provides free Class Websites for every graduating class of every high school with free access for all.
We are one of the premier social networking sites dating back to 2003. We are a small, family-owned business and yet freely host over a million class websites. Our Story
Classreport holds a special place in the hearts of our users: Bravos.
Class Support Status

Our Class Site is Fully Funded!
Additional contributions are welcome and will be used to provide support for the larger Classreport community.
CLICK HERE TO LEARN MORE
Class Directory

Where in the world are you? Stats
Recent Profile Updates
| | |
| --- | --- |
| | Sep 11 |
| | Sep 8 |
| | Aug 28 |
| | Aug 9 |
| | Jul 29 |
| | Jul 24 |
| | Jul 19 |
| | Jul 15 |
Visit Other Classes
The Office
(Admin use only)
If you have any questions or comments regarding this website, please contact:

Class Administrator
Ellen Marlotte Davis

Would you like a sneak peek at a
non-functioning view of The Office?

This class reunion website is a complementary addition to your existing alumni resources.
It is a product of Classreport, Inc. and may not be affiliated with Moberly High School or its alumni association.

Does your High School Class have a full-featured Alumni Website? Start One Now!
(Or start one for your Mother, Father, Sister, Brother, Spouse, Son, Daughter, Friend . . .)



"Just discovered your product today while trying to locate classmates ahead of our 50th reunion in 2020. The fact that you did this in a noncommercial manner in a world where everything has a price tag deserves recognition and respect, in my view. Thank you and good luck in all your endeavors." 5/5/2018


"THANKYOU so much for handling this for us! We are so appreciative! It looks GREAT!" 5/2/2018


"Thank YOU for helping us get the word out! I've posted a link to the website on our FB group page and vigorously encouraged other classmates to contribute" 4/27/2018


"Your site is amazing. Kudos to you and your staff. You have benefitted so many high school alumni in organizing their class reunions." 10/4/2017


"Thanks to classreport.org our class website played a huge part in the success of our Reunion. We greatly appreciate your wonderful support." 10/3/2017


"Thanks for all your hard work and ingenious spirit." 9/25/2017


"Thanks guys, you are Good!!" 9/23/2017


"I love your service and will continue to support you." 9/14/2017


"We have been using the website for more than 10 years now. It's still the best website out there for classmates to meet, collect their info and advertise their reunions. Thanks for inventing it all!" 9/11/2017


"Thank you for your assistance. It was very helpful. Looks good!" 9/5/2017



More bravos at: www.classreport.org/bravos




15th Anniversary!
There are no fees required for participation on this site.
Please support this site with your voluntary contributions.
We cannot provide this service without your support. Thank You!
Please read Our Story
ClassTraQ 11.003 Software Copyright © 2003 - 2017 Classreport, Inc. All Rights Reserved e1 amsc: 1