---
Our slide shows require a flash player for viewing. Most PCs and laptops have this software but most smartphones and tablets do not.
---


HAPPY THANKSGIVING!


---
Pictures from 55th Reunion Banquet on Saturday, September 12, 2015; 168 attendees (104 classmates, 64 guests):
---
---
Fort Wayne Downtown (present and future):
---
---
Pictures from 55th Golf Night on Friday September 11, 2015; 41 attendees (31 classmates, 10 guests):

---
---
Pictures from 53rd INFORMAL GET TOGETHER ON Wednesday, October 30, 2013 - 51 attendees: 36 classmates & 15 guests:
---
---

52nd Get-together on November 7th of 2012:
---
---
---

Thanks to 55th Reunion Commitee Members for GREAT Evenings on 9/11 and 9/12/15: Carole Bowers Tenbarge, Carol Bradley, Mary Couture Ackerman, Mike Berghoff, Jim DeBender, Tekie Crouch Andrews, Jim DeVinney, Ellen Fox, Joan Holocher Miller, Carol Miller Keener, Ellen McCarthy Wall, John McCarthy, John McKiernan, Bill Miller, Kathy Crosby Miller, Tom Muehlmeyer, Joe Musi, Walter Noll, Judy Pettigrew Patterson. Julia Berkeiser Peterson, Barbara Shea Rice, Julie Schaab Renninger, Bill Schreck, Kathy Hartman Schreck, Dennis Schroeder, Jim Slater, Dave Winters, Joe Zuber, Lois Kesler Zuber



This site is operated and funded by members of our class.
Class Administrator: Steve Doehrman
Page Hits: 23,164






Class News

9/22/2015
Attendees at 55th Year Reunion:
Friday: 12 golfers (golf was played Monday due to inclement weather Friday) Friday evening After-Golf Get-together: 41 attendees (31 classmates; 10 guests) Saturday Evening: 168 attendees . . . Continued

8/22/2015
Central Catholic Memorial Place - George Haggenjos, CCHS class of 1948
"CHRIST of LEWIS STREET statue at site of former CCHS". CENTRAL CATHOLIC- Admirable words to all of us who attended one of the best high schools Fort Wayne ever had. Many fond memori . . . Continued

4/21/2015
INVITATION LETTER TO CCHS 55-YEAR REUNION MAILED!!
The letter regarding registering for our 55-year CCHS class reunion was mailed April 15, 2015. Please let Julia Berkheiser Peterson know if you did not receive one. juliapeterson@comcast.n . . . Continued






---
51st at Guesthouse on October 4 of 2011:
---
---
To stop a slide show: place your cursor over it, then left-click the pause button - square with two bars - in lower left corner. To resume your slide show, left-click the play button - square with arrow- in the lower left corner
---
---
Later @ 51st:
---
---
---
CCHS 1960 Still Missing Classmates:
---
---
Our Class Message Board
Your participation is requested!
We would like to hear from you. Post your messages here.

ADD NEW VIEW ALL

Indicates an included photo
| | |
| --- | --- |
| Nancy Rosswurm Hauser died on Tuesday, 10/17/ | Steve Doehrman |
| Nancy Rosswurm Hauser died on Tuesday, O | Wed 10/18/2017 5:07 PM |
| Lucky Sliger died on Friday, 10/6/17 | Steve Doehrman |
| LUCKY BUCHWALD, 76, passed peacefully on | Wed 10/18/2017 9:09 AM |
| Keith Harber died on Sunday, 10/1/17 | Steve Doehrman |
| Obituary for Keith Maurice Harber Keith | Sat 10/14/2017 8:05 PM |
| Thomas Doepker died on Friday, 9/29/17 | Steve Doehrman |
| Thomas Doepker – CCHS Class of 1960 DOD | Sat 10/14/2017 7:56 PM |
| Tom Douglas died on Friday, June 16, 2017 | Steve Doehrman |
| THOMAS N. DOUGLAS, 75, passed away Frida | Mon 6/19/2017 7:46 PM |
| Pamela Dirrim Jordan died on May 23, 2017 | Steve Doehrman |
| PAMELA ROSE (DIRRIM) JORDAN, returned h | Sun 5/28/2017 3:19 PM |
| Robert Snow died on Sunday, 1/4/2004 | Steve Doehrman |
| ROBERT ELTON SNOW, age 62, died Sunday, | Tue 3/7/2017 4:05 PM |
| Diane Recht Langin died on January 22, 2017 | Steve Doehrman |
| Diane Y. Langin, 74, passed away Sunday, | Wed 1/25/2017 6:43 PM |
| Jerry Guthier died on November 26,2016 | Steve Doehrman |
| In Memory of Jerry E. Guthier February 9 | Wed 11/30/2016 6:50 PM |
| Carole Wass Stoner died on October 30, 2016 | Steve Doehrman |
| Carole Louise Stoner Date of Birth | Wed 11/2/2016 9:08 AM |
| Coach Bill Hicks died on September 8, 2016 | Steve Doehrman |
| WILLIAM "BILL" FRANCIS HICKS, 90, of For | Thu 9/15/2016 4:30 PM |
| Ann Wisniewski Flotow died on 7/27/16 | Steve Doehrman |
| ANN L. FLOTOW, 73, passed away Wednesday | Thu 9/15/2016 4:20 PM |
| Jim Klug died on February 23, 2016 | Steve Doehrman |
| Dr. James Charles Klug Oceanside Dr. Jam | Mon 6/20/2016 11:13 AM |
| Delores Troendly Vogel died on 6/13/16 | Steve Doehrman |
| DELORES ANN VOGEL LAKELAND - Delores | Fri 6/17/2016 9:06 AM |
| Joe Sarrazine died on April 30, 2016 | Steve Doehrman |
| Joseph Henry Sarrazine, 73, of Fort Wayn | Mon 5/9/2016 8:15 PM |
Today's Featured Biography
Received a BS in math in 1964 from USF(aka St. Francis) & MA from PU in '67. Married Tom Vodde in 1967. Lived & taught in West Lafayette, St. Louis and Atlanta,GA while Tom finished his schooling and then in Glasgow,KY and Winter Haven,Fl before moving back to Fort Wayne in 1976. Taught HS math for 18 years & then became a district technology coordinator for FWCS for 22 years retiring in 2005.
Have 1 son (deceased), 1 daughter, 1 son-in-law and 2 grandsons.
Spend the winter in Winter Garden, Fl and work 2 days a week at Disney World. Mickey is a great boss!
For recreation and relaxation like to read, bike, walk, swim and play on the Wii.


---
50th Year Reunion in 2010: Saturday Night BANQUET:
---
---
50th Year Reunion in 2010- Grade Schools Classes:
---
---
50th Year Reunion in 2010 More Saturday Night Party:
---
---
50th year Reunion in 2010 - Sunday Brunch:
---
---
---
1960 Senior Yearbook Pictures:
---
---
FORT WAYNE'S FAMOUS:

---
---
FORT WAYNE INDIANA FROM 1800'S TO TODAY:

---
---
CCHS Memories from 1960 ECHO and Allen County Archives:
---
---
---
Family News Summary
Enter your Family News Item choosing from our pre-defined categories:
Anniversary, Award, Birth, Death, Diagnosis, Engagement, Graduation, Lottery, Retirement, Vacation, Wedding, Other.
Death
Marie Louise ("Scotte") Mascotte, 71, CCHS'62, pas
Posted by: Annette Mascotte Wall

12/16/2015
Calendar
There are no Calendar items on file
at this time.

Today's Featured Class Member Website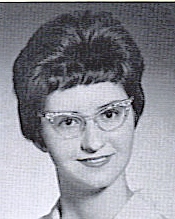 ---
Fifty years of dedication by Julia Berkheiser Peterson, Barbara Shea Rice, Joe Zuber, and Jim DeVinney have kept us in touch with the vast majority of our classmates. Thank you.
---
---
FORT WAYNE INDIANA: CITY OF CHURCHES:

---
---
Cheer, Cheer for Old CC High
Shake down the thunder from out the sky!
Send a volley cheer on cheer
Let CC know that you are here
Although the odds be great or small
Old CC High will win over all
While her loyal sons are marching
Onward to victory!

---
Jerry Lee Lewis, Carl Perkins, Elvis Presley, and Johnny Cash jamming at Sam Phillips' Sun Records, in Memphis, Tennessee, on Tuesday, December 4, 1956, as the CCHS Class of 1960 was nearing the end of their first high school semester in Fort Wayne, Indiana.

---
---
1960 CCHS Class pictures from 1957 ECHO:
---
---
---
Above pictures are from Allen County Public Library's archives, CCHS 1960 ECHO, websites of facilities hosting our reunion activities and classmates' private collections. Special thanks are due to Randy Elliott, Fort Wayne Historical Society, for mentioning the ACPL website, a treasure chest of 19th and 20th century northeastern Indiana; to Francie Hogan, of Today's Catholic and Diocesan Communications Office, for providing perfect pictures of 21st century Fort Wayne Roman Catholic Churches; to classmate Norb Walz, who took exquisitely choreographed 1960 CCHS ECHO group pictures; and to Dave Peterson, who provided splendid photos and candid shots from our 50th and 55th reunions as well as our 51st, 52nd, and 53rd year get-togethers.

---
In Memoriam...



Classreport.org provides free Class Websites for every graduating class of every high school with free access for all.
We are one of the premier social networking sites dating back to 2003. We are a small, family-owned business and yet freely host over a million class websites. Our Story
Classreport holds a special place in the hearts of our users: Bravos.
We are funded through voluntary contributions. Can you help keep this site online for another year? Thank you for your support!
Please click here to contribute.
Class Support Status

Our Class Site is Fully Funded!
Additional contributions are welcome and will be used to provide support for the larger Classreport community.
CLICK HERE TO LEARN MORE
Class Directory

Where in the world are you? Stats
Recent Profile Updates
| | |
| --- | --- |
| | Oct 27 |
| | Oct 18 |
| | Oct 15 |
| | Oct 13 |
| | Oct 13 |
| | Sep 4 |
| | Jul 8 |
| | Jun 19 |
Class Poll
There is no Active Poll
at this time.
Recent Reviews
There are no reviews on file
at this time.
This area is for comments on
books, movies, music,
restaurants, etc.
Visit Other Classes
The Office
(Admin use only)
If you have any questions or comments regarding this website, please contact:

Class Administrator
Steve Doehrman

Would you like a sneak peek at a
non-functioning view of The Office?

This class reunion website is a complementary addition to your existing alumni resources.
It is a product of Classreport, Inc. and may not be affiliated with Central Catholic High School or its alumni association.

Does your High School Class have a full-featured Alumni Website? Start One Now!
(Or start one for your Mother, Father, Sister, Brother, Spouse, Son, Daughter, Friend . . .)



"Your site is amazing. Kudos to you and your staff. You have benefitted so many high school alumni in organizing their class reunions." 10/4/2017


"Thanks to classreport.org our class website played a huge part in the success of our Reunion. We greatly appreciate your wonderful support." 10/3/2017


"Thanks for all your hard work and ingenious spirit." 9/25/2017


"Thanks guys, you are Good!!" 9/23/2017


"I love your service and will continue to support you." 9/14/2017


"We have been using the website for more than 10 years now. It's still the best website out there for classmates to meet, collect their info and advertise their reunions. Thanks for inventing it all!" 9/11/2017


"Thank you for your assistance. It was very helpful. Looks good!" 9/5/2017


"I am so grateful I found your website. It is especially wonderful for our classmates. I will spread the word!!" 8/31/2017


"Our high school reunion was a great success and our site on ClassReport.Org was a HUGE help in that success! ClassReport.Org is by far the best platform on the Internet when it comes to high school reunions!" 8/30/2017


"Thanks for all of your help and the great web site you have. We have a great response for our upccoming reunion events in September." 8/7/2017



More bravos at: www.classreport.org/bravos




14th Anniversary!
There are no fees required for participation on this site.
Please support this site with your voluntary contributions.
We cannot provide this service without your support. Thank You!
Please read Our Story
ClassTraQ 11.003 Software Copyright © 2003 - 2017 Classreport, Inc. All Rights Reserved e1 amsc: 1