Please Support Our Class Website in 2013. Can you chip in today?
All 3-Month contributions DOUBLED through May 31!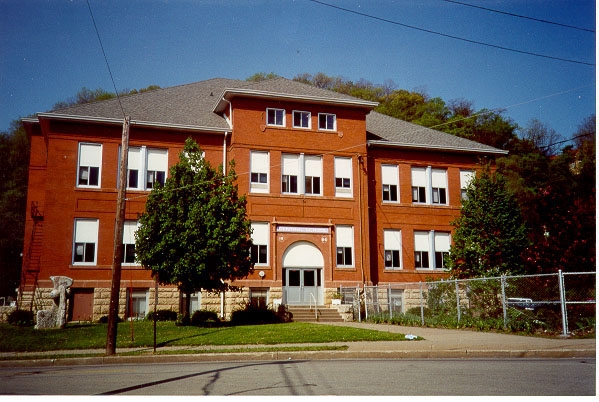 This site is operated and funded by members of our class.
Class Administrator: Michele Wiersma Brady
Page Hits: 1,442


Class News

7/5/2009
CAHS Alumni Association
On June 27, 2009 I received a confirmation email from Allison Lott that the CAHS Alumni Association is now an official non-profit organization. Its purpose is to keep Alumni of Central toge . . . Continued

3/5/2009
Central is in Jeopardy
As many of you probably already know, Central is in jeopardy of being shutdown. There are a few people that have been working diligently to see this doesn't happen, including John Adelmann, . . . Continued

2/8/2009
Classmates Unable To Find
I could use some help in finding these classmates. The usual searches I have used thusfar to locate the rest of you do not have one thing on them or they are female classmates that have mar . . . Continued


Today's Featured Biography
1987 – Graduated…Whew!

1987-88 - Attended University of Dubuque

1988- working full time @ Hillcrest Family Services in Dubuque

1989 (Dec) - Bored with college, moved to Phoenix Arizona chasing a rock star dream / looking for good times

1990- Various ordinary jobs, and playing with local band

1991- Internship in local recording studio 1 year, jamin' & workin'

1992- Broke up with my girl from Dubuqe who moved to phoenix with me. Got bummed out.

1993- . More workin' and jamin' Formed new band (Bacchus) with a friend & drummer from prior band, took over as vocalist-frontman….or something similar. Not the band Bacchus on youtube!
I buy my first motorcycle.

1994- Gig-ing with the band locally, band breaks up due to uncertainty about who's girlfriend is who.
Fed up with flakey musicians and their girlfriend issues interfering with my plans, I sell most of my gear and take up physical training & weight lifting. Got buff. Cut my hair. My Aunt in Las Vegas wins a drawing by entering my name, we split 50G minus taxes…NICE I appear in television commercial in Vegas

1995- I Go shoppin' buy a cool car and a lot of other crap> I learn a valuable lesson…. 25 large ain't that large after all !!! Shoppin' stops…back to work. Enroll at Glendale Community College. Motorcycle dies and is replaced by car

1996- Promoted to middle management positions at work, Supervisor then to controller II. They give me a salary and a pager…. Big mistake. Work solving problems, staffing, and putting out fires. Pager rings constantly 20 hrs a day. Realizing that between the constant stress and lack of sleep this would be a miserable existence…..I QUIT!!!! Meet my now wife Jennifer. First date on Halloween.

1997- Jennifer gets pregnant. Mainly out of fear of being unable to afford the soon to come baby, I begin working outside of my "regular" job on nights and weekends doing whatever work a guy with a truck can do for cash to make extra money so that we are better prepared financially. My first daughter Amber is born in August. Bored with short hair cut… Long Hair is grown back.

1998- I continue to work my "regular" job while growing a small service business on the side. Living in an apartment complex in Glendale, a dispute arises that eventually leads to a "3 on your side" T.V expose type program being aired, I appear throughout the program, This program is shown on Christmas morning!!! Dispute is almost immediately resolved in my favor

1999- My business continues to grow and is officially incorporated. Income from by business becomes significantly better than what I can find else where, I make the decision to become full time self employed and quit workin' for the man. Jennifer and I get hitched in Las Vegas.

2000- Business continues to grow and proves to be a solid foundation for our family. My second daughter Rachael is born. The people from "3 on your side" contact me and ask me to appear in another commercial.

2001- Purchased my home. Workin' and being a husband and father. Business became a member of the Arizona BBB

2002- Being completely pre-occupied with working, growing the business, and making money I completely neglected to do anything exciting or interesting in '02. Long Hair is cut, short is back…. Again, I never could make up my mind !

2003- In order to continue to grow my business, I began to collect professional licensure and certifications. Arizona contractors license for landscape and Irrigation systems acquired.

2004- Continued to grow business. Earned Arizona Master Gardener certification.

2005- Earned International Society of Arboricultural, Arborist certification. Elected to Board of Directors in my Homeowners association, a large site HOA about three quarters square mile, and 1400 homes. Jennifer's brother buys motorcycle from dealership. Almost wrecks it trying to get out of parking lot. I offer to ride it home for him, by the time I get the bike home, I've gotta have one again. Purchase my 1987 Kawasaki ZL1000 shortly therafter. Ride for a few months then completely disassemble modify, and restore the motorcycle.

2006- Earned Arizona Structural Pest Commission License. Contacted by Arizona Master Gardeners and asked to appear as MG representative on local TV show "Sonoran Living Live" I was nervous… Live TV sucks!!! Ill take videotapes over live any day, any time. Take up sport rock climbing, primarily with my brother Joe. Joe moves to Flagstaff, a close call climbing incident with some new climbing buddies makes me re-evaluate my willingness to die...uh.. I mean climb.

2007- I turn 40…………DOH !!!!!! I begin to collect 80's vintage, high performance motorcycles. Jen and I drive to California to purchase 1989 Yamaha vmax. Also purchased a 1985 Kawasaki ZL900 a few months later. In order to replace my (crazy) rock climbing hobby, I take up modified stock motorcycle drag racing, a nice safe respectable sport….lol

2008- Business owner for 10 years. My term is completed on the Board of Directors. I'm off the Board for about 60-90 days, then back on, encouraged by community, and appointed to position by active board members. I am active as a BOD member to current. Vmax and one ZL 900 torn down, modified, and restored. 1987 ZL1000 & 1985 ZL 900 on display at the Cycle World international motorcycle show. I Purchase another Kawasaki ZL900 (1986) and a 1987 Yamaha radian


2009- WHO KNOWS??????????????????????????????
Maybe its time to grow my hair, and move home to Dubuque ???








Classreport.org provides free Class Reunion Websites
for every graduating class of every high school, with free access for all class members.
No Ads, No Spam,
No Pop-ups, No Fees
Class Support Status

OUR CLASS SITE IS FUNDED THROUGH
April 2013
---
This site is funded by our
Voluntary Contributions

Click Here to Chip In


Recent Profile Updates
| | |
| --- | --- |
| | Sep 6 |
| | Nov 7 |
| | Feb 17 |
| | Feb 9 |
| | Feb 7 |
| | Feb 7 |
| | Feb 4 |
| | Feb 2 |
Class Poll
There is no Active Poll
at this time.
Recent Reviews
There are no reviews on file
at this time.
This area is for comments on
books, movies, music,
restaurants, etc.
Visit Other Classes
The Office
(Admin use only)
If you have any questions or comments regarding this website, please contact:

Class Administrator
Michele Wiersma Brady

Would you like a sneak peek at a
non-functioning view of The Office?

This class reunion website is a complementary addition to your existing alumni resources.
It is a product of Classreport, Inc. and may not be affiliated with Central Alternative High School or its alumni association.

Does your High School Class have a full-featured Alumni Website? Start One Now!
(Or start one for your Mother, Father, Sister, Brother, Spouse, Son, Daughter, Friend . . .)



"Our Reunion Committee feedback regarding your website and the value it is providing remains very positive!" 3/23/2013


"I can't remember if I said thank you or not! So, thank you! I really do appreciate all that you do." 3/21/2013


"The site is very easy to use and I appreciate that you can continually update your profile and bio." 3/16/2013


"We recently had our reunion and all went well. I want to just drop you guys a note of thanks for the hard work and priceless gift you have given to many schools in the website that you have created for our use. It has been invaluable to be able to run your office programs to keep track of the class members and also the tools for printing labels etc. Thank you very much." 2/28/2013


"As the administrator of my class page, I am pleased to let you know that I have already received several favorable comments about the site." 2/25/2013


"With our next reunion fast approaching, this site has enabled our class to keep in touch on a regular basis. I have been fortunate to have class members willing to submit pictures and articles that I can change on a regular basis. Thanks again!" 2/22/2013


"So kind of you to remember us when you have so many schools and classes to deal with. You all have done a great job with Classreport and your level of service continues to lead the way. Thanks!" 2/20/2013


"Keep up the good work on the site! Looks like we're going to have a great reunion!!" 2/15/2013


"You all have been very helpful and evidently many of our class members think so as well. Just look at all the visits they have recorded!! Thank you very much!" 2/13/2013


"We get so many nice comments on our site, by our own class members and by others who visit it." 2/7/2013



More bravos at: www.classreport.org/bravos

Search All Schools Best Classes Reunions Features Setup Your Class FAQ Funding Our Story Support Privacy Policy

We DO NOT sell advertising to support this site. We DO NOT sell names and addresses to third parties.
There are NO POP-UP ads. There are no registration fees required for participation.
Please support this site with your voluntary contributions.
We cannot provide this service without your support. Thank You! Read Our Story

ClassTraQ 8.1001a Software Copyright © 2003 - 2012 Classreport, Inc. All Rights Reserved e0