No Ads. No Spam. No Pop-Ups. No Fees. Read Our Story.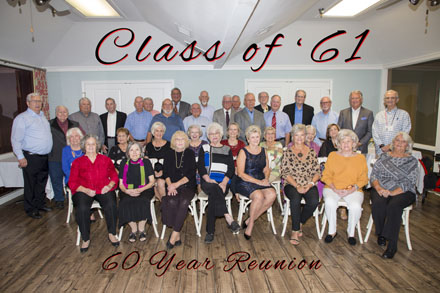 Ladies Luncheon 1-3-17 See Class Notes for list of attendees.


This site is operated and funded by members of our class.
Class Administrator: Doris Beasley Germano
Page Hits: 51,387


56 Year Reunion Announcement!
---
Class Reunion 2017
Saturday, October 21, 2017 - 5:00 pm
Okefenokee Swamp Park
$30.00 per person
Class Reunion 2017
Saturday, October 21, 2017

Friday Night (10/20):            Time: 6:30 p.m.
Fun, food and friends arriving early for the reunion gather to just visit at the old S. H. Kress Building which is now the site of Heritage Residential Realty. It is located at 308 Mary Street in downtown Waycross. It is a very informal gathering (dungarees, jeans, or overalls ). Deen, Doris and Sidney will put together a menu of appetizers prepared by local restaurants and will have beverages available. You are welcome to bring a beverage of your choice. Please let us know if you are joining us for Friday night.


Saturday Night:         Time: 5:00 p. m.
We will gather for a social hour at the Okefenokee Swamp Park. We will again be in the back part of the park that has the screened in dining area. Deen, Sidney and Doris will provide extra beverages and you may bring a beverage of your choice.

6:30-Dinner will be served. Fried gator tail, catfish fillets, flounder fillets, fried shrimp and all the trimmings are on the menu. If you cannot eat seafood please let Doris know in advance. Our caterer will make chicken for you.

The cost of the reunion will be $30.00 per person.
This price does NOT include a day time visit to the park. The park has given us a discounted price of $10.70+ tax per person (usually $17.00 + tax) for those of you who wish to enjoy a day time visit to our lovely swamp park. Please let the attendant in the gift shop know you are a part of the Class of 1961. They will have your name on a list and will issue you an arm band when you pay the park fee. This pass is good all day and includes the train ride, exhibits, walking tours and nature shows. The boat ride is an extra cost and it may not be available if the water in the swamp is too low.

Please send your check to the following as soon as possible - most definitely by September 30th:

Doris Germano
P.O. Box 156
Waycross, GA, 31501

Email: doris@heritagereal.com
Phone: 912-283-3512 Office (Yes, I am still working!)     912-281-1201 Cell phone

Event Contact: Doris Germano - Cell Phone 912-281-1201
Look Who's Coming!
Make Checks Payable To: WHS Class of 1961
Mail Payment To: Doris Germano, P.O.Box 156, Waycross GA 31501
---
Class News

4/5/2017
Ladies Luncheon 4-4-2017
The ladies of the 1961 graduating class of Waycross High held their quarterly luncheon at the Garden Cafe in Blackshear on 4-4-2017. The following attended: Doris Beasley Germano, Lynn Ga . . . Continued

1/17/2017
Carolyn May Green - Reflections of a grandson..
Marley Green updated his profile picture. ∑ January 13 at 8:52pm ∑ This is Carolyn Macintosh Green (maiden name May). She was born on January 11th, sometime in the 1940ís. She was . . . Continued

1/15/2017
Obituary for Carolyn May Green
Classmate Carolyn May Green passed away on 1/12/2017. Her obit is available at http://wjhnews.com/january-14-2017/ . . . Continued



Is the past a myth?
Is the future set?
Is it all an allusion?

One thing is certain. It is time to
listen to some old time great hits.
Our Class Message Board
Your participation is requested!
We would like to hear from you. Post your messages here.

ADD NEW VIEW ALL

Indicates an included photo
| | |
| --- | --- |
| Message | Sandra Williams Turner |
| Thank you to all of you involved in the | Wed 11/2/2016 11:21 AM |
| Ellabeth Update | Winston Willis |
| According to Ellabeth's husband,Bob, she | Tue 11/1/2016 10:04 AM |
| Message | Sandra Williams Turner |
| has anyone heard from Ellabeth since she | Tue 10/25/2016 2:39 PM |
| Message | Marie Johns Sawyer |
| The reunion could not have been better! | Tue 10/25/2016 7:00 AM |
| 55 Class Reunion | Marilyn Brinson Showalter |
| Thanks to all of you who planned and wor | Mon 10/24/2016 9:44 PM |
| Gene Sowell is recuperating at home. | Zan |
| Just received this note from Lynn Gailey | Sat 8/1/2015 4:54 PM |
| Thank You, Winston Willis | Nancy Peterson Woodard |
| A GREAT BIG THANK YOU Winston for all yo | Sat 12/13/2014 5:22 PM |
| Message | Lynn Gailey Barber |
| Please remember Charles (Chuck) Blount a | Sun 10/12/2014 12:34 PM |
| Winston started it | Harmon Moody |
| It all started when Winston received a p | Fri 6/13/2014 9:16 PM |
| Toe Left Behind | Harmon Moody |
| Sarah and I went out to eat at Olive Gar | Thu 6/12/2014 4:35 PM |
| Pearl Callahan Sloan (Billy Sloan's mother | Winston Willis |
| Please keep Bill Sloan aka Bill aka Will | Tue 1/28/2014 2:15 PM |
| Happy to see--- | Marie Johns Sawyer |
| So happy to see three of our classmates | Sun 1/26/2014 10:31 AM |
| Message | Sandra Williams Turner |
| To all my classmates and families..may y | Tue 12/24/2013 3:36 PM |
| Message | June Dixon Hill |
| A great big shout out and thanks to Anne | Mon 11/18/2013 10:44 AM |
| THANKS | William (Billy) Myles |
| I AM GRATEFUL TO HAVE CLASSMATES WITH TH | Mon 11/18/2013 9:37 AM |
Today's Featured Biography
I married Ralph Larisey of Blackshear on June 24,1961. We just celebrated our 50th Anniversary with five of our children on a trip to Orlando. We had a wonderful time looking back and forward.

My educational background as a mother began on July 12, 1962, with the birth of our first son, Terry, followed by our son, Scott on March 5, 1964, followed by our first little girl, Cassadra, on December 6, 1966. She passed away on November 24, 1967. Three years later on July 30, 1971 we were blessed with another little girl, Karla. Then on March 2, 1973, our last son, Eric, was born.

Needless to say, I was kept very busy! In 1982 we adopted 2 boys (brothers). Matthew was three and a half and Michael was five months old. Our home in Offerman GA burned also in 1982 and we moved our rather large family to 419 Dell Street in Blackshear where we have resided ever since.

My husband, Ralph, owns and operates Lairsey Auto Sales and owns the convenience store located at Lairsey's Crossing on the Blackshear/Waycross Highway. He is also a minister and has pastored two local churches for 14 years.

For the past 33 years, I have owned and operated a catering business that has kept me very busy. I am fondly referred to by many Pierce Countians as "Miss Nadean, the Cake Lady." I love my career in catering and am still enjoying making birthday and wedding cakes for the many customers that I have served over the years.

Along side our 6 children, we have four daughters-in-law, one son-in-law and 14 grandchildren. Our oldest son, Terry and his wife, lost a 7 year old daughter to cancer in 2000. Needless to say, we were devastated as a family. Altogether we have 9 grandsons, and 5 granddaughters and another little one on the way. Now I spend most of my time being a grandmother and I love it!!!

Our family has always tried to put God first and we know that is why we have weathered the storms and are so blessed today in Him.

What more could one ask for????


Family News Summary
Enter your Family News Item choosing from our pre-defined categories:
Anniversary, Award, Birth, Death, Diagnosis, Engagement, Graduation, Lottery, Retirement, Vacation, Wedding, Other.
Death
Gloria Jean Sweat Burney has lost her mother. It w
Posted by: Zan James

4/29/2014

Death
Ellen Sasser Voigt's mom passed away on April 21,
Posted by: Zan James

4/22/2014

Death
Billy Gillis' mother passed away April 12, 2014.
Posted by: Zan James

4/17/2014

Death
Gloria Jean Sweat Burney's father passes away T
Posted by: Zan James

3/31/2014

Death
Ruby Beverly Hickox, age 91, mother of Robert Hick
Posted by: Zan James

3/15/2014

Death
Please keep Bill Sloan aka Bill aka William in you
Posted by: Winston Willis

1/28/2014

Hope each and everyone of you had a wonderful begi
Posted by: Virginia Johnson Johns

1/2/2012
Calendar
There are no Calendar items on file
at this time.

Today's Featured Class Member Website
Maxine Finn Terrell

Classreport.org provides free Class Websites for every graduating class of every high school with free access for all.
We are one of the premier social networking sites dating back to 2003. We are a small, family-owned business and yet freely host over a million class websites.
Classreport holds a special place in the hearts of our users: Bravos.
We are funded solely through your voluntary contributions. Can you help us keep this site online and ad-free for another year? Thank you for your support!
Please click here to contribute.
No Ads, No Spam, No Pop-ups, No Fees.
Class Support Status

Our Class Site is Fully Funded!
Additional contributions are welcome and will be used to provide support for the larger Classreport community.
CLICK HERE TO LEARN MORE
Class Directory

Where in the world are you? Stats
Recent Profile Updates
| | |
| --- | --- |
| | Jun 20 |
| | Jun 18 |
| | Jun 10 |
| | Jun 7 |
| | Jun 5 |
| | May 10 |
| | Apr 24 |
| | Apr 9 |
Class Poll
There is no Active Poll
at this time.
Visit Other Classes
The Office
(Admin use only)
If you have any questions or comments regarding this website, please contact:

Class Administrator
Doris Beasley Germano

Would you like a sneak peek at a
non-functioning view of The Office?

This class reunion website is a complementary addition to your existing alumni resources.
It is a product of Classreport, Inc. and may not be affiliated with Waycross High School or its alumni association.

Does your High School Class have a full-featured Alumni Website? Start One Now!
(Or start one for your Mother, Father, Sister, Brother, Spouse, Son, Daughter, Friend . . .)



"Ttanks for your support. I was able to get the correct document uploaded. Your site is amazing." 2/9/2017


"You have done a GREAT job with this site. I will be telling our class to update their profiles." 2/8/2017


"My class appreciates your organization more than I can say. THANK YOU." 2/8/2017


"Many thanks for the news update about our class. The site is really looking great!" 2/6/2017


"Thanks for all you do for us!" 1/13/2017


"I enjoy reading the website." 12/27/2016


"You have a great web site - Thank you!" 12/24/2016


"Thank you for having such a wonderful site. Our class appreciates your continuing work." 11/24/2016


"We are glad that you all maintain this web site. We think our site is a really good site and want to keep it running." 11/23/2016


"Great Stuff!!! Thank you." 11/23/2016



More bravos at: www.classreport.org/bravos




14th Anniversary!

Search All Schools Best Classes Reunions Features Setup Your Class FAQ Funding Our Story Support Support Privacy Policy We DO NOT sell advertising to support this site. We DO NOT sell names and addresses to third parties.
There are NO POP-UP ads. There are no registration fees required for participation.
Please support this site with your voluntary contributions.
We cannot provide this service without your support. Thank You! Read Our Story

ClassTraQ 11.003 Software Copyright © 2003 - 2017 Classreport, Inc. All Rights Reserved e1
amsc: 1