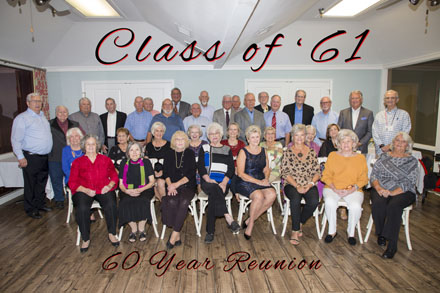 Carolyn Parrish Patten Nancy Peterson Woodard Joyce Turner Brantley Joan Gassett Wilson Bobbie Mizell Waters Mable Bray Fletcher Ellen Sasser Voigt Louise Mikell Jacob Marie John Sawyer June Dixon Hill Lynn Gailey Barber


This site is operated and funded by members of our class.
Class Administrator: Doris Beasley Germano
Page Hits: 56,294


57 Year Reunion Announcement!
---
Friday, October 12, 2018
Hugh Thompson's Pierce Timber Lodge
$30 per person

WHS Class of 1961 Reunion
October 12 and October 13, 2018

Plan now to attend our 57th reunion this fall. We will all meet at Sarah's Garden Café, 123 SW Central Ave., Blackshear, on Friday evening at 7 P.M. Sarah plans to prepare delicious finger foods for our enjoyment as we visit. At the courthouse in Blackshear, go south on Hwy. 121 (Main Street), cross RR track, turn right, Garden Café is on left.
Saturday we will return to Hugh Thompson's Pierce Timber Lodge in Pierce County for a delicious low county boil. There will be grilled chicken for those allergic to seafood. The vegetables of the low county boil will be cooked separately before seafood is added. When making your reservation you must indicate if you prefer chicken. The caterer will be preparing accordingly. Mouth watering desserts will also be served. Bennie Lariscy will also be bringing his famous pound cake. Tea and soft drinks will be provided. Social time will begin around 5 with meal served at 6:30. Directions to Lodge: At the courthouse in Blackshear, travel on 84 East, (toward Patterson). Go about 4 miles to New School Road, turn left; go about 1.8 miles to County Farm Road, turn right; Pierce Timber Lodge will be about 1.5 miles down this road.

John Smith and his band will be playing for us …. you may sit around and listen or you may enjoy dancing to the music.

Accommodations may be made with Comfort Inn, 155 Main Street, Blackshear, 912-807-7829. Other accommodations may be made at motels in Waycross.

Please RSVP with your check by Saturday September 1st to Doris Germano, P.O. Box 156, Waycross GA 31502. (dorisgrealtor@gmail.com or 912-281-1201 cell). The cost for the two day event will be $30.00 per person. No Pay Pal this year.
Hope to see you in October

Event Contact: Doris Germano, (dorisgrealtor@gmail.com or 912-281-1201 cell)
Look Who's Coming!
Make Checks Payable To: Class of 1961
Mail Payment To: Doris Germano, P.O. Box 156, Waycross GA 31502.
---
Class News

4/4/2018
Ladies Luncheon - April 3, 2018
The ladies of Waycross High School Class of 1961 had their quarterly lunch at Jeanette's Sandwich Shop today !!! We all had a wonderful time getting together (as is evident from all the . . . Continued

6/26/2017
Ladies Luncheon 7-11-2017 Announcement
From June: "Hello Again My Ladies! I am going to paste what I sent to the gazette right here: The ladies of the graduating class of 1961, Waycross High, will be meeting at Jean . . . Continued

4/5/2017
Ladies Luncheon 4-4-2017
The ladies of the 1961 graduating class of Waycross High held their quarterly luncheon at the Garden Cafe in Blackshear on 4-4-2017. The following attended: Doris Beasley Germano, Lynn Ga . . . Continued



Is the past a myth?
Is the future set?
Is it all an allusion?

One thing is certain. It is time to
listen to some old time great hits.
Our Class Message Board
Your participation is requested!
We would like to hear from you. Post your messages here.

ADD NEW VIEW ALL

Indicates an included photo
| | |
| --- | --- |
| Message | Sandra Williams Turner |
| In the next few days I will be deleting | Thu 7/12/2018 10:36 PM |
| Message | Sandra Walker Eve |
| Hope everyone is safe in this storm, Irm | Thu 9/7/2017 7:00 PM |
| Message | Sandra Williams Turner |
| Thank you to all of you involved in the | Wed 11/2/2016 11:21 AM |
| Ellabeth Update | Winston Willis |
| According to Ellabeth's husband,Bob, she | Tue 11/1/2016 10:04 AM |
| Message | Sandra Williams Turner |
| has anyone heard from Ellabeth since she | Tue 10/25/2016 2:39 PM |
| Message | Marie Johns Sawyer |
| The reunion could not have been better! | Tue 10/25/2016 7:00 AM |
| 55 Class Reunion | Marilyn Brinson Showalter |
| Thanks to all of you who planned and wor | Mon 10/24/2016 9:44 PM |
| Gene Sowell is recuperating at home. | Zan |
| Just received this note from Lynn Gailey | Sat 8/1/2015 4:54 PM |
| Thank You, Winston Willis | Nancy Peterson Woodard |
| A GREAT BIG THANK YOU Winston for all yo | Sat 12/13/2014 5:22 PM |
| Message | Lynn Gailey Barber |
| Please remember Charles (Chuck) Blount a | Sun 10/12/2014 12:34 PM |
| Winston started it | Harmon Moody |
| It all started when Winston received a p | Fri 6/13/2014 9:16 PM |
| Toe Left Behind | Harmon Moody |
| Sarah and I went out to eat at Olive Gar | Thu 6/12/2014 4:35 PM |
| Pearl Callahan Sloan (Billy Sloan's mother | Winston Willis |
| Please keep Bill Sloan aka Bill aka Will | Tue 1/28/2014 2:15 PM |
| Happy to see--- | Marie Johns Sawyer |
| So happy to see three of our classmates | Sun 1/26/2014 10:31 AM |
| Message | Sandra Williams Turner |
| To all my classmates and families..may y | Tue 12/24/2013 3:36 PM |
Today's Featured Biography
Please note:

The Bulldogs Bark article is temporary until this classmate completes his bio. If a bio is not completed, the Bulldogs Bark article will be used in the Memory Book.

BULLDOGS BARK
April 21, 1961

Wlydyka Top DCT Student

Ken Wlydyka son of Mr. and Mrs. J. J. Wldyka, was chosen D.C.T.'s most outstanding student of the year. This year he is a senior, and is completing his second year as a D.C.T. student. He has been working at the Waycross Plumbing Company for two years.

The outstanding student is chosen on the basis of good personality, neat appearance, good sportsmanship, and a good Christian character. The student should have at least average grades and good study habits. He should have a good school attendance and good employer rating.

Congratulations, Ken!


Family News Summary
Enter your Family News Item choosing from our pre-defined categories:
Anniversary, Award, Birth, Death, Diagnosis, Engagement, Graduation, Lottery, Retirement, Vacation, Wedding, Other.
Death
Gloria Jean Sweat Burney has lost her mother. It w
Posted by: Zan James

4/29/2014

Death
Ellen Sasser Voigt's mom passed away on April 21,
Posted by: Zan James

4/22/2014

Death
Billy Gillis' mother passed away April 12, 2014.
Posted by: Zan James

4/17/2014

Death
Gloria Jean Sweat Burney's father passes away T
Posted by: Zan James

3/31/2014

Death
Ruby Beverly Hickox, age 91, mother of Robert Hick
Posted by: Zan James

3/15/2014

Death
Please keep Bill Sloan aka Bill aka William in you
Posted by: Winston Willis

1/28/2014

Hope each and everyone of you had a wonderful begi
Posted by: Virginia Johnson Johns

1/2/2012
Calendar
There are no Calendar items on file
at this time.

Today's Featured Class Member Website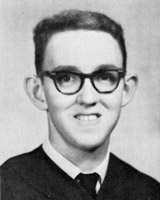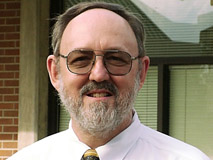 Classreport.org provides free Class Websites for every graduating class of every high school with free access for all.
We are one of the premier social networking sites dating back to 2003. We are a small, family-owned business and yet freely host over a million class websites. Our Story
Classreport holds a special place in the hearts of our users: Bravos.
Class Support Status

Our Class Site is Fully Funded!
Additional contributions are welcome and will be used to provide support for the larger Classreport community.
CLICK HERE TO LEARN MORE
Class Directory

Where in the world are you? Stats
Recent Profile Updates
| | |
| --- | --- |
| | Aug 28 |
| | Aug 22 |
| | Aug 16 |
| | Aug 10 |
| | Jul 21 |
| | Jun 30 |
| | May 3 |
| | Apr 9 |
Class Poll
There is no Active Poll
at this time.
Visit Other Classes
The Office
(Admin use only)
If you have any questions or comments regarding this website, please contact:

Class Administrator
Doris Beasley Germano

Would you like a sneak peek at a
non-functioning view of The Office?

This class reunion website is a complementary addition to your existing alumni resources.
It is a product of Classreport, Inc. and may not be affiliated with Waycross High School or its alumni association.

Does your High School Class have a full-featured Alumni Website? Start One Now!
(Or start one for your Mother, Father, Sister, Brother, Spouse, Son, Daughter, Friend . . .)



"Just discovered your product today while trying to locate classmates ahead of our 50th reunion in 2020. The fact that you did this in a noncommercial manner in a world where everything has a price tag deserves recognition and respect, in my view. Thank you and good luck in all your endeavors." 5/5/2018


"THANKYOU so much for handling this for us! We are so appreciative! It looks GREAT!" 5/2/2018


"Thank YOU for helping us get the word out! I've posted a link to the website on our FB group page and vigorously encouraged other classmates to contribute" 4/27/2018


"Your site is amazing. Kudos to you and your staff. You have benefitted so many high school alumni in organizing their class reunions." 10/4/2017


"Thanks to classreport.org our class website played a huge part in the success of our Reunion. We greatly appreciate your wonderful support." 10/3/2017


"Thanks for all your hard work and ingenious spirit." 9/25/2017


"Thanks guys, you are Good!!" 9/23/2017


"I love your service and will continue to support you." 9/14/2017


"We have been using the website for more than 10 years now. It's still the best website out there for classmates to meet, collect their info and advertise their reunions. Thanks for inventing it all!" 9/11/2017


"Thank you for your assistance. It was very helpful. Looks good!" 9/5/2017



More bravos at: www.classreport.org/bravos




15th Anniversary!
There are no fees required for participation on this site.
Please support this site with your voluntary contributions.
We cannot provide this service without your support. Thank You!
Please read Our Story
ClassTraQ 11.003 Software Copyright © 2003 - 2017 Classreport, Inc. All Rights Reserved e1 amsc: 1