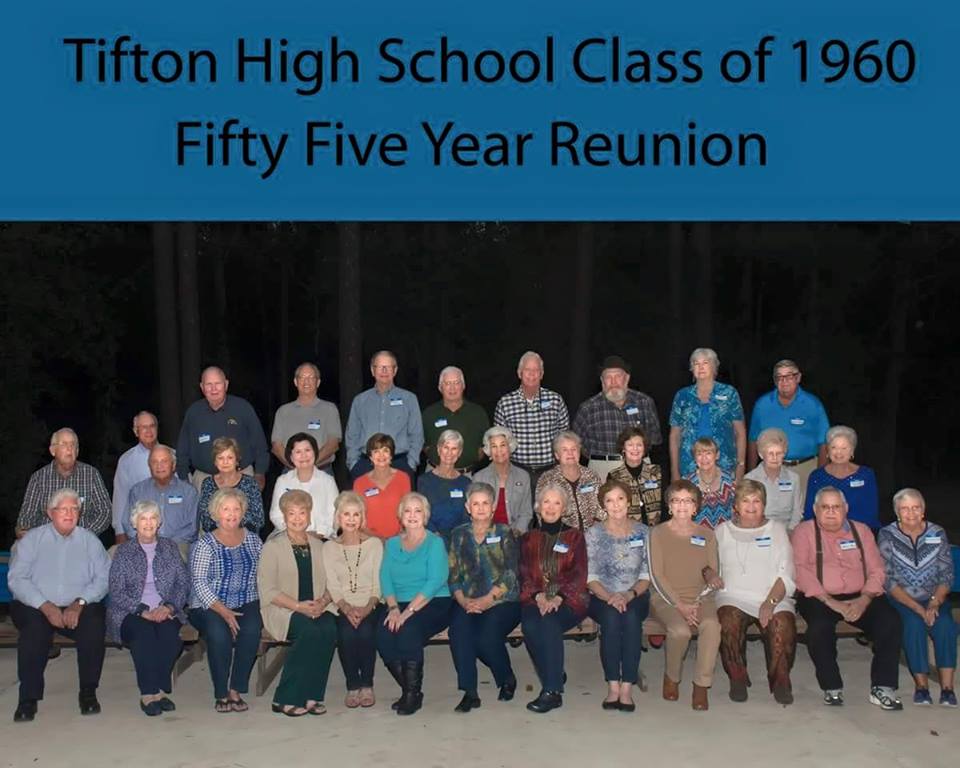 55th Reunion ~ October 10, 2015


This site is operated and funded by members of our class.
Class Administrator: Diana Palmer Revels
Page Hits: 30,824


Class News

10/8/2017
Richard Earl Pigg
Richard E. Pigg, former husband of our Sarah Lee Hutchinson Pigg, passed away on Sunday, October 1, 2017, in Waxahachie, TX. Please keep Sarah Lee and the family in your thoughts and prayers . . . Continued

8/29/2017
Mrs. Betty Kickliter
Mrs. Betty Kickliter, one of our favorite teachers from our high school days, passed away on Aug 13, 2017. Please remember the family during these days as they mourn for the loss of their lo . . . Continued

8/29/2017
Tommy Vann Alderman
Our own classmate, Patricia Horne Alderman, lost her beloved husband, Vann, on Aug 21, 2017, following a brief illness. Please keep Patricia and the extended family in your thoughts and pray . . . Continued


Who's Who in 55th Reunion picture: Traynor Hurst, Marlene Branch, Joyce Conger, Glenda Copeland, Carolyn Bennett, Patricia Horne, Gail Walker, Laurel Bird, Peggy Lloyd, Martha Lucas, Karel McMillan, Bobby Joe Horn, Kay Moseley, Lowell Sims, Lendon Gibbs, Tommy Pittman, Virginia Spradley, Myrna Goff, Snookie Rigdon, Dorris Vance, Patricia Vance, Bernice Sullivan, Mary Lou Greer, Becky Key, Mary Ann Cooper, Sandra Blanchett, Bobby White, David McElroy, Billy Wayne Causey, Tommy Parkman, Bob Merritt, Charles Swain, Harlene Robertson, Robert Sledge
Today's Featured Biography
As a postscript to all of the below, Jolene and I are now living in the Athens & Watkinsville, GA areas. After living in Greenville, SC for 36 years, we made another "huge life decision" in Dec. 2008 to move back to GA. Yea! We are loving it and especially enjoy being closer to the kids and grandkids. Hopefully they are enjoying it as well (free babysitting, free taxi service, etc., etc.). Any time you are in the area, please call or come by to see us.
-------------------------------------------
After graduating from THS I attended ABAC for one year, then transferred to the U of GA. I majored in Accounting, graduating in 1964. I met my wife, Helen Jolene Whitaker, while at GA. We married in 1965. Jolene taught school in Charlotte while I worked for Humble Oil & Refining Co., now known as Exxon-Mobile Oil Co. We moved from Charlotte to Houston, TX and then back to Charlotte. I left Exxon in 1972 and went to work for Cryovac Div of W. R. Grace & Co. in Greenville, SC. I stayed there until 1977 when I left to go to work for Michelin Americas Research & Development Corp as their Controller. I spent the next 25 years working for Michelin in a number of different capacities, retiring at the end on 2002. I was very fortunate to work for three excellent companies during my career.

Jolene quit teaching school when we started our family. We were blessed with three great kids. They never gave us any trouble and always excelled in school. Georgianna, the first child, is a Tax CPA, is married, and has given us two wonderful grand kids - Whit who is 15 yrs old and Mary Claire who is 11 yrs. old. Joanna, our second daughter, is a Human Resources Administrator for the U. of GA, is married, and has also given us two great grandsons - Matt who is 15 and Jonathan who is 9 yrs. old. Both of the girls live in Watkinsville, GA, about 5 miles from each other. Will, our youngest (39 yrs old) lives in Atlanta, Ga, works as a Senior Systems Analysis and is married. He and his wife Kim have one son - Freddie, who is 1 yr old.

Since retiring, Jolene & I have stayed busy doing church work, working our garden, doing some traveling, volunteering with a couple of charitable organizations, vacationing at our lake house in Lake Lure, NC, working on family history, staying in touch with the classmates of the great THS class of 1960, etc. I sometimes wonder how I ever found time to work.

The Lord has blessed us in so many ways and for that we are very, very thankful.

I think we are all part of the greatest class to ever graduate from THS. Some may disagree with that statement, but I know for a fact our class is special. We have a closeness that so many folks today can't even begin to comprehend. I am so looking forward to our 55th Class Reunion. It will be here before we know it. Everyone be sure and visit our web page on a regular basis. You can learn a lot about what is going on with all our classmates. Diana Palmer Revels is doing a fantastic job with the web site. Be sure you tell her thanks for the great job she is doing.

Keep in touch.



Classreport.org provides free Class Websites for every graduating class of every high school with free access for all.
We are one of the premier social networking sites dating back to 2003. We are a small, family-owned business and yet freely host over a million class websites. Our Story
Classreport holds a special place in the hearts of our users: Bravos.
We are funded through voluntary contributions. Can you help keep this site online for another year? Thank you for your support!
Please click here to contribute.
Class Support Status

Our Class Site is Fully Funded!
Additional contributions are welcome and will be used to provide support for the larger Classreport community.
CLICK HERE TO LEARN MORE
Class Directory

Where in the world are you? Stats
Recent Profile Updates
| | |
| --- | --- |
| | Oct 8 |
| | Oct 8 |
| | Aug 29 |
| | Aug 29 |
| | Apr 22 |
| | Apr 4 |
| | Dec 15 |
| | Sep 12 |
Class Poll
There is no Active Poll
at this time.
Recent Reviews
There are no reviews on file
at this time.
This area is for comments on
books, movies, music,
restaurants, etc.
Visit Other Classes
The Office
(Admin use only)
If you have any questions or comments regarding this website, please contact:

Class Administrator
Diana Palmer Revels

Would you like a sneak peek at a
non-functioning view of The Office?

This class reunion website is a complementary addition to your existing alumni resources.
It is a product of Classreport, Inc. and may not be affiliated with Tifton High School or its alumni association.

Does your High School Class have a full-featured Alumni Website? Start One Now!
(Or start one for your Mother, Father, Sister, Brother, Spouse, Son, Daughter, Friend . . .)



"Your site is amazing. Kudos to you and your staff. You have benefitted so many high school alumni in organizing their class reunions." 10/4/2017


"Thanks to classreport.org our class website played a huge part in the success of our Reunion. We greatly appreciate your wonderful support." 10/3/2017


"Thanks for all your hard work and ingenious spirit." 9/25/2017


"Thanks guys, you are Good!!" 9/23/2017


"I love your service and will continue to support you." 9/14/2017


"We have been using the website for more than 10 years now. It's still the best website out there for classmates to meet, collect their info and advertise their reunions. Thanks for inventing it all!" 9/11/2017


"Thank you for your assistance. It was very helpful. Looks good!" 9/5/2017


"I am so grateful I found your website. It is especially wonderful for our classmates. I will spread the word!!" 8/31/2017


"Our high school reunion was a great success and our site on ClassReport.Org was a HUGE help in that success! ClassReport.Org is by far the best platform on the Internet when it comes to high school reunions!" 8/30/2017


"Thanks for all of your help and the great web site you have. We have a great response for our upccoming reunion events in September." 8/7/2017



More bravos at: www.classreport.org/bravos




14th Anniversary!
There are no fees required for participation on this site.
Please support this site with your voluntary contributions.
We cannot provide this service without your support. Thank You!
Please read Our Story
ClassTraQ 11.003 Software Copyright © 2003 - 2017 Classreport, Inc. All Rights Reserved e1 amsc: 1