No Ads. No Spam. No Pop-Ups. No Fees. Read Our Story.



Talisman Photos of Class of 1959 (We really did look this young!)


This site is operated and funded by members of our class.
Class Administrator: Joyce Walters Carr
Page Hits: 17,679
Class News

12/23/2016
Death of Classmate Reggie Gunn on Sept. 24, 2016
Reggie passed away on September 24. Here is what was posted in the Episcopal journal: Requiem Eucharist Set for the Rev. Reginald Gunn On September 26, 2016, in News/Events, by Di . . . Continued

6/16/2016
Death of Class Member Barbara Gann Goins
Barbara Gann Goins, 75, of Ty Ty passed away Saturday, May 7, 2016, at Phoebe-Putney Memorial Hospital in Albany. A graveside funeral service will be held for Mrs. Goins at 2:00 p.m. Tuesd . . . Continued

4/4/2016
Mother of Classmate Dies
THS Class of 1959 extends our sympathy to Peggy Carswell Bass and her family on the death of her mother. Mrs. Viola Keen Carswell Johnson, 96, of Tifton died Friday, April 1, 2016 at Golden . . . Continued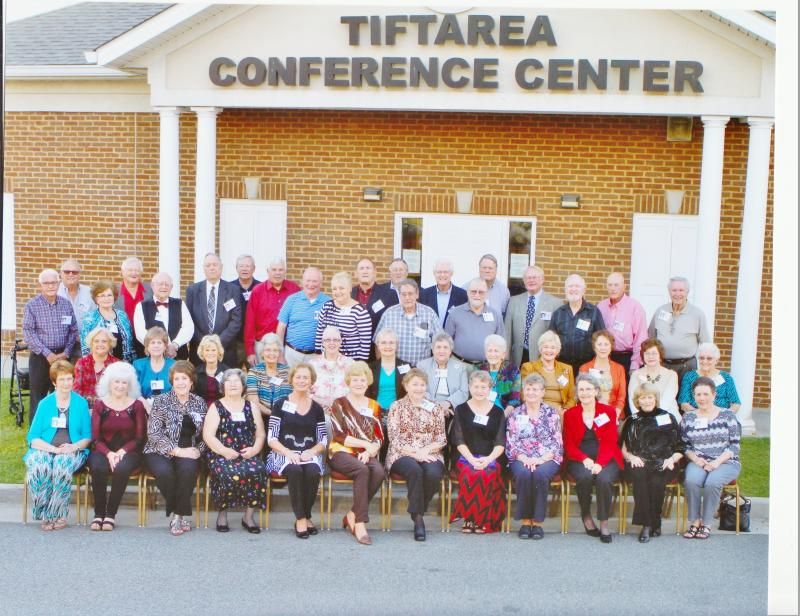 Our Class Message Board
Your participation is requested!
We would like to hear from you. Post your messages here.

ADD NEW VIEW ALL

Indicates an included photo
| | |
| --- | --- |
| Message | Lyn Lindskog Deroy |
| I am sad to learn of Father Reggie Gunn' | Wed 9/28/2016 3:07 PM |
| New home | Betty Carter Pearsall |
| Dear friends, I wanted to let you know | Tue 8/25/2015 12:03 PM |
| Latest news from Lyn L. Deroy | Lyn Lindskog Deroy |
| Hi Joyce, I finally had to request that | Sat 6/28/2014 11:57 AM |
| Note from Nell Tabor Hartley | Joyce Carr |
| Joyce, after indulging in our wonderful | Wed 3/5/2014 8:46 AM |
| Bobby Abbott's brother, Johnny Abbott dies | jwc@friendlycity.net |
| Johnny Abbott, 67, died today, February | Tue 2/11/2014 9:08 PM |
| Patricia Lawhorne Schicker's Mother Dies | jwc@friendlycity.net |
| We extend our deepest sympathies to Patr | Tue 2/11/2014 7:56 PM |
| Obituary for Betty Carter Pearsall's Husban | Joyce Walters Carr |
| Mr. James E. (Jim) Pearsall, 82, while s | Mon 2/10/2014 7:41 AM |
| Classmate Donald Massey Dies | jwc@friendlycity.net |
| It is with sadness that I report yet ano | Wed 1/22/2014 9:05 PM |
| Happy New Year, friends | Got an anniversary to celebrate |
| Happy 2014 you AWESOME "Blue Devils". O | Sat 1/18/2014 9:44 PM |
| Birthday celebration | June Talley Branch |
| On January 22, 2014 we will be celebrati | Wed 1/15/2014 8:22 AM |
| Lylla Crum Bowen Obituary | jwc@friendlycity.net |
| Classmate Dies: Mrs. Lylla Elizabeth | Mon 12/23/2013 11:22 PM |
| Carole Biddy Cowart | jwc@friendlycity.net |
| Many of you will remember Carole Biddy C | Sat 4/13/2013 10:17 AM |
| Message | June Talley Branch |
| I regret to inform you of the death of D | Tue 10/2/2012 8:21 PM |
| Franklin Johnson Obit | Joyce Walters Carr |
| Murray Franklin Johnson, 70, of Hamilton | Mon 7/11/2011 9:51 PM |
| Lyn Lindskog Deroy's Granddaughters | Joyce Walters Carr |
| This in from Lyn in France: Hi Joyce a | Tue 10/5/2010 10:01 PM |
Today's Featured Biography
The 50 years since graduating from THS (did I actually do that?) have flown by faster than I'd expected. Enjoyed a couple of years at ABAC especially with the WABACS from ABAC touring with Dr. Pete.

Summer of '61 found me at Redstone Lodge & Country Club, Colorado waiting on tables. That fall, with no real purpose in mind and little money I decided my country needed my services so I enlisted in the Army and for a duty station near Albany.

After meeting my future bride at a party for employees at the BroAdmoor Hotel during the Christmas break from Army basic training on December 25th, 1961, a wonderful decision was made and four weeks later, we married (in the Chapel of Our Savior at the BroAdmoor no less, with Pinky, Dad, her parents, aunt and uncle from Indianapolis present). My little ice skater gave up her amateur career after she and her partner won the Mid-Western competition. We drove to Georgia, Marilyn met all the Durham and Price women and learned to eat "bird". Five months later the Army decided I'd had enough of Georgia and sent me to Okinawa.

Somehow Marilyn got pregnant on the trip to California to put me on a ship. She went home to her mom and dad, started teaching skating to make the money needed to join me. She finally arrived in Okinawa almost 7 months later and merely 2 weeks before Diana was born (prematurely). We had only been in each others presence for 6 months and I think both of us were concerned about really knowing who to look for when she got off the plane. She was looking at uniforms. I had an advantage... I knew what pregnant looked like.

My 3 years of active duty complete, I arrived in Indy now with a wife and two children. Mark was born in Okinawa 4 months before we left. I got a job as a management trainee in the ladies lingerie department at Penny's for $100 a week. Boy, did I need that job. (had to get out of mother in law's house).

Marilyn had a civil service rating from her time with the 526TH Intelligence Corps detachment in Naha so she got a job at Ft. Harrison in the payroll department and taught skating on the side. I sold music systems and began introducing commercial microwave ovens to restaurants while having a night job taking inventory in supermarkets. Hard to believe it took four jobs to pay for stuff in those days but there was a message there about work ethic that has endured.

We moved to the Chicago area with Litton Microwave Cooking Products in 1969 and went into business as a specialty dealer for them in 1974. In 1980 we sold the business and moved to Houston for a poor choice in a partnership and too much heat and humidity.

A weekend introduction to San Antonio coupled with a pitcher of margaritas on the river walk resulted in the decision to get out of Houston. We incorporated in 1982 as a distributor for some major commercial food equipment lines....especially concerning fried chicken. In 2001 we attempted to sell the company to an employee. We financed the deal and had four wonderful years of "retirement". In our 40 foot motor home and Honda Goldwing Motorcycle, we put about 50,000 miles on visiting friends, family, and playing grandparents to our two lovely grand girls.....now both 16.

Our daughter, Diana, lives with her husband Randy in Augusta with daughter, Sterling. Sarah lives with us now as does her daddy, Mark.

We live on 4 acres of rocks and rattlesnakes 8 miles south of New Braunfels...a San Antonio suburb. We attend Cornerstone Church and need more time with friends and golf (for me)....shopping for Marilyn.

We're starting over with our own branded fried chicken concept and looking for our next exit plan. In the meantime, God is good, we're healthy, inspired, and grateful for all our blessings.

God Bless America and God Bless Tift County... I wouldn't give anything for having been apart of Tifton in the '40s and '50s. We are eager to see you all.

Military Service:

Enlisted in Denver. Basic at Ft. Carson, CO. Assigned to Nike site near Dawson, GA....just like they promised...for 5 months. Ordered to Okinawa.

Regular US Army Nov. '61 – Nov '64. Served mostly with 65th Arty (Nike) in Okinawa as S-1 clerk for Btn headquarters with a morning report of 23. Served under two SSgt Major E-9, a Major and Lt. Col. Commanding. The Sergeant Major, the mail clerk, the Colonel's driver and I WERE the S-1 enlisted. Did morning reports, clerk of court, all correspondence, filing and ER reports, reassignments for OCS, Viet Nam, Ft. Rucker helicopter school, etc.

Brought my wife into the command, lived on the economy in Naha, and had both our children born there.

The slot was for E-4 and when the Sergeant Major attempted a temporary upgrade to E-5 so we could get the family home, some guy with many years in grade at Brigade headquarters objected and the orders were rescinded. Marilyn and the babies came home alone and I followed later.





Family News Summary
Enter your Family News Item choosing from our pre-defined categories:
Anniversary, Award, Birth, Death, Diagnosis, Engagement, Graduation, Lottery, Retirement, Vacation, Wedding, Other.
Death
John Girardeau, January 23, 2017 after sustaining
Posted by: John Girardeau

2/10/2017

Death
Clinton Fletcher Obituary: Clinton Lamar
Posted by: Joyce Walters Carr

12/9/2015

Death
Barbara Goddard Kinard's husband's obit: Rich
Posted by: Joyce Walters Carr

11/16/2015

Military
Here is some GOOD news! My son, Walt, became
Posted by: Joyce Walters Carr

10/14/2015

Death
Buddy Tucker passed away January 25, 2015. Rememb
Posted by: Joyce Walters Carr

10/14/2015

Death
We have lost another class member to death this we
Posted by: Joyce Walters Carr

10/14/2015

Death
Sheryl Morey passed away February 1, 2014, of cong
Posted by: Joyce Walters Carr

6/20/2014
Calendar
There are no Calendar items on file
at this time.

Today's Featured Class Member Website
Classreport.org provides free Class Websites for every graduating class of every high school with free access for all.
We are one of the premier social networking sites dating back to 2003. We are a small, family-owned business and yet freely host over a million class websites.
Classreport holds a special place in the hearts of our users: Bravos.
We are funded solely through your voluntary contributions. Can you help us keep this site online and ad-free for another year? Thank you for your support!
Please click here to contribute.
No Ads, No Spam, No Pop-ups, No Fees.
Class Support Status

Our Class Site is Fully Funded!
Additional contributions are welcome and will be used to provide support for the larger Classreport community.
CLICK HERE TO LEARN MORE
Class Directory

Where in the world are you? Stats
Recent Profile Updates
| | |
| --- | --- |
| | Feb 10 |
| | Jan 1 |
| | Dec 23 |
| | Nov 21 |
| | Nov 21 |
| | Sep 28 |
| | Jun 18 |
| | Jun 16 |
Class Poll
There is no Active Poll
at this time.
Recent Reviews
There are no reviews on file
at this time.
This area is for comments on
books, movies, music,
restaurants, etc.
Visit Other Classes
The Office
(Admin use only)
If you have any questions or comments regarding this website, please contact:

Class Administrator
Joyce Walters Carr

Would you like a sneak peek at a
non-functioning view of The Office?

This class reunion website is a complementary addition to your existing alumni resources.
It is a product of Classreport, Inc. and may not be affiliated with Tifton High School or its alumni association.

Does your High School Class have a full-featured Alumni Website? Start One Now!
(Or start one for your Mother, Father, Sister, Brother, Spouse, Son, Daughter, Friend . . .)



"Ttanks for your support. I was able to get the correct document uploaded. Your site is amazing." 2/9/2017


"You have done a GREAT job with this site. I will be telling our class to update their profiles." 2/8/2017


"My class appreciates your organization more than I can say. THANK YOU." 2/8/2017


"Many thanks for the news update about our class. The site is really looking great!" 2/6/2017


"Thanks for all you do for us!" 1/13/2017


"I enjoy reading the website." 12/27/2016


"You have a great web site - Thank you!" 12/24/2016


"Thank you for having such a wonderful site. Our class appreciates your continuing work." 11/24/2016


"We are glad that you all maintain this web site. We think our site is a really good site and want to keep it running." 11/23/2016


"Great Stuff!!! Thank you." 11/23/2016



More bravos at: www.classreport.org/bravos




14th Anniversary!

Search All Schools Best Classes Reunions Features Setup Your Class FAQ Funding Our Story Support Privacy Policy We DO NOT sell advertising to support this site. We DO NOT sell names and addresses to third parties.
There are NO POP-UP ads. There are no registration fees required for participation.
Please support this site with your voluntary contributions.
We cannot provide this service without your support. Thank You! Read Our Story

ClassTraQ 9.7003c Software Copyright © 2003 - 2015 Classreport, Inc. All Rights Reserved e1