Talisman Photos of Class of 1959 (We really did look this young!)


This site is operated and funded by members of our class.
Class Administrator: Joyce Walters Carr
Page Hits: 18,705
Class News

9/4/2017
Classmate Deaths in 2017 - Frances McMullen Ayer
Frances McMullen Ayer passed away in late 2016 or early 2017; I am sorry I don't have any details. I was informed of her death by Tommy Parkman, the President of the 1960 TCHS Class. Som . . . Continued

9/4/2017
Classmate Deaths in 2017 - John Girardeau
John Girardeau died on January 23, 2017 as a result of multiple blunt force injuries from a fall on December 17, 2016. He leaves behind his wife of 53 years, Betty, their three children, Jo . . . Continued

12/23/2016
Death of Classmate Reggie Gunn on Sept. 24, 2016
Reggie passed away on September 24. Here is what was posted in the Episcopal journal: Requiem Eucharist Set for the Rev. Reginald Gunn On September 26, 2016, in News/Events, by Di . . . Continued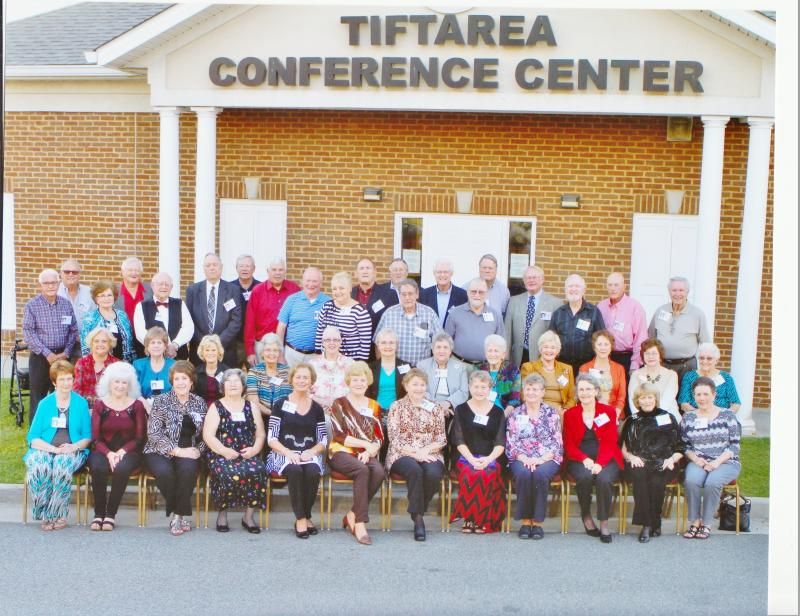 Our Class Message Board
Your participation is requested!
We would like to hear from you. Post your messages here.

ADD NEW VIEW ALL

Indicates an included photo
| | |
| --- | --- |
| Message | Lyn Lindskog Deroy |
| I am sad to learn of Father Reggie Gunn' | Wed 9/28/2016 3:07 PM |
| New home | Betty Carter Pearsall |
| Dear friends, I wanted to let you know | Tue 8/25/2015 12:03 PM |
| Latest news from Lyn L. Deroy | Lyn Lindskog Deroy |
| Hi Joyce, I finally had to request that | Sat 6/28/2014 11:57 AM |
| Note from Nell Tabor Hartley | Joyce Carr |
| Joyce, after indulging in our wonderful | Wed 3/5/2014 8:46 AM |
| Bobby Abbott's brother, Johnny Abbott dies | jwc@friendlycity.net |
| Johnny Abbott, 67, died today, February | Tue 2/11/2014 9:08 PM |
| Patricia Lawhorne Schicker's Mother Dies | jwc@friendlycity.net |
| We extend our deepest sympathies to Patr | Tue 2/11/2014 7:56 PM |
| Obituary for Betty Carter Pearsall's Husban | Joyce Walters Carr |
| Mr. James E. (Jim) Pearsall, 82, while s | Mon 2/10/2014 7:41 AM |
| Classmate Donald Massey Dies | jwc@friendlycity.net |
| It is with sadness that I report yet ano | Wed 1/22/2014 9:05 PM |
| Happy New Year, friends | Got an anniversary to celebrate |
| Happy 2014 you AWESOME "Blue Devils". O | Sat 1/18/2014 9:44 PM |
| Birthday celebration | June Talley Branch |
| On January 22, 2014 we will be celebrati | Wed 1/15/2014 8:22 AM |
| Lylla Crum Bowen Obituary | jwc@friendlycity.net |
| Classmate Dies: Mrs. Lylla Elizabeth | Mon 12/23/2013 11:22 PM |
| Carole Biddy Cowart | jwc@friendlycity.net |
| Many of you will remember Carole Biddy C | Sat 4/13/2013 10:17 AM |
| Message | June Talley Branch |
| I regret to inform you of the death of D | Tue 10/2/2012 8:21 PM |
| Franklin Johnson Obit | Joyce Walters Carr |
| Murray Franklin Johnson, 70, of Hamilton | Mon 7/11/2011 9:51 PM |
| Lyn Lindskog Deroy's Granddaughters | Joyce Walters Carr |
| This in from Lyn in France: Hi Joyce a | Tue 10/5/2010 10:01 PM |
Today's Featured Biography
•Graduated ABAC 1961
•Graduated University of Georgia , B.S. Agricultural Education 1963, M.S. Agricultural Economics, 1965.
•Graduated University of Tennessee, PhD Agricultural Economics, 1969.
•Employed with Gold Kist, Inc. as Director of Corporate Planning and Economic Research, 1969 through 2000.
•Married LaUna Revell of Tallahassee, Florida in August, 1970.
•Two children, son Brian Glenn born 1973, daughter Kristin LaUna born 1976.
•Since retiring from Gold Kist in 2000 have founded and currently operate two companies, Glover International, Inc., and World Food Transport, Inc.
•Consulting services in broiler chicken production, processing and marketing performed in several countries including China, Indonesia, South Korea and Macedonia.
•Son, Brian Glenn, a Group Vice President in internal audit with Sun Trust Bank in Atlanta, is married and has a five year old son and a three year old daughter.
•Daughter, Kristin LaUna, has an undergraduate degree from Harvard, a law degree from the University of Virginia and after three years as a lawyer in New York city is back at UVA as a research librarian in the law school library.
        



Family News Summary
Enter your Family News Item choosing from our pre-defined categories:
Anniversary, Award, Birth, Death, Diagnosis, Engagement, Graduation, Lottery, Retirement, Vacation, Wedding, Other.
Death
John Girardeau, January 23, 2017 after sustaining
Posted by: John Girardeau

2/10/2017

Death
Clinton Fletcher Obituary: Clinton Lamar
Posted by: Joyce Walters Carr

12/9/2015

Death
Barbara Goddard Kinard's husband's obit: Rich
Posted by: Joyce Walters Carr

11/16/2015

Military
Here is some GOOD news! My son, Walt, became
Posted by: Joyce Walters Carr

10/14/2015

Death
Buddy Tucker passed away January 25, 2015. Rememb
Posted by: Joyce Walters Carr

10/14/2015

Death
We have lost another class member to death this we
Posted by: Joyce Walters Carr

10/14/2015

Death
Sheryl Morey passed away February 1, 2014, of cong
Posted by: Joyce Walters Carr

6/20/2014
Calendar
There are no Calendar items on file
at this time.

Today's Featured Class Member Website
Kathryn (Kay) Hancock Carr

Classreport.org provides free Class Websites for every graduating class of every high school with free access for all.
We are one of the premier social networking sites dating back to 2003. We are a small, family-owned business and yet freely host over a million class websites. Our Story
Classreport holds a special place in the hearts of our users: Bravos.
We are funded through voluntary contributions. Can you help keep this site online for another year? Thank you for your support!
Please click here to contribute.
Class Support Status

Our Class Site is Fully Funded!
Additional contributions are welcome and will be used to provide support for the larger Classreport community.
CLICK HERE TO LEARN MORE
Class Directory

Where in the world are you? Stats
Recent Profile Updates
| | |
| --- | --- |
| | Sep 4 |
| | Jun 26 |
| | Apr 24 |
| | Jan 1 |
| | Dec 23 |
| | Nov 21 |
| | Nov 21 |
| | Sep 28 |
Class Poll
There is no Active Poll
at this time.
Recent Reviews
There are no reviews on file
at this time.
This area is for comments on
books, movies, music,
restaurants, etc.
Visit Other Classes
The Office
(Admin use only)
If you have any questions or comments regarding this website, please contact:

Class Administrator
Joyce Walters Carr

Would you like a sneak peek at a
non-functioning view of The Office?

This class reunion website is a complementary addition to your existing alumni resources.
It is a product of Classreport, Inc. and may not be affiliated with Tifton High School or its alumni association.

Does your High School Class have a full-featured Alumni Website? Start One Now!
(Or start one for your Mother, Father, Sister, Brother, Spouse, Son, Daughter, Friend . . .)



"Your site is amazing. Kudos to you and your staff. You have benefitted so many high school alumni in organizing their class reunions." 10/4/2017


"Thanks to classreport.org our class website played a huge part in the success of our Reunion. We greatly appreciate your wonderful support." 10/3/2017


"Thanks for all your hard work and ingenious spirit." 9/25/2017


"Thanks guys, you are Good!!" 9/23/2017


"I love your service and will continue to support you." 9/14/2017


"We have been using the website for more than 10 years now. It's still the best website out there for classmates to meet, collect their info and advertise their reunions. Thanks for inventing it all!" 9/11/2017


"Thank you for your assistance. It was very helpful. Looks good!" 9/5/2017


"I am so grateful I found your website. It is especially wonderful for our classmates. I will spread the word!!" 8/31/2017


"Our high school reunion was a great success and our site on ClassReport.Org was a HUGE help in that success! ClassReport.Org is by far the best platform on the Internet when it comes to high school reunions!" 8/30/2017


"Thanks for all of your help and the great web site you have. We have a great response for our upccoming reunion events in September." 8/7/2017



More bravos at: www.classreport.org/bravos




14th Anniversary!
There are no fees required for participation on this site.
Please support this site with your voluntary contributions.
We cannot provide this service without your support. Thank You!
Please read Our Story
ClassTraQ 11.003 Software Copyright © 2003 - 2017 Classreport, Inc. All Rights Reserved e1 amsc: 1